The best-serrated knife for crusty bread
Being able to try out your new bread maker and make your own bread gives a special vibe – but if you don't think it all through, you'll end up cutting your freshly baked bread with a dull knife. That means that you'll take a beautiful loaf of bread and squish it with a knife that doesn't have a sharp edge.
You don't need to have a very fancy bread knife- but having a good one will make things a lot better.
In this post, I'll review one of the best yet most affordable bread knives for crusty bread on the market.
If you don't want to ruin your health and freshly baked homemade bread – keep on reading as this review might be exactly what you have been missing on!
Why is it Important to Have a Good Serrated Bread Knife for Crusty Bread?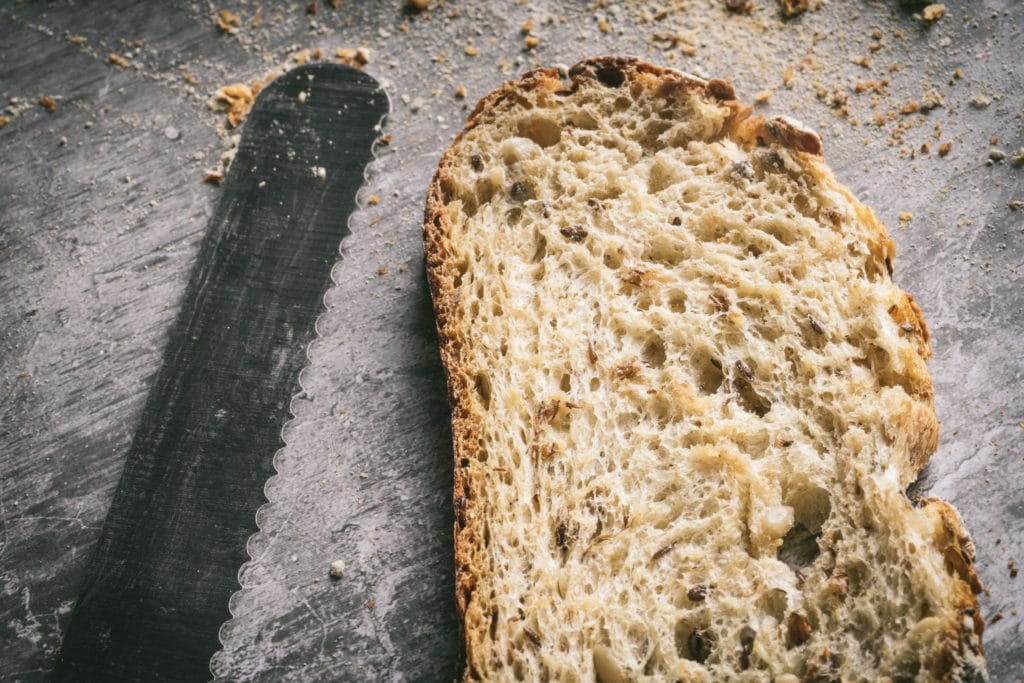 Crusty bread requires a knife that has the ability to cut through it without squashing the bread loaf. Really, we're talking about a serrated bread knife.
Of course, if your bread is extremely crispy or hard, then regular bread knives might be fine. However, you would still want to have some serrated knives available. This will offer the effectiveness of slicing through the bread loaf without breaking the bread as it will lightly saw through the crust and dough.
However, it's also important to make sure that when slicing crusty bread that your slices aren't thinner than half an inch.
Otherwise, you'll have a hard time cutting your bread no matter the quality of your serrated knives. This will lead to breaking or squishing down no matter if your serrated knife has a thinner blade or how sharp it is.
I've seen this happen to many people who then end up blaming the knife when in reality it's not the knife's fault, especially on softer breads.
I've also found that holding the crust's topside together with one hand when slicing bread with the other is important as the first cut-through will be the most important one (due to the hard crust).
Zelite- Top of the Line Bread Knife
The bread knife we had the privilege to test and review for this post is the Zelite Infinity, a 10-inch comfort-pro series bread knife of German quality.
The Zelite 10 inch bread knife is a smart investment and it's also the type of investment that won't break your bank. It's certainly not the cheapest bread knife on the market, but it is a great bread knife so investing a bit more to get one of the best-serrated bread knives that won't get dull and won't ever need sharpening is a good idea.
This means that the knife will slice bread like-new even after countless uses.
And because the serrated blade itself is a 10-inch long blade, slicing through larger loaves of artisan loaves of crusty sourdough or other delicate foods is no problem at all.
High-Quality German Steel Blade
Zelite Infinity bread knives are made from a top-quality German material known as ThyssenKrupp high-carbon stainless steel blade that provides top-of-the-line and yet long-lasting performance.
This material choice ensures a rust-free, corrosion-free, and stain-free life that will make sure that this bread knife endures countless uses without getting damaged.
The blade has a Rockwell hardness of 56 which means that it's tough, hard, and it can boast exceptional edge retention, no matter the extra length.
Extreme Comfort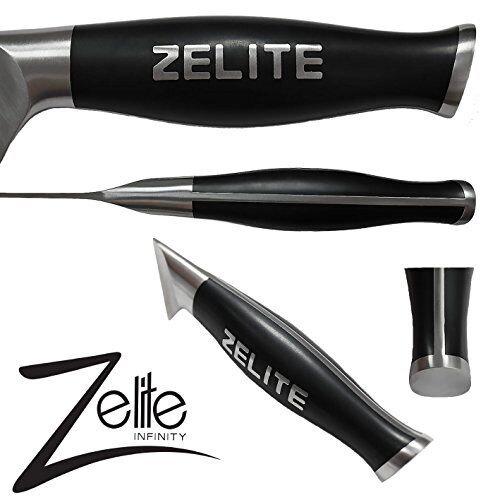 Even though this bread knife is a total of 14 inches long, it is extremely comfortable to hold and handle. This is thanks to the ergonomic handle that is coated with a safe grip.
This safe grip is known as a tapered bolster and the handle shape is forged in a rounded and long shape that will fit almost any hand size.
After just a short period of time, I've noticed that this bread knife provides great balance, is as robust as I like my bread knives to be, and matches the needed performance without compromising comfort.
Performance & Value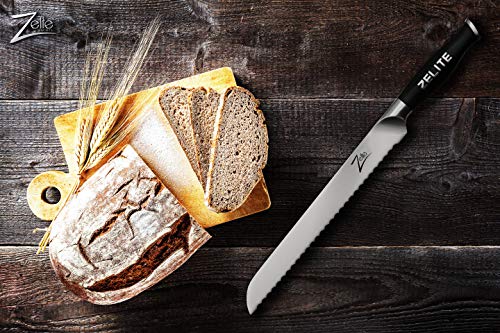 Zelite Infinity designed this wavy edge bread knife with a very sharp serrated blade that offers rounded serrations and pointed teeth forged at 18-degrees.
This provides efficient cutting performance while retaining the sharpness for many more cuts to come.
Long-lasting performance is guaranteed and the Zelite Infinity manufacturer ensures that you won't ever have to sharpen this knife (if used properly).
Considering the price point of this serrated knife in comparison to the build quality, performance, and overall value – it's very well worth the market price, especially when compared to other bread knives.
Best in Class
Make no mistake, the Zelite Infinity bread knife is razor-sharp and it's one of the most visually appealing knives we've had a chance to test out in a long time.
With minimal slicing resistance, every cut will provide a satisfying experience. Cutting thin slices of artisan bread (crusty on the outside with a soft interior) or soft fruits might be an issue for many bread knives but not for this one.
Precision is guaranteed!
Awesome & Safe Packaging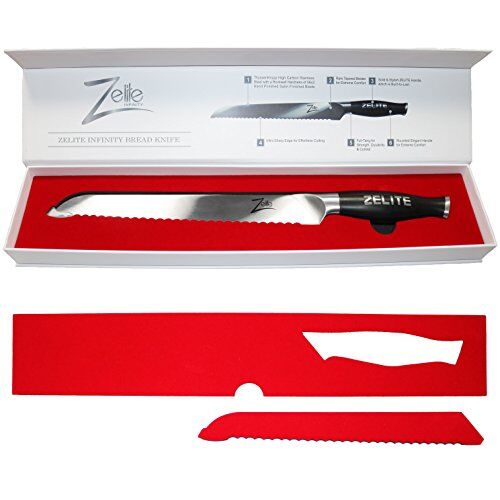 The magic experience of the Zelite Infinity bread knife comes from the very first moment you receive it.
I was surprised upon receiving this bread knife in premium packaging that makes this knife look like a million-dollar knife.
The knife arrived safely in an ultra-premium packaging box which got me thinking. This knife might make a great gift for anyone who makes homemade bread on a regular basis.
Of course, even though this knife is better than most other knives for crusty bread – it's suitable for any other bread type.
The only at cutting bread than this serrated knife is a bread slicer on a cutting board. However, bread slicers are expensive and take up a lot of space. Therefore, a serrated knife with a 10 inch blade length like this one will beat out most bread knives with serrated blades.
Lifetime Warranty
If the price worries you – you should know that the Zelite Infinity bread knife comes with a lifetime warranty. This is definitely a quality bread knife that's worth more than its price as it offers extraordinary value.
Zelite Infinity is a brand that is there for its customers so even if you ever had to reach out for their customer support – you won't be disappointed!
Conclusion
Zelite Infinity is the best bread knife for crusty bread as it is built right for this type of bread. Nevertheless, this knife can still be used for cutting soft fruit and other bread types.
Considering the value it offers, its lifetime warranty, and the price point it sells at – I believe that this knife is worth the price. It provides a lot more value than you can expect.
You just won't know how good this serrated knife is until you try it out for yourself!
Did you ever blame your serrated knife when cutting crusty bread? When did you purchase your last bread knife?
Feel free to leave a comment down below, share your story, or ask questions.