Hamilton Beach breakfast sandwich maker is one of the best-selling sandwich makers and for a reason. It's not only affordable, but it's also a quality pick that is highly efficient and provides features you might not see in other sandwich makers.
This sandwich maker is packed with convenient features that can help you make a sandwich in 5 minutes or less and yet use any fresh ingredients you have in your kitchen.
With a unique way of assembling your sandwich, you'll be able to have a sandwich you can have on the go in only minutes, and yet cleaning and maintenance won't ever be an issue.
Therefore, keep on reading to find out the best features of Hamilton Beach breakfast sandwich maker!
Hamilton Beach Breakfast Sandwich Maker Review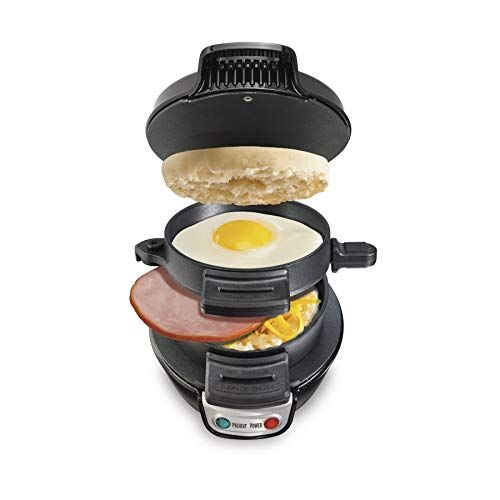 Even though this sandwich maker is very compact and convenient, it is super useful and is easy to use thanks to its wisely crafted features. Down below, you can find some of its best features that also make the best benefits, and you'll also realize the huge value for the price it costs.
Easy 4 Step Process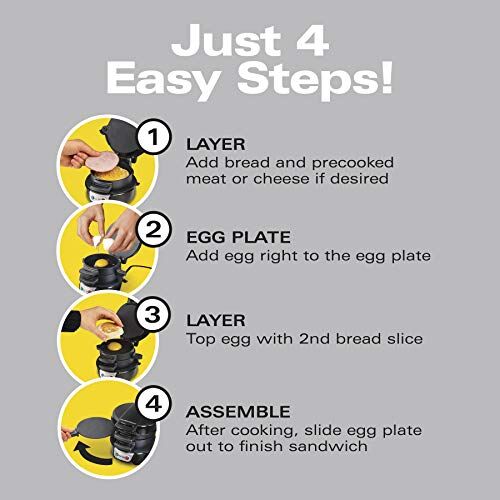 Even if you have never made a sandwich in your life using a sandwich maker, Hamilton Beach breakfast sandwich maker makes things simple and easy to understand.
With its 4-step process, you only have to add the base layer of your choice, optionally use the egg plate to cook an egg or other fresh ingredients, top the ingredients with another layer, and then assemble it and let it cook for 5 minutes or less.
Quick and Easy to Use
Since there are only 4 steps, if you have all your fresh ingredients prepared, you can make a sandwich in less than 5 minutes.
With different plates for your layer, base, and ingredients, assembly is super simple and you won't have to do much to get a sandwich you can take on the go.
The sandwich maker is quiet and since it's very efficient, you can use it at any time of the day or night, and even to create only healthy sandwiches you'll enjoy.
Ability to Create Custom Sandwiches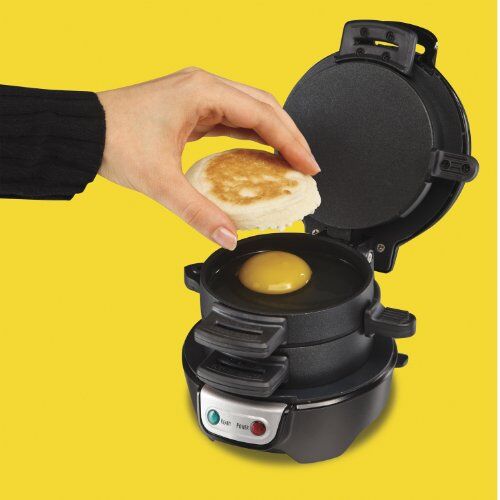 Since you get to choose the base that can be anything from an English muffin, biscuit, to a small bagel or a regular bread, you can create a custom sandwich that you prefer the most.
This applies to the ingredients since you can use almost any fresh ingredients you have in your household, and this also includes eggs, cheese, and even meat. However, if you use meat, make sure that the meat is precooked.
You can even eliminate bread to make a meal that will fit a specific diet such as a Ket or paleo diet. There is also a digital book of recipes that are explained in a step-by-step process so if you have no ideas, you'll be able to find at least a couple that you'll love to try.
Built with Durability and Quality in Mind (Warranty)
Hamilton Beach breakfast sandwich maker is made from a combination of plastic and metal which provides sturdiness and durability required to withstand even daily use.
Of course, this also factors in the cleaning of the maker so materials such as plastic or non-stick coating can withstand dishwasher cleaning.
For a very compact yet durable sandwich maker, Hamilton Beach weighs about 1.47 lbs. If you are still unsure of Hamilton Beach's quality, Hamilton provides a 1-year warranty which is decent yet users have reported that this particular sandwich maker can easily last for years.
Easy Cleaning and Maintenance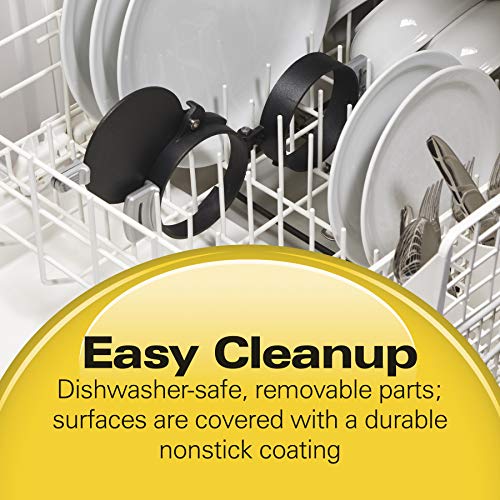 Even though it might seem like Hamilton Beach breakfast sandwich maker includes a lot of parts, cleaning it after making a delicious sandwich is super quick and it's almost effortless.
All removable parts are dishwasher safe and yet non-removable parts come with a non-stick coating that ensures nothing sticks and creates mess while you make sandwiches.
So all you need to do after every use is wipe the non-removable surfaces and remove and clean all removable parts. This shouldn't take more than a couple of minutes and yet your breakfast sandwich maker will be clean and ready for every other use.
Recipes Included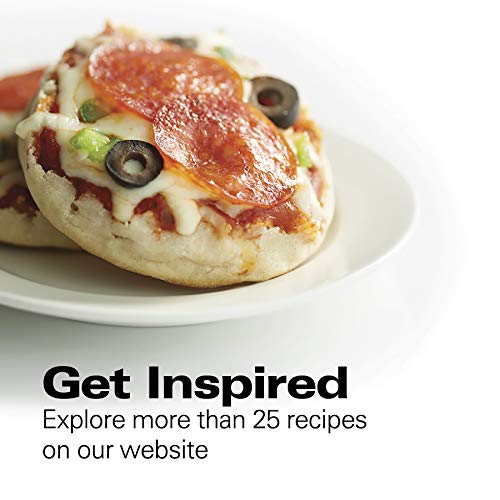 If you have no idea what type of sandwiches you'd like to make or you are just not sure what combinations would work the best, you have nothing to worry about as Hamilton's got you.
With the purchase of the Hamilton Beach breakfast sandwich maker, you will get online access to a recipe eBook that includes 25 recipes and sandwich variations.
Even if you're considering purchasing this breakfast sandwich maker as a gift for someone, you won't have to worry about the inspiration since they'll be getting enough of it from the included recipes! Of course, even if you do have an idea of what type of sandwich you'd like, you'll still be able to get plenty of ideas to try out!
Pros
Very quick and easy to use
Very compact and lightweight
Easy to clean thanks to removable parts that are dishwasher safe
Recipes that provide inspiration
Durable thanks to a combination of plastic and metal production
Price is very affordable yet quality wasn't sacrificed
Cons
Sandwich maker can get extremely hot so caution when handling is necessary
Handles could be a bit longer for easier usage
It's a bit too light which means that the maker sometimes can move on the counter regardless of the anti-slip feet
Conclusion
Hamilton Beach breakfast sandwich maker is one of the most affordable yet the most trusted makers on the market since it has been in production since 2013 and it is still bought and used all around the world.
Most importantly, its reputation is still there, making it one of the most affordable sandwich makers that didn't have their quality sacrificed to ensure a lower price point.
With all the small features that it includes, the Hamilton Beach breakfast sandwich maker is very easy to use and it makes a great addition to any kitchen countertop.
What is your favorite thing about Hamilton Beach sandwich maker and why?