Let's be honest. Choosing the right bread machine can be a tricky and overwhelming process. Even if you're used to buying new appliances online, it can be an overwhelming process.
But if you know how to choose a bread machine properly, you won't have any of those problems. Simply by looking for top rated products, you will be able to even decide yourself which bread machine is worth the cost..
Therefore, in this post, we'll help you find the top rated bread machines by reviewing some of the best ones on the market.
So let's get to it!
Top Rated Bread Machines
Hamilton Beach Programmable Bread Machine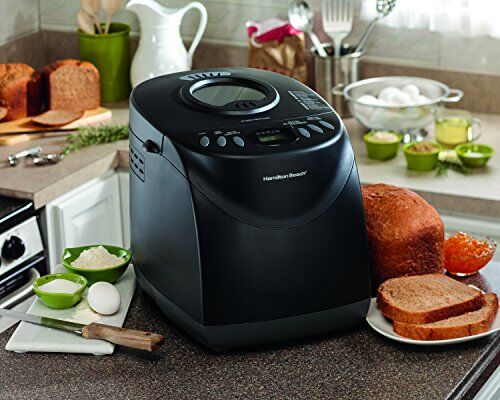 Highlighted Features
Hamilton is one of best known brands in the world. Not only do they make quality bread machines, they make quality appliances in general, even waffle makers!
Settings
The Hamilton Beach bread machine includes 12 settings for different types of bread loaves. It offers every type of bread from gluten-free to quick bread. There is also a setting which lets you choose the bread crust setting, which can be either light, medium, or dark crust.
Another setting which is really helpful is an audible reminder to add fruits and nuts.
Sizes
Hamilton Beach bread machine offers two different loaf sizes. You can choose between 1.5 lb and 2 lb loaf size. A great thing about that is that instead of bread, you can also make dough for pizza, cakes, and even croissants.
Display
To make things as friendly and as easy as possible, Hamilton Beach added a large display which houses all settings such as cycle, crust, loaf size, and even a delay timer.
You can add all the ingredients and use the delay timer to start baking your bread loaf sometime later.
Since I love waking up to a freshly baked bread loaf, I love the delay timer option and I would highly recommend this setting to everyone, no matter which bread machine you buy.
Easy to Clean
All interior pans inside the Hamilton Beach bread machine are coated with a non-stick coating. Also, all removable parts are dishwasher safe.
Therefore, the maintenance and cleaning are very simple and easy.
Something I like is that this bread machine comes with two kneading paddles so while one is getting washed, the other is ready to go!.
Amazon Rating
The Hamilton Beach Programmable Bread Machine has 4.2/5 stars on over 1,200 customer reviews. That's a huge number and a testament to the amount of people who trust Hamilton Beach products.
In addition to that, it qualifies for Amazon Prime and is currently Amazon's Choice for "Gluten Free Bread Machine".
Read here for an in depth review of the Hamilton Beach Bread Machine.
---
Sunbeam Programmable Bread Machine
Highlighted Features
Sizes
If you need a bread machine that will allow you to always make different bread loaf sizes, the Sunbeam Bread Machine is the right choice.
You can choose between 1 lb, 1,5 lb, and 2 lb loaf sizes, which will match any and every situation.
Functions
Just like we've previously seen with Hamilton Beach bread machine, Sunbeam bread machine also features 12 cooking functions with 3 different crust setting adjustments.
Such wide choice of settings and functions give a variety of cooking options and items.
Delay Timer
When you are supposed to plan ahead and aren't able to start baking your perfect bread loaf, the delay timer will come in handy.
You will have the option to delay the baking process up to 13 hours, which is perfect because the Sunbeam bread machine can do everything while you sleep.
Ease of Use
At the front of the Sunbeam bread machine, there is a small display located with the buttons around it. It's pretty nicely placed which makes the process of choosing the settings very easy.
Easy to Clean
Cleaning the Sunbeam bread machine is made simple and easy since the interior parts are removable. Also, all the baking pans are coated with a non-stick coating that makes both the baking and the cleaning process easy.
Amazon Rating
The Sunbeam Programmable Breadmaker boasts 4.3/5 stars on over 1,900 customer reviews on Amazon!
That's an incredible star rating on so many customer reviews! Right now it's Amazon's Choice for "Breadmaker".
Read here for an in depth review of the Sunbeam Bread Machine.
---
Zojirushi Virtuoso Bread Machine
Highlighted Features
The Zojirushi Virtuoso is a bread machine that bakes the traditional rectangular shaped bread loafs, while other modern bread machine have changed their baking shape.
Options
Since the Zojirushi Virtuoso bread machine bakes bread loaves in rectangular shaped bread loaves, it only has one loaf size option which is 2 lb sized loaf.
However, you are able to choose between gluten-free and custom menu settings which allow you to bake any type of bread you're looking for.
Kneading Blades
The one thing which really impresses me about Zojirushi Virtuoso bread machine are the dual kneeding blades. They do their job way better than single kneeding blades and they knead through the dough very thoroughly which can be noticed in the end result.
Additional Heater
Something that is rare to see, but is definitely useful and I wish it was available in every bread machine is the additional heater which is smartly placed at the top of the cover lid.
Such efficient placement makes sure that the bread is evenly baked.
Additional Accessories
With the Zojirushi Virtuoso bread machine, there is also a measuring cup and a measuring spoon that definitely help in the process of mixing the ingredients. It's important to get the measurement right and Zojirushi made it very easy and simple.
Amazon Rating
The Zojirushi Virtuoso Breadmaker boasts an impressive 4.5/5 stars on over 1,700 customer reviews on Amazon!
It's actually one of the highest rated appliances we've ever seen on so many reviews and the highest rated Bread Machine of the bunch!
---
Cuisinart CBK-200 Bread Maker
Highlighted Features
Everyone who's serious about making their own bread on regular basis will love the Cuisinart CBK-200 Bread Maker which can be compared to professional commercial bread machines.
Convention Fans
Cuisinart CBK-200 bread machine is an upgraded model and can be considered almost a professional bread machine. Therefore, it features convention fans that adjust speed and timing that lead to foolproof results.
It offers reliability and makes bread loafs faster than you would have expected.
Preset Options
There are 16 preset options featured which will give you a full range of bread loafs that include low carb, gluten-free, artisan dough and many other types. You will also be able to create cakes and pizza dough as well.
Cuisinart CBK-200 bread machine also features delay timer which is very popular for setting up the bread machine to wake you up with a freshly baked bread loaf.
Crust Control and Loaf Sizes
There are 3 crust control choices and 3 different loaf sizes. Combine these two things with 16 preset options, you will get over 100 bread combinations you could try.
Audible Notifications
Audible tones let you know when to add ingredients and when to take your loaf out.
You will always know when to add ingredients thanks to the audible tone that will remind you. Not adding the ingredients right on time can take your bread loaf in another direction.
Build and Design Quality
At the first look, you will already notice the premium body build and materials that were used to craft Cuisinart CBK-200 bread machine. Good news is that it feels as premium as it looks like and therefore it offers a lot of reliability and durability.
On the other hand, it goes really well with any type of kitchen interrior without standing out or attracting too much of attention.
Right next to the opening lid, there is an LCD diplay and necessary buttons & instructions which make the choosing type of bread, crust control and timer setting very easy. As well as starting or stoppping and pausing the bread machine.
It looks very professional and even someone without any kind of experience is going to find their way around the Cuisinart CBK-200 Bread Maker without any problems at all.
Amazon Rating
The Cuisinart CBK-200 Bread Maker boasts an impressive 4.2/5 stars on over 1,200 customer reviews on Amazon.
---
Conclusion
These Top Rated Bread Machines offer a lot of value for what they cost, and in my opinion, they're very reliable and easy to use.
If you're looking for an easy to use, yet reliable & durable bread machine that offers a lot of functions and settings – you won't be disappointed by any of these bread machines.
You can be assured that these bread machines have a lot of positive feedback and that they are the top rated bread machines for a reason.
Which bread machines did you use in the past and do you have any recommendations?
Feel free to let us know by leaving a comment. Meanwhile, please show us some love and share this post!