Looking for the best waffle maker that makes mini waffles?
Waffles area great go to breakfast for many of us on weekend mornings.
But sometimes, large Belgian waffles are just too big. Or your kids want a few little waffles instead of big Belgian waffles.
For these occasions – a mini waffle maker is the PERFECT appliance to have in your kitchen.
They make tiny waffles that kids love and that are easy to be creative with if you're making fun deserts or experimenting with your breakfast.
Don't let the small size of these tiny waffle irons fool you. They're all high quality kitchen appliances that are durable and will crank out waffles for years to come.
Before we get started here's the best mini waffle maker on the market.
Dash Mini Waffle Maker Machine
MORE THAN WAFFLES: Make paninis, hash browns, and even biscuit pizzas! Any wet batter will "waffle" your treats and snacks into single serving portions Great for kids or on the go!

COMPACT + LIGHTWEIGHT: Weighing 1lb+, this is a MUST-HAVE for that first apartment, smaller kitchen, college dorm life, or camper/RV traveling

QUICK + EASY: Simply plug it in and go; it heats up in mere minutes The dual non-stick surfaces provide an even cook for consistent results, each and every time 4 inch cooking surfaces for individual portions

PERFECT GIFT: The perfect wedding or new home gift Its small size takes up little counter space, and its sleek design and trendy color options will match any kitchen décor (add to your registry now!)

INCLUDES: Backed by a 1-year manufacturer warranty, the Dash Mini Waffle maker includes recipe book and recipe database access (all non-electric parts are easily wiped clean)

U.S. BASED SUPPORT: Dash is a U.S. based company who provides contact information in each product manual
What is a mini waffle maker?
A waffle maker bakes different types of waffles, they can be American/Classic style, Belgian, cookie, or thin.
A mini maker bakes waffles that are the same (along with the same ingredients) but are of miniature size.
These tiny appliances are just like any normal waffle iron except the only difference is the size of waffle produced.
There are plenty of great waffle irons for kids, but your kids might like one of the mini makers on the list below, not because of the shape of the waffle but because of the size.
Benefits of a mini waffle maker
Not only are mini waffle makers easy to use, they're easy to clean, and they're also easy to store no matter how small your kitchen might be(because tiny appliances tend to make tiny food!).
They're also fun to experiment with recipes with. If you google around for recipes or look at Pinterest, you'll see TONS of cool dessert recipes for these types of waffles.
Things to consider when looking for the best mini waffle maker
Types of Tiny Waffles
Waffles are baked in many different ways. Some are Belgian style, others are Classic or Standard. No matter what style you prefer, you should buy an appliance that will bake waffles however will make you happy, whether it's a tiny waffle maker or an enormous one.
Cost and Brand
Most brands offer a wide range of appliances. Some are plug and go, while others are digital. Many are nonstick and some are non-Teflon. Choose the one that provides the most value for the money that you'd like to spend.
Just because you can't afford a pricey waffle machine doesn't mean that your unit won't cook delicious waffles day in and day out.
Easy to clean
Tiny waffle makers make tiny waffles, but that doesn't necessarily mean that the mess will be smaller. There is still batter and toppings to clean up. There's still a mixing bowl and a whisk to wash. Not to mention what stays on the waffle grids themselves.
Choose a waffle maker (mini or not) that is easy to clean.
How long do mini waffles take to cook?
You would think that little appliances which cook small amounts of batter tend to cook a lot faster than larger ones, right? Well, you'd be wrong! It still takes 2-4 minutes to cook a waffle on a mini waffle maker.
Nonstick or Stick?
What are the baking plates made out of? That might be an important question to ask yourself if you're looking to avoid Teflon.
You can avoid Teflon and still have a nonstick coating. Many appliances nowadays come with ceramic or other coatings that are nonstick, but without the chemicals.
Temperature Control
My personal favorite, the Presto FlipSide, comes with no temperature control at all. You just plug it in and go. Over time I've perfect exactly how long my waffles should be in there for. I have no need to adjust the temperature.
However, many waffle irons now do come with temperature control and many people appreciate it. A waffle maker with temperature control allows you to bake waffles according to your preference and to what ingredients you put in it.
Any other features?
Mini waffle makers these days come with all sorts of other features. Light indicators, sound indicators, digital screens, etc. Basically, whatever you can dream up, it can do. Some machines even have automatic shut offs and extra grooves to catch excess batter.
There's no end to the type of features you can find in a waffle maker of any size.
Best Mini Waffle Makers
Let's get down to business.
Hands down, the best tiny waffle maker is the Dash Mini Waffle Maker.
Dash Mini Waffle Maker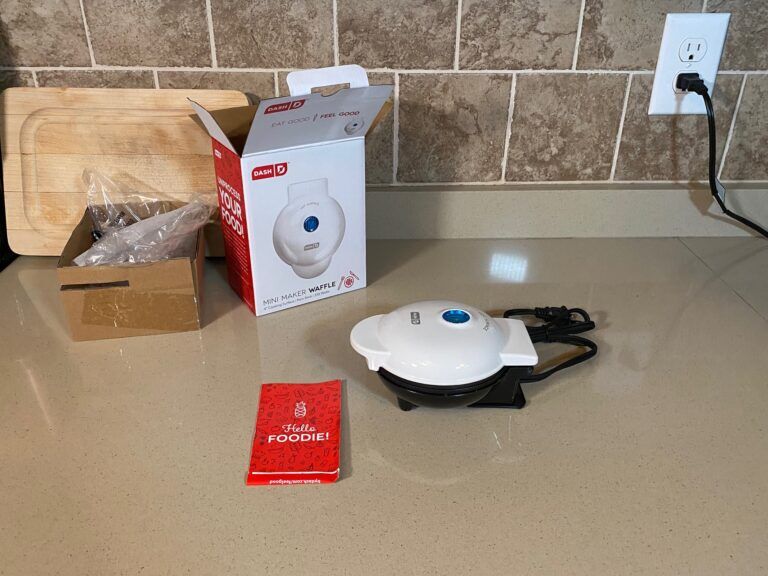 350 watts of power
Space saver
Nonstick cooking plates
Easy cleanup
Easy to use
Fixed heating plates
Indicator light
Recipes included (including how to make hash browns!)
Budget-friendly
1-year warranty
Click on the link above to buy this waffle maker on Amazon. Tiny appliances come with a tiny price tag, so you can't really go wrong!
To read our in-depth review on this appliance, read our Dash Mini Belgian Waffle Maker review.
This is a sleek, lightweight, compact, and inexpensive high-quality waffle maker that you crank out as many waffles as you need.
It's basically a round classic waffle maker that makes mini classic waffles.
It features one large indicator light at the top and includes a recipe book along with free access to an online recipe database. This waffle maker comes with a recipe book with many different waffle recipes, along with a couple of different ones like how to make hash browns.
Best of all, it has a nonstick coating so as long as your recipe has some fat in it (like oil or butter), won't have to worry about sticky waffles!
It's one of the best waffle makers on the market, except that comes in a small size but will still crank out delicious small-size waffles every time.
Some of the other favorite mini waffle makers
My favorite waffle maker is the Dash (by far!). Still, there are many other good ones on the markets. Some of these others are below.
Nordic Ware Silver Dollar Waffle Griddle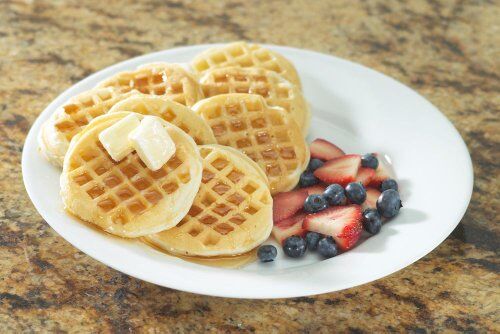 This is a true "stovetop waffle iron" by Nordic Ware. The advantage of it is that it makes numerous mini waffles at the same time while on the stove top.
The cast aluminum is nonstick, so you shouldn't have any trouble taking out these delicious little waffles.
The size of this plate means that it actually makes seven mini waffles at once.
The build of this stovetop appliance means that it's durable while making cleaning a breeze.
This makes three-inch size mini waffles super fast and at a reasonable price.
Pros
Non-stick finish
Makes seven small waffles at once
Easy to clean
Easy to use
Reasonably priced
Bakes fast
Durable
Inexpensive
Cons
Cast aluminum tends to stick if you're not careful
VillaWare Professional Mini Heart Waffle Maker
Would you love to quickly make tiny heart-shaped waffles?
If so then this waffle maker may be for you.
This one makes baking waffles fun because of the heart-shaped waffles that it produces.
Also, it only takes three minutes to get the job done. The most important feature is its removable plates, which ensure easy cleanup.
Its interior has a nonstick coating and also features temperature control.
Pros
Heart-shaped tiny Belgian waffles
Electric waffle maker- just plug in and go
Bakes in just three minutes
Includes 7 temperature settings
A Nonstick grid saves you sticking!
Stainless steel exterior
Indicator light
1-year warranty
Cons
Mickey Mouse Mini Waffle Maker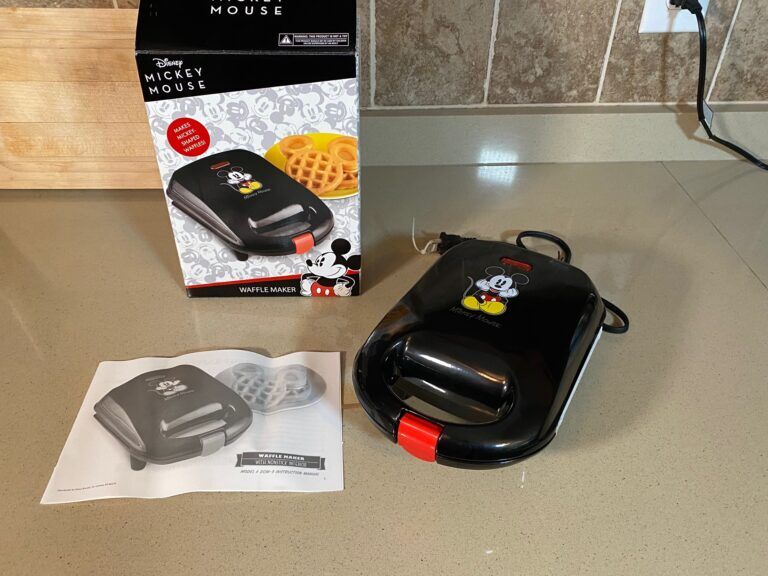 This little waffle iron is perfect if you have kids who love waffles. It's even better if you have kids who love Mickey Mouse.
This little Mickey waffle maker features nonstick grids, a power light to indicate when it's on, and a very inexpensive price tag!
I think it's inexpensive enough that it's worth a shot. Let me know if you buy it and what you think.
Pros
Makes one Micky Mouse shaped waffle
Bakes fast!
Non-Stick Baking Plate
Illuminated Power Light
Convenient Cord Wrap
Non-Skid Rubber Feet
Cons
No temperature control
The baking plate is not removable
Babycakes Mini Waffle Stick Maker
Although these aren't strictly mini waffles, we still thought it was worth a mention.
This is a little mini maker of waffle sticks. These are little waffle sticks that can be eaten on a plate or with your hands.
The advantage of using your hands is that you can dunk them in sauce. It could be jelly, Nutella, syrup, or anything. You're only limited by your creativity.
This waffle maker features a nonstick plate, a latching handle to make sure it stays closed, and the ability to bake four little waffle sticks at a time. Kids love it!
Pros
Non-Stick Baking Plates
Make Four Waffle Sticks
Power Indicator Light
Latching Handle and Non-Skid Rubber Feet
Convenient Cord Wrap
Cons
The plates are not removable
No temperature control
Wrapping up the Best Mini Waffle Maker!
All of the mini waffle makers reviewed here (except one) are really reasonably priced.
You can pick up one of these mini waffle makers from Amazon and it will make waffles for you every weekend for a long time to come.
Best of all, your family will love having these mini waffles to eat and you'll love being able to just store a mini appliance away in a kitchen cupboard.
Did you see a high-quality waffle maker that caught your eye? Whether you want waffles in the shape of hearts, Mickey Mouse, or even waffle sticks, there's something here for you.
Not sure yet? Check out this cool little video about the Dash Mini Waffle Maker!