All about the Dash Mini Belgian Waffle Maker
Most people assume that making a crispy, delicious traditional or Belgian waffle at home is a difficult task. But, thanks to affordable and easy-to-use electric waffle makers that's not the case anymore.
However, a waffle is only as good as the waffle maker that bakes it, which is why we have decided to review the Dash Mini Belgian Waffle Maker.
We will talk about the appliance's key features as well as its pros and cons, and find out whether this mini waffle maker is worth your hard earned cash!
Dash Mini Belgian Waffle Maker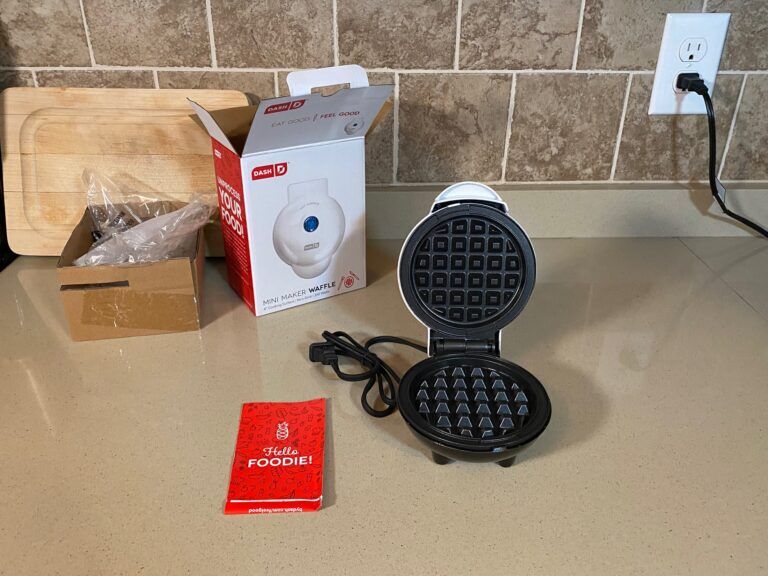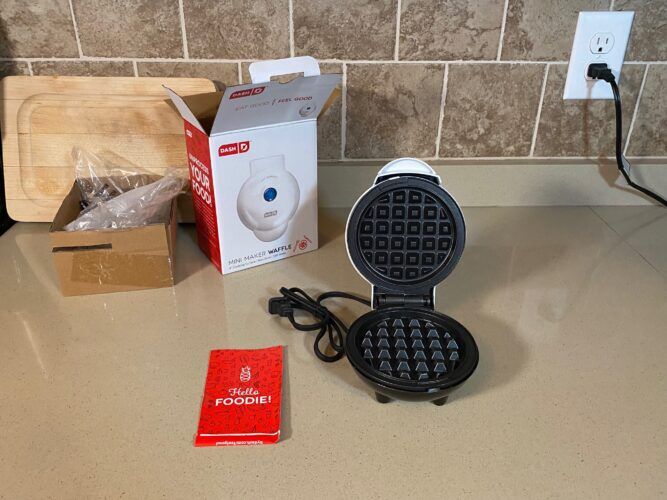 Product Description
Unlike most waffle makers which only do one thing, i.e. make waffles, the Dash Mini Belgian Waffle Maker is a multi-purpose machine that, with a little creativity, can make more than just waffles.
With Dash Mini Waffle Maker you can make blueberry waffles, paninis, and even biscuit pizzas.
Craving some hash browns? The Dash Mini Belgian Waffle Maker has you covered! This waffle maker can make single dishes in less than three minutes.
You can transform your wet batter into snacks and treats you wish for. It is perfect to feed your kids on the go. There are tons of dash waffle maker recipes that you can find online.
Using the Dash Mini Belgian Waffle Maker is simple and quick. Simply plug it in and you're ready to roll.
This waffle maker heats up in minutes. The waffle plates have dual non-stick surfaces that make cooking easy and consistent.
Cleaning this waffle maker is easy too as all the non-electric parts can be wiped clean.
Weighing just over a pound the Dash Mini Belgian Waffle Maker is incredibly lightweight and compact. It's ideal for small kitchens or college dorm life.
It is also a great wedding gift — thanks to its small size, it takes up little counter space.
The Dash Belgian Waffle Maker comes in a sleek design and trendy color options which can compliment any kitchen décor.
The Dash Mini Waffle maker is backed by a 1-year manufacturer's warranty; it also includes a recipe book and access to thousands of recipes online for free.
Dash Waffle Maker Pros
Sleek design
Multipurpose waffle maker; makes, paninis, hash browns, biscuit pizzas, etc.
Makes perfect mini Belgian waffles
Small and compact
Easy to store in tight spaces
Incredibly lightweight
The plates have a non-stick coating
Easy to operate and clean
Fast cooking times; takes only 2 minutes to cook one waffle
One large indicator LED light on the top lid
Available in many color options
Includes a Dash Mini Waffle Maker recipe book and free access to various online recipes via its database
Ideal for kitchens with limited space
Dash Waffle Maker Cons
Makes only one waffle at a time
Waffles made on the Dash Mini are very small! Hence the word "Mini"
The non-stick coating isn't of high quality as waffles tend to get stuck a bit – so make sure you use fat in your batter!
Click here to read about the Best Mini Waffle Makers!
Amazon Rating
The Dash Mini Waffle Maker has mostly positive customer feedback on Amazon. This waffle maker scored 4.5/5 stars based on over 600 customer reviews.
DASH Belgian Waffle Maker FAQs
Question: Does this waffle maker contain Teflon?
Answer: There isn't any specific note that states that the Dash Mini is a Teflon-free mini waffle maker. So, we can't fully assure you that this waffle maker DOES NOT contain Teflon. The unavoidable fact is that most waffle makers tend to contain Teflon.
If you're looking for a non-Teflon waffle maker, check these out!
Question: What size waffle does it make?
Answer: The waffle is around 4 inches in diameter.
Question: About how long does this waffle maker takes to cook a waffle?
Answer: About 2-3 minutes depending on the waffle recipe.
Question: Can I use this to make pancakes?
Answer: No, it's only for making waffles.
Question: Where Can I find the dash mini waffle maker recipes?
Answer: The Dash Mini Belgian Waffle Maker includes a recipe book. Plus, you get free access to thousands of recipes online.
Question: How long does it take to heat up?
Answer: About 2 minutes.
Question: Is it possible to change the plates to use it as a grill?
Answer: No. The waffle plates can't be changed. You have to purchase the mini grill separately.
Question: How easy is it to clean the waffle plates?
Answer: It's not hard to clean. However, the plates can't be detached.
Question: Do the waffles get crispy?
Answer: To make the waffles crispy spray a very small amount of cooking oil.
Question: How much batter should I use to make waffles with this?
Answer: The Dash Mini Belgian Waffle Maker is a small waffle maker. You only need a small amount of batter. About 1/2 cup or so of batter will do.
Question: Does this waffle maker shut off automatically?
Answer: Unfortunately, it doesn't. You need to turn it off manually after you're done making waffles. And always remember to unplug your waffle makers!
Question: What is the voltage?
Answer: According to the label it's 120 volts.
In Comparison
The Dash Mini Waffle Maker starts at a very reasonable price on Amazon. Nowadays, waffle makers are getting cheaper than ever.
You can find good, reputable brands selling waffle makers that cost around the same price as the Dash Mini.
Take the BLACK+DECKER Belgian Waffle Maker WMB505 for example. Then there is the Babycakes Waffle Stick Maker.
Remember just because they are cheap or similarly priced doesn't at all mean that they won't make good waffles. All three of these waffle makers have similar designs, construction quality, and features.
If you're looking for something better, in terms of design and quality, but don't mind spending a little extra, we would recommend you check out the Cuisinart Vertical Waffle Maker.
This waffle maker has a unique vertical design, looks sleek, and makes great Belgian waffles. It is also lightweight, easy to use, and store too. Some folks might find pouring the batter through the spout a bit quirky, but take it as a part of the experience of making waffles.
Final Words
Sale
DASH Mini Maker for Individual Waffles, Hash Browns, Keto Chaffles with Easy to...
MORE THAN WAFFLES: Make your favorite breakfast classics, or get creative with waffled hash browns, cookies and...
MINI IS MIGHTY: With a 4" nonstick cooking surface, this is a MUST-HAVE for that first apartment, smaller...
WAFFLY EASY: Simply plug it in and go; the Waffle Maker heats up in minutes. Dual non-stick surfaces provide an...
PERFECT GIFT: The perfect wedding or new home gift, the Waffle Maker's small size takes up little counter space,...
INCLUDES: The DASH Mini Waffle Maker includes one Mini Waffle Maker and Recipe Guide so you can get cooking right...
The Dash Mini Waffle Maker is a tad different than other waffle makers out there. It a multipurpose appliance that can also be used to make paninis, and biscuit pizzas too!
You don't always find this kind of waffle maker every day, at least, not at this incredibly low price. If you don't want to clutter your kitchen with single-purpose appliances, and want a waffle maker that makes more than just waffles, the Dash Mini Belgian Waffle Maker is a good buy you won't regret.
Looking for a larger Belgian Waffle Maker? Read our review of the Chefman Belgian Waffle Maker!