The Ultimate Cuisinart Vertical Waffle Maker Review
One of the best things about electric waffle makers is that these machines have features that tell you when your waffles are done.
All you need to do is simply mix the batter, pour it in the appliance, and wait for the appliance to notify you when it's cooked. It's that simple.
Here we will be showcasing an easy-to-use, affordable waffler called the Cuisinart WAF-V100 Waffle Maker.
Cuisinart WAF-V100 Vertical Waffle Maker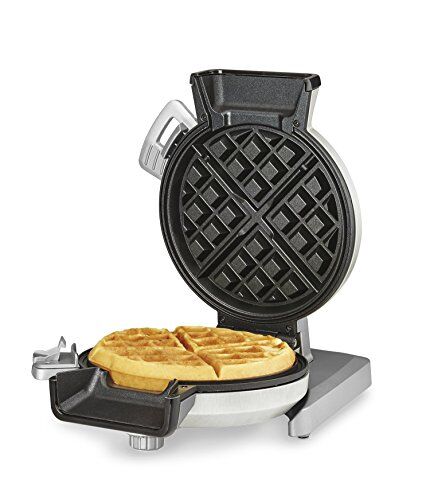 Cuisinart WAF-V100 Vertical Waffle Maker Product Description
The Cuisinart WAF-V100 Vertical Waffle Maker has a unique vertical design, looks and feels high quality.
Due to its upright design, it requires less storage space, batter should be poured through a spout located at the top and the whole process is simple.
The manufacturer has included a measuring scoop, so there little to no chance of under or overfilling the appliance with batter.
The vertical design distributes the batter over the plates evenly which ensure you have perfectly baked waffles every single time. This Cuisinart can make one round Belgian-style waffle at a time.
The appliance also features 5 browning levels, indicator lights, and beeping alerts. The handle has a locking mechanism, cool to touch, and is easy to open and close. The handle is well-designed to prevent the batter from leaking.
Cleaning the Cuisinart WAF-V100 is also less messy and easy as the plates have non-stick coatings. However, the waffles plates are non-removable, but we didn't think this was a big issue.
The Cuisinart WAF-V100 Vertical Waffle Maker weighs 6 pounds and its wattage is 800 W, which makes it energy efficient.
Pros
Unique vertical design and the included filling cup ensure you get a perfect Belgian waffle every time.
Waffle pockets are 1-inch deep.
Very easy to use.
Easy to clean.
Vertical standing design requires less storage space.
The waffle plates have non-stick BPA free coating.
Cooks waffles fast. You only need around 3 minutes for a dark, crisp, perfect waffle.
Ready-to-Bake/Ready-to-Eat indicator lights; Timer lights are big and easy to see.
Alerts/beeps are loud and highly audible.
Preferred setting available
Excellent price.
The handle has a locking mechanism.
The top cover made of brushed stainless steel.
Lightweight at 6 pounds.
Includes a measuring scoop and recipes.
Limited 3-year warranty.
Cons
The front and back sides of the waffle plates get very hot to touch when baking.
Does not cool down quickly.
Cleaning can become messy if the batter sticks and hardens.
The measuring cup doesn't have a spout so pouring the batter may be tricky.
The spout clogs easily.
The spout path is too narrow which makes it difficult to pour batter that has mixed pieces of fruit or nuts unless they are extremely fine.
Some customers reported leaking at the bottom after few months of usage.
Amazon Star Rating
This product ranks highly on Amazon with mostly positive customer feedback. It has 4.4/5 stars based on over 240 reviews.
Cuisinart Waffle Maker FAQs
Question: How tight is the seal?
Answer: The waffle batter won't leak, but anything as fluid as oil will seep out of the bottom.
Question: How can I open this waffle iron to get the waffles out?
Answer: The front can be opened by the handle and the waffle will stick vertically on the back plate. Remove the waffle using tongs or a fork.
Question: How many ounces the included measuring scoop is?
Answer: It is 6 ounces.
Question: Are the depth of the waffle holes at least 1-inch?
Answer: Yes.
Question: Are the waffle plates removable?
Answer: Unfortunately, they are non-removable.
Question: I want to add shaved coconut to my waffles. Will it clog the waffle iron?
Answer: No. We just highly recommend that you make sure you mix it with evenly with the batter.
Question: What material is the seal made of that prevents the batter from leaking?
Answer: We don't know what the seal is made out of. In our review, it was difficult to find out. A customer can always access the Cuisinart website and read and review product specifications in detail.
Question: How long does it take to make a crisp waffle?
Answer: It takes on average of 2 minutes to make a crisp waffle.
Question: Are the waffle plates made of Teflon?
Answer: Cuisinart claims that it's not Teflon. You can look online on the Cuisinart website to read more info.
Question: Are they Belgian or regular?
Answer: They are Belgian style waffles.
Question: Is the non-stick coating BPA free?
Answer: Yes.
Question: What is BPA? Is the non-stick coating used in the grids free of BPA?
Answer: BPA or Bisphenol A is a synthetic compound mostly found in hard plastic bottles we use every day. BPA can cause cancer and other serious illnesses. Yes, the non-stick coating used in this product are BPA free.
Access and read the Cuisinart vertical waffle maker recipe and instructional booklet here.
How do you clean a Cuisinart Standing Waffle Maker?
The product must be unplugged and completely cool before cleaning or storing.
Leaving the front cover open will allow hot grids to cool more quickly.
To clean, simply brush crumbs from grooves or wipe with a dry cloth or paper towel.
You may also clean the grids by wiping with a damp cloth to prevent staining and sticking from batter or oil buildup.
Be certain that grids have cooled completely before cleaning. If batter adheres to plates, simply pour a little cooking oil onto the baked on batter and let stand for about five minutes.
This will soften the batter for easy removal. To clean exterior, wipe with a soft, dry cloth. Never use an abrasive cleaner or harsh pad.
Never immerse cord, plug or unit in water or other liquids!
Do waffle makers smoke?
This is a question that we often receive regarding waffle makers. The reality is, your waffle iron will let out a little but of steam, however, it should NEVER smoke.
Smoke and steam are two very different things.
Steam comes from water within a food. As the food heats up, it releases water in the form of steam. This is a very normal function of baked and/or cooked goods. Yes, your waffles SHOULD steam.
However, if you have a kitchen appliance that is smoking, that's a bad sign. It means that something's wrong with the appliance and you should unplug it, let it cool down, and then throw it away!
Nowadays, kitchen appliances are so affordable that it makes little sense to try and repair something that costs less than $100. It's likely that a repair person would charge you more than the product is worth.
In Comparison
The Cuisinart Vertical Waffle Iron is an excellent kitchen appliance with an affordable price. Sure, you can get similarly priced and in some cases even cheaper waffle makers such as Hamilton Beach Flip Belgian Waffle Iron which costs the same, but Cuisinart is a better known waffle iron brand.
All of these waffle makers offer similar features, functions, and build quality, and all of them do one thing very well that is — bake delicious, crispy waffles. It all depends what your preferences are and what would expect to see in your waffle iron.
Who makes the best waffle maker?
Inevitably, whenever we look at a Cuisinart appliance, the question comes up whether this is the best in it's class or whether another product beats it out!
We all have different budgets, price points, and different qualities that we value in a kitchen appliance.
With that said, for many people, the best waffle maker is one that will do a good job for a long time and not cost an arm and a leg. And all of those things that I mentioned area all relative.
For me, I look for an appliance that costs less than $100 and will last for years. Cuisinart waffle irons will usually fit into that category. So for me and my current situation, Cuisinart makes the best ones.
Review- Cuisinart Vertical Waffle Maker
This Cuisinart Standing Waffle Iron is cleverly designed, highly functional, and amazingly affordable waffle maker out there. It has all the necessary features, the build quality is excellent, and it is also easy to use.
We don't disagree that it has drawbacks like customers complain that the spout gets clogged easily, and the spout path is too narrow for the batter that has chocolate chips or blueberries pieces. But, its many pros easily overshadow its cons.
If you're searching for an appliance that makes great Belgian waffles, does not take up too much space in your kitchen, and most importantly, does not cost you an arm or leg — this Cuisinart kitchen appliance is the waffle iron you should consider spending your hard earned cash on.
We hope that this article has been helpful and that you decide to purchase this product. Let us know in the comments below if you bought it or not.
Sale