Why on earth would you want to buy a Captain America Waffle Maker?
I'm sitting here thinking of all the reasons why someone would want to buy a waffle maker, and there are many. You love waffles, you want to recreate meals you experience in restaurants or recipes you see online.
Maybe you have a special diet but want to continue enjoying the foods you love but…at the end of the day, you love comic books, the Marvel Universe, the Avengers, and of course, you love Captain America!
Not only is this a cool looking waffle maker that makes waffles in the shape of Cap's shield, but it's also affordable, sturdy, and functional as well. All of these features come with the Marvel Captain America Shield Waffle Maker.
Don't know Captain America? Then this is probably not the waffle maker for you.
Love Captain America AND Belgian Waffles?
Then this Captain America waffle maker will have a place in your kitchen. What's cool is that Marvel actually produces and sells these appliances. Do they do a good job? We sure think so!
Not only are the waffles baked in the shape of a shield on one side, but the other side has typical deep Belgian waffle iron grids.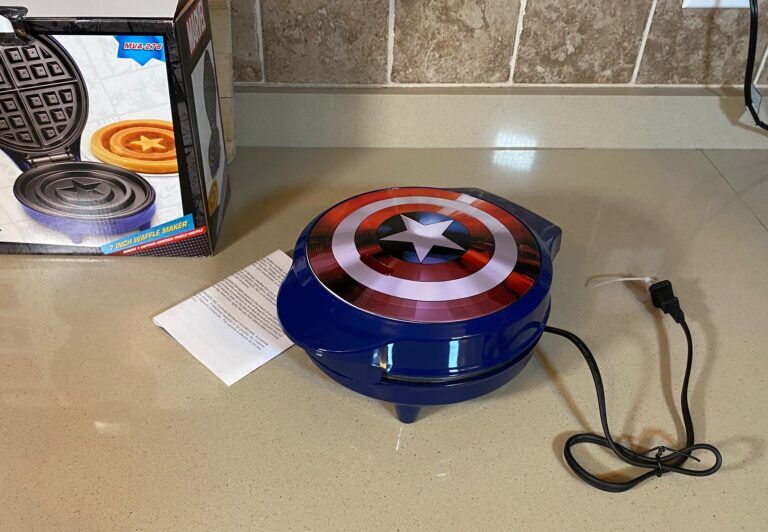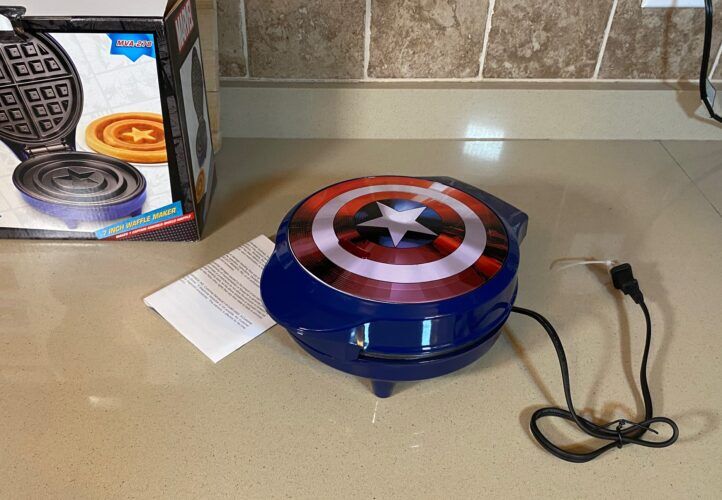 This is a perfect waffle iron for your kids or loved ones who are Captain America fans. Although it's a Marvel Comics themed kitchen appliance, don't let the theme fool you. This is still a high-quality appliance that does its job!
Sale
Features
The Marvel MVA-278 Captain America Waffle Maker is not just an attractive looking and easy-to-use waffle maker but offers a host of features as well.
Eating a waffle of Captain America's shield is awesome!
The waffle baking plates are coated with a nonstick coating and therefore the waffles will not stick to the plates
Nonstick coating also means these plates are easy to clean
You can bake one Belgian Style 6-inch waffle at a time
There is power on and ready light indicators on the appliance
The power cord of the waffle iron can be conveniently wrapped around the appliance
Shipping weight is 3.3 pounds
Pros
Feet grips on the surface so that the machine doesn't slide anywhere
Waffles will not stick onto the nonstick waffle making plate
The shield waffle looks attractive and thick
Well insulated so that you can touch the machine when it is in use
Weighs just under 3 pounds
Really great price so definitely an affordable gift
Did I mention that Captain America is awesome?
Cons
No indicator light so it's hard to tell when the waffles are done
No drip tray so any excess batter just falls out of the waffle maker and makes a mess
No on/off switch, therefore the power cord has to be disconnected after each use
Amazon Ranking
This Captain America Belgian Waffle Maker boasts an impressive 4.6/5 stars on over 180 Customer Reviews on Amazon.
Captain American Belgian Waffle Maker FAQs
Q: How long does take to cook a waffle?
A: It takes approximately 3 minutes to cook. The indicator light will let you know when it's ready.
Q: How big is the waffle?
A: The waffle is approximately 7 inches in diameter and .5 inches thick.
Q: Are the plates removable?
A: No, if you're looking for removable plates, look at this waffle maker with removable plates.
Q: Can it be used in Europe?
A: It comes with an American style plug. However, with an adapter and convertor, it can be used in Europe.
Q: Is it 220v or 110v?
A: It is a 110 voltage appliance
Q: How much batter is used for each waffle?
A: It will take some trial and error to determine exactly how much batter to use. Keep in mind that batter expands when it heats up.
Is the Captain America Waffle Maker worth it?
The Marvel MVA-278 Captain America Shield Belgian Waffle Maker is an attractive looking, simple, and easy to use waffle maker that can bake Captain America waffles in no time. Also, with no extra switches or buttons, the machine is very simple to use.
This waffle maker is compact in size and can therefore be stored easily. The iconic star shield symbol you make using this waffle maker will drive your kids (whether little or big) to enjoy their breakfast, no matter what kinds of waffles you make.
Whether dessert waffles, paleo waffles, protein waffles, or vegan waffles, making these waffles in the shape of Captain America's Shield means a fun breakfast, no matter the ingredients!
Looking for something just as fun, but different?
Check out our in-depth review of the Texas Waffle Maker!
Love Captain America?
Love Captain America? Try these other Captain America products on Amazon.
In Conclusion – Captain America Waffle Maker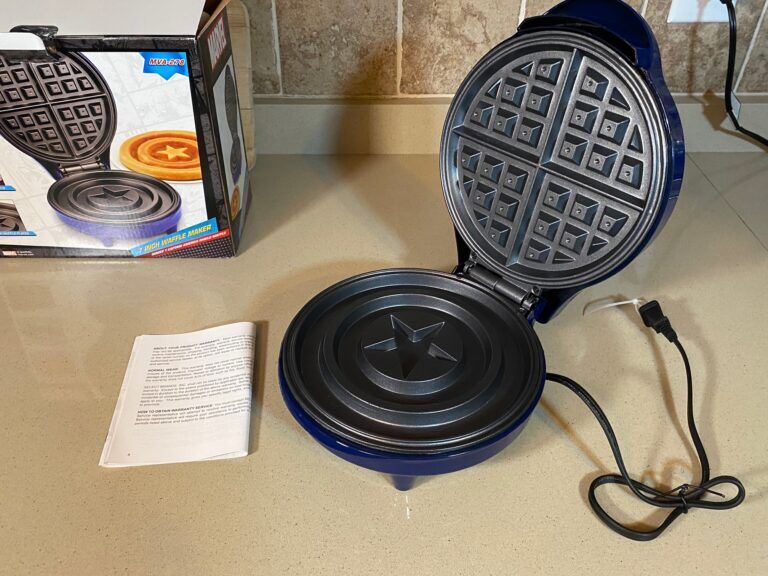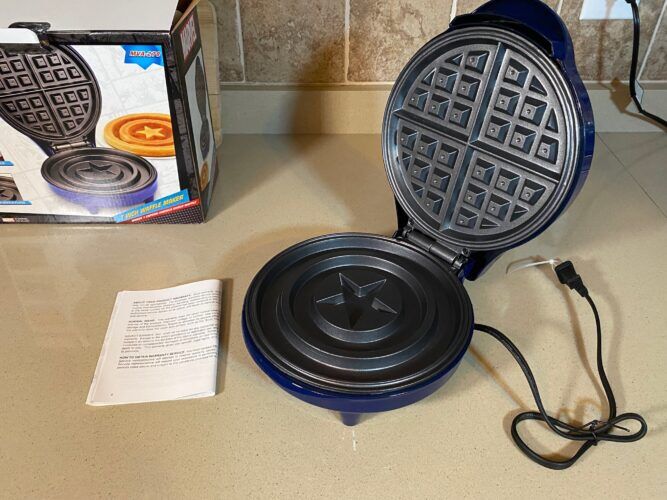 Don't be fooled by this fun, Marvel-themed waffle maker. Although it's a fun appliance that the Captain America enthusiast in your life will appreciate, it's a high-quality kitchen appliance that will serve you well for years to come.
What other Marvel kitchen appliances would you like to see reviewed?