In a hurry? We reviewed 5 waffle makers and chose the T-fal Waffle Maker as the best waffle maker with removable plates.
What is the Best Waffle Maker with Removable Plates?
Who doesn't love to cook waffles? Many families do, mine included!
At our home, we try to eat healthy, and if possible, reduce the amount of time we spend cooking and cleaning in the kitchen.
Trying to eat healthy while spending less time cooking and cleaning is always a challenge. Therefore, I'm always looking for ways that we can save some time in the kitchen.
In the limited time that we have, we would rather spend it with each other enjoying a delicious meal, specifically, enjoying delicious waffles!
This means that we're tempted to gravitate toward frozen waffles that we can just stick in the toaster, but they can be so bad for you! I like to know exactly what ingredients are in my waffle batter.
Frozen waffles may be easy to make, but they taste pretty bad. And you just can't customize them like you can when you make waffles yourself.
In our case, the best solution for our home is a waffle maker with removable plates.
A waffle maker like that can bake a perfect waffle and is easy to clean up.
Before we look at the best waffle maker individually – here's an overview
T-fal 1500637135 SW6100 EZ Clean Easy to Clean Nonstick Sandwich and Waffle Maker...
Hamilton Beach Flip Belgian Waffle Maker with Non-Stick Removable Plates, Browning...
George Foreman 5-Serving Removable Plate Next Grilleration Grill, White, GRP4-1



T-fal 1500637135 SW6100 EZ Clean Easy to Clean Nonstick Sandwich and Waffle Maker...

Hamilton Beach Flip Belgian Waffle Maker with Non-Stick Removable Plates, Browning...

George Foreman 5-Serving Removable Plate Next Grilleration Grill, White, GRP4-1

T-Fal SW6100 EZ Clean Waffle Maker with Removable Plates
T-fal 1500637135 SW6100 EZ Clean Easy to Clean Nonstick Sandwich and Waffle Maker...
2 sets of interchangeable sandwich and waffle plates
Waffle plates make 2 square shaped Belgian style waffles at a time
Use the sandwich plates to to make delicious pocket sandwiches any time of day
On/ready indicator lights; cord storage; nonstick and dishwasher safe plates for easy cleaning
Indicator lights advise if power is on and when the plates are ready for cooking
T-Fal is produced by a French company that's over 60 years old and still is about innovation and multi-functional designs. So it's no wonder their waffle irons follow in the same footsteps.
This multi-functional design allows you to grill and griddle at the same time using different plates!
For those of you who are looking for a 2-in-1 appliance, this T-Fal waffle maker may be for you.
You can get both a sandwich maker and a waffle maker in the same product. You can use this appliance to make your breakfast, make your lunch, or make your breakfast and lunch at the same time!
I don't know about you, but kitchen counter space at my house is currently at a premium.
I have so many appliances that I have to think twice before buying anything else. Because of that, lately, I've been thinking that the more an appliance can do, the more likely I am to add it to my regular rotation.
That's why this T-Fal waffle maker is worth it. The compromising quality of food and the battle over tight kitchen counter space is finally over in this easy-to-use and easy-to-clean waffle maker.
That's due to the two sets of removable plates that it comes with. It's also one of the more affordable waffle makers and has almost 1,000 reviews on Amazon.
This is a best-in-class waffle maker and sandwich maker combo that offers easy cleaning has indicator lights, has a drip tray, will cook your waffle recipe perfectly, and is a top-of-the-line waffle maker with removable plates.
T-Fal Features include:
2 sets of reversible plates – waffle plates and sandwich plates
Waffle plates make two square-shaped Belgian waffles at a time
Sandwich plates make delicious pocket sandwiches
Removable plates make for easy cleaning (use them and soak them!
Non-stick removable plates are dishwasher safe
The drip tray keeps excess melted butter or cooking oil off of the stainless steel exterior
Power and ready indicator lights to show power is on and ready to bake
Convenient cord wrap and vertical storage for even more space-saving
Attractive design
1 year limited warranty
Why the T-Fal is a favorite of ours
Low price
A high number of awesome reviews
Makes two sandwiches or perfect waffles at the same time
Simple to use
Easy to store when not in use
Appliance stands up vertically in storage
Weighs just 4.5 pounds
Affordable!
Waffle makers with removable plates mean you can just remove and drop in the sink!
There are a few cons, though.
The plates take a long time to cool down, so don't rush to pull them off or you might burn yourself.
Although there are indicator lights, there's no timer, so you have to keep an eye on it.
The additional reversible plates need to be stored somewhere, so you need some extra space around.
This T-Fal EZ Waffle Maker is one of the most ingenious products from the T-Fal company. T-fal's stated mission is to "Offer ingenious products to make cooking simpler and more rewarding." They don't disappoint with this product.
This appliance first debuted on Amazon in 2010 and since then has racked up over 1,000 reviews averaging 4.1 out of 5 stars. I don't know about you, but I think those are great numbers!
Not only does it come with these two interchangeable plates, but it allows you to make two sandwiches at the same time as two waffles at a time.
Do you feel like waffles but your significant other or spouse wants a sandwich? Not a problem with a sandwich maker and waffle maker in the same appliance. You can eat waffles and sandwiches whenever you want!
Also, this waffle maker is easy to clean because of the nonstick coating. You can't get much easier than just popping off the plates and putting them in the dishwasher. Most waffle makers with removable plates do have a non-stick coating, so the T-fal is no different in this regard. Still, most waffle irons aren't this durable and easy to use at this price point.
With many special features and pros, this will be a great addition to your kitchen.
If you are looking for a solid product for making fluffy waffles and grilled cheese sandwiches with little effort and very fast, then go for T-fal Waffle and Sandwich Maker.
You can make a variety of dishes for your breakfast, lunch, dinner, or dessert without any hassles using this product. This multi-functional waffle maker will surely help to meet you and your family's food requirements.
For an in-depth review, read here.
Hamilton Beach 26030 Flip Belgian Waffle Maker
Hamilton Beach Flip Belgian Waffle Maker with Non-Stick Removable Plates, Browning...
Flipping Action Makes Thick, Fluffy Waffles Flipping Waffles During Cooking Makes Them Crispy on the Outside,...
Nonstick Removable Plates Remove Your Waffle From the Nonstick Plates With No Sticking or Scraping; The Grids...
Adjustable Browning Control Cook Your Waffle Lighter or Darker, Just the Way You Want It
Stainless Steel Design Waffle IRON Wipes Down Easily and Has a Modern Look That Will Look Great on Your Countertop
Easy-Clean Grids and Drip Tray the Grids and Drip Tray Are Removable and Dishwasher-Safe for Simple Cleanup
Hamilton Beach's goal is to have "Good Thinking" with all of its products. It has a wide range of available kitchen products from blenders and countertop ovens, to air purifiers and irons.
They sell millions of products every year! All this is from an All-American company founded way back in 1910. Hamilton Beach's Belgian waffle maker is one of its best and from its features, it's clear that it's a creative and well thought out design.
This Belgian waffle maker comes with non-stick removable grids and plates that are dishwasher safe and simple to clip back on.
This Hamilton Beach Waffle Maker is capable of making a wide variety of dishes such as French toast, omelets, sandwiches, hash browns, and even bacon! And of course, you can make all of your own waffles to your heart's content.
Never overcook or undercook thick waffles again with Hamilton Beach's indicator lights and its nonstick waffle plates.
Its drip tray around the plates makes excess waffle batter easy to clean.
This is a best in class Belgian waffle maker with removable plates that has all the right features to make baking waffles at home simple and pain-free.
Hamilton Beach Features include:
Removable waffle plates
Brushed stainless steel casing
Rotating/Flip feature
Makes perfect waffles!
Green indicator light
Removable grips
Adjustable browning control so you make your waffles as crispy or chewy as you like
Cool touch handle that can be folded for easy storage
Easy to removable drip tray that is dishwasher safe
Affordable
First Impressions
The Hamilton Beach Belgian waffle maker looks a bit old-fashioned but works like a modern-day waffle maker to produce those thick, crispy, and tasty Belgian waffles at home.
This is a great appliance to not only provide your family with a hot satisfying breakfast but also some well-received and tasty desserts.
Some of the favorite features mentioned by users include:
Ease of cleaning
Makes great waffles
Dishwasher safe plates
Easy to use indicator light
The adjustable heat settings
Great price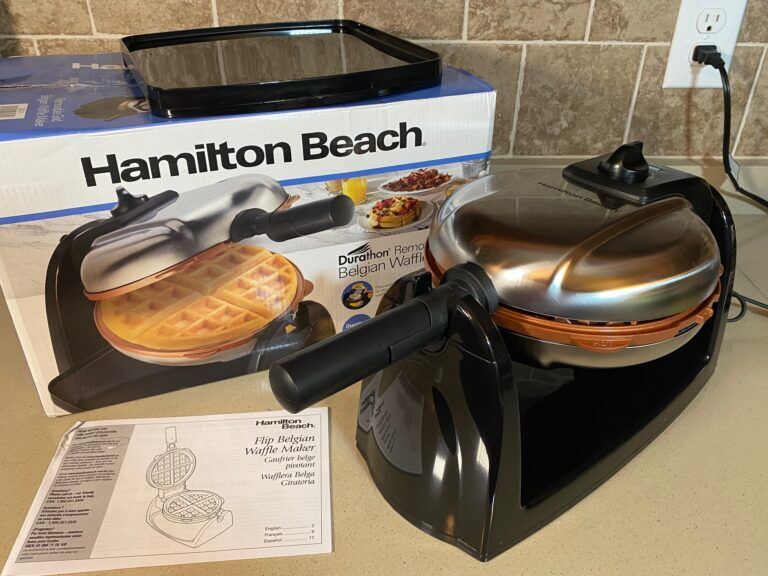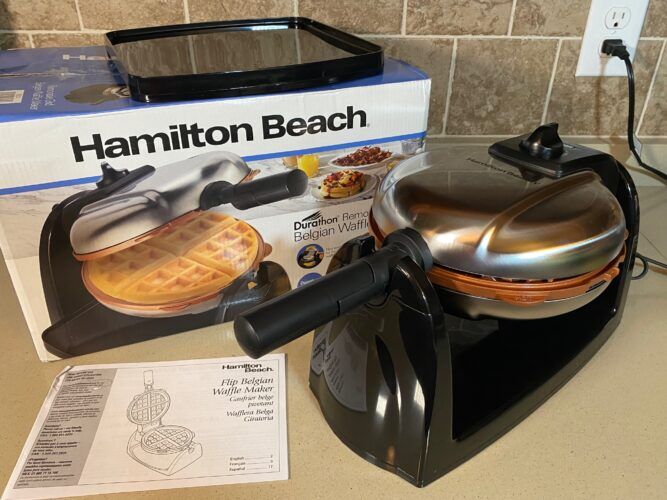 Although we loved this waffle iron, there are a few challenges with it.
First, it doesn't have an off/on button. If you want to turn it on then just plug it in. When you want to turn it off, just unplug it.
For some people, that can be a big deal. It's not uncommon though in waffle irons.
For me, it's not a big deal because although I make waffles on a regular basis, I have so many appliances that I keep them all put away (except for the coffee pot!).
Second, the power cord is shorter compared to most other waffle irons on the market. This can be a problem when the power cord is essentially the off/on button!
This can be pretty annoying, but again, it kind of depends on how your kitchen is set up.
The Hamilton Beach Flip Belgian Waffle Maker is one of the best waffle makers on the market. With a weight of just 6.7 pounds and dimensions of 14.9 × 9.9 × 9.1 inches, this appliance is considered light and perfect for customers with small kitchen spaces (and it makes delicious waffles every time, also!).
The features are impressive and the overall 4.5/5 star rating from well over 1,000 customers makes it one of the best-selling products on Amazon.
The Foreman Next Grilleration Electric Non-Stick Grill With 5 Removable Plates
George Foreman 5-Serving Removable Plate Next Grilleration Grill, White, GRP4-1
72 square inch cooking surface fits up to 5 servings and knocks out the fat with our George tough nonstick coating...
1000 watts power plus signature Foreman embedded heating element offers even heat across the cooking surface and...
Removable plates feature our durable nonstick coating to extend the life of your grill and are dishwasher-safe for...
Custom dishwasher-safe accessories include drip tray and spatula, for easy cooking, serving and cleanup
Measures 12 by 17 by 6 inches; 2-year limited warranty
If you're under 30, then you probably know George Foreman as the brilliant inventor who came up with the idea of the grill that melts away fat.
It revolutionized college dorm rooms and the bachelor lifestyle forever. For those over 40, you likely know George Foreman as the famous heavyweight boxer who named all of his sons after himself, George.
Like many famous athletes, he's made more money from endorsements than he's made from his sport.
This grill is no different. George demands excellence!
If you are looking for something that does a bit more than just make great waffles, then the features of the Foreman Next Grilleration may be for you.
Next Grilleration Features include:
5 removable and interchangeable waffle iron plates including plates for waffle making, panini's, grilling, and baking
Removable plates are dishwasher safe
The plates have a triple coated scratch resistant non-stick coating
Adjustable temperature control
Various browning control levels
Digital control panel
Advanced grill plates
Nonstick surface
Digital time and temperature setting
First Impressions
This is a good looking grill with the ability to replace many of the appliances in your cooking. This is the ultimate multi-functional machine! Waffles, paninis, pancakes, eggs, bacon, no problem!
Yes, you can make pull out the griddle (pancake plates) and cook up some flapjacks and then take the same griddle and make scrambled eggs and hash browns.
Once you're ready for lunch, cook your burgers on the griddle, and then put in the waffle plates and watch it make waffles with ease.
And yes, the plates are all dishwasher safe.
This George Foreman grill also boasts close to 1,000 reviews online! Ensuring that this will stay a popular item for a long time to come.
Krups GQ502 Belgian Waffle Maker
Krups Breakfast Set Stainless Steel Waffle Maker 4 Section 1200 Watts Square, 5...
4 Slices: Bake up to 4 square shaped Belgian waffles at a time; Steam release system for waffles that are light and...
Adjustable browning: Choose from 5 browning levels (from light to dark) to accommodate individual preferences
Easy to clean: Removable, dishwasher safe die cast plates with a nonstick coating for effortless food release and...
Bake to perfection: Red and green indicator lights for on, ready, and done; Audible "Ready" beep no guesswork...
Sleek stainless steel design: Stainless steel housing offers modern style; cord wrap and handle lock for...
The KRUPS GQ502 Belgian Waffle Maker can cook up to four Belgian waffles at the same time. This waffle iron comes with five adjustable browning levels, which will help you to prepare waffles for every individual taste.
The appliance has green and red indicating lights as well as an alarm that beeps when the waffle maker is on, heated, or ready to bake, and also when the waffles are done.
Waffles cook fast in the KRUPS GQ502 Belgian Waffle Maker and will also have deeper pockets, which is great for filling it up with whipped cream, maple syrup, jam or fresh fruits.
The waffles feel fluffy on the inside but crispy outside. The construction of this waffle maker is also robust as it is made of brushed stainless steel. The waffle lids are removable die-cast plates and have non-stick coating making it super simple to clean up.
Overall, the KRUPS GQ502 Belgian Waffle Maker is a joy to use to make waffles.
Krups Features include:
Attractive design and brushed stainless steel housing
Makes four waffles in a single batch
5 adjustable levels of browning
Ready to cook indicator light
Removable plates
Baked waffles are crispy, light, and extra deep pockets
Cord storage included
Can be stored vertically and easily
Simple to clean
Nonstick coating
Preheating and ready-to-cook indicators
Dishwasher safe
Adjustable thermostat
2 year warranty
Available in black and silver
First Impressions
The KRUPS GQ502 Belgian Waffle Maker is a beautifully-designed, functional, user-friendly, and affordable waffle maker with almost no drawbacks. Makes waffles with ease!
Usually, electric waffle makers in this price range don't come with many features and good designs, but, this KRUPS waffle maker is exceptional.
We highly recommend you check it out if you're shopping for a new waffle maker.
Black+Decker G48TD 3-in-1 Waffle Maker
BLACK+DECKER 3-in-1 Waffle Maker with Nonstick Reversible Plates, Stainless Steel,...
Three Appliances in One - This handy cooking machine quickly goes from toasting sandwiches or frying up eggs and...
Nonstick Reversible Cooking Plates - The removable nonstick grill plates are easy to clean and tough enough to...
180 Degree Hinge - The unique hinge doubles the available cooking area, giving you a large, flat griddle surface...
Adjustable Temperature Controls
Multiple Servings - The 8x8" cooking surface has room for four servings. You can make up to eight servings when...
This Black and Decker not only has removable plates but is also a multi-functional kitchen appliance. You may find yourself using this for all of your meals! This will allow you to bake waffles to your heart's content, plus many other foods, too!
It's a favorite of ours and I think it'll be a favorite of yours, too.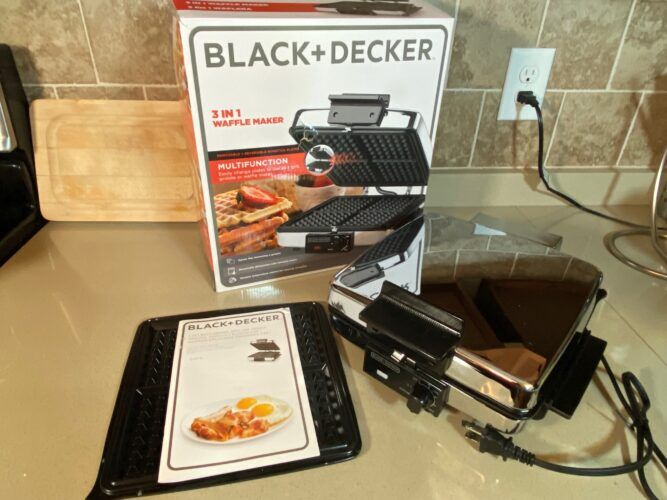 Black+Decker Features include:
3 removable plates, waffles, grill, and griddle (pancake plates)
Innovative grease/drip channel
Nonstick coating
Easy to use indicator light
Easy to store
Temperature control
Those griddle cooking plates are also called pancake plates, because yes, you can easily switch out waffles for pancakes with this kitchen appliance.
Not many cons to this impressive appliance. This Black and Decker can cook pretty much whatever you want it to cook.
First Impressions
Can you imagine having an appliance that allows you to bake waffles right now and then eggs, bacon, and pancakes right after? And then burgers for lunch?
Some waffle irons can do it all really well, thanks to its three different plates.
Not only will it save you time by baking four waffles at once but you can do four or five eggs and numerous strips of bacon all at the same time.
Then, for lunch, throw some burgers on there and enjoy. Do you enjoy waffle sandwiches? Paninis are no problem for this multi-functional beast of a machine.
Making waffles has never been easier.
This waffle maker comes with a non-stick coating, which means that you don't need to worry about oiling it or spraying it before you start baking the waffle, pancakes, or whatever it is that you decide to cook. Its temperature control and easy cleanup mean that you'll never burn your meal and always wrap up fast.
This waffle maker is also convenient to store because it's possible to store in a vertical/upright position which means that it can easily be placed inside a pantry or a cabinet.
Are Flip waffle makers better?
This is a question that we receive all the time.
People ask us about the difference between Belgian and Regular Waffle Makers, about whether Teflon is safe, How you clean a waffle maker, How to make waffles with pancake mix, and this one, are flip waffle makers better?
And the answer is that it totally depends on what your needs are for your home kitchen!
A good waffle maker or waffle iron can make perfect Belgian waffles no matter if it's a flip waffle iron or not.
A low-quality, cheaply made waffle iron can't be saved by the fact that it flips or that it rotates. If it's bad then it's just bad.
So, if you're looking at two equivalent, high-quality appliances, then it's possible that the flip Belgian waffle maker will be better than the regular Belgian waffle maker, but just because of one specific reason.
When you pour your waffle mix on the hot waffle plates, it immediately starts to sizzle and cook.
Then, you close the lid and on a flip Belgian waffle iron, you immediately flip it back.
This flip motion helps the waffle cook evenly which means no burned spots and no undercooked spots on your Belgian waffles.
Therefore a flip waffle maker is more likely to result in a fluffy waffle, or at least in really good waffles!
If you have a standard, non-flip waffle maker, even if it's one of the best ones, then your waffles will begin cooking as soon as it hits the waffle grill plates. Then as you close the lid, undoubtedly the bottom of the waffle mix will cook more than the top of the waffle mix.
As a matter of fact, the top of the batter will only cook once the batter heats up to the point that it rises and then hits the top.
Again, if you have a quality appliance, then the batter will cook evenly and you won't notice much of a difference in the quality of your waffles.
And if it's just waffles that you're cooking, then it may not be a big deal, but if you're looking at waffle makers that might double as a sandwich maker, then you might want to make sure you find one with a flip design.
However, more affordable flip design waffle makers are probably equivalent to more expensive standard waffle makers.
It's good to remember that no matter which design you choose, the best waffle makers will make crispy Belgian waffles for years to come.
How to clean a waffle maker with removable plates
A regular-style waffle maker can't be submerged in water. Instead, you have to remove any leftover batter from the waffle creases by hand. You usually do this with a brush which can damage the non-stick coating.
Another option is to use a moist, microfiber towel or a moist paper towel to remove those pesky food particles from the waffle grids.
You'll likely leave behind food particles that will make further cooking unsanitary!
This is especially true if you have a Belgian waffle maker. Even the best Belgian waffle maker can have this issue because Belgian waffle makers have deep pockets that make it much more difficult to clean than other waffle makers.
However, a waffle maker with removable plates makes the waffle iron or waffle maker just so much easier to clean. Why? Because you just take the plates out and wash them right away, or soak them, or put them in the dishwasher.
Not only does this clean your waffle maker better, which ensures that your waffle maker will last longer (this is especially great if you have an expensive waffle maker) but it's also really useful if you cook things other than waffles on your waffle maker.
What does that mean? It means if you have to like a grilled cheese made on your classic waffle maker, or if you grill sausage patties on there, or anything other than just waffles, you can still keep it clean!
Waffle makers with removable plates can be found, although there aren't many on the market.
We've done the research and found the best waffle makers with removable plates, allowing you to choose the best one for you.
And we also will give our top recommendation for the top waffle maker with removable plates.
Wrapping up with the Best Waffle Maker with Removable Plates
The best waffle maker with removable plates is the T-Fal Waffle Maker! Its versatility, reliability, ability to make perfect evenly cooked waffles, and reviews online just can't be beaten. And the price is the best part, it's a no-brainer. Give it a shot, you won't be disappointed with your thick and fluffy waffles!
Looking for something different for your home? If you're not too concerned about a waffle maker with removable plates but are looking for the best traditional waffle maker possible, check out our review of the All-Clad Classic Waffle Maker!
What do you think about our choices? Comment below!