What is the difference between a Belgian Waffle and a Regular Waffle?
The main difference between a Belgian Waffle and a Regular Waffle is that Belgian waffles are thicker, larger, and have deeper pockets or grids than Regular waffles.
I decided, that in order for me to better control what goes into my body, I needed to make all my food from scratch.
Because I make my own waffles in my own waffle maker, I control everything that goes in the batter. That means that I can customize my waffle batter to be as healthy as I want.
It doesn't matter if I want Vegan waffles, Gluten-Free Waffles, Paleo Waffles, or indulgent dessert waffles topped with whipped cream and Nutella, I can make it! And because my waffle iron is durable and affordable, I can make it happen.
If you think that all waffles are created equal, you'd be wrong.
Waffles vary in shape, texture, size, and in thickness. The greatest disparity though takes place between regular waffles and Belgian waffles.
It's not only chefs who can tell the difference, you've likely seen it yourself, whether you realized it or not.
Regular Waffle vs Belgian Waffle
History of Belgian Waffles
These waffles are very popular in North America and were initially showcased at an expo that took place in Brussels in 1958. They were introduced to the US by a Belgian called Maurice Vermersch.
They were first named Bel-Gem waffles. In the US, they debuted in Washington DC at the Century 21 Expo in 1962.
They were later popularized in the US during the New York World's Fair in 1964. Since then, they've only increased in popularity and are now the number one waffle seen in restaurants, coffee shops, and desserts across America and even across the Western Hemisphere.
Don't believe me? Even in Colombia, you can go to a restaurant that specializes in waffles and crepes. It's called Crepes y Waffles. And you guessed it, the only waffles they serve are Belgian ones. In case you're wondering, it's called "Gofres" although many Spanish speakers also just say "Wafle".
History of Regular Waffles
The history of regular waffles dates back to the 9th and 10th centuries, the Middle Ages. They began as a mixture of water and flour being placed between two iron plates and then heated until they were ready to eat.
Similar to a communion wafer. There are different types of waffles ranging from Brussels, Flemish, American, Scandinavian, Belgian, Hong Kong, Stroopwafels, Pandan, and even Hotdog style waffles!
Click here to learn what a Hotdog style waffle is!
Waffle Thickness – Belgian Waffle vs Regular Waffle

This is the most noticeable difference between the two. Belgian ones are larger in size and much thicker compared to regular or American-style waffles.
Belgian waffles have deep grid patterns and are lighter in batter, resulting in a fluffier waffle.
These deep grids make Belgian waffles ideal dessert waffles since they can hold large amounts of waffle toppings like chocolate syrup, maple syrup, honey, whipped cream, ice cream, or whatever else you desire.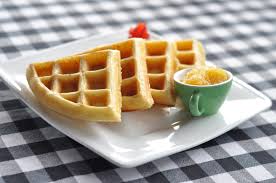 It's pretty easy to spot the difference, isn't it?
The top picture is of regular or classic style waffles. You can easily see the shallow pockets.
The bottom picture is of a Belgian waffle made in a Belgian waffle iron. You can see how deep the pockets are.
Also, pure Belgian waffles use yeast or egg whites in their batter while regular waffles consist more of baking powder.
This difference in the batter makes Belgian waffles richer in texture. This also makes Belgian waffles crunchy on the outside and chewy on the inside if they're cooked just a little bit longer than usual. Personally, this is how I like them.
However, regular waffles have an advantage here for some people. If you're looking at making a waffle sandwich, that means taking two waffles and putting ham or cheese in between them, you need to use regular waffles.
Being thinner gives them the advantage here. Putting together two Belgian waffles for a sandwich would just be too much!
Belgian Waffle and Regular Waffle Recipe Differences
Regular waffles are made using baking powder instead of yeast. This is done with the aim of giving the batter a slight lift. Regular waffles are a little denser compared to their Belgian counterparts.
Since Belgian waffle batter is usually made using yeast dough, they normally require eggs or egg whites. Belgian waffles also tend to be more crispy on the outside and chewy on the inside, especially if cooked for a little longer than usual.
Not only are Belgian waffles thicker than regular waffles, but they are also often larger in size. Many Belgian waffle makers boast 7 or even 8-inch waffles that are often round in shape. Although you can also find regular waffle makers that are round in shape, most often they're square.
Belgian Waffles Or Regular Waffles?
Personally, I prefer Belgian waffles vs regular waffles. I prefer Belgian waffles because I love the fluffiness of them and I love to load them up with Greek yogurt and bananas for breakfast or with Whipped cream and Halo Top Ice Cream for dessert.
One of my favorite Belgian Waffle Makers is the Hamilton Beach Flip Waffle Maker
Hamilton Beach Flip Belgian Waffle Maker with Non-Stick Removable Plates
Flipping Action Makes Thick, Fluffy Waffles Flipping Waffles During Cooking Makes Them Crispy on the Outside, Fluffy on the Inside

Nonstick Removable Plates Remove Your Waffle From the Nonstick Plates With No Sticking or Scraping; The Grids Remove When You're Done Cooking for Easy Cleanup

Adjustable Browning Control Cook Your Waffle Lighter or Darker, Just the Way You Want It

Stainless Steel Design Waffle IRON Wipes Down Easily and Has a Modern Look That Will Look Great on Your Countertop

Easy-Clean Grids and Drip Tray the Grids and Drip Tray Are Removable and Dishwasher-Safe for Simple Cleanup
Prices pulled from the Amazon Product Advertising API on:
Product prices and availability are accurate as of the date/time indicated and are subject to change. Any price and availability information displayed on [relevant Amazon Site(s), as applicable] at the time of purchase will apply to the purchase of this product.
Not only does this Hamilton Beach Flip Belgian Waffle Maker make great waffles, and fast, but its removable plates mean that cleanup is a breeze since you can just pop off the plates and put them in the dishwasher.
Read our full, in-depth review here.
George Foreman 5-Serving Multi-Plate Evolve Grill System with Ceramic Plates and Waffle Plates, Red, GRP4842RB
5 Servings - Everyone to the dinner table! The sizeable grilling surface lets you make five servings of everybody's favorites all at the same time

Versatility - Expand your food horizons! This Evolve model includes premium ceramic grill/Panini plates and nonstick waffle plates. Choose your plate and get cooking!

Digital Timer and Temperature Controls - Perfect heat is the secret ingredient. The digital controls give you precise time (up to 20 minutes) and temperature options (300-425°F), plus the panel is easy to wipe clean

500°F Searing - Put a delicious crust on your favorite grilled meats. The special searing button raises the grill to 500°F for 60 seconds, then returns it to the previously set temperature

Removable Plates - Easy cleanup is essential, and that's what the removable grill plates are all about. Pop them in the dishwasher after grilling and they'll be ready to go for your next m
Prices pulled from the Amazon Product Advertising API on:
Product prices and availability are accurate as of the date/time indicated and are subject to change. Any price and availability information displayed on [relevant Amazon Site(s), as applicable] at the time of purchase will apply to the purchase of this product.
My favorite regular waffle maker isn't really a regular waffle maker at all. It's actually an indoor grill. This is a favorite of ours because of its multi-functionality and because its waffle plates are removable and ceramic.
There are many people who don't want to eat off of a nonstick Teflon coating, so they prefer the more natural ceramic coating. Being removable means that you can take off the plates and leave them soaking in order to easily clean them later on.
Read our in-depth review here.
Are you looking for something a little different? Do you happen to be a Texan or know a Texan? Read our in-depth review of the Texas Belgian Waffle Maker!
Belgian Waffle vs Regular Waffle FAQs
Can regular waffles be made in a Belgian Waffle Maker?
No, although the batter is the same, the difference is in the thickness of the waffle. The thickness of the waffle is determined by the waffle grids.
What is a Belgian Waffle?
A Belgian waffle maker is a waffle maker that has deeper grids, therefore producing thicker Belgian-style waffles.
Wrapping up!
Read this article for a way to make waffles from pancake mix?
At the end of the day, the decision is yours to make, you can't go wrong with either type of waffle maker!