The George Foreman Evolve Grill – The Ultimate Multi-functional Appliance!
Are you a kitchen enthusiast looking to bring versatility and ease to your cooking?
Well, the George Foreman Evolve Grill is probably the best solution for you. It happens to be a multi-functional kitchen appliance and one of the best waffle makers around!
Before we review the George Foreman Grill
This review of the George Foreman Evolve Grill System might be a little strange to read. Why is that? Well, we primarily reviewed this as the George Foreman Waffle Maker, but then have edited it to reflect the true nature of this George Foreman Grill.
The reality is that you can use ceramic plates for grilling, waffle plates, omelet plates, and other interchangeable plates (even a muffin pan insert) that actually change the grilling surface and change its capacity.
These removable grill plates make it a truly special appliance that might even replace your outdoor grill.
Designed with three-in-one functions and digital controls, this George Foreman Evolve Grill is capable of functioning as a waffle maker and a grilling machine all at the same time.
Paninis, waffles, fish, steak, chicken, and even omelets are no match for this multipurpose nonstick grilling machine!
Besides that, the George Foreman Evolve Grill comes with precise digital time and temperature controls that allow you to prepare a variety of different meals with temperatures ranging from 300 to 500 degrees for up to 90 minutes.
George Foreman Evolve Grill
George Foreman GRP4842P Multi-Plate Evolve Grill With Ceramic Grilling Plates and...
5 Servings - Everyone to the dinner table! The sizeable grilling surface lets you make five servings of...
Removable Plates - Easy cleanup is essential, and that's what the removable grill plates are all about. Pop them...
Premium Ceramic Coating - Time for an upgrade! Ceramic is the key to our improved nonstick coating. It's 5x more...
Versatility - Expand your food horizons! This Evolve model includes premium ceramic grill/Panini plates, a bake...
Digital Timer and Temperature Controls - Perfect heat is the secret ingredient. The digital controls give you...
Features of the George Foreman Evolve Grill
A digital control panel
One of the coolest features that raises customers' eyebrows when purchasing this three-in-one waffle maker is the digital control panel. The panel is very clear, and the buttons are level with the surface, making cleaning and operation a breeze.
Advanced grill plates
The grill plates of this appliance are covered with a non-stick ceramic coating and are both removable and dishwasher safe. These plates are stylish, safe to use, and very easy to clean.
The bottom plate and top plate both attach securely to the appliance and are heated up by supercharged embedded heating elements in the grill.
This prevents uneven cooking, can handle thick cuts of meat, and gets hot enough to even give you a searing option for meat.
Digital time and temperature setting
The George Foreman Evolve Grill is designed with a special temperature control setting that gives you a maximum of 500 degrees, allowing you to prepare restaurant-quality food within 90 minutes.
Evolve Grill Pros
The George Foreman GRP4842P Evolve Grill is capable of cooking a variety of different foods like veggies, chicken, fish, and sandwiches. There aren't many waffle irons that could claim that!
The ceramic plates are removable, non-stick, and durable for easy cleanup.
This appliance can tilt to different angles, which makes it perfect for grilling or for paninis.
The buttons are in line with the surface of this appliance, making cleaning a breeze.
The flat surface of the bottom plate slopes down to a drip tray in order to collect excess oil.
With a weight of just 15.5 pounds, the George Foreman GRP4842P Evolve Grill doesn't eat up much of your kitchen countertop space and is easy to move.
It comes with a 3-year limited warranty.
Evolve Grill Cons
Although the plates are coated with ceramic material, some customers have complained that batter still sticks to the inside, making it quite challenging to clean if oil spray is not used.
The grill may get too hot to handle with a bare hand while cooking, even with a cool touch release handle.
Summary
The George Foreman Grill is among the best multi-purpose waffle makers available on the market.
With the ability to perform a variety of functions such as baking waffles and cooking chicken breasts, steak, meat, and veggies, this grill comes with a ceramic-coated cooking surface that is removable and very easy to clean.
Its patented slope design on the lower plate (with ceramic non-stick coating) and fat-catching drip pan or fat drain mean fewer calories in your food. So it's a really good grill if you're watching your fat intake.
The ability to raise the cooking temperature to up to 500 degrees means that you can cook your food quickly. This is impressive because countertop grills like this typically don't get a high temperature like that. The George Foreman Evolve Grill actually reaches the same temperature that an air fryer does.
Finally, being able to set the time means that your George Foremen Evolve Grill will alert you when your food is done!
For all of these reasons, this might make it the perfect grill for you.
Other Grills vs George Foreman Grill Review Comparisons
According to a majority of customers, the George Foreman Grill is a responsive grill that goes above and beyond what an everyday waffle iron was designed to do. However, to give customers a chance to weigh their options, we compared it to three similar appliances.
Cuisinart Griddler vs George Foreman Grill Review Comparison
The first product we looked at was the Cuisinart GR-11 Griddler 3-in-1 Grill and Panini Press. Available with a brushed stainless steel casing, this advanced appliance is large enough to cook a wide variety of meals such as sandwiches, paninis, chicken, or waffles. It actually comes with preset settings that enable you to easily grill sandwiches, burgers, and steaks.
When it comes to the design, the Cuisinart Griddler has adjustable floating hinges that allow you to bake or cook large waffles, sandwiches, or paninis to suit your entire family.
Available with removable plates, indicator LED lights, and a recipe booklet, this multi-purpose waffle iron is a perfect solution for families that enjoy cooking a wide array of meals not only to kick-start their day but also for lunch or dinner.
4 in 1 Sandwich Waffle Burger and Donut Maker vs George Foreman Grill Review Comparison
The second product we reviewed was the ZZ S6142A 4-in-1 Sandwich Waffle Burger and Donut Maker with 4 Sets of Detachable Non-stick Plates. Available with a set of four different heating plates, this unit is capable of baking waffles and cooking donuts, sandwiches, and burgers.
The baking plates are non-stick and easy to clean, and the temperature control settings ensure that your meals are cooked to perfection. Available with a light weight of 6.3 pounds and dimensions of 9×10×6 inches, this waffle iron is among the best units on the market today.
T Fal Optigrill vs George Foreman Grill Review Comparison
The third kitchen appliance we're comparing here is the T-fal OptiGrill Electric Grill. This is also a multi-functional kitchen appliance and like the Foreman Evolve Grill, it has a TON of features.
The OptiGrill has nonstick removable plates, six automatic cooking programs (allowing you to set it and forget it), a large cooking space, dishwasher-safe plates, and a drip tray, and the coolest feature of them all is the ability to use a setting specifically for frozen food.
interestingly enough, it comes in two sizes, regular and extra large. This is a high-quality kitchen appliance that can replace your grill, but can it make waffles?
Are George Foreman Grills Worth It?
It depends!
If you have every appliance under the sun already and have paid good money for them, then it's probably not worth it for you.
However, if you're just getting started buying kitchen appliances or if you're looking to downsize to a smaller kitchen than what you're used to, then this can be a great buy.
The George Foreman grills anything
It has two grill plates and a nonstick waffle plate that allow you to cook meat, waffles, and sandwiches in a very short cooking time. The power and preheat features are perfect, and the non-stick removable plates are great for easy cleanup.
In addition to the above plates, there are many other non-stick surface plates like a deep dish bake pan for pizza or even a muffin insert to make muffins! These plates, which are available to purchase separately, will make your experience that much better.
Available at an affordable price, this waffle iron is a good alternative for customers looking for a light and compact multi-purpose appliance.
There may be other waffle makers that are cheaper than the George Foreman Evolve Grill, but none other can boast the features it has while ensuring the quality that the George Foreman brand brings.
Wrapping up with the George Foreman Evolve Grill Review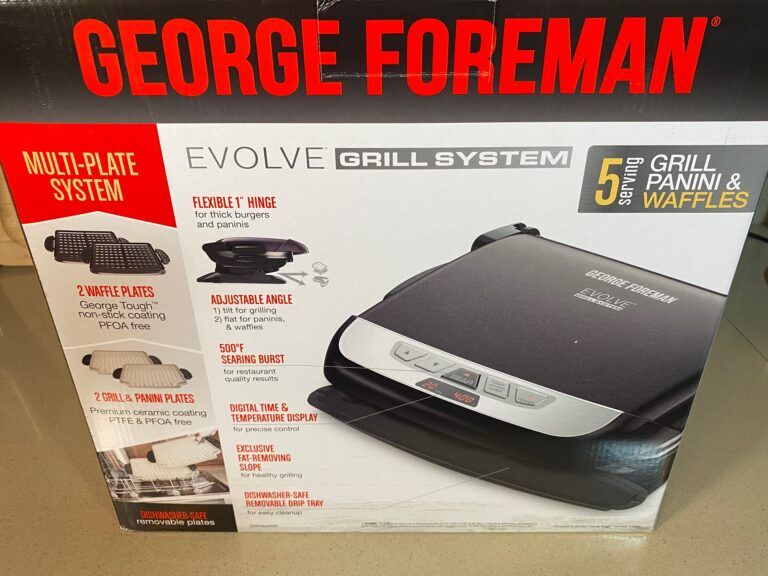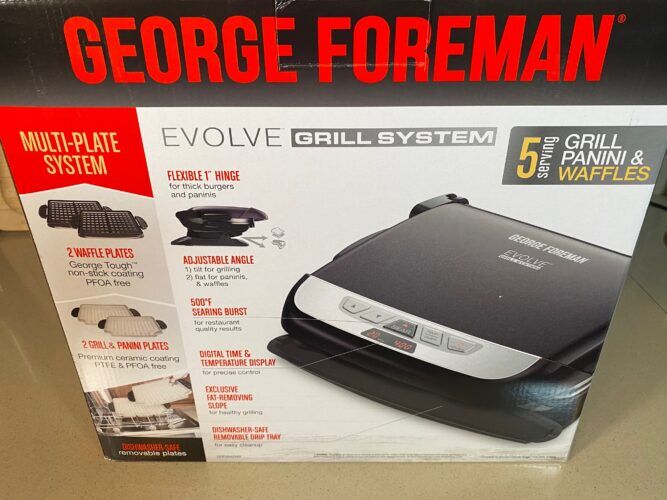 After comparing these three versatile kitchen appliances, we found that the George Foreman GRP4842P Evolve Grill was the winner.
Available at an affordable price, this versatile waffle iron comes with ceramic-coated removable grilling plates, a temperature range of 300-500°F, and multiple stylish colors for customers to choose from.
Designed to cook a wide variety of meals such as waffles, meat, and sandwiches, the George Foreman Evolve Grill is perfect for customers looking for quality and performance.
In second place is the Cuisinart GR-11 Griddler 3-in-1. Another big name, this grill has the ability to cook and bake a variety of meals such as waffles, burgers, sandwiches, and steaks.
This grill also has non-stick removable plates, LED indicator lights, and floating hinges to make it easier for you to cook without facing any interference. Also available at an affordable price, this grill is a good choice for customers looking for a budget multi-purpose appliance.
Next was the T-fal Optigrill Electric Grill. This is a beast of a machine and may be the best indoor grill on the market. However, it doesn't have the variety of plates that the Foreman has available, such as Waffle plates, and its plates are not nonstick ceramic.
In last place is the ZZ S6141A-B 4 in 1 Breakfast Waffle Omelette and Sandwich Maker. Though small, this grilling system has a lot of smart features to offer to all waffle lovers.
Still not sure about our Grill Review? Take a look at this short, 2 minute video of the George Foreman Evolve grill being put to use!