What's better than a sweet tasting and delicious waffle? If you're like me and you crave delicious waffles that are easy to make, then you'll start looking for a kitchen appliance that will make it easy to do that. So, what will that require, a good waffle maker or a good waffle iron?
A good waffle maker/iron will not only give you good value for your money, but will also consistently give you delicious waffles, for years to come.
When it comes to waffle maker vs. waffle iron, don't rush to make a purchase before identifying the features that make then unique.
Below is a review that will give you a better idea of the features you need when choosing a waffle maker or a waffle iron.
So…. is there a difference between a Waffle Maker and a Waffle Iron?
Here's the final answer, there is NO DIFFERENCE between the terms Waffle Iron and Waffle Maker, at least not in the way we speak and in how we describe them.
Strictly speaking though, there is a difference. Waffle Irons are cast iron devices used to cook waffles over a fire or over your stove top. See below!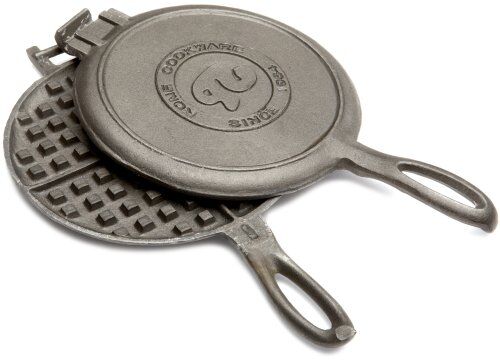 Waffle Makers are electric appliances used to cook waffles simply by pouring in the batter and turning the device on. Many of these devices can be used for a multitude of things. See below!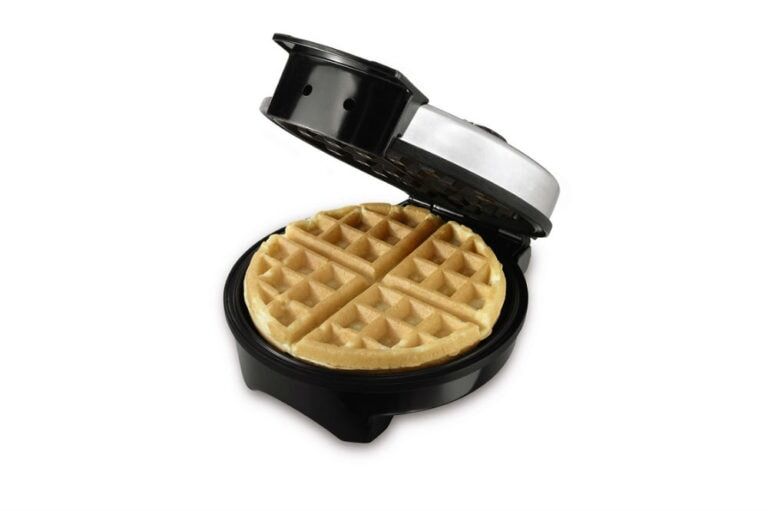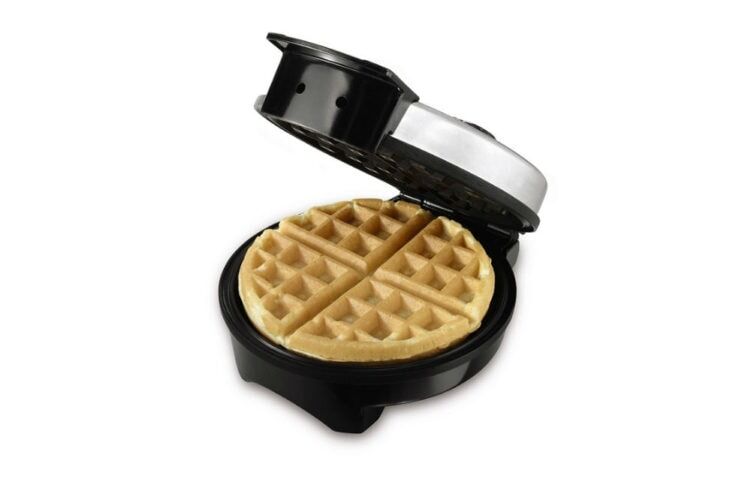 As you can see, there's a HUGE DIFFERENCE between the two on a practical level. Having a cast iron Waffle Iron can be fun, especially if you need a campfire waffle iron or have a fire pit in your backyard, but other than that the two appliances simply don't compare.
The electric waffle maker is way more convenient, easy to use, and versatile. With that said, however, a cast iron waffle iron will last your entire life.
The differences are comparable to a cast iron skillet and an electric skillet. They both have their uses. The durability of a cast iron skillet can't ever be beat, but it's maintenance is also much higher. On the flip side, the easy of use of an electronic skillet can't be beat, but its uses are a little different.
Still, the terms Waffle Maker and Waffle Iron are used interchangeably now. Even online retail king Amazon uses the term "Waffle Iron" when referring to all waffle making devices.
Event throughout this website, we use these terms interchangeably also. Why? Because as people conduct Google searches looking for help in identifying the best waffle cooking devices, they use both terms.
Therefore, in order to help people make the best decisions possible, we use both terms in our reviews and articles.
It doesn't matter whether you're searching for a Waffle Maker or a Waffle Iron, as you search, keep these things in mind!
Waffle Maker Features
Experienced cooks – If you're an experienced cook, you can quickly and efficiently used these products to cook delicious waffles. You might benefit from choosing a product with more features rather than less.
Beginner cooks – If you're a beginner, try to find a product that's simpler to use and that doesn't have a lot of features. It'll be easier to cook delicious waffles without all the other features getting in the way.
Unique design
Have you ever seen a product that looks so good that you want to own it? Some of these waffle makers look average, others look really good.
Some others don't just look good, but they're designed in a really unique way. They're designed in a way to make them innovative and bring greater value to those who are looking for multi-functionality.
I'm talking about more than a cast iron waffle maker. I'm talking about a waffle maker that makes sandwiches, eggs, paninis, etc.
Quantity of waffles
If you have more mouths to feed, you may opt for a waffle maker that has a larger capacity. That way you can feed more people in less time.
Unfortunately, most waffle makers only make one waffle at a time! There are others that make more than one, though!
Temperature controls
This is a great feature when it comes to making waffles, right? You might not want to get waffles that have been burnt due to excess heat. This may highly affect the quality of the waffles. This may be the greatest weakness of a cast iron waffle iron.
Although it is guaranteed to conduct heat evenly, it's easy to overcook it. An electronic waffle maker will have a timer or even a temperature gauge and may even alert you when it's ready.
Convenience
This is a big one for the Easy Kitchen Appliance team. After all, if it doesn't make your life easy, then it's not an easy kitchen appliance, right? There's no convenience like electric convenience.
Still, there are people who love their cast iron skillets and therefore may LOVE a cast iron waffle iron. Also, if you go camping or spend time outdoors using a fire pit, you'll love a cast iron waffle maker.
Easy to Clean
Quick cleaning means less effort is applied and in turn, less time is spent. No one want to spend a considerable time cleaning a waffle maker or waffle iron after making waffles.
Believe it or not, you can find waffle makers that have removable grids! This makes cleaning up a cinch. Just pop off the grids and put then in the dishwasher in order to get them ready for next time.
Simple to use
A product that makes your life easier is a product worth buying.
Look for a product that adds value to your life that you find easy to use. This can vary from person to person. What a beginner finds complicated, an experienced kitchen master may find easy to use! There's never a one size fits all.
Great Quality
There are some great waffle maker brands out there. Many of these appliances will last you for YEARS with no maintenance and constant use. You can often find these waffle makers for under $50. You just can't beat that!
On the other hand, a cast iron waffle iron will also last you for years, with little maintenance and for under $50.
Space-efficient
Do you value your kitchen counter space? Of course you do! I love kitchen appliances that make my life easy, but I also don't want a crowded kitchen counter. And I definitely don't want to accumulate junk.
Because of that, I tend to buy multi-functional kitchen appliances that can serve two or more purposes. I do the same with waffle makers.
Versatility
Wonder why I keep bringing up all in one products? I love them! Getting an a multi functional product will only make your life easy, at least in my mind. One interesting thing about waffle makers is that some contain a great design that will help you make waffles and omelets both at the same time.
The same can be done with a cast iron waffle iron, however, because you can't switch out the grids, it's versatility is less useful.
Useful Display
One really useful feature present in most electronic waffle makers is useful display. Many waffle makers have displays that allow you to view temperature, time left, or many other things relevant to cooking your waffle.
In Conclusion
In my opinion, there's nothing like a multi-functional, electric waffle maker to make your life easy. A good quality waffle maker that cooks waffles, pancakes, eggs, sandwiches, or any other food you can dream up is an Easy Kitchen Appliance that will always have a spot on my kitchen counter.
See the video below of a waffle maker that is a constant Easy Kitchen Appliance favorite.