The Best Waffle Makers that make Belgian sized waffles
Let's cut to the chase. I could write on and on about Belgian waffles and Belgian waffle makers. However, I'm not going to beat around the bush.
The only problem is… it's hard for me to just name one. I'll give you what I believe to be the Best Belgian Waffle Maker and then I'll give you a couple other great waffle makers for you to choose the best from. The reality is, there won't be much difference between these three. You can feel free to choose the one that works best for you. With so many companies putting out quality waffle makers, you just can't go wrong!
1. Oster CKSTWF2000 Belgian Waffle Maker, Stainless Steel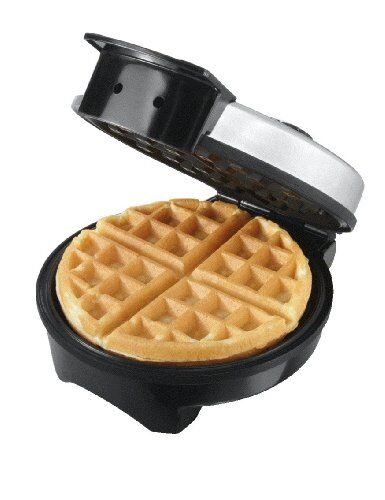 Features
No need to read further, click on the image above and order this waffle iron! This is a best in class light waffle maker with durable construction and a precise temperature control. It also features a removable drip pan and is the top selling Waffle Iron on Amazon.com!
This is NOT a traditional or American style waffle maker. This makes it's waffles Belgian style, which is a waffle with deep grids (perfect to store fresh fruit and/or syrup!).
Read the in depth Easy Kitchen Appliances review here.
Big Pro
This is the number one selling waffle iron on Amazon. You can't go wrong with that. It also has a price tag you'll love, click on the image to see it.
Big Con
There's no audible indicator letting you know when your waffle is ready. You have to keep your eyes on it, which can be annoying!
2. Cuisinart WAF-F20 Double Belgian Waffle Iron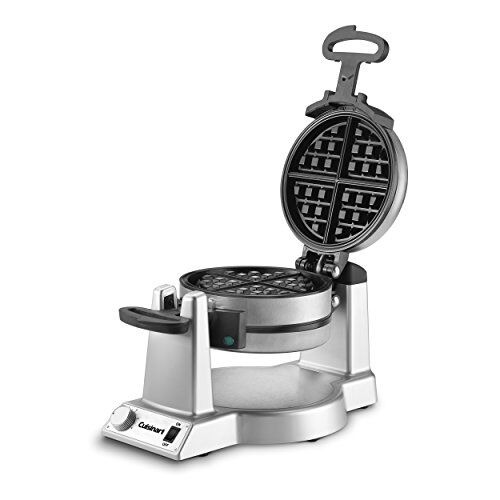 *note – our original choice was the Waring Pro WMK600, however, that appliance has since been discontinued and replaced with this Cuisinart WAF-F20 instead
Features
It makes two waffles at the same time on a rotary system, which ensures even cooking. It also has LED indicator lights and audible beeps to let you know when your waffle is ready.
Big Pro
It can make two waffles at once! Let's face it, even if you're just making breakfast for yourself, two is always better than one.
Big Con
It's a big appliance that will take up a lot of space!
You can read our in depth review here.
3. Presto 03510 FlipSide Belgian Waffle Maker with Ceramic Nonstick Finish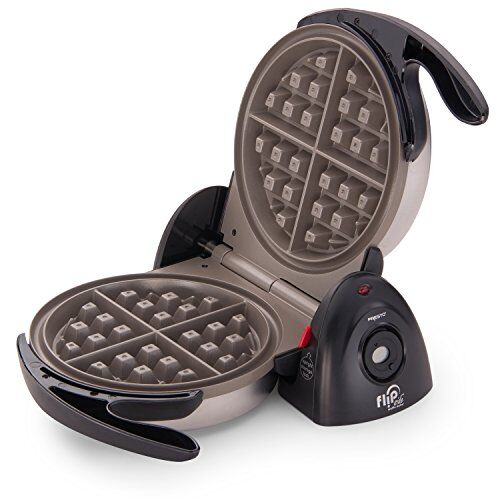 Features
This Presto Flip Belgian Waffle Maker is a ceramic non-stick waffle maker that flips back to ensure even cooking. It also features a countdown timer and locks vertically for easy storage.
Pro
The big pro here is the ceramic interior. This means that not only is it easy to clean, but there's no reason to ever oil or season this waffle maker. In addition to that, there are many people who prefer to not eat from Teflon interiors and prefer ceramic as a more natural alternative.
Con
The only con here is the on/off switch. This Presto FlipSide Waffle maker doesn't have one! You have to manually disconnect the power cord from the outlet, which is annoying, but it's not a dealbreaker.
The Presto FlipSide happens to be my personal favorite best waffle maker. It's what I use at home when making waffles for my family.
I guarantee that you'll LOVE this waffle maker. I've personally baked hundreds of waffles through it and it never fails. Although the plates are not removable, it's super easy to clean and it's flip feature will cook you a perfect waffle for breakfast every time.
This is a high quality kitchen appliance that you'll love.
You can read our in depth review here.
Cuisinart – Belgian Waffle Maker according to Consumer Reports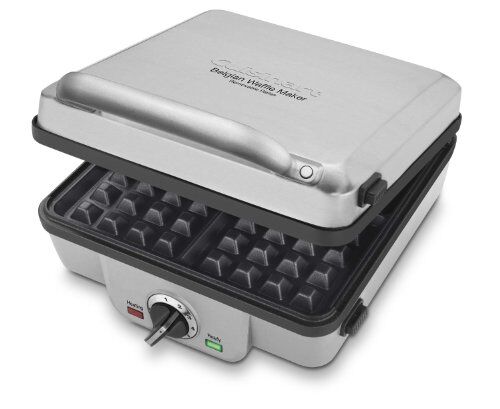 Belgian Waffle Maker- Cuisinart is Consumer Reports' top Belgian Waffle Maker choice. this is a square waffle maker with removable plates that happen to also be nonstick. This model also features a six setting temperature control options, ready to bake/ready to eat indicator lights, cool touch handle, overflow grid for excess batter, numerous settings, and an audible alert!
Best of all, this stainless steel top of the line waffle maker not only makes square waffles, but it's plates are dishwasher safe thereby ensuring easy cleanup!
You can read our in depth review here.
Best Belgian Waffle Maker according to America's Test Kitchens and Cooks Illustrated
America's Test Kitchen named their pick as the Waring pro rotating waffle maker. Unfortunately, that line has been discontinued.
Instead, it's replaced with the Cuisinart Double Belgian Waffle Maker WAF-F20B.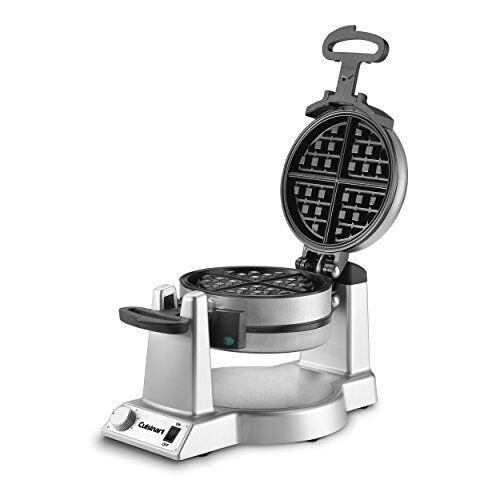 The Cuisinart WAF-F20B Double Belgian Waffle Maker is a top of the line waffle maker that creates two deep pocket Belgian waffles at a time. It has a 6 setting browning control knob and two LED ready indicator lights.
This is a powerful waffle maker that will not disappoint.
What's the difference between a Belgian waffle and a regular waffle?
Belgian waffles have deeper pockets than American style or that a classic waffle maker would have. Thickness is the most noticeable difference between the two.
Belgian ones are larger in size and much thicker compared to the classic or standard waffle. Belgian waffles have deep grids and are lighter in batter, resulting in a fluffier, more chewier texture.
These deep grids make a Belgian waffle the best kind for desserts since the grids can hold large amounts of syrup, honey, whipped cream, ice cream, or whatever else your heart may desire!
There is one area in which a traditional or classic waffle maker would have the clear upper hand though, it's when making waffle sandwiches.
Waffle sandwiches require taking two waffles and making them the bread, then putting ham, cheese, eggs, or peanut butter and jelly in between the two. Therefore, thinner waffles are better for this.
Belgian and American Waffle Recipes Differences
The difference with the batter is a subtle one. For Belgian style waffles, you would need a yeast based batter or use a batter with beaten egg whites. This is what makes it fluffier than classic or American style waffles.
Regular waffles are typically made using baking powder instead of yeast. This is done with the purpose of giving the batter a slight lift, thereby making them a little denser compared to their counterparts.
Since Belgian waffles are usually made using yeast dough, they normally require eggs or egg whites. They also tend to be more crispy on the outside and chewy on the inside, especially if cooked for just a little longer than usual.
For a more in depth article talking about the difference between Belgian and Traditional style waffles, click here.
Are waffle makers that flip better?
In short, yes, in my opinion flip models of waffle irons are superior to those that don't flip or rotate.
Here's the reason why, as soon as you begin pouring batter on a hot plate it begins to cook right away. Then when you close the lid, the bottom of the waffle will cook more than the top simply because it'll spend a little bit more time in contact with the hot grid. It can still be a delicious waffle, but it's much easier for it to come out too crispy or even burnt.
However, a flip waffle maker is the best option because once you pour in the batter and it begins to cook, you flip it right around and then the other side begins to cook. This helps heat both sides of the waffle more evenly, thus it produces golden waffles cooked perfectly.
What is the best waffle maker for home use?
There are a few things to consider when looking for the best waffle maker to use in your home.
First, will you use it?
Many times we tend to buy fancy kitchen appliances because we crave a certain food or because we might have seen the classic waffle maker on a friend's kitchen counter. So my first question would be, would I take the time to cook Belgian waffles for breakfast, or for any other meal? My personal answer is yes. I make waffles for my family on a regular basis, and they love it!
Second, do you need a combo appliance?
Many times we do end up buying too many things. So for these situations, I would suggest looking at a multi-functional appliance like the Evolve Grill. On the flip side of that, many times the more an appliance does, the worse it does. Bottom line is that I'll take my perfect waffles from the Presto Flipside over the Evolve Grill waffles any day.
Third, what's your budget?
It's typical to spend $30-$100 on a waffle maker, and I do think it's worth it. However, if you can easily spend $150 and go for a Breville or All Clad unit, you won't be sorry! Then again, spending under $50 with the Presto or Oster products will still do the job. They're still popular and have great reviews.
Final Thoughts
I hope that you've enjoyed reading through these best Belgian waffle makers. These are all high quality machines that will last you for years, are easy to clean, and crank out perfect waffles in minutes for breakfast whenever you desire.
Personally, I love Belgian waffles. Therefore, in order to indulge in Belgian waffles whenever I want, I need a Belgian waffle maker. The Oster CKSTWF2000 Belgian Waffle Maker is best because of its compact size, its durability, and its proven reliability.
It's priced right and although it's not a flip waffle maker, it's so affordable that you won't miss any other kitchen appliance while you're using it.