Are you a waffle enthusiast looking for a perfect way to kick-start your day? Well, you're at the right place, because this post will review one of the best waffle makers on the market.
Designed with a non-stick casing, Oster CKSTWF2000 Belgian Waffle Maker is capable of handling all your waffle-making tasks professionally without allowing room for any errors and best of all, at an affordable price!
Available with an eight-inch baking plate, this unit comes with a precise temperature control system that allows your waffles to cook evenly at about one and a half inches thick without being damaged by temperature fluctuations. This is important because temperature fluctuations when cooking a waffle means uneven cooking, uneven browning, and possibly even burnt waffles in some areas.
The waffles produced by this Oster CKSTWF2000 Belgian Waffle Maker come out evenly browned every single time. Prefer fluffy over crispy? Not a problem! This appliance has an adjustable temperature control feature that allows you to customize how well you want your waffles cooked.
Oster Belgian Waffle Maker with Adjustable Temperature Control, Non-Stick Plates and...
Belgian waffle maker creates large, round waffles with deep pockets that hold plenty of toppings and syrup
Waffle maker features an 8 inch nonstick plate that releases waffles easily and cleans quickly
Adjustable temperature control lets you customize heat while cooking, for different types of finishes and batters
Stainless steel housing offers added durability; Cord length: 27.5 inches, watts: 1080w
Safe to touch handle provides a firm grip and helps prevent burns
Oster CKSTWF2000 Features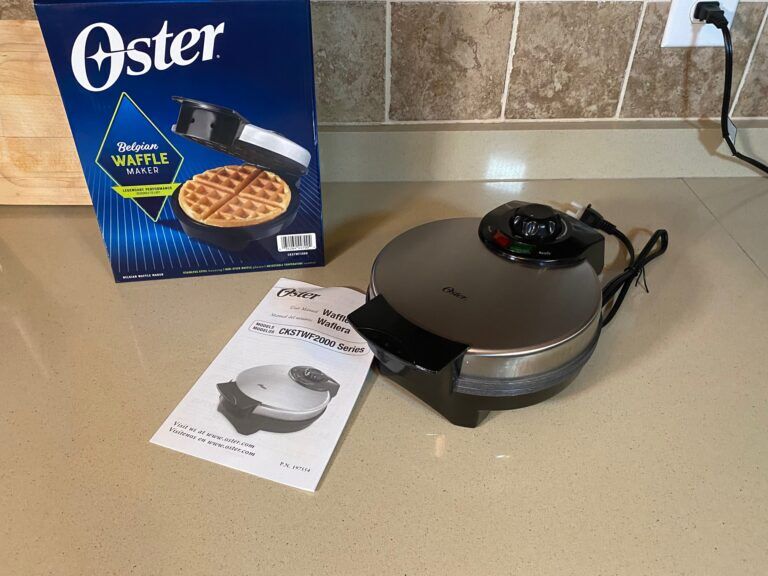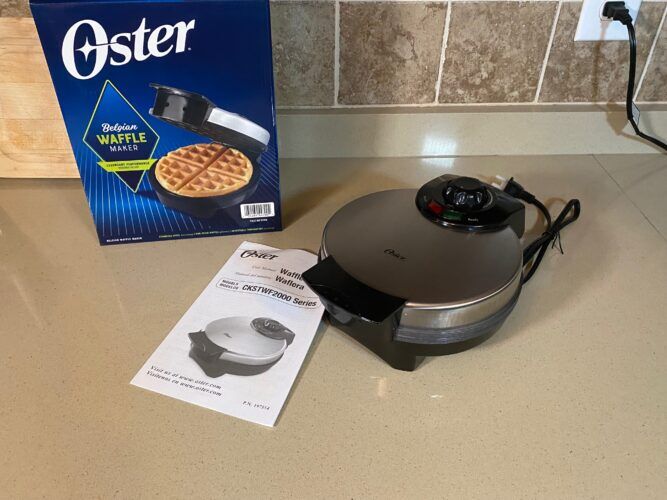 Very light
The first feature that makes the Oster a big winner is the construction. Coming in at just 3.3 pounds, this means it's easy to carry the unit from one kitchen counter to another. It also means that it's easy to put away and store.
Perfect construction
This CKSTWF2000 features stainless steel housing that prevents rust from damaging the appliance. This allows it to endure the test of time and serve you delicious waffles for years to come.
Precise temperature control system
Another outstanding feature of this Oster CKSTWF2000 waffle maker is the precise temperature control system. This feature is handy because it allows your waffle maker to make tasty, crunchy waffles without allowing them to overcook.
The ready light will help you make great waffles are done without the possibility of burning them.
Removable drip pan
Having a waffle maker with a removable drip pan means no kitchen counter mess and an easy clean up. That's what makes this appliance an Easy Kitchen Appliances favorite.
8 inch round baking plate
Light doesn't necessarily mean little. Although this Oster Waffle Maker weighs just 3.3 pounds, it packs a punch at producing 8 inch waffles.
Pros
The CKSTWF2000 Comes with indicator lights that notify you when your waffles are ready.
The steel housing means that this unit won't rust over time, making it highly durable.
The non-stick rubber handles enhance gripping and prevent it from falling off the counter accidentally.
The two-pin electric cable is long enough (24 inches) to allow this appliance to charge while operating in any position along the kitchen countertop.
The eight-inch long baking plate makes enough to make great waffles large enough to satisfy the entire family.
The CKSTWF2000 has sleek dimensions of 5.2×10.8×8.5 inches. This means that it won't take up too much of your kitchen counter space.
Settings can be changed to alternate between light or fluffy Belgian waffles.
Cooks waffles up to 1.5 inches thick!
Cons
The baking plate is not removable, making it impossible to dish wash the unit.
The stainless steel casing gets very hot, make sure not to accidentally touch it!
Although the indicator lights notify you when your waffles are ready, it doesn't produce a sound, meaning you have to keep a close watch and wait for the lights to show.
It's no flip! Still, although there's no way to flip the waffle, it does a good job of cooking the waffle evenly.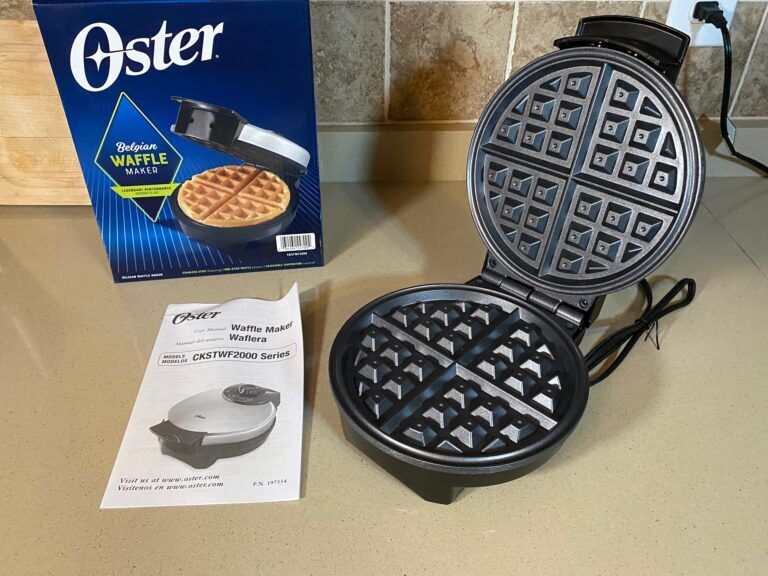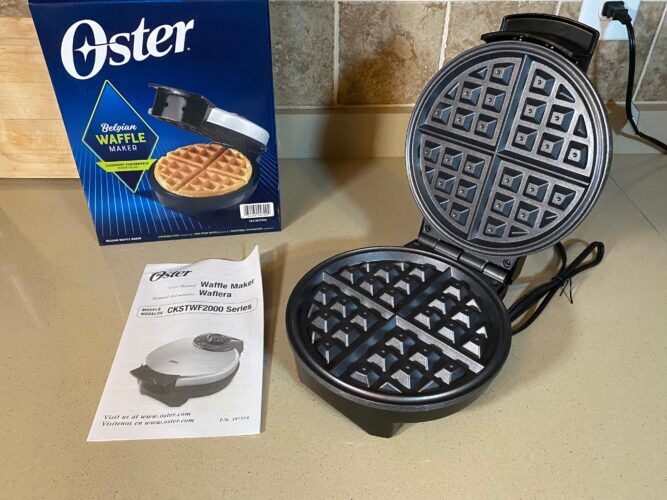 Summary
The Oster CKSTWF2000 Belgian Waffle Maker is an outstanding kitchen accessory that allows you to prepare tasty waffles with just a press of a button. Designed with quality features such as indicator lights, a steel casing, and light weight, this unit is among the best in the market, made by one of the leading manufacturers kitchen appliances, and comes with a one year warranty.
Comparison
Although this Oster is the perfect easy kitchen appliance for Belgian waffles, it can be helpful to look for alternatives in order to compare features before making a final purchase.
Black+Decker WMB500 Belgian Waffle Maker
The first waffle maker we compared was the BLACK+DECKER WMB500 Belgian Waffle Maker. Designed with a non-stick interior, this unit has deep grids that hold more batter and toppings without overflowing.
The large plate is capable of baking one 7.5-inch diameter waffle cut into four equal parts. The steel casing shields this waffle maker from any damage, and the long 24-inch cord allows you to bake from any position within the kitchen area.
Hamilton Beach Belgian Waffle Maker (26009)
The second product we compared was the Hamilton Beach Belgian Waffle Maker (26009). Designed with a unique square shape, this waffle maker has a large interior that allows you to bake two waffles at a time.
The interior grids are both non-stick and easily removable to allow for an easy cleanup process. This unit has a special power and preheat indicator lights that notify you when it's time to commence or stop baking.
Capable of standing in an upright position, this waffle maker is easy to store and doesn't occupy much of your kitchen space.
Presto 03510 FlipSide Belgian Waffle Maker
The third product we compared was the Presto 03510 FlipSide Belgian Waffle Maker.
This is another popular Belgian Waffle Maker. It weighs 8.8 pounds and has the dimensions of 12 x 12 x 3 inches, which is heavier and bigger than Oster Waffle Maker. The FlipSide Belgian Waffle Maker comes with four easy to cut sections that bake 7-inch waffles.
It's has a stainless steel casing and a plastic could touch handle with a green light that will let you know when it's time to cook.
It's a good waffle maker that's easy to use and also has extra thick waffle grids and a professional rotating design.
Although it has no adjustable temperature control, this is a high-quality appliance that will last for years to come.
Conclusion
After comparing the specs/features of all these great waffle makers, we've come to the conclusion that the Easy Kitchen Appliances winner is the Oster CKSTWF2000 Belgian Waffle Maker. Besides being the lightest of those compared, this waffle maker has an eight-inch grid that bakes waffles large enough for the whole family.
There's also one distinct advantage that this Oster CKSTWF2000 Belgian Waffle Maker has that no other appliance can boast of. It's the Number 1 selling Waffle Maker on Amazon. You read that right, it's the Amazon king of waffle irons. It has over 1,600 reviews and is currently sitting at 4.3 out of 5 stars.
It's also one of the most inexpensive waffle makers on Amazon, and anywhere else!
The price and the overall performance of this appliance are just perfect for someone looking for an affordable and high quality Belgian Waffle Maker. Whether you're making waffles for yourself or for your entire family, you just can't go wrong with this Oster Waffle Iron!
Still not convinced? Take a look at this 5 minute video of this waffle maker in action!