Everything you need to know about the CucinaPro Hong Kong Egg Bubble Waffle Maker
A Macao and Hong Kong street food favorite for years, bubble waffles are made from eggy leavened dough that's prepared using two semi-rounded plates. While the waffles can be eaten without any accompaniments, they can also be served alongside fruits and flavors including coconut, chocolate, strawberry, and even ice cream.
What is a bubble waffle maker?
Also known as "gai daan jai" in Cantonese, these waffles go by a number of names such as the bubble waffle, eggette, puffle, egg waffle, and egg puff.
In New York, a bubble waffle may be known as a Hong Kong cake. The waffle maker used to cook these treats is often known as a bubble waffler or a bubble egg waffle maker or bubble waffle machine!
The residents of Hong Kong love their bubble waffles. In fact, bubble waffles were classified as Hong Kong's most loved street snack in a poll that involved over 100 other snacks. The love for bubble waffles started in the 1950s when they first hit the streets.
Back in those days, they were heated using coal fire and were sold in Hong Kong's street kiosks. Now they're made with specialized waffle makers.
Where are bubble waffles from?
The source of bubble waffles can be traced to Hong Kong. The local name "gain daan jai" means "little chicken eggs" . It is said that the waffles first came into being after WWII. This was after eggs became scarce and the residents invented a bubble egg shaped mold to replace the eggless dough.
Egg Waffle Preparation
Egg waffles are made from a sweet, egg-rich batter that is cooked on a hot griddle which is a special baking pan with small round cells. It's poured over the special baking pan and heated; the small ovals of egg waffles are then formed.
The key to prepare a crispy bubble waffle is to turn over the pan quickly after it's poured into the pan. Most batters used in egg waffle are quick breads, although some are also made using a yeast-raised or fermented batter.
Use a soft brush to carefully coat the entire surface of both halves of the egg waffle iron with vegetable oil, shortening, or butter. Spray shortenings work really well for this purpose. Repeat this only at the start of each day that you bake egg waffles.
Plug into the wall outlet and allow the iron to heat. The indicator light will glow, indicating that the waffle maker has begun heating. It will approximately 2-4 minutes to reach ideal baking temperature. When baking temperature has been reached, the green READY light will turn on! Then you're ready to bake!
Ladle just enough batter to fill the lower grid half full so that the peak area of the egg waffle pattern is covered. If necessary, a silicone spatula may be needed to spread the batter evenly.
Close the baker, it'll rise slightly as the waffle expands as it bakes. Don't open the cover or the waffle will split.
When you're through baking, simply unplug from the wall outlet to turn it off and leave the bubble waffler open so it can cool.
After it has cooled, brush crumbs from the grooves and wipe off the grids with dry paper towels to absorb any excess margarine or shortening.
Click here for an easy-to-follow and delicious Egg Waffle recipe or follow the one below.
Bubble Waffle Quick recipe
Before you get started, make sure you have all of these ingredients out and ready to go in your kitchen. Also, make sure that you have a high-quality Bubble Waffle Maker and that you've read its instructions!
3 Egg Yolks
3/4 Cup Milk
1 Tablespoon vanilla extract
6 Tablespoons unsalted butter, melted
3/4 Cup sugar
1 and 1/4 Cup cake flour
1 and 1/2 Teaspoon baking powder
Pinch freshly grated nutmeg
1/8 Teaspoon salt
6 Egg whites, beaten to medium peaks
In a large bowl, whisk together the egg yolks, milk, vanilla, melted butter, and sugar until it all combines. In another large bowl, sift together the flour, baking powder, nutmeg, and salt.
Whisk the egg yolk mixtures into the flour mixture until it all combines well and no lumps remain.
Add one third of the egg whites into the batter and stir until lightened. Gently fold in the remaining egg whites in two additions.
Pre-heat the bubble waffle maker to the desired temperature and pour the batter evenly over the bottom plate. Some people use a soup ladle or a 1 cup measuring cup to do this.
Use a temperature silicon or wood utensil to spread the batter evenly over the bottom plate of your egg waffle machine. Never use a metal utensil to spread it!
Bake for 3-5 minutes until the waffle is ready and turns a golden brown.
Once it's done, pour on the ice cream!
CucinaPro Bubble Waffle Maker Review
Bubble Waffle Maker - Electric Non stick Hong Kong Egg Waffler Iron Griddle w/ Ready...
Bubble waffler- creates bubble shaped waffles in under 5 minutes
Hong Kong egg waffle- easy-lock closing mechanism
Features a power indicator light. Recipe guide and instruction manual included
Features non-stick-coated cooking plates to ensure effortless food release and fast clean-up. Please use oven mitts...
Made with the same great quality you expect from CucinaPro. Top selling gift!
Bubble Egg Waffle Maker Features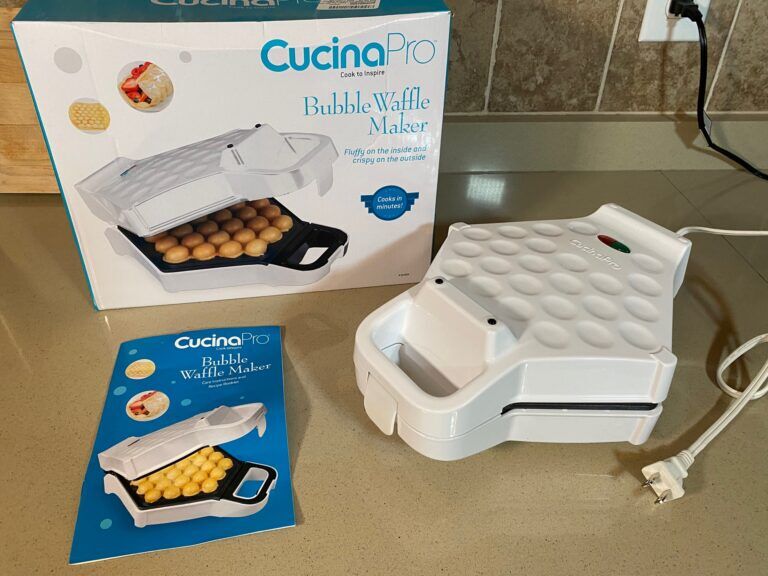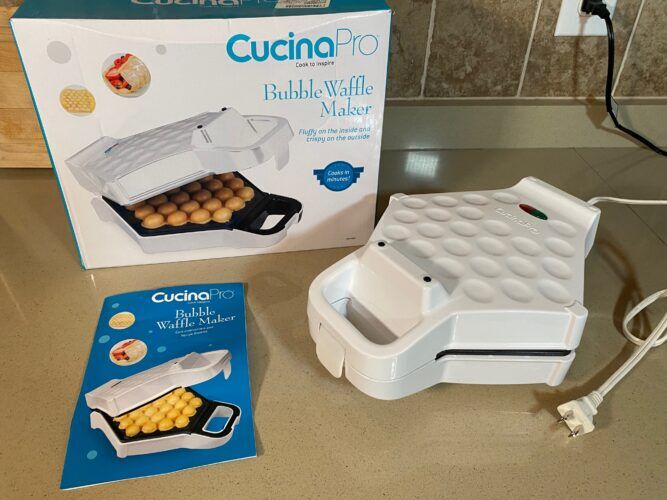 CucinaPro has a long history of making quality kitchen appliances and this Bubble Waffle Maker is no exception. This CucinaPro Bubble Waffle Iron lets you create Hong Kong style waffles in just minutes. Pour in your batter, cook, and you'll get perfect results every time. Get creative with breakfast or ice cream at any time.
Features include a power indicator light, an easy-lock closing mechanism, and non-stick feet on both sides of the maker. This waffle maker is easy to use and bakes crisp and fluffy bubble waffles with a breeze.
When you're finished its non-stick cooking plates ensure effortless food release and fast clean-up. It also stands upright for convenient and compact storage, especially at its 22x14x15 inches, it'll fit anywhere in your kitchen.
This egg waffle maker isn't only a high quality kitchen appliance, but it's also a good looking product and comes in a nice looking black or white exterior.
It's easy to use, easy to clean, and easy to store.
This Hong Kong waffle maker model has 3.5/5 stars on over 200 reviews on Amazon. It weighs a light 3 pounds and can be easily stored in your kitchen.
Bubble Waffle Maker Pros
Bubble Waffler- Creates bubble shaped waffles in under 5 minutes
Hong Kong/Bubble Egg Waffle- Easy-lock closing mechanism
Features a power indicator light
Features nonstick-coated cooking plates to ensure effortless food release and fast cleanup
Stands upright for convenient storage
Recipe book included
Weighs just three pounds
1 year warranty
Made with the same great quality you expect from all CucinaPro kitchen appliances
Bubble Waffle Maker Cons
Difficult to clean!
It can be difficult to clean if you don't use a recipe with enough fat in it
Unfortunately, sometimes the nonstick coating starts to peel off
There doesn't seem to be a rhyme or reason as to why it peels off for some people and not for others
Trouble with sticky waffles? Read this to never get stuck again!
How do you clean a bubble waffle maker?
For instructions specifically about the CucinaPro Waffle Iron, you can download the owner's manual here.
When you're ready to clean your bubble waffle maker, simply unplug from the wall outlet to turn it off and leave the baker open so it can cool off.
After it has cooled, brush crumbs from the grooves and wipe off the grids with a dry paper towel to absorb any excess margarine or shortening.
Wait – How many calories are in an egg waffle?
It all depends on exactly what ingredients and toppings you use. However, you can ensure that it has the potential to be a lot of calories!
Many times these eggettes are used as treats so they're stuffed with sweet toppings. Just like crepes may be prepared, it's often a dessert or a treat rather than an actual meal.
Still, there's no reason that you can't prepare it and keep the batter and toppings low in calories!
In comparison
There are a couple of other notable Egg Waffle Irons on the market.
The first is the Nordic Ware 01890 Egg Waffle Pan. This is a great PFOA free appliance with 4.3 out of 5 stars on over 600 reviews. This is a superior appliance to the product reviewed except for one large problem. The Nordic Ware Egg Waffle Pan is not an electrical appliance, it's basically a pan that you fill up and then heat up over a stovetop. That makes it a much more inconvenient product for many people.
Read our in-depth review of the Nordic Ware Egg Waffle Pan.
The second is the Bubble Egg Waffle Maker by Starblue. This is a typical Hong Kong Egg Waffle maker with a nonstick coating plate, flip features, and overheat protection. It has 4/5 stars out of over 30 customer reviews on Amazon. The only problem is that it's only 30-something reviews, which isn't many on Amazon.
In conclusion
There isn't really a difference in function between a Bubble Waffle maker or a regular waffle maker. They work the same and they use pretty much the same waffle mix. After pouring the batter and starting the appliance, your waffles will be ready in a quick 5 minutes.
At the end of the day, most people will prefer this Bubble Egg Waffle Maker over the others reviewed. Its nonstick feature, power indicator, easy-to-use, flip feature, and ability to electronically cook your waffles in just 5 minutes will make this one a winner.
Enjoy bubble waffles from the comfort of your home!
Still not convinced? Check out this short 2-minute video on the CucinaPro Hong Kong Egg Waffle Maker.