Looking for the best Krumkake Iron on the market?
Using an old-fashioned stovetop Krumkake pizzelle iron might seem outdated these days given the fact most appliances are electric. But, there are still some advantages of going manual.
Ready to buy and don't want to read? Click Here.
For instance, stovetop Krumkake irons are smaller and easier to store than electric Krumkake irons. Stovetop pizzelle irons don't have moving parts or electrical components that can malfunction or damaged.
If you go out camping or when the power is out, your only alternative to make Krumkake cookies is an old-fashioned stovetop Krumkake iron. But, the biggest benefit of stovetop Krumkake makers is that they can be disassembled for cleaning and can be fully submerged in liquids. You simply can't do with electric Krumkake makers or any electric appliances for that matter.
At Easy Kitchen Appliances, we do love easy. We also love simple. For some people, it means plugging something in. For others, simple means putting something on a stovetop.
The choice is yours!
Is using a Krumkake Iron difficult?
Despite what most people tell you, preparing Krumkake cookies using an iron or aluminum stovetop Krumkake iron isn't difficult. You just need a little practice.
The baking process is simple; you don't need to be a chef to do it. You probably know krumkakes are thin, crisp, cone-shaped cookies that are served with whipped cream or sprinkled with sugar.
Preheat the iron by placing the iron's holder on an electric or gas stove. Then, spread the krumkake batter evenly using a spoon, make sure it reaches the bottom of the krumkake iron. Close the lids gently and cook for a few minutes. Now flip the iron and cook for another few seconds. Lastly, remove the cookie and shape it quickly into a cone with the rolling cone.
Should you get a cast iron or aluminum Krumkake maker?
Now let's shed some light on whether you should get a cast iron Krumkake iron or an aluminum one to make these thin, embossed Scandinavian or Norwegian cookies.
A properly oiled cast iron Krumkake iron, which has been used many times, works as well as a non-stick Teflon-coated Krumkake iron. That being said, it's better not to use brand new iron Krumkake iron until it has been properly seasoned because food particles tend to stick to it. So, unless you're willing to season it by repeatedly using it, stay away.
On the other hand, aluminum stovetop Krumkake irons don't have that problem—they can be used straight out of the box. Most cast aluminum Krumkake makers have a non-stick coating, but they tend to work better if a little cooking oil is applied when preheated.
Nordic Ware Norwegian Krumkake Iron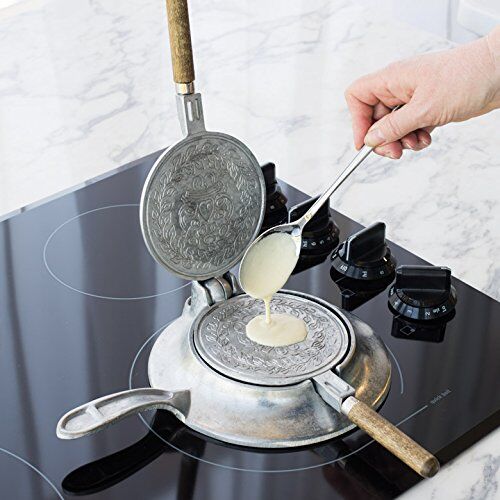 Product Features
For making Krumkake cookies at home, we have found the Nordic Ware Norwegian Krumkake Iron is a great performer.
Making these delicious Scandinavian or Norwegian cookies on your Nordic Ware Norwegian Krumkake Iron is actually pretty easy. This no-so-light cast aluminum Krumkake iron is amazing for pressing and rolling thin, crispy ice-creams cones and cookies.
You and your entire family will really enjoy preparing and eating these beautiful, traditional cookies on this Krumkake iron.
That said, some folks are confused about this fantastic stovetop Krumkake iron whether this Krumkake iron has a non-stick coating. But, the manufacturer Nordic Ware does put non-stick coating on all of their Krumkake irons.
Nordic Ware Krumkake Iron Pros
Made by Nordic Ware, a reputable company
Has non-stick coating
Small and easy to store
Easy to clean
Great build quality and the iron has a solid feeling in hand
The iron is made from warp-resistant cast aluminum
Makes crispy and thin traditional Scandinavian cone-shaped cookies
The lids have engraved flower and leaf patterns that get imprinted into the cookies
Wood rolling cone and recipes included
Can be used on either a gas or electric stovetop burners
Highly durable and reliable
Not that heavy as it weighs only 2.79 pounds
Made in the USA
Nordic Ware Krumkake Iron Cons
The cones are small and very thin
The iron is heavier than it looks
The iron is actually smaller than it appears
The imprints on the cones aren't very deep
Costs more than electric krumkake irons
Amazon Ranking
The Nordic Ware Norwegian Krumkake Iron has a rating of 3.8/5 stars based on over 50 customer reviews.
FAQs
Q: How should I clean this Krumkake Iron?
A: Once the iron has cooled, you can use a moist paper towel or a brush to take off any excess food particles.
Q: Can I use this Krumkake Iron on a glass stove top?
A: Yes, you can use this on any kind of stove top. Just be wary of two things. First, different stovetops cook different. A gas stove with a "grill" type of stovetop will cook things differently than a glass one. It make take you a couple tries to get used to things. Second, don't drop it on your glass stove top! Glass stove tops do crack!
Q: Is there a drip tray that catches excess batter?
A: Unfortunately, no. Still, you probably won't have a problem. These types of thin cookies usually don't require much batter and therefore can be easily controlled.
Q: What's the diameter, dimensions, and weight?
A: It's cookie diameter is 5.11 inches, the base diameter is 8.2 inches. It's dimensions are 13 x 10.3 x 2.5 inches and it weights 2.8 pounds.
Do you have any Krumkake recipes?
These are two of my favorite Krumkake recipes.
The first is from Unicorns in the Kitchen.
The second is from Lefse Time.
Conclusion
If you love making and eating krumkakes, a krumkake iron a great appliance to have in your kitchen. However, the Nordic Ware Norwegian Krumkake Iron isn't cheap as some of the other krumkake makers on Amazon.
If you're looking for a a cookie iron tin, check out the best waffle maker for cookie waffles.
If you're someone who only makes these traditional Norwegian cookies occasionally and don't want to spend too much, then we recommend you go for affordable electric krumkake makers.
High quality electric krumkake makers like this Chef's Choice Krumkake Express can be found on Amazon for a really reasonable price.
In the end though, it depends on exactly what you want. A stove top cast aluminum appliance or an electric one?
Looking for something a little different? Check out our list of the best waffle irons on the market.