In a hurry? Out of all the best pizzelle makers, our top choice is the CucinaPro Electric Pizzelle Baker Press. It's durability, ease of use, and high quality make it our go-to pizzelle maker.
Find the Top 8 Best Pizzelle Makers here
I remember the first time I saw a pizzelle. Embarrassingly enough, I've mistaken it for a slimmer and better-looking version of a waffle. I wasn't very wrong though – and you will find out why later in this article.
I know right, it's a common mistake – but if this has happened to you too, don't worry about it! You're in the right place to learn more and possibly improve your pizzelle game.
I did my homework and now I'm glad to present to you everything you need to know about what a pizzelle is, useful tips on your pizzelle baking skills, and how to find an affordable, yet high-quality pizzelle maker.
Therefore, let's jump right into it and believe me, by the end of this article, you will feel like a pizzelle expert (if that's a thing).
Before we talk about what a pizzelle is, I'd like to show you the best pizzelle makers that we're going to review here –
CucinaPro Pizzelle Maker – Best PIzzelle Maker
Cuisinart CPP 200 International Chef Crepe/Pizzelle/Pancake Plus – Best Combo Appliance
---
What is a Pizzelle?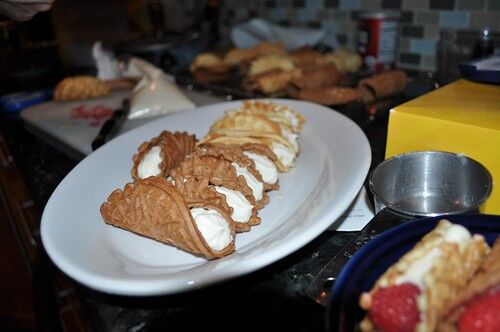 Remember how I misunderstood a pizzelle to be a type of a waffle? Well, I wasn't very wrong there. In fact, a pizzelle is an Italian traditional waffle cookie (still counts as a waffle, right?).
Surprisingly, pizzelles are made from very similar ingredients to a waffle which includes:
Flour
Eggs
Sugar
Butter
Flavoring
What Makes Pizzelles Crisp?
A pizzelle recipe produces a traditional Italian pizzelle that is hard and crisp, but it can also be soft and chewy – depending on the ingredients and method, and even the pizzelle maker you use.
What's the Difference Between a Pizzelle and Waffle Iron?
If you're wondering if you can save yourself some time and money by making pizzelles in a waffle iron, the short answer is no – you can't do that.
Why not?
Well, pizzelles offer a different shape and size and a waffle maker just won't do it. Of course, there is a big difference between a pizzelle maker and a waffle maker, but fortunately, pizzelle makers usually aren't very expensive and quality ones are pretty affordable.
You'll recognize a pizzelle maker by its traditional design on the plates and also because it's very thin compared to a waffle maker, even a thin waffle maker.
That's the main difference between these two types of kitchen appliances.
Let's jump straight into it, so you can find the ideal pizzelle make for your kitchen.
Different Types of Pizzelle Makers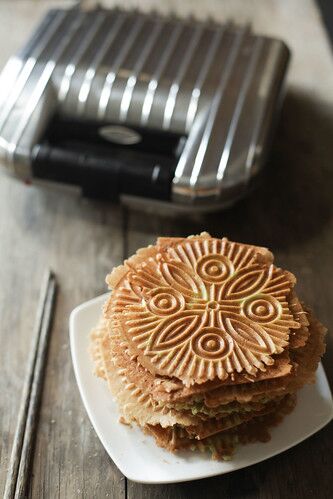 Pizzelle makers come in different shapes, sizes, and even capacity. They also differ in plate type and whether it's a press type maker or a regular pizzelle maker.
Down below, you will find various choices of some of the best pizzelle makers on the market – but don't worry, you won't have to empty your bank account in order to get one.
What is the best pizzelle maker to buy?
Looking to become an expert pizzelle chef? Then you need an electric pizzelle maker, right? Yes! You need a product that's easy to clean, sturdy, nonstick, has decorative grids, good customer reviews, and comes at a good price.
Follow these guidelines and you'll get the best pizzelle iron that will crank out cookies for years to come.
CucinaPro Polished Electric Pizzelle Baker Press- Best Pizzelle Maker
CucinaPro is one of the best-known manufacturers of pizzelle makers on the market. This stainless steel electric pizzelle maker features two different non-stick baking plates that offer a really great design while giving you the ability to make two pizzelles at a time.
Best of all, it does this in just a couple of minutes. Pour on your batter, it'll get hot quick and you'll have fancy pizzelle in just a few minutes.
Another cool feature that this CucinaPro Non-stick pizzelle maker has is a ring that can serve as a locking mechanism.
Overall, this is one of the best on the market. If you're looking for a regular pizzelle maker that does a great job at a good price, you have to check out this appliance.
Bakes 2 Pizzelles at a time
Choose between black or sliver
Easy to clean grids
Locking mechanism
Teflon free stainless steel finish
Comes with a recipe book
5-inch pizzelles
Steam guard protects hands
Extra thick stainless steel baking plates ensures even heat distribution
Non-stick surface – never leave batter stuck again!
Pizzelle 5 inch Press
To get the most authentic pizzelles, you will be able to do so with the help of two pizzelle plates that are both 5 inches and feature an authentic pizzelle design.
This is a perfect size in case you plan on making pizzelle ice cream cones too, which is another thing CucinaPro has thought of and has recipes for online. Although for that, you'll need an ice cream cone roller.
Also, the steam guard integrated into the press is doing a very good job at protecting hands, which is another safety feature we like.
Extra-Thick Baking Plates
It's extra-thick non-stick baking plates offer a delicious and authentic pizzelle in just minutes, making them an ideal choice for breakfast, dinner, or even a snack.
Along with the thick baking plates, you will enjoy its polished design which also features a polished interior that will bring back traditional memories for some people. It's really amazing how CucinaPro pulled this one off!
Non-Stick Surface
Everyone loves pizzelles, but what very few people love is cleaning. You will most likely love cleaning this pizzelle maker since it features a non-stick polished surface that makes maintenance simple and is easy to clean. Just wipe it down and you're all done!
---
CucinaPro Mini Italian Pizzelle Iron
If you're a big fan of mini pizzelles and you'd like to be able to make more of them in a short amount of time – CucinaPro has a perfect Mini Italian Pizzelle Iron just for you.
If you're looking for a mini pizzelle maker, this is the best maker on the market. Make sure you click on the link above and check it out!
Bakes 4 mini pizzelles at once
Steam guard designed to protect hands
Handles and lid stay cool to the touch
Pizzelle heat press ensures crispy brown results
Cookie dimensions are 3.25 inches each
Nonstick surface ensures your batter will be easy to clean
Non-Stick Baking Grids
Even though the baking grid and plates are thick, you will never find yourself having to clean the plates for longer than 5-10 minutes thanks to its non-stick coating.
A simple wipe after each use will keep this CucinaPro non-stick pizzelle iron in perfect condition.
This electric pizzelle maker bakes the best little cookies (with the right batter) and will look nice on your kitchen countertop.
Steam Guard Protector
Steam can be dangerous, but it's a necessary part of creating perfect pizzelles. CucinaPro did a really great job by adding a steam guard protector that increases safety levels.
You'll never have your hand burned and you won't have to think twice before opening this hot iron.
Even-Heat Distribution
For the most authentic pizzelles, CucinaPro introduced even heat distribution that allows you to make four 3″ mini pizzelles that are ideal for almost any occasion.
We love the crispy brown results we were able to achieve with the help of this iron press, and we bet you'll enjoy them too.
---
Cuisinart WM-PZ2 Pizzelle Press
Cuisinart is a very well-known kitchen appliance manufacturer, but they are also brilliant at producing some of the best pizzelle presses out there – and the Cuisinart WM-PZ2 Pizzelle Press is one of them.
Unfortunately, the Cuisinart WM-PZ2 isn't made anymore, however, they have upgraded it to the WM-PZ10, which is the one we link to above. So everything you read below will be for the upgraded Cuisinart electric pizzelle maker, the Cuisinart WM-PZ10.
Easy to use pizzelle maker
Easy to clean for your batter!
Indicator lights!
Ready to bake indicator light lets you know when it's time to pour in the batter
Ready to eat indicator light lets you know when it's ready to take out
Non-stick baking plates make it easy to clean
5 setting browning temperature control for even heat distribution
Includes measuring scoop, rolling Dowel, and recipe book
The Cuisinart product dimensions are 7.5 x 4.5 x 9 inches
This Cuisinart Pizzelle Maker comes with a 3-year warranty!
Easy to Use
If you're new to pizzelle making, we recommend trying out Cuisinart WM-PZ10 Pizzelle Press because of its ease of use with no learning curve at all.
In no time, you'll find yourself baking two pizzelle at a time that are both 4 inches in diameter successfully from the start to finish. The indicator lights really make it a no brainer!
Indicator Lights
A big advantage is the indicator light system that it uses. Two simple indicator lights make a big difference. The red light lets you know when the pizzelle maker is ready to bake while the green light lets you know when the pizzelle is ready to eat.
Pizzelle makers don't often come with indicator lights, so having them featured on this appliance is kind of a big deal.
5 Browning Settings and Temperature Controls
This pizzelle maker comes with only one button which is actually an adjustable temperature control wheel to allow you to choose the browning level that you desire. This same temperature control also ensures even heat distribution throughout the pizzelle maker.
There are 5 different levels so you can bake your pizzelles just the way you like them – whether it's dark & crispy or light & fluffy.
Having temperature control is also a feature that doesn't often come standard on a pizzelle maker.
Additional Accessories
Whether you're a beginner or already a skilled pizzelle chef– it's never a bad idea to get some help with additional accessories.
In this case, Cuisinart includes a measuring scoop along with a rolling Dowel and a recipe book full of great recipes that you might want to try out.
This is a pizzelle maker that you just can't go wrong with. You have to check out, click on the link, and make sure you review it thoroughly before deciding on what to buy.
---
Chef's Choice PizzellePro Toscano Maker
If you're looking for efficiency, quality, and yet want to improve your baking time – there's no faster pizzelle maker than Chef's Choice PizzellePro Toscano. I'll also tell you that this is the best pizzelle maker for baking cannolis. If you're looking to bake a traditional Italian cannoli, then you must choose this pizzelle maker!
Makes, two 4.75 inch delicious pizzelles
Features easy to clean non-stick grids
Consistent, even heat distribution
Locking latch
Perfect for making cannolis
Recipe book included with pizzelle maker
900 watts of cooking power!
Chef's Choice product dimensions are 12.38 x 10.5 x 5 inches
Uniform Thickness
Not only this is one of the fastest and most energy-efficient pizzelle makers, but it's also the one that brings out the best uniform thickness we've experienced.
We believe this ideal uniform thickness has plenty to do with the locking latch that helps form the uniform thickness in every one of the pizzelles you make.
Instant Temperature Recovery
The reason this is one of the most energy-efficient and fastest pizzelle makers on the market is because of the unique instant-temperature recovery feature.
This feature ensures that the required temperature is always consistent no matter how many times you open the latch and for how long you keep it open – the temperature will always rise to the required temperature in just seconds. This means that it has even heat distribution, which will make sure that your pizzelles are cooked evenly.
Of course, this is ideal for people who prefer eating pizzelles rather than making them, so this gives you the opportunity to have it ready on your table as soon as possible.
Easy Open/Close Handles
Chef's Choice did a really good job in terms of design, and we've especially liked the open/close handles which are very easy to use.
You have almost 0% of burning yourself thanks to the user-friendly locking latch and extended handles that are easy to open.
This is a great safety feature and easily makes pushes it into an in-demand kitchen appliance.
Recipes Included
If you aren't very creative when it comes down to cooking (especially making pizzelles), you'll benefit from Chef's Choice recipe book that includes plenty of recipes.
You'll never have to worry about making perfect batter for your pizzelles again. There are so many different ways you can make a pizzelle and this recipe book covers everything from the most basic and common recipe to really creative ones.
---
Palmer Pizzelle Maker Classic
When you're trying to enjoy pizzelles as much as you've enjoyed them when you were a little kid – there is no better maker to do this rather than the Palmer Pizzelle Maker Classic.
Made in the USA!
Makes 2 thin, 5-inch pizzelles
Chrome body and Cast Aluminum plates (not cast iron)
Non-stick grids
Excellent customer ratings
Awesome 5-year warranty!
Large but Thin Pizzelles
The traditional pizzelles are easily 5 inches big and they're thin but crispy – and that's exactly what Palmer Classic Pizzelle Maker can do.
It's a pizzelle maker which is made in the USA by Palmer manufacturing, so you can rest assured you're getting a traditional pizzelle maker which is very similar to the ones our parents and grandparents have been using.
Cast Aluminum Plates
This pizzelle maker can bake two 5-inch pizzelles with the help of cast aluminum plates. These plates are non-stick, spread heat out evenly, and ensure that cleanup will be a breeze.
They offer two brilliant designs that bring the old-school pizzelles back! So go ahead, heat up your pizzelle maker and bake your cookies, don't worry about cleaning up!
Old-School Design
However, not only the cast aluminum plates bring the old-school design, but this whole pizzelle maker brings back memories.
The whole body is cast out of aluminum material and it even comes with a regular old-school handle that is yet still comfortable to use.
There are no buttons, lights, or anything modern – yet you get to go back in time and make old-school pizzellas while having a lot of fun.
And best of all, you can't beat a 5-year warranty!
---
VillaWare 2060 Uno Pizzelle Baker
Man, these VillaWare pizzelle makers are crazy when it comes to the price! Still, the pros might outweigh the cons on these satin nickel and stainless steel pizzelle irons.
This is one expensive unit, but if you search for it online, you'll see that it has excellent customer reviews along with many bakers who say that this is top of the line equipment.
This pizzelle maker easily bakes traditional "pizzella" cookies.
Bakes two, 5 inch round pizzelle cookies
Has indicator light and non-stick grids
Made of cast-aluminum (not cast-iron) for even heat distribution
Steam guard feature to keep you safe
Cord wrap under the appliance for compact storage
You HAVE to check out this pizzelle maker, even if it's just to see the price. One thing I'll tell you though, this is NOT the budget pick.
---
VillaWare V3600-NS Prego Nonstick Pizzelle Baker
A list of the best pizzelle makers couldn't be complete without a review of the Villaware Prego Pizzelle Maker. I will tell you, this appliance packs a hefty price tag, but on the other hand, people seem to really love it!
The non-stick plates have a special xylan coating which is similar to Teflon. It has other features that are similar to some of the other pizzelle makers that we did a brief review on earlier.
Cooking plates allow for two 5 inch pizzelles at the same time and a ready light indicator lets you know when the first batch of batter is ready to be put on.
The steam guard is a useful feature and may prevent you from getting burned as you're putting on the second round of batter.
It also features a wraparound cord and an upright position for easy storage.
Make sure to check it out and fully review it. Still, it comes with a serious price tag which makes me hesitant to fully recommend it. It's the best pizzelle baker that you can't afford!
Bakes 2 5-inch Italian cookies
Zylan non-stick grids
Automatic temperature control thermostat
Steam guard feature
Ready indicator light
---
Cuisinart CPP-200 International Chef Crepe/Pizzelle/Pancake Plus
Just because we left this one toward the end doesn't mean it's bad, it's just one of the newer products on the market. Therefore, we wanted to wait until it proved itself on the market before we include it.
This Cuisinart CPP 200 International Chef Crepe/Pizzelle/Pancake Plus has no problem doing it all.
It has a beautiful stainless steel exterior and non-stick plates that are reversible, removable, and dishwasher safe. This will make cleanup a breeze!
It has an 8 and 1/3 inch diameter cooking surface that doubles when you open the press flat to make pancakes or crepes.
It has a locking lid that makes storage a breeze and comes with a measuring spoon, tongs, and a mini ice cream cone roller. As a bonus, the ice cream cone roller can also be used to make waffle bowls.
You can make cookies to your heart's content, and then switch to pancakes or crepes!
This Cuisinart CPP 200 can really do it all. Whether you're putting together batter for your cookies, batter for your pancakes, crepes, or tortillas, this is one of the few products that can do it all.
Reversible non-stick plates will cook pizzelles, pancakes, crepes, and other foods
Comes with measuring spoon, tongs, and ice cream cone roller
Locking lid
Brushed stainless steel exterior
Adjustable temperature control and timer
Power on/Ready to Bake indicator lights
---
Useful accessories for a pizzelle maker
After you choose the best pizzelle iron that you can get, you can then decide what accessories you'll need. And by need, I just mean what types of extra products will make your life with your pizzelle maker a little bit easier.
A portion scoop is ideal for making even sized pizzelle cookies
A wire rack will help you cool down your cookies (and other baked goods) without them getting soggy on a plate
A wooden cone is a great way to shape your pizzelle cookie into a cone that you can fill with cream for your cannoli (or ice cream)
How to Maintain a Pizzelle Maker?
Just like with any other kitchen appliance, you should be maintaining it regularly in order to keep it in a good condition, eliminate the possible problems, and continue baking your perfect pizzelles anytime you wish.
We highly recommend cleaning the plates after every time you finish the baking process. Some pizzelle makers might even come with a removable plate which makes the job easier – but almost all of them are non-stick coated so this helps a lot.
And if you perfect your pizzelle mixture, you shouldn't have any problem with it sticking to the plates. When you've finished cleaning the plates, wipe down the exterior and that's basically it when it comes down to the maintenance.
Depending on the model you purchase, you will be needing to take care of different material too, so that's something to take into consideration.
Pizzelle FAQ
When Was the Pizzelle Invented?
Pizzelle was invented centuries ago somewhere around the 19th century in Italy, more specific, region of Abruzzo which is located in south-central Italy.
Pizzelles are very still popular all across Italy.
What is Pizzelle Press?
A Pizzelle press is a kitchen appliance very similar to a waffle maker but is improved and adjusted to create hot and crispy pizzelles.
There is also a different type of a pizzelle press which is a bit more similar to waffle makers – but the difference is mostly visible with the baking plates.
How Long Does it Take to Make Pizzelles?
Making a mixture for pizzelles shouldn't take you longer than 10-15 minutes, and when you're ready and your pizzelle maker is warmed up, you will be able to bake two to four pizzelles in a couple of minutes.
It's fairly a quick process and is very similar to waffle baking.
Can You Refrigerate Pizzelles?
Of course, you can. However, you should always put them in an airtight container so they don't absorb the moisture from the air.
If you don't put them in an air-tight container, you can expect your pizzelles to become limp which will also affect their taste and texture.
Can You Refrigerate Pizzelles Dough?
Pizzelles that are properly stored can stay fresh up to 2 weeks, which is brilliant. However, you should always store them in an airtight container.
Can I freeze Pizzelles?
Yes! Wrap them in groups of 5-6 in plastic wrap and place them in airtight containers. You can bake them all ahead and then freeze them for up to three months.
Should I spray my pizzelle maker?
Yes! The best way to grease your pizzelle iron is to dip a paper towel in vegetable oil and wipe it all around the pizzelle iron's plates. This helps to avoid the sticky residue that people often get from spraying the iron with regular nonstick spray.
What does Pizzelle mean in Italian?
In case you didn't know, the pizzelle is the ancestor of the waffle, but it's much more delicious. Pizzelle is from the Italian word for round and flat, pizze. Yes, it's from the same word as Pizza!
The "elle" ending means small. So essentially it means a little pizza! Pizzelle are small, flat, and round. They're light and crispy Italian waffle cookies made from flour, eggs, sugar, butter or oil, flavored with vanilla, anise, anisette, lemon, or chocolate. Pizzelles may be soft or crisp.
Wrapping up with the best pizzelle makers
No matter if you're just getting into baking pizzelles or you're a seasoned chef- any of these best pizzelle makers will make a difference and possibly improve the quality of your pizzelles.
Most of these pizzelle makers are reasonably priced and are durable enough to last for a long time.
If you've made it this far into the article, I should reiterate that our top pick for the best pizzelle maker is the Palmer Classic. It's durability, ease of use, and high quality make it a no brainer.
Pick your pizzelle maker according to its features or style and feel free to leave a comment down below of your opinion on your favorite pizzelle maker!