What is a hot dog waffle maker?
Are you ready to have your mind blown? There is a hot dog waffle maker machine!
Of course, there's nothing stopping you from taking hot dogs, covering them in waffle batter and then putting them in the best waffle maker you can afford..
It will squish the hot dog but it will make an interesting snack!
However, that's not what I'm talking about.
These days, the sky's the limit. Or should I say, you're only limited by your creativity.
What we're reviewing here goes right along those lines. It's a device that straddles a few different areas.
Have you ever thought you could mix hot dogs with waffles and make waffle corn dogs?
First, what is a corn dog?
A corn dog is a classic county or state fair snack. It's a hot dog on a stick, dipped in a corn based batter and deep fried to golden perfection!
Nowadays you can buy frozen corn dogs, but why would you when there are so many great and easy to do corn dog recipes online.
So what happens when you dip a hot dog in waffle batter?
Would that make that more of a corn dog? Maybe, kind of.
Want to run a stick through them and really make them like a corn dog, go for it!
Want to take the waffle dog and put it in a bun or just eat it like that, go for it!
Should you put mustard or Nutella? Either way is fine, go for it!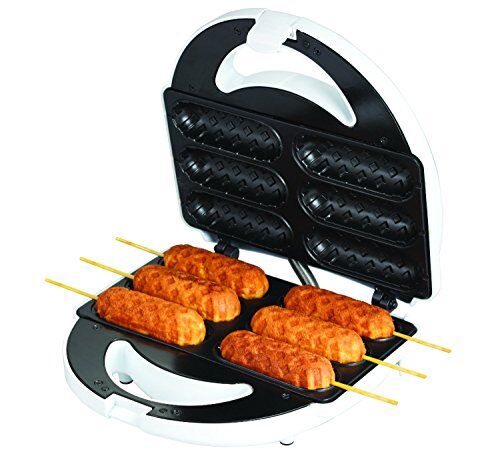 When looking through Amazon I noticed some waffle maker corn dog types of appliances and boy were they expensive! They were HUNDREDS of dollars.
That's just not realistic for most of us. However, I did find one kitchen appliance that came in very reasonably priced, so reasonably priced that it can't be beat.
These expensive waffle maker hot dog machine thingys may be great for commercial use- if someone wants to run a bakery or a coffee shop – they could be used to make these waffle dogs into a signature treat. However, for most of us, this inexpensive appliance will do just fine.
Just for fun though, here's the commercial one. It's interesting to read through it's features!
No products found.
This crazy expensive commercial waffle iron makes it possible for you to bake a waffle on a stick. A brand new concept that is getting extremely popular all over the world and can be fun for families.
The specially designed grids allow you to bake 6 waffles at a time.
Small openings are pre-made on the side of each lollipop waffle grid to insert the stick at the beginning of the baking process.
It has a non-stick surface that can be cleaned with any device without running the risk of scratching or damaging the baking surface.
Baking time is about 1-5 minutes to bake an entire tray.
Smart Planet Corn Dog Maker
Smart Planet CDM-1 Corn Dog Maker
Beautifully cooks up to 6 corn dogs in minutes
Experiment with other "on a stick" snacks
Attractive retro design is easy to clean
Recipe books included
Twenty-four sticks included
Amazon Ranking
This corn dog / waffle dog maker has 3.9/5 stars on Amazon on over 280 customer reviews.
Wrapping up with waffle maker corn dogs!
Don't let the novelty of it fool you, this is a high-quality kitchen appliance that will last you for a long time. It'll take your hot dogs to a new level!
If you're in the mood to switch things up, this may be a product for you. It's reasonably priced along with some good reviews on Amazon.
Still aren't sure? See the brief Smart Planet video below!
If you do decide to go for it and start to experiment with some crazy recipes or waffle toppings (like putting Nutella or jam on this) then I would love to hear about it in the comments below.
Looking for something a little different but just as unique? Check out the Texas Shaped Belgian Waffle Maker!