No waffle, pancake, or cake is ever complete without a topping. It's the topping that gives these foods the décor and the extra flair that they need.
Did you ever see someone eat a waffle without waffle toppings on there?
I hope not! But we've seen people unsure of what waffle toppings to get and use. For this reason, we wanted to write an article talking about what waffle toppings you might be able to use.
Therefore, down below, not only we'll touch on the topic of waffle toppings – but we'll also review some of the best toppings you can get today. Therefore, keep on reading!
What are Some of the Best Waffle Toppings?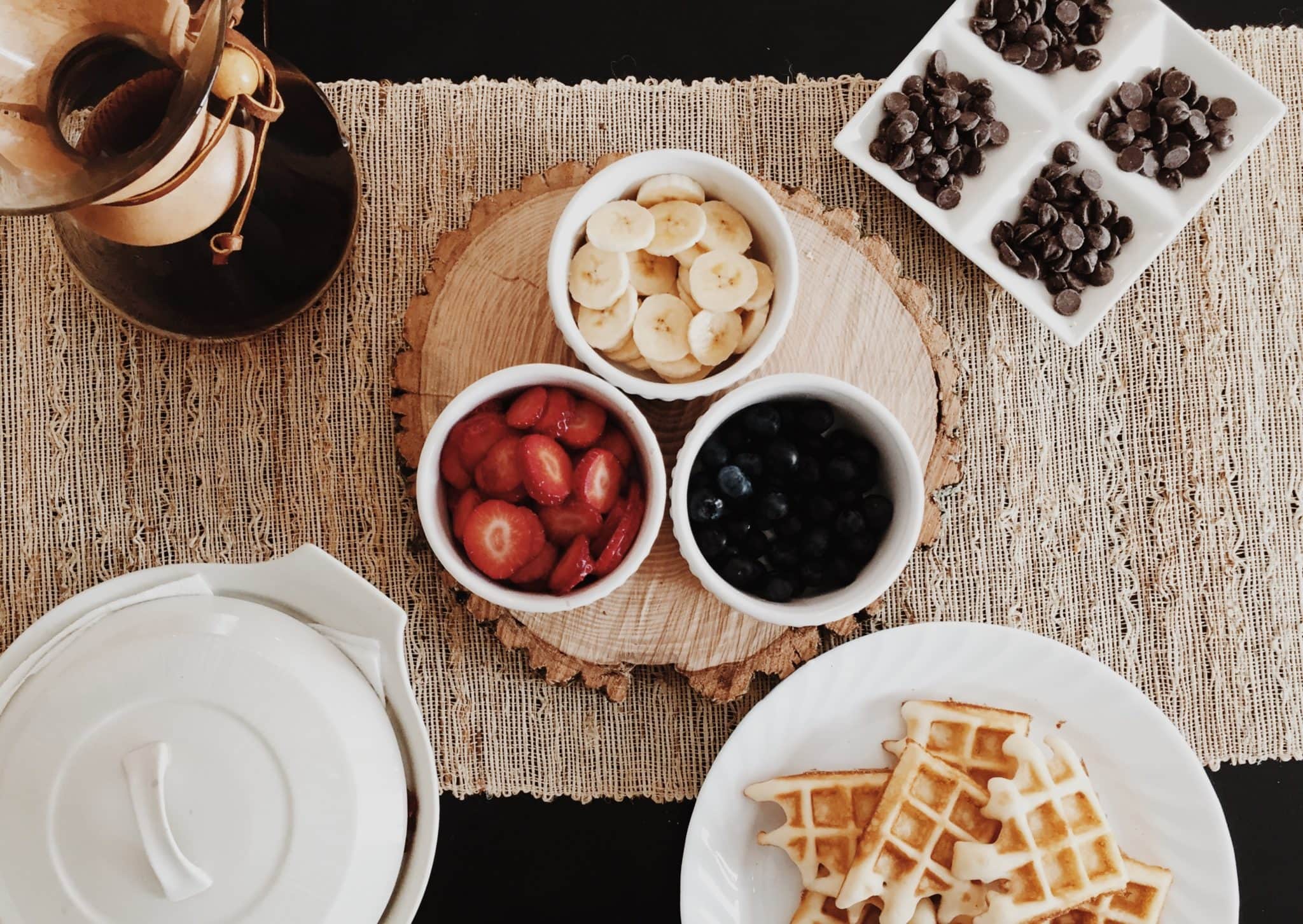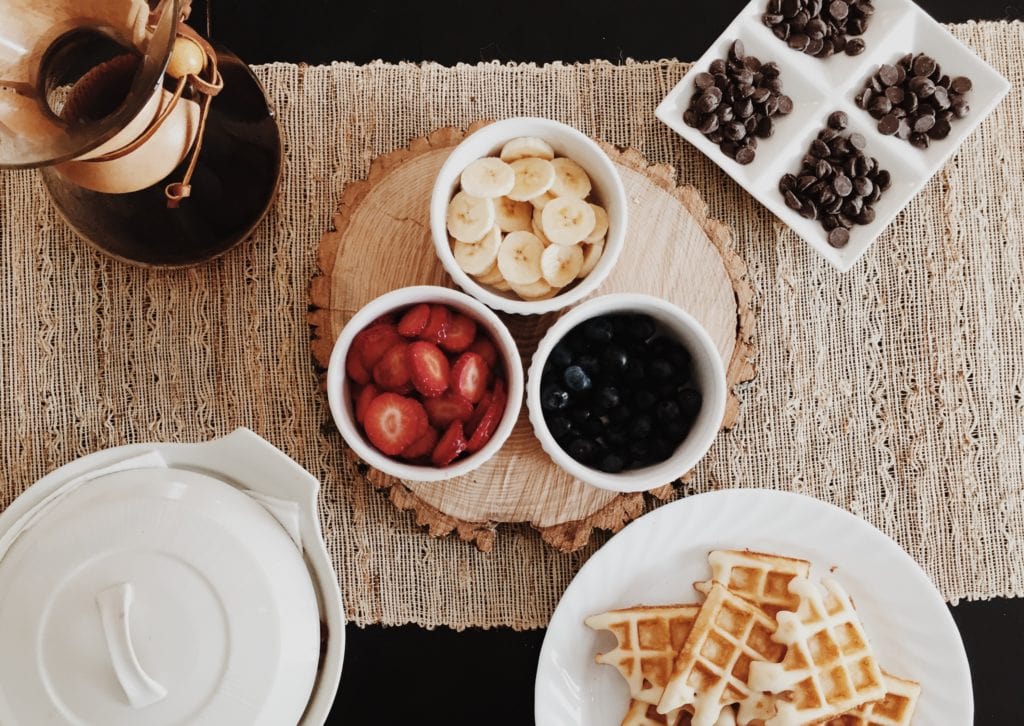 There are hundreds of different toppings available – but how do you know which one is worth your money?
Generally, a good topping has to taste different than the main ingredient, has to have the ability to enhance the flavor, and finally, it should make it look good!
As we speak, the following are some of the most popular waffle toppings, for both sweet waffle toppings and savory waffle toppings.
Sweet Waffle Toppings
Brandied Apricot Butter
Perfect Blueberry Syrup
Belgian Chocolate-Fudge Sauce
Wild Berry Compote
Stone-Fruit Butter
Berries with Lemon Mint Syrup
Bourbon Whipped Cream
Regular whipped cream
Chocolate Syrup
Chocolate Chips
Chocolate Sauce
Maple Syrup
Raspberry Syrup
Black Berry Syrup
Powdered Sugar
Marshmallow fluff
Fresh Strawberries or other fresh fruit
Vanilla Ice Cream
Savory Waffle Toppings
Cream Cheese
Peanut Butter
Sour Cream
Butter
Soft Fried Eggs
Canadian Bacon or regular bacon
Chopped nuts
Fried Chicken
That's a long list!
Obviously, you don't have to use all of these waffle toppings, but it will give you an idea of some of the more popular toppings.
How to Choose and Find the Best Waffle Toppings?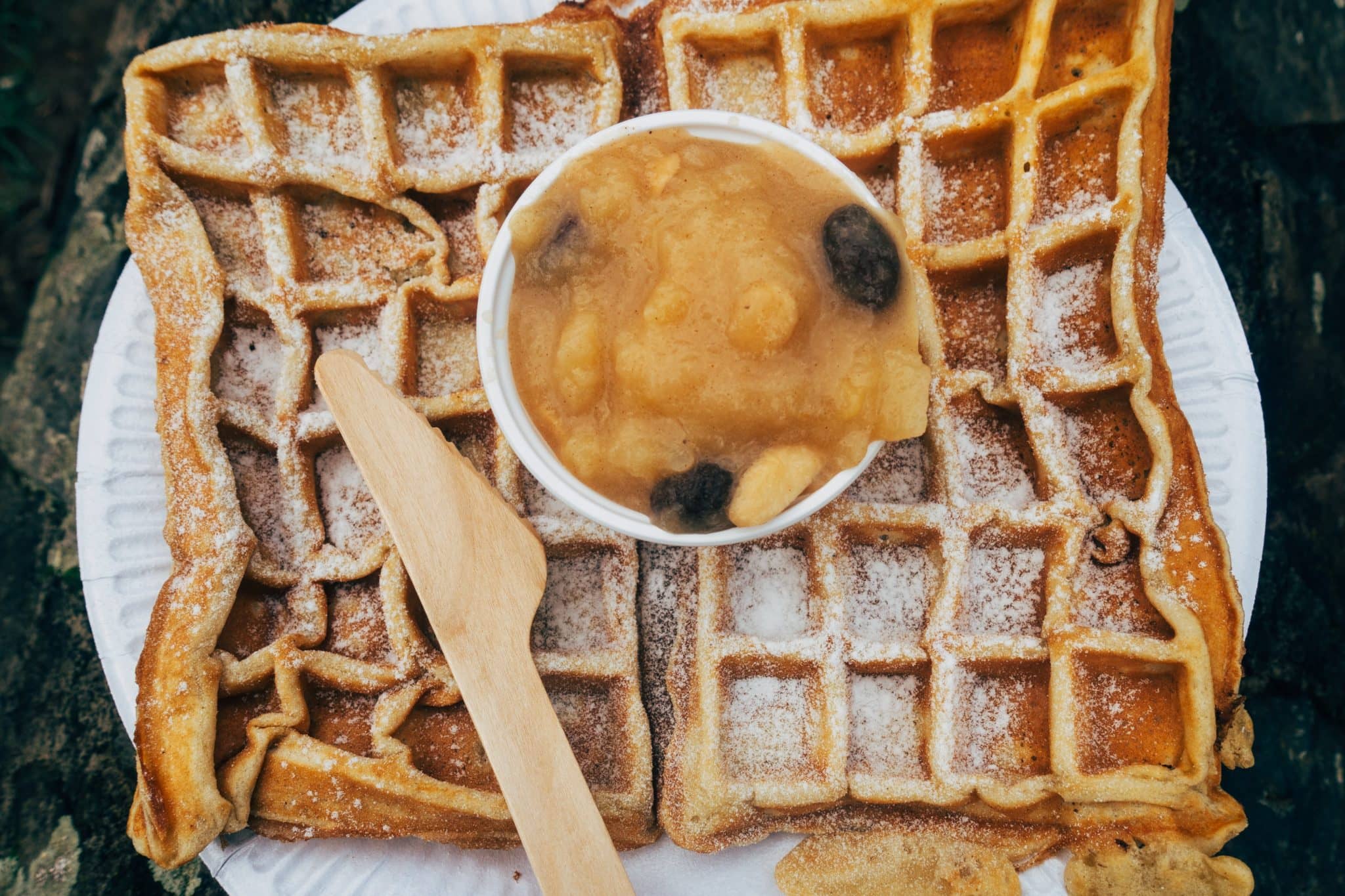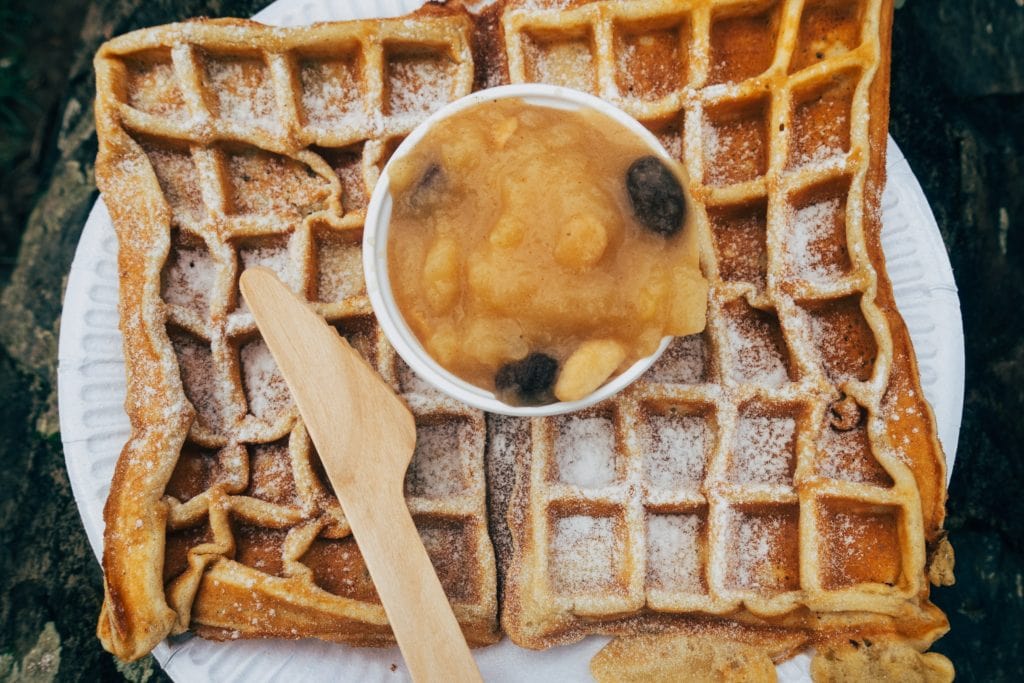 To choose the best waffle toppings, you need to figure out the following:
Recipe Type
What kind of recipe are you prepping? Remember, different toppings are intended for different kinds of recipes. You have to try as much as possible to match the kind of topping with the recipe you have in mind. That is only possible if you check out available recipes and even browse our website for more information.
Mode of Application
How is the topping applied to the food item of choice? To cut yourself some unnecessary hassle, you may need to find a topping that is easier to apply on your waffle.
Nutritional Value
What kinds of nutrients are these waffle toppings able to give you? Check out the packaging as a way of finding this one out. Insist only on that topping that contains the ingredients you may be on the lookout for. While at this, pay some special attention to any dietary needs you may have to meet.
For example, you may be making waffles for someone that is dairy-free, so you would stay away from waffle toppings like whipped cream or cream cheese.
Ingredient Mix
Closely related to the above is the ingredient mix. Are the ingredients natural or are they derived from artificial sources? For your own safety and overall wellbeing, you need a topping whose ingredients are natural and safer for the body.
Preservation and Handling
These items are highly perishable, meaning that they'll go bad fast! Fresh fruit is a great waffle topping but it goes bad much faster than chocolate chips.
Best Unique Waffle Toppings You Can Get
We now get to review the best unique waffle toppings that you can get. While coming up with this list, we put into consideration the ingredients that these items have, the kinds of nutritional values they potentially have to bring along, and the kinds of applications they may be devoted to.
Find them reviewed here below:
Nutella Chocolate Hazelnut Spread
Searching for a topping for your pancakes or waffles? Nutella has to be at the top of your list one of the more widely used waffle toppings.
All its ingredients are higher in quality. They include cocoa and roasted hazelnuts. These two ingredients jointly give the topping the nutrient mix the same needs to enrich your own life considerably.
The topping is further packaged in a sturdy jar. This jar allows for it to be easily stored and moved around.
Pros
Its size is large enough for the whole family's needs
Possesses a distinctively great taste
Spreads out easily compared to the other toppings
Cons
Yes, Nutella is an iconic dessert and pairs great with waffles.
However, did you know that there's a White Nutella that has been released on a limited basis?
If the Nutella price is just too much, there is Nutella candy, Nutella snacks, and TBH Nutella.
Ok, it's all a little pricey and TBH Nutella isn't even real Nutella, but it's just as delicious (some say better), and its got cleaner ingredients!
PBfit All-natural Peanut Butter Powder
Are you averse to synthetic ingredients? Could it be that you simply love nature? If so, you might love this unique peanut butter.
It comprises wholly natural ingredients so it's high in nutritional value.
Tucked in this peanut butter topping are three simple ingredients. These are salt, coconut palm sugar, and peanuts.
This peanut butter is also high in protein. It has 8 grams of proteins per unit serving.
Pros
Packed with plenty of protein
Comes packaged in a smooth and delicious makeup
Contains a low quantity of fat and is hence healthy for the heart
Cons
Has a shorter shelf lifespan
Lakanto Sugar-Free Maple Syrup
This is a unique take on a more classic waffle topping. And it might be a great addition to your pantry if you are trying to eat fewer calories or fewer carbs.
This is a sugar-free maple syrup!
This sugar-free maple syrup is also gluten-free and has all-natural ingredients.
Pros
Easy to fit within your macros or diety
Contains no GMOs
Cons
Taste is fine for being sugar free – definitely don't expect it to taste like regular maple syrup!
Torani Strawberry Syrup
Of all the toppings we have, this seems to be the best equipped for the matters of breakfast. It contains three powerful ingredients. They are lemon juice, cane sugar, and strawberries. All these ingredients are derived naturally and as such have no GMOs.
The syrup, as stated, contains three ingredients. These are lemon juice, cane sugar, and strawberries. They jointly give you all the nutrients you need while also contributing to the overall health of your body. That they are rich in vitamins is definitely a plus!
Pros
Brings about the natural goodness of fresh fruits
Enhances the flavor of your desserts and breakfasts
Cons
None – if you like the taste of strawberries then this is the topping for you
Blackberry Patch Syrups 3 Ingredients 8 oz. Bottle
This is a great topping for waffles, pancakes, or French toast.
It contains no artificial ingredients and tastes delicious. It has a long shelf life and is non-GMO!
Maybe the fact that it's made from real blackberries from a real black berry patch provides some sort of nutritional benefit that offsets the sugar? Or maybe not! Either way, it's a delicious syrup that you should really try!
No need to search for the "best blackberry syrup near me"! Just order it online!
Pros
Useful across numerous food items
Lacks any genetically modified organisms
Vouched for the safety and wellbeing
Cons
None – it tastes great and is reasonably priced!
ChocZero Syrup Variety Pack
Not many people love to eat sugar. The dangers that sugar may pose to their health may be too damning. If you are one such kind of person, you may wish to try out a topping that has low sugar, like this one. Other than the low sugar, it also contains zero preservatives and low in carbs.
By its sheer nature and makeup, this topping contains low net carbs. As such, it is good for those persons who are averse to higher levels of sugar and other carbohydrate-related problems. Thus, even if you consume it in plenty, you won't risk your health.
It is also thick and rich. When applied to the surface of the food items, it tends to form a layer that is highly nutritious and engaging. Being thick, it ensures that all the nutrients are wholly preserved and properly furnished wherever and whenever the same might be needed.
Pros
Your ultimate breakfast staple maple
Has a consistently smooth texture
Packed with loads of nutrients
Cons
Low in energy and carbohydrates
Kodiak Cakes Super Fruit Syrup, Mountain Berry, 16 Fl. Oz (Pack of 2)
Just if you are a foodie, we would ask you to grasp and make do with this topping. It is able to enhance the tastes of many food items. Examples of these are beverages, desserts, and yogurt, to name but a few! All these stem from its relative ease of application and universal nutrient mix.
Unlike many other toppings of its kind, this one lacks fructose contents. Count on it hence not to let you down or predispose you to any dangers and mishaps. Its zero fructose content also makes it a great choice for those who are allergic to higher levels of sugar.
All of its ingredients are derived from real cane sugar and fruits. No artificial stuff has been used to make it up at all. Count on the topping hence to do wonders for you. Particularly, count on it not to endanger your health systems in any shape or form.
Pros
Tastes great to the tongue and the taste buds
Wholly derived from natural sources
Applicable across numerous foods
Cons
Quite complicated to handle and workaround
Conclusion
There you have them! You have no excuse now for not getting your hands on rasberry syrup and some of the best waffle toppings on the market. Of course, not everyone will like the same waffle recipe or the same toppings.
However, that's why we've listed and reviewed a great range of toppings so you'll most likely find at least a couple of toppings you'd like to try.
So if you love waffles or love eating waffles, grab your favorite waffle maker, favorite waffle mix, and take your waffles to a whole new level.
There's no right or wrong and yet it's all about getting busy and testing these toppings out!
Which one are you trying out the first?!