Do you love waffles for breakfast? Then you probably know those waffles you find in the freezer section of your local supermarket won't come close when compared to the real deal.
If you want to make light, fluffy, classic waffles in a matter of minutes, then you need to check the Black and Decker 3-in-1 Waffle Maker.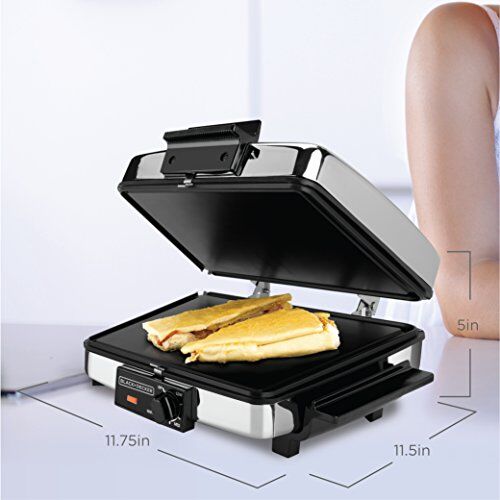 The Black and Decker 3-in-1 Waffle Maker is a newer, improved version of its predecessor. And, it provides all the features and functionalities of the discontinued Black and Decker 4-in-1 Grill. As the name says, this waffle maker is three appliances in one package- a waffle maker, griddle, and grill. This Black and Decker waffle maker has reversible grill plates, which can be switched to fry eggs, make waffles, and toast sandwiches all with one device!
We decided that this waffle maker from Black and Decker is one of the best available, and we want to provide you with an in-depth review. We will discuss its key features, pros and cons, and what consumers are saying about it.
BLACK and DECKER 3-in-1 Grill
Key Features
The Black and Decker 3-in-1 Grill is a kitchen appliance that combines a waffle maker, grill, and griddle in one machine. For those who are looking to declutter their kitchen, this waffle maker serves its purpose pretty well. This waffle maker isn't just great for waffles, but also for preparing meals for breakfast, lunch, and dinner, and it doesn't take up a ton of space.
The unit has two 8-inch-square cooking plates that fold together like a briefcase, and unfold flat. This unique design allows you to cook meals that normally require two kitchen tools- a waffle maker and griddle. Each cooking plate has grids for waffle making on one side, and the other side has a flat surface.
Flip both sides of the plates to use the flat cooking surface— perfect for grilling steaks, bacon, pancakes, and eggs. This griddle also has convenient grease runoff channels that make cleanup easier when you cook bacon.
The reversible cooking plates are nonstick, which makes cooking and cleaning up afterward quick and easy. The cooking plates are easily removable for hand washing. This waffle maker has an easy-to-use control knob with settings for high, medium, and low temperatures.
Now let's talk design and build. The Black and Decker 3-in-1 Grill has a fresh design with its chrome housing and black synthetic handles, which remain cool during cooking. The cord can easily be wrapped around the hinge so you can store it upright to save cabinet space.
The plates will be slightly wobbly when the lid is open, but this is normal for any waffle makers with interchangeable plates. The plates are secured to the body by small metal clips. Also, be sure to follow the cleaning instructions so you don't damage the nonstick surfaces when you wash the plates.
Overall, if you are looking for a waffle maker with all the bells and whistles that will look great on your kitchen counter—the Black and Decker 3-in-1 Grill is a great buy!
Pros
A multipurpose three-in-one appliance: waffle maker, grill, griddle
Makes large traditional style waffles
Cooks evenly
Two, interchangeable 8-inch-square cooking plates
Removable, nonstick plates
Temperature indicator light
Easy to operate and clean
Heat control with settings for high, medium, and low temperatures
The plates have channels for draining excess oil
Compact design with chrome exterior and black synthetic handles
The hinge can be opened to 180-degrees
Can be stored upright and the cord can be tied around the hinge
Affordable price
2-year manufacturer's warranty
Cons
The exterior gets hot while cooking
The cooking plates need to be hand-washed
Specs:
Manufacturer: Spectrum Brands
Brand: Black and Decker
Color: Black
Cooking surface: 8×8 inch
Hinge: 180-degrees, double
Weight: 8.57 pounds
Dimensions: 14 x 13.1 x 6.2 inches
Amazon Ratings
The Black and Decker 3-in-1 Grill has great feedback on Amazon. This waffle maker has nearly 1500 5-star reviews, and an overall score of 3.7 out of 5 based on over 3,675 reviews.
FAQs
Question: What size of waffles does this make?
Answer: one large 8×8 inch square waffle. This waffle can be divided into four 4×4 inch waffles.
Question: How long does it take to cook a waffle?
Answer: Usually, 3 to 8 minutes, but the average cooking time is 5-6 minutes.
Question: What kind of waffles does this waffle maker make? Belgian or classic?
Answer: Classic waffles, not Belgian.
Question: Does this waffle maker come with a warranty?
Answer: Yes, a two year limited warranty. The warranty covers defects in material and manufacturing.
Question: What material is the 'nonstick' coating in the plates made of?
Answer: Good question. The nonstick coating formulations are proprietary and can't be disclosed. But, we can assure you that the nonstick coating is high-quality, safe, stable, inert, non-toxic, non-reactive, and is PFOA-free.
Question: What wattage is this waffle maker?
Answer: The Black and Decker 3-in-1 Grill runs at 900 watts.
Question: Where was this waffle maker made?
Answer: It is made in China.
Question: Is there a light indicating a waffle is done?
Answer: Yes, there is an indicating light that turns off when the waffle is done.
Question: Does it get too hot on the bottom that will damage the kitchen countertop?
Answer: No, it does not get too hot on the bottom. However, we suggest everyone not to touch the metal top while cooking or baking as it does get hot. Instead, use the plastic handles in the front.
Question: is this dishwasher safe?
Answer: No, you should not clean this waffle maker in the dishwasher, including the nonstick plates.
Question: Are the plates easy to clean?
Answer: Yes, they are effortless to clean. Just wipe to clean.
Question: What are the nonstick surfaces made of? Teflon or ceramic?
Answer: Teflon.
Question: What temperatures are the setting?
Answer: There are three temperature settings: low, medium, and high.
BLACK+DECKER 3-in-1 Waffle Maker with Nonstick Reversible Plates, Stainless Steel,...
Three Appliances in One - This handy cooking machine quickly goes from toasting sandwiches or frying up eggs and...
Nonstick Reversible Cooking Plates - The removable nonstick grill plates are easy to clean and tough enough to...
180 Degree Hinge - The unique hinge doubles the available cooking area, giving you a large, flat griddle surface...
Adjustable Temperature Controls
Multiple Servings - The 8x8" cooking surface has room for four servings. You can make up to eight servings when...
Final Words
The Black and Decker 3-in-1 Grill in a great and reasonably priced waffle maker that also doubles a grill and a griddle. If you're looking for a new waffle maker that cooks delicious traditional style waffles in just a few minutes, this is the one!
With that, it has an attractive design, interchangeable and removable plates, and can easily be stored. Overall, a lot of unique features and abilities plus a great price, make this waffle maker combo a must-have in your kitchen!