What is the best propane grill on the market?
Making memories grilling out doesn't have to be expensive or time-consuming.
You can set up an outdoor grilling area with a high-quality grill for not a lot of money. Great grills can be found for anywhere between $150 to $1,000.
Today, we'll go through some of our favorite gas grills at various price points, along with their pros and cons. We'll also share with you some of the things to consider when looking to purchase one of the best grills on the market.
In a hurry? Below are the grills that we're reviewing.
Best Gas Grills for the money
Char-Broil Classic 280 2-Burner Propane Gas Grill – Best Gas Grill Under $150
Char-Broil Classic Features:
Char-Broil is one of the top brands for grills today. They're known to make high-quality products that will last for years to come. Often, their grills are not only durable but also affordable.
It's no wondering that out of the handful of grills that we're reviewing here, two are from Char-Broil.
This product, the Char-Broil Classic 280 is a 2 burner liquid propane gas grill and is one of my absolute favorite grills on the market today.
The 280 stands for 280 square inches of cooking space.
It has porcelain-coated grates to cook on. And the grill lid and firebox are also coated with porcelain in order to best withstand the incredible amounts of heat that a grill produces.
The grills' exterior is made from high-quality steel and feels like it was constructed very well. Its side shelves are also made from the same steel.
Its exterior may not be stainless steel, but it feels durable and sturdy enough that it won't tip over.
Both side shelves are 12 x 13 inches, which is plenty of space to prep your food.
The grill has a sleek black matte finish, which is great because it always looks clean, even when it's dirty!
This Char-Broil also comes with two wheels. These will allow you to move the grill wherever you need to, thus making it very mobile.
Wheels are especially useful if you usually keep your grill in a storage shed or a garage (like I do!).
Inside the Char-Broil are two stainless steel burners which are controlled by the two corresponding knobs on the front of the grill.
Yes, two burners may not be a lot, but it's enough to cook up food for a small family or for a few friends. And at this price point, this grill can't be beaten!
You turn on the grill simply by turning one of the knobs to whatever level of heat that you want and then hit the ignition!
Your burners will light up and after allowing the cooking grates to get warm, you'll be ready to grill up some steaks!
One of the best features of this grill at this price point is the built-in ignition. Having this means that you won't have to fool around with matches or lighters.
This grill also comes with a three burner or four-burner option. Of course, more burners means more money. However, the Char-Broil brand is well known and well respected. You can't go wrong with it!
Pros:
Known Durability – This Char-Broil is not only affordable but will stand the test of time if taken care of properly, even if you keep it outdoors.
Energy Efficient – The ability to control each burner and its corresponding heat level means that you'll only use the parts of the grill that you need, thereby saving you propane.
This Char-Broil is very easy to use.
This grill has 280 square inches of surface area to cook on.
Its porcelain-coated steel grill lid will last you years, withstand the weather, and effectively keep heat contained.
This grill has two stainless steel burners.
Cons:
Difficult to Setup – Did you know that you have to build a grill when you buy it? That's right! This Char-Broil doesn't come assembled, instead, it comes in about 150 different pieces and is a pain to setup. It'll take about 4 hours if you're building it yourself.
Instructions are Difficult to Follow – Yes, it does come with instructions but they're hard to follow. However, they do have a toll free customer service line that you can call and ask questions.
Char-Griller E3001 Grillin' Pro – Best Gas Grill Under $200
Char-Griller Features:
Dimensions: 48" x 28" x 48"
Cooking area: 438 square inches of total cooking area
Burners: 3 burners + 1 side burner
Power: 93 BTUs per square inch
Weight: 102 pounds
The Char-Griller 3 Burner Propane Gas Grill is a grill that has a whopping 438 square inches of total cooking area, which is a crazy large cooking surface that gives you 93 BTUs per square inch!
All of this juice is powered by three propane burners that can be controlled with individual knobs.
The Char-Griller's grates are made from durable cast iron and coated with porcelain. This combination makes it easy to clean after cooking since it's nonstick.
This is a grill that looks sleek with its all black finish that's done in matte. So not only does it look good but this makes it durable.
It also has two side shelves that add a tremendous amount of space that can be used to prep, move food from pre-cook to post-cook, or just hold sauces.
One of these shelves flips up to reveal a special side burner. Side burners can be used to cook other ingredients or heat up sauces while your meat cooks on the grill.
Finally, the Char-Griller comes with a pair of wheels that will allow you to quickly and easily move it around from one area to the other. This will allow you to keep your grill stored in a storage shed or in the garage.
Pros:
Includes a side burner
Large amount of cooking space on the grill
Highly Durable – This grill is made from steel that can stand up to the elements
Having a grill with three burners will give you plenty of power to cook what you need
Cons:
Assembly takes a really long time – It can take several hours to put everything together since it's over 100 pieces
Cuisinart CGG-7400 Propane, Full Size Four-Burner Gas Grill – Best Gas Grill Under $300
Cuisinart CGG-7400 Grill Features
Material: Stainless steel and heavy-duty cast iron
Product Dimensions: 54 x 22 x 46 inches
Item Weight: 75 pounds
Cooking Area: 443 square inches of primary cooking space on the grill
Warming Rack Area: 167 square inches of space on the warming rack
Burners: 4 burners
BTUs: 44,000 total BTUs
This Cuisinart 4 Burner Propane Gas Grill is constructed of high-quality stainless steel and cast iron. The grill's lid is constructed of stainless steel (which doesn't rust and stands up to weather very well) and the cooking grates (the grill itself) are made of cast iron.
This grill has a total of four burners that each have 11,000 BTUs. This gives the Cuisinart CGG-7400 a total of 44,000 BTUs!
These four burners are made from stainless steel and are controlled individually. Having the ability to control them individually means that you'll only use the parts of the grill that you need.
For example, you can cook burgers at a different temperature than your hotdogs if you place them on different parts of the grill.
The Cuisinart CGG-7400 Propane Grill also has a special automatic ignition so you won't need a separate lighter to start the flame.
Finally, this Cuisinart has a built-in thermometer that allows you to monitor the temperature inside the grill. It also has a built-in bottle opener. Need to crack a beer while you're grilling? No problem with your bottle opener!
Pros:
Easy startup ignition
Made from high-quality Stainless steel and Cast Iron
Heavy-Duty design means it's stable and will NOT tip over
Built-in thermometer
Built-in bottle opener
Wheels make it easy to move around
Cons:
Very heavy and even with wheels it can be difficult to move around
Char-Broil Performance 4-Burner Propane Gas Grill – Best Gas Grill Under $400
Features of the Char-Broil Performance 4 Burner Propane Gas Grill:
Material: Porcelain-coated cast-iron grates and stainless steel burners
Product Dimensions: 23 x 53 x 45 inches
Weight: 105 pounds
Cooking Area: 475 square inches of cooking space
Warming Rack Area: 175 square inches of space
Burners: 4 burners
BTUs: 36,000 total BTUs and 10,000 BTUs for the side burner
If you have a big family and not a very big budget, then the Char-Broil Performance Propane Gas Grill may the grill for you.
With 475 square inches of total cooking area and 175 square inches of warming area, you can easily cook burgers and warm bugs for an entire party at the same time.
Why is this good? Larger grills are useful because you don't have to spend hours on the grill cooking for everyone. You can knock out food for everyone right at the beginning and then enjoy your time!
This Char-Broil is a monster of a grill. It has four burners that can give you a total of 36,000 BTUs of heat and an extra 10,000 BTUs from the side burner.
The side burner is one of the most unique features because it allows you to warm food or even cook a side dish while you're grilling your made dish on the cooking grates.
This Char-Broil has rust-free cooking grates that are constructed with porcelain-coated cast-iron. This will ensure that it lasts for years to come and make the grill super easy to clean.
It also has a push-button electronic ignition system that will ensure that your burners all light up super fast and at the same time. No need to mess around with a lighter or wonder if your grill will start up!
Finally, this Char-Broil has a built-in thermometer so you'll always know what temperature your grill is at.
Pros:
Constructed with durability in mind
Large total cooking surface area
Large total warming rack area
Push-button ignition system
Two side shelves
10,000 BTU Propane gas powered side burner
Rust-free stainless steel burners
Porcelain-coated cooking grates
Porcelain grease pan for even distribution of heat
36,000 BTUs
Built-in thermometer
5-year warranty on steel burners
1-year warranty on all other parts
Cons:
Very heavy, one of the heaviest free-standing grills
Difficult to put together
Fuego F24C Professional Liquid Propane Gas Grill – Best Gas Grill Under $500
Features of the Fuego F24C Professional Grill:
Material: Stainless steel warming rack, porcelain-enameled grill lid, cast-iron cooking grates
Product Dimensions: 24 x 24 x 47 inches
Item Weight: 85 pounds
Cooking Area: 415 total square inches
Warming Rack Area: 110 total square inches
Burner Number: Two burners
BTUs: 26,500 Total BTUs
The Fuego Professional Grill is one of the most unique gas grills on the market and is made from the award-winning Fuego Element. This grill has a streamlined design and is very unique compared to other grills.
The Fuego Professional has an angled lid that allows you to grill without feeling too much of the heat off of the cooking grates. This special lid can also function as a type of cover for windy days, so your flame won't get fanned out!
Although the Fuego is a grill that is physically on the smaller side, which makes it great for a smaller area, it still offers 415 inches of total cooking space and another 110 inches on the warming rack.
This means that you can grill enough food for your entire party without sacrificing space or your budget!
One of the unique features of the Fuego Professional is its ability to get hot really fast. It can reach 500-degree temperatures in just a few minute's time. You could never do that on a charcoal grill and most gas grills won't even come close to that. This can save you a ton of time at your cookout or BBQ.
Yes, it "only" has 26,500 BTUs of power, which is not much when compared to other grills reviewed here. However, it's so energy efficient, that it makes great use of this energy. No other grill reviewed here can hit 500 degrees in just a few minutes.
Because of its design, it contains heated air much better than other grills. This means that it stays hot easier and longer than even the best gas grills.
Another one of the great features that the Fuego has is how easy it is to assemble. It comes with easy to follow instructions and only uses around 20 screws, some fasteners, and a screwdriver. Even with no experience, you can have this best gas grill set up and ready to grill in around half an hour.
Not only is it easy to set up and relatively light, but its four industrial-strength wheels make it super easy to move around. These wheels can be locked to prevent it from moving while you're grilling!
Finally, the Fuego also has a grease trap tray and a metal door. The grease trap collects everything that falls which makes cleaning it super easy. The metal door is where the propane tank goes.
Behind the metal, the door is where you will put and hide the liquid propane gas tank. It's great to store the propane tank here and the door can be closed and opened very easily, but it can be challenged to fit the tank in here and connect everything.
Pros:
One of a kind construction and design
Heavy-duty cooking iron grates
Four industrial strength caster wheels for easy mobility
Grease tray keeps the grill clean and prevents flare-ups
Metal door that hides propane gas tank
Heats up super quickly – much faster than other grills
Large cooking surface area
Uses propane efficiently
Cons:
Can often not heat up all areas of the grill evenly
Can be difficult to control how hot it gets and how fast it heats up
Weber Genesis II E-435 Gas Grill – Best Gas Grill Under $1,000
Features of the Gas Grill Weber Genesis II E-435:
Materials: Stainless steel tube burners
Product Dimensions: 65 x 29 x 47 inches
Item Weight: 177 pounds
Cooking Area: 844 square inches of total cooking area with warming rack
Burner Count: 4 burners
BTUs: 69,000 combined BTUs
This is one of the grills that has the most number of features of all gas grills reviewed here. And it should because it comes with a hefty price tag.
The Weber Genesis II E-435 is a top of the line gas grill that is constructed in a rust-free stainless steel body and also has heavy-duty steel and stainless steel elements. Everything from the lid, to the cooking grates, to the storage cabinets and wheels are all high quality on this top of the line outdoor gas grill.
This Weber Genesis II E-435 Grill has 6 burners that deliver a total of 69,000 BTUs total. It has 4 internal burners and an extra burner station and side burner. All of these burners and features means that you'll be able to cook whatever you want and cook it all at the same time!
Now Weber Genesis II-435 has all of these BTUs, so you know it can cook whatever you need, but because it's constructed from stainless steel, it can retain that heat well and even stand up to whatever weather comes your way.
One of the many features of the Weber Genesis II E-435 that I appreciate is the special iGrill feature. The iGrill is an accessory that is sold separately that allows you to control your grill through an app on your phone.
Isn't that cool?
That means that you can grill to your heart's content while you're hanging out with friends in another part of your house. And you can do this all through your phone!
Overall, this Weber is a best in class gas grill and has almost every feature you can think of. However, it'll also run you a significant amount of money.
Is it worth it? That's for you to decide.
Pros:
6 total burners
Specialized Infinity ignition system
844 square inches of total cooking space
Can be setup with the iGrill mobile cooking app
All-stainless steel construction means it's durable and heavy-duty
Includes storage cabinets
Cons:
It's a very heavy grill at 177 pounds, this means it's not made to move around
What to look for in a Gas Grill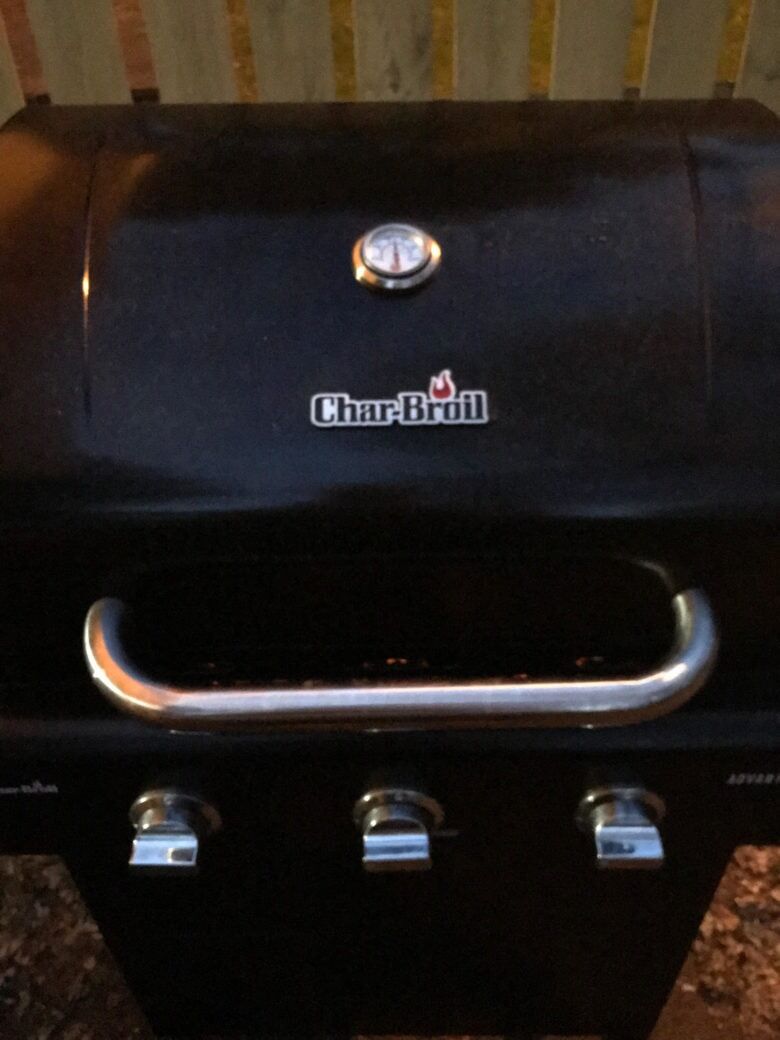 There are many factors to consider when looking to buy a gas grill. This buyer's guide will help you make the decision on which grill is right for you.
The debate between gas and charcoal rages on!
It's important to note that we didn't review any charcoal grills in this article. Charcoal grills definitely have their place in the grilling world and we recognize that a charcoal grill can provide a taste like no other, but this article is only about the best gas grills.
Types of Gas Grills
There are two common types of gas grills that you can choose from, a freestanding propane gas grill and a gas grill with a built-in gas line.
Free-Standing Propane Gas Grill
When you think of a gas grill, you're probably thinking of a free-standing propane gas grill with a propane tank. This is probably the most common type of gas grill in the world, and it's definitely more affordable than the other option.
A free-standing gas grill uses a propane tank that you buy at the store and hook up yourself. They're also much more mobile and you can wheel them around or even take them somewhere.
Propane tanks don't require any special skills to set up or use. Just buy the tank and hook up the gas gauge. When the tank runs out, then go to the store and switch it out for a new propane tank.
You'll use to pay a lot the first time around because you're buying the tank, but once you switch them out you basically only pay for the refill.
Personally, I always keep two tanks at home. That way if one runs out I just hook up the other one without having to run to the store!
Built-in Gas Line Grill
A built-in natural gas grill is a high-end item that you may see in someone's custom outdoor kitchen. These grills are often high-end gas grills that are built right into a Tikki hut or into a stone patio and they have a gas line running to a tank somewhere else on the property.
These gas lines can be propane or they can be natural gas, it just depends on what's easiest to use in your situation.
In almost all cases, a natural gas grill will be less efficient than a propane one, and often come with a higher price tag. Still, a natural gas grill may be worth it for you if already have natural gas at your house.
Heating Technology
There are often two types of heating that are most commonly used in the best gas grills, convection and infrared. Both of these types of heating can be found in a natural gas grill or with a propane tank.
Convection Heating
Convection heating is just a fancy word for hot air! Basically, heat rises up from the grill burners and cooks your food. It also heats up the air around the food (when the lid is closed) thereby keeping things warm on the warming racks.
Don't get confused with a convection oven, in a convection oven, a fan circulates hot air in order to cook everything. In a grill, heat is just contained, not circulated.
Infrared Heating
Some premium grills or high-end grills will have an infrared heating function.
These types of grills are much more expensive, but infrared often results in quicker cooking times, a more even distribution of heat, and juicer food.
This is because in premium grills with infrared heating there's a heating emitting plate that is positioned between the burners and the food. This distributes the heat and prevents flare-ups.
Size and Capacity
Your grill's size and the capacity you need are two things that you need to look at when deciding which is the best gas grill for you.
Grill Size is the overall size of the grill. How big is it? This is often measured in burners and side tables.
In other words, the more burners it has, the bigger it is. And of course, if it has side tables, that also increases its size.
The best gas grills have 3 or more burners and have side tables, some even have a side burner or rotisserie burner.
If you don't have a lot of space then you can forego the side tables or get one with just two burners, neither of those things impacts performance.
Capacity is how much food it can hold.
This is also called the cooking area and is often measured in square inches.
This is one factor that can impact the price of a grill and maintenance.
Smaller grills are cheaper and are easy to clean. A larger grill will be more expensive but will have more features and will likely be much bigger.
This is a decision that only you can make for yourself.
Power
For gas grills, power is measured exclusively in BTUs. Knowing a grill's BTU will also give you an idea of how much energy it uses.
Higher BTUs mean more propane tanks you'll need but it also means a hotter grill and faster-cooked food.
BTUs are also typically measured per burner. So a three burner grill with 10,000 BTUs per burner has a total of 30,000 BTUs for the grill. Get it?
Overall, I wouldn't worry too much about this. The higher the better, but overall, no matter the BTUs, all the grills here can do what you need them to.
Warranty
A product warranty is important and not something you should ignore!
The best gas grills come with some type of warranty. Some have a warranty of 12 months, some are much longer.
Overall, longer is usually better and if you're buying a grill on Amazon, you can usually opt to purchase an extended warranty for just a few dollars more.
If you're buying a grill at a store like Home Depot or Lowe's, they'll usually offer you an extended warranty.
Customer Reviews
One of the things that I love about buying on Amazon is the ability to look at customer reviews before I purchase a product.
At Easy Kitchen Appliances, we review products on Amazon and we may earn an affiliate commission at no extra cost to you when you click on a link and buy from Amazon.
This is why we can give you unbiased reviews and advice on all things kitchen related.
Basically, out of hundreds of grills and days of research, our Editors brought you the best gas grills for these price points.
And if you're still not sure, browse through the customer reviews on Amazon and see reviews that are from real people who really purchased these grills.
Is it durable?
Before you set out and buy the best gas grill for yourself, you need to know what the grill is made of. is it durable? Can it handle what you're going to throw at it?
The best gas grills are made of stainless steel, cast-iron, or a combination of both of these materials. A grill with plastic parts is a big red flag for me. It just won't be durable enough to put up with the high temperatures that the grill gives off.
Generally speaking, stainless steel is the most long-lasting material that a grill can be made out of. It'll withstand the elements and handle high heat very well.
Stainless steel also doesn't rust, is low maintenance, and can be cleaned with a simple wipe down.
And you know what else, it looks great when it's clean!
On the other hand, cast iron retains heat much more efficiently than stainless steel. This can mean faster cooking times or more evenly distributed heat.
Oftentimes, no matter what the exterior of a grill is made of, if it has stainless steel cooking burners and porcelain-enameled cast-iron grates, that means it's easy to clean, durable, and a winner.
All of the grills featured in this article are the best gas grills in their class and will last you a long time.
What other features are useful in a Best in Class Gas Grill?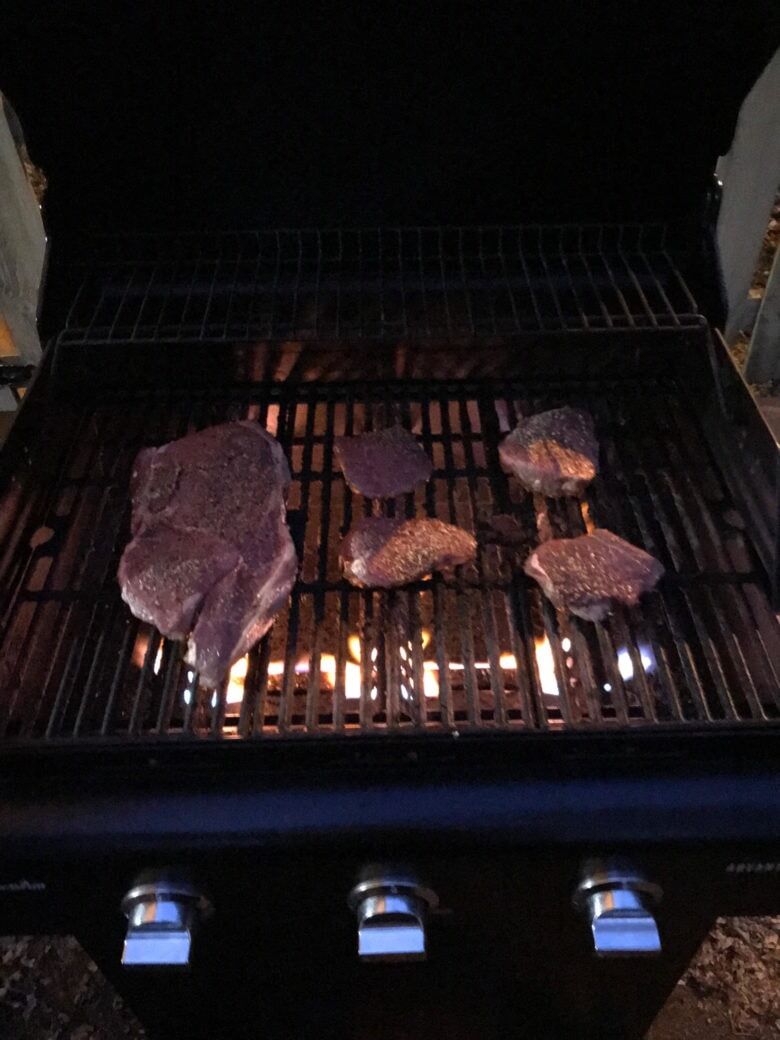 The best gas grills will often have special features that you just won't see in regular budget grills. In this section, we review some of the most unique features of propane grills.
Side Burner
A side burner is a propane burner often found on the side table of the grill. It can be useful because it increases the total cooking area and can allow you to cook something totally different on the side while you grill your main dish on the cast iron grates of the grill.
This is often a one or two burner feature similar to a burner on a stovetop.
For example, a grill with a 5 000 BTU side burner, warming racks, and plenty of grill space will allow you to heat up peppers and onions on the side burner, grill fajitas on the main grill, and heat up tortillas low and slow on the warming racks.
Having these options will allow you to cook up an entire meal on your grill without needing to do anything in your kitchen.
Side burners can also be used to heat up sauces while grilling or even boiling hot dogs while grilling burgers. There's no limit to what you can do with them. It really brings the entirety of an indoor kitchen outside.
Rotisserie Burner
Do you love rotisserie chicken?
Imagine being able to make rotisserie chicken in your grill! That's what having a grill with a rotisserie burner can do for you.
Having a rotisserie burner is a really unique option and one that is definitely not standard on a grill. However, it may be exactly what you need.
Rotisserie is when a chicken or other type of meat is slowly rotated around a flame. Fat melts off of the meat and it basically bastes itself. Rotating it low and slow also means that it'll be evenly cooked all around.
Built-in thermometer
Some grills will have a thermometer that is built-into the grill. Having this built-into the grill is extremely convenient because you can keep the lid closed while still monitoring its heat.
Side tables
The best gas grills will have side tables on both sides. Having side tables on both sides can increase your prep space or even your cooking space if one of the side tables has a side burner on it.
In addition to that, some grills have side tables that fold down thereby making it more convenient to store.
Cabinet
Some of the more expensive grills will have storage space in the form of a cabinet under the burners. this is often where the propane gas tank is. However, larger grills will also have some additional storage space for a pan, a griddle, tongs, or whatever else you need for your grill.
Maintenance
No matter what your gas grill is made out of, you need to learn how to take care of it in order for it to last you a long time.
The best way to take care of your grill is to clean it well after every use. This is a pain in the neck!
The last thing you'll want to do after cooking at a grill in the hot sun is then to clean it. However, if you want your grill to last you a long time, this is what you need to do.
It's better to have a $200 grill that you take care of than to let a $1000 gas grill sit uncleaned, full of grease and food, and in the rain and elements.
How to clean a gas grill
The most basic cleaning you can do for a grill is to wipe it down after every use.
If it has a grease tray, then take that grease tray or grease trap and throw away the grease. Do not dump it down the drain somewhere because it WILL clog your drain.
It's also a good idea to scrape off any excess food particles from your cooking grates. Leaving food on there can be unsanitary and unsafe.
An easy to clean grill is a grill that can be cleaned quickly. And the more you clean it the easier it will be.
So don't let food particles or grease build up on it.
Where to store your gas grill
I personally prefer free-standing gas grills because I can move them around. I can move them in the garage for the winter or during a rainy season and then I can move them out when it's time to grill.
Most grills will have two to four caster wheels on them in order to make them mobile.
Having access to a garage or storage shed is probably the best-case scenario.
However, if you don't have access to a covered or enclosed area then you need to get a high-quality grill cover for your grill.
Having a grill cover will ensure that your grill is protected from the elements as best as possible.
If you have a free-standing gas grill, it is also best if you have some space in your storage for it. Keeping it inside the storage will keep your gas grill entirely safe from harsh elements when it isn't in use.
Ignition System
There are grills that require you to light them using matches or a lighter, stay away from those!
Nowadays, there's no reason to buy a gas grill that doesn't have a special ignition system. It's incredibly convenient to turn the gas on and press a button in order to light the grill.
There's just no good reason to fool around with lights and propane if you don't have to.
Benefits of Gas Grills
Inexpensive to Use
No doubt about it, a charcoal grill is much cheaper to buy than a propane or natural gas grill. After all, there are no moving or complicated parts to it. It's basically just a metal bucket with a grill on top!
However, although the initial cost of a gas grill is higher, it's often much more inexpensive to run a gas grill for the long run.
Propane gas and natural gas are cheaper than charcoal, firewood, and even electricity. Propane and natural gas also burn much cleaner than charcoal.
Easy to Use
A gas grill is also really easy to use. There's no warming up, dealing with charcoals, or trying to keep a flame going.
All you have to do hook up your propane tank to the grill, turn it on, and then hit the ignition. Your grill will be on and ready to cook.
The best gas grills today come with an electric ignition or with a piezo ignition switch. Both of these types of ignitions are ideal because getting started grilling is as easy as pressing a button.
Some people swear by charcoal, and I understand that, but you can't argue how easy a gas grill is to use!
Easy to Clean
Have you ever had to clean the charcoal from a grill? It's terrible!
Cleaning a gas grill is no picnic either, but it's much easier to properly clean a gas grill than to clean the food particles and ashes from a charcoal one.
Charcoal will stain your hands, arms, and clothes black. A propane grill will be a pain because of the burners, but it won't involve any ashes or unburned coals.
Conclusion
Buying a new grill is an exciting thing and something to look forward to. But looking through all of these propane grills can be exhausting.
If you choose wrong, you could spend hundreds of dollars on a grill that won't really work for you. It'll be frustrating not only because of the money spent but also because you'll be reminded of it every time you use your grill!
From the Char-Broil to the Gas Grill Weber Genesis II E-435, all of the grills reviewed here are high quality grills that will serve you well for years to come.
We hope that this article has helped you decide which of these grills is best for you. Let us know which grill you chose!