Pressure cooking is a process of cooking food under high pressure of steam, and if you ever tried food cooked using this method, you might have been really curious how does a pressure cooker work.
The chances are you might be in a search for the best pressure cooker you can find on the market to recreate that delicious food you ate, and guess what – you're in the right place!
In this review post, you will find out how to choose an ideal pressure cooker for your needs, but also have the ability to check out 15 of the best pressure cookers that won't break the bank, so keep on reading!
How We Chose the Best Pressure Cookers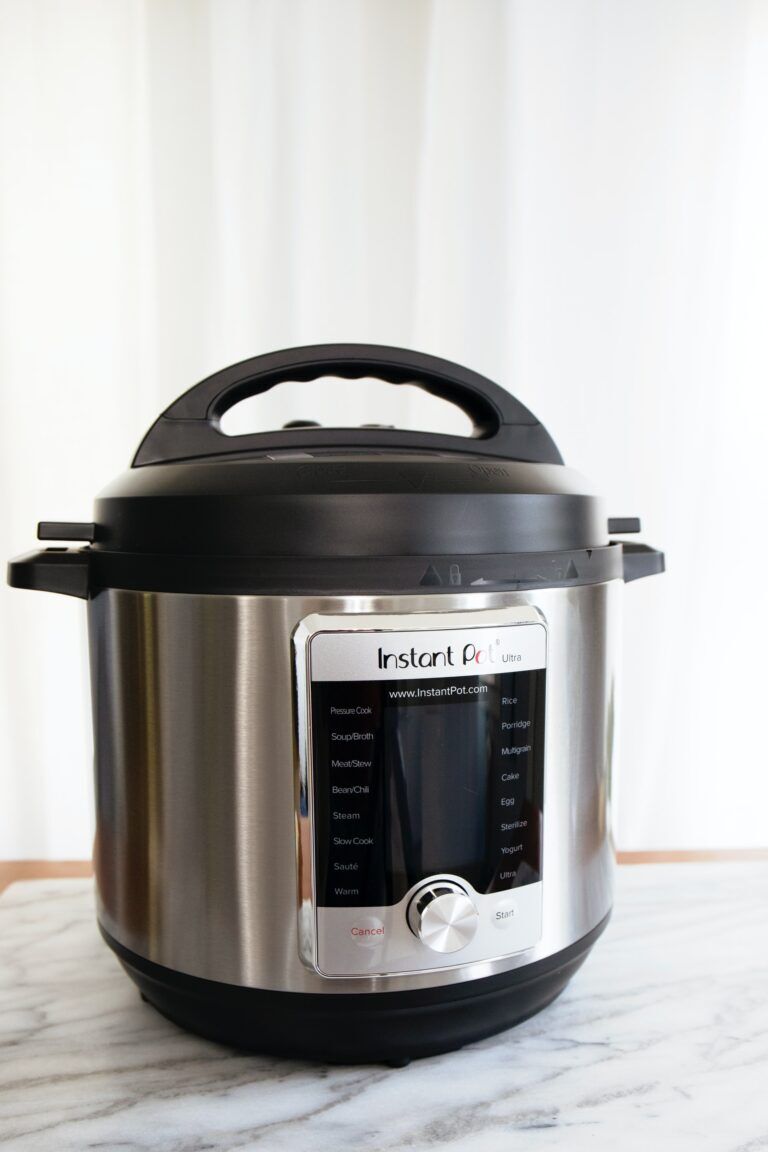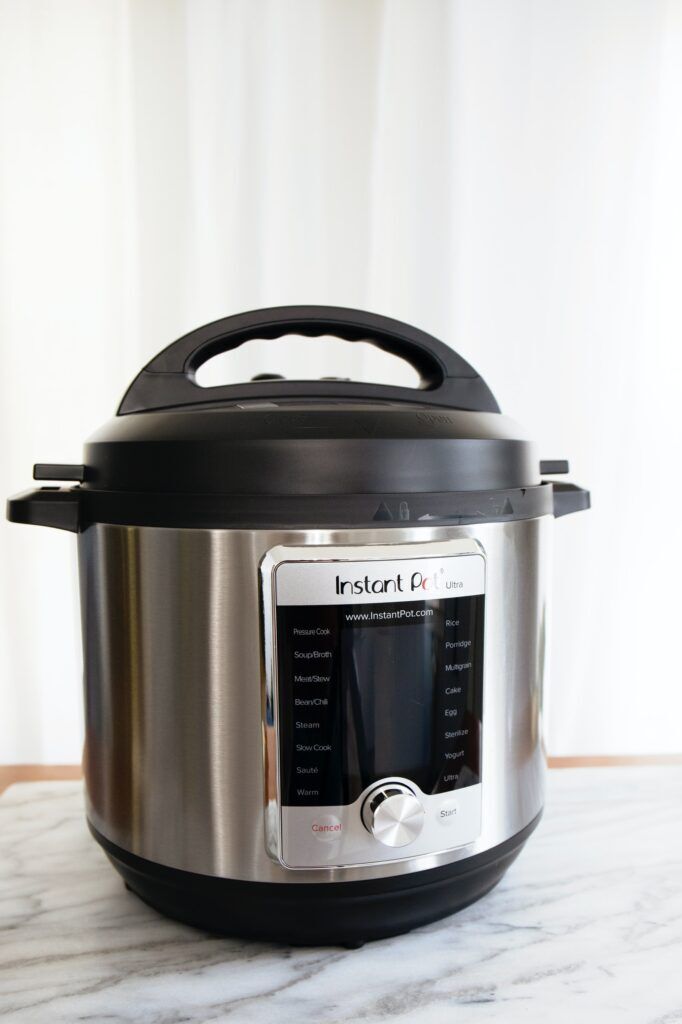 When it comes down to selecting the best pressure cooker, you don't necessarily have to spend a fortune to find a very decent pressure cooker.
In fact, you only need to focus on two things. A place where you can find and purchase a pressure cooker and the quality/features the pressure cooker offers.
The best place to find some of the best pressure cookers is Amazon because it offers a wide range of products, and yet you can compare pressure cookers from various manufacturers easily.
And yet when it comes down to the build quality and features, it will take time and some knowledge to do your research, but the more you research pressure cookers, the more easily you will be able to learn what's good and what should you expect from a quality pressure cooker.
Luckily, we did the hard work for you so in this review, you can find some of the best pressure cookers you can purchase right off of Amazon, and yet find everything you need to know about 8 pressure cookers where at least one of them would be worthy of a place on your kitchen countertop.
Best Pressure Cookers
With modern technology, each pressure cooker includes different features, is based on a different technology, and can be used for different types of foods. Therefore, carefully check out each one of these pressure cookers to find out which would fit your needs the most!
Ninja Foodi 12-in-1 Deluxe Pressure Cooker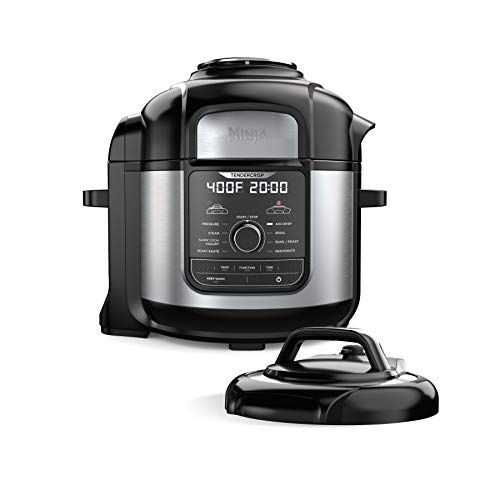 This 12-in-1, 8-quart deluxe pressure cooker allows you to crisp your food to perfection. The technology used can help you turn food from frozen to crispy in just 20 minutes (or less). When you use the 8-quart cooking pot and the 5 quart Cook & Crisp Basket, cooking and air-frying are a breeze since it's fairly easy to use and there's no mess.
This is the most luxurious Foodie yet, with a stainless steel exterior and a completely redesigned user interface that makes it super simple to prepare a meal for the entire family. An 8-quart ceramic-coated pot with a nonstick surface and no PTFE or PFOA make cleaning up a task you won't dread.
There are also 12 programmable cooking modes integrated into the pressure cooker, which include air fry/air crisp and steam as well as slow cooking, yogurt, and searing/sauté. These reduce the prep time and highly improve convenience.
Tender-crisp as many as eight chicken breasts at a time in the steamer and broiler. It has 45 recipes in total.
The Ninja Foodi Deluxe Inspiration Guide is filled with mouthwatering recipes to get you going with your new Ninja Foodi. You can cook with peace of mind thanks to its 14 safety features, which have been rigorously tested with the user's safety in mind.
PrepAmeal 8-in-1 Pressure Cooker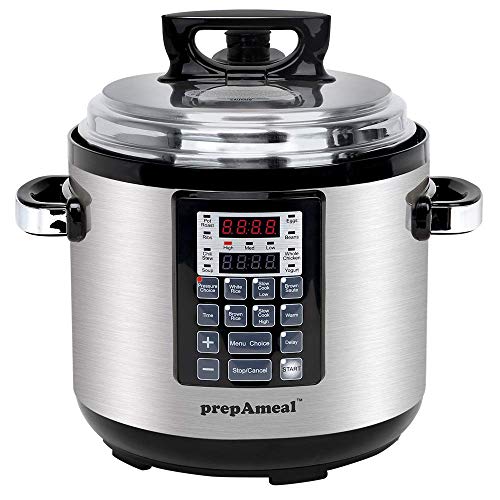 You may save 70% of your cooking time by using this appliance, which integrates 8 operations into one. You can use it to make everything from a pot roast to ribs, whole chicken, hearty chili/stew, and a bowl of white rice or brown rice.
Saute/brown in the slow cooker before reheating and keeping warm. Just a few basic actions are all that is required to prepare great food.
Food-grade 304 stainless steel and a chemical-free nonstick coating mean you don't have to worry about your health when using this pot. Using a gasket seals the food in an airtight environment that preserves its flavor, nutrition, and scent. Ideal for a four to six-person family.
The "Warm" option and the delay timer both give additional convenience and adaptability. It has a time delay of up to 8 hours and a "Warm" mode that both reheats and maintains food temperature.
It's easy to clean because the inside cooking pot is made of sturdy stainless steel and can be thrown in the dishwasher. For a large family, this is the ideal collection of appliances, allowing you to make enough meals for everyone. A rice paddle, a measuring cup, and an instruction manual round out the set.
Instant Pot Duo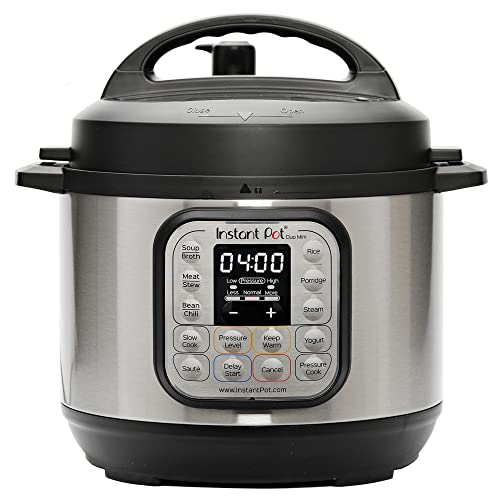 Fast, versatile, and easy to use, the Instant Pot® DuoTM has been at the forefront of the industry since its inception.
Pressure cooker, rice cooker, steamer, sauté pan, and yogurt maker are all replaced by this pot that allows you to cook your favorite foods at the push of a button, thanks to the 13 built-in smart programs.
The stainless steel inner pot has a three-ply construction for fast, even heating. Rethink the way you prepare food, and you'll be able to eat well on the go at any moment. Find out what you've been missing out on with the Instant Pot Duo. Cooking with no worries.
Ingenious Software makes it possible to "set it and forget it" using the Duo's pre-programmed timers, allowing you more time to do other things while your meal is being prepared by the Duo.
For sautéing, you get to utilize food-grade stainless steel, with a tri-ply bottom that ensures even cooking. It has over a dozen safety features, including an overheat protection system and a lid lock for added security.
It can cook for up to three people, making it ideal for small families or those who want to cook in bulk. stainless-steel sides with a fingerprint-resistant stainless-steel lid, inner pot, and accessories are dishwasher-safe.
Instant Pot Max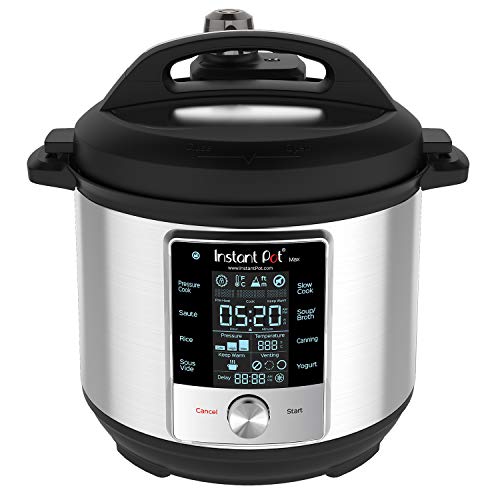 The breakthrough multicooker, the Instant Pot max, uses up to 70% less energy than a traditional stovetop cooker while still maintaining a pressure of 15 pounds per square inch. Above all, it consistently and quickly creates meals that are high in nutrition and taste great.
With a working pressure of 15 psi, it is the highest in the business. This level of pressure was previously only possible with stovetop pressure cookers. As a result, you'll be able to pressure canned food at home with the 15 PSI pressure.
The first electric pressure cooker in the industry to receive USDA approval for home canning. A touch screen interface was used in the creation of this design. Programming is a breeze because of the touch screen's user-friendly interface.
At a look, you can see how your food is progressing in the oven. There are 13 safety features, including automated ventilation and a lid lock, that have been certified by the UL and are included in the new model. Sous vide cooking is possible thanks to the precise temperature control of plus or minus 1°C or 1. 8 °F. 304 food-grade stainless steel is used throughout the cooker and inner pot, which have all been refinished with a new brushing. All inserts and packaging are made from recyclable materials.
Mueller 10-in-1 Pressure Cooker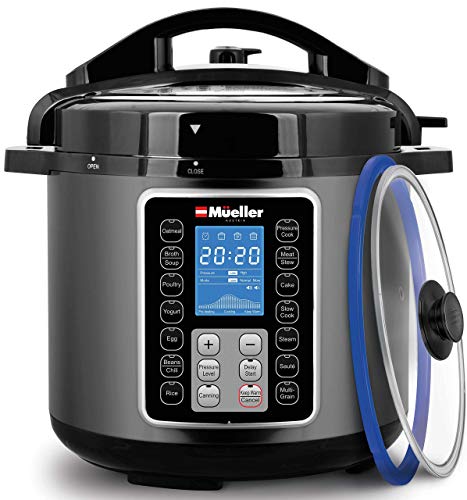 This multifunctional pressure cooker features a total of 10 appliances and 15 Smart Programs pre-loaded. In contrast to other models, this one is built with high-quality rubber seals, heat-resistant handles, and electronics that are built to last.
There's also a stainless steel steamer basket included so you can cook two things at once, plus an extra silicone gasket, ladle, and measuring cup to save you time and money!
A food's flavors, nutrients, and scents are preserved thanks to a ceramic nonstick interior coating and a completely enclosed environment.
Microprocessors monitor pressure temperature, keep time, and adjust heating intensity and duration to achieve your desired results every time in healthy stainless steel (18/10) inner cooking pot made of food-grade 304 ss, with no chemical coating and a 3-ply bottom for even heat distribution.
A fully sealed environment traps flavors, nutrients, and aromas within the food. In addition to the UL and ULC certification, there are eight safety features in place to provide your peace of mind.
Comfeee 12-in-1 Pressure Cooker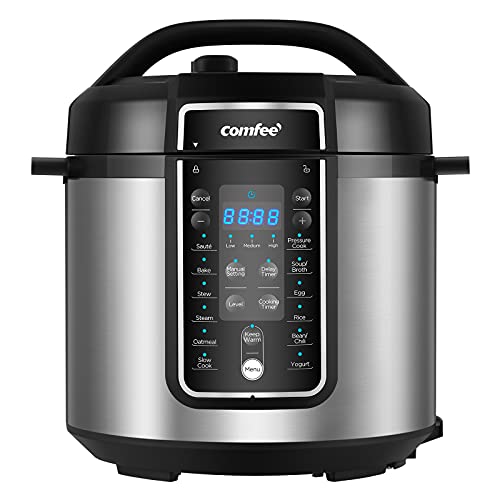 Comfee provides one of the smartest pressure cookers on the market, and yet its best feature is the One-Touch Start with 12 Smart Programs: Pressure Cook, Sauté, Bake, Stew, Steam, oatmeal, Oatmeal/Oatmeal, Slow Cook, Soup/Broth, Egg, Rice, Bean/Chili, Yogurt.
Pressure cooker, slow cooker, sauté pan, rice cooker, yogurt maker; cake maker, egg cook; seamer; and food warmer are all replaced by this single appliance.
It is equipped with 9-in-1 safety features, including a lid lock, anti-block cover, pressure limiting valve, automated pressure, and temperature control, and an overheat protection feature, amongst others.
Dishwasher safe for easy usage and cleaning. It cooks for six people at a time. No BPA-containing materials are used in any part of the system that comes into touch with food or drink.
The LED display is easy to read from a distance, making it simple to operate. DIY manual setting, Start/Cancel button, Menu option to select 12 Preset Programs, and Keep Warm option are all included in the control panel's design.
Chef iQ Smart Pressure Cooker
Among the many features of the Smart Cooker are an integrated scale, an automated pressure release, and more than 300 pre-programmed cooking settings.
When you use the Smart Cooker in conjunction with the CHEF iQ App, you get an unparalleled cooking experience that you won't find anywhere else.
With wireless firmware upgrades, it's the only kitchen gadget that keeps getting smarter as you use it. Learn how to make hundreds of delicious dishes with Guided Cooking via the app, then send the exact cooking settings for your Smart Cooker with the touch of a button. You don't have to leave your phone to make gourmet meals anymore, thanks to Guided Cooking.
Customize your Smart Cooker's cooking presets to your taste and saves them to the appliance for easy one-touch cooking. Using the Smart Cooker's four built-in smart sensors, you can learn to cook by weight without the use of measuring cups or spoons.
When using your Smart Cooker as a kitchen scale, use the CHEF iQ to display the exact weight of your ingredients in real-time. A three-method auto pressure release mechanism incorporated into the Smart Cooker ensures food is always cooked perfectly while also making it safer than the competition. It is one of the most creative safety features.o
A light touch activates the capacitive touch control and high-tech full-color digital LCD display, making it even easier to operate.
In order to cook more efficiently, the Smart Cooker uses a powerful 120V and 1000 Watts of electricity, and it is ETL-certified for use in the United States and Canada, FCC-approved, and FDA-approved, as well as supplied with BPA-free accessories. The CHEF iQ App and Smart Cooker should not be used outside of the United States and Canada.
T-Fal Clipso Pressure Cooker
You can whip up nutritious and flavorful meals in a fraction of the time with this T fal Clipso pressure cooker with faster results without sacrificing nutrients or flavor are possible thanks to the pressure cooker's 70 percent faster cooking time when compared to more traditional methods.
Cooking large batches of food is made easier by the 6.3 quart capacity of the cooker, which is ideal for planning meals for the week ahead or entertaining a large group over the holidays.
Induction stovetop safety is ensured by the pressure cooker's encapsulated base, which distributes heat uniformly and may be used on any cooktop, including stainless steel. With a one-hand operation, an inability to open when in use and under pressure, a variable steam release valve for enhanced control, and side handles that provide a solid grip, this steamer is safe to use.
In addition to a steam basket and stand, the Clipso stainless steel pressure cooker includes a recipe book with cooking advice and ideas for getting started, as well as a dishwasher-safe gasket and pressure valve. In order to cook safely, look for the pressure indicator, which signals when the steam is getting too hot.
Conclusion
With so many different options available on marketplaces such as Amazon, it can definitely be hard to find "the one" that will help you cook your food the way you want.
Without trying each one of these cookers, the best thing you can do is carefully examine each pressure cooker from the list as we did most of the hard work and it's up to you to only make a selection based on your preference.
Regardless of the pressure cooker you go for, you won't make a mistake as each one of these 8 of the best pressure cookers is going to make a great addition to your kitchen countertop!
Which pressure cooker do you like the most and why?