There are many articles talking about under cabinet toaster ovens or under counter toaster ovens and showing a regular toaster oven and portraying that as a mounted toaster oven or under cabinet toaster oven.
It can be downright dangerous to take an appliance that heats up to hundreds of degrees and mount it to a wood kitchen cabinet. That's a fire hazard and not something I would recommend.
If you want to save countertop space and want to mount a regular toaster oven, then I would suggest hiring a professional to make sure that installation is done well and safe.
However, if you're looking for the best space saver toaster oven that was designed to be a mounted toaster oven, keep reading!
This is a Review of the Black+Decker Spacemaker Toaster Oven
Not having as much space you'd want in your kitchen can be a problem – but this shouldn't stop you from using all the kitchen appliances you require.
It's all about staying space-efficient and making the most out of the counter space you have.
And if you are thinking of possible ways to fit a toaster oven in your small kitchen – this post is for you! Because in this post, you'll find one of the best under-cabinet toaster ovens that can provide a great solution.
I'm talking about the Black+Decker Spacemaker Under-Counter Toaster Oven that provides a design that can solve all your problems – and yet is very efficient as a toaster oven.
To find out how this mountable toaster oven can benefit you – all you have to do is keep on reading!
Black+Decker Spacemaker Toaster Oven Review
BLACK+DECKER Spacemaker Under-Counter Toaster Oven, Black/Stainless Steel, TROS1000D
SpaceMaker Toaster Oven - The easy way to save countertop space in the kitchen! This toaster oven mounts under the...
9" Pizza, 4 Slices of Bread - The generous oven interior fits a full 9" pizza or up to four slices of bread....
Three Functions - Use it to bake, toast, or keep warm. You have a number of options with temperatures ranging from...
Digital Controls - The intuitive control panel has dedicated buttons for turning the oven on and off and for each...
Drop-Down Crumb Tray - Opens and closes effortlessly, and can be wiped clean with a damp cloth.
Unfortunately, not every toaster oven can be installed as an under-cabinet mounted toaster oven.
While there are plenty of extensions that might help you convert any toaster oven into an under cabinet toaster oven – it requires a bit of DIY to make it happen.
The Black and Decker Spacemaker Under Cabinet Toaster Oven is one of the rare toaster ovens that are ready to be installed under the cabinet so you can clear your kitchen countertop and make space for another appliance.
Along with the useful design & installation of this toaster oven – Black+Decker also offers plenty of advanced features that provide a great experience no matter what you toast.
Large Interior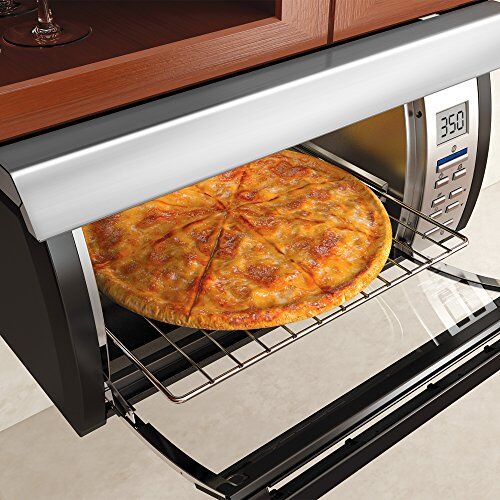 Even though this toaster oven might still seem pretty compact from the outside, especially when it's hanging underneath your kitchen counter or cabinet – it features a pretty large interior.
Black+Decker came up with a really convenient design that allows you to bake a 9″ pizza or toast up to 4 slices of bread at the same time.
Therefore, this toaster oven is perfect for a couple or even a smaller family who needs a quick way to either warm up or make some food.
Three Functions in One
You can see I've mentioned baking a small pizza – but how do you do it with a toaster oven?
Black+Decker introduced its innovative technology into this toaster oven, allowing a 3-in-1 function that includes:
Toast Settings
Baking food evenly
Keep warm function
Thanks to the wide range of temperatures, this is possible, so yes, you can even quickly bake a pizza in case your oven is occupied with another meal.
Being able to heat up food in a toaster oven might even help you get rid of your microwave oven – leaving you with plenty more space inside your kitchen!
Decent Range of Temperature Choice
Since the wide range of temperature choices and cooking functions is one of the main reasons you can also use this toaster oven to bake food – here's what you can expect.
With a simple & integrated temperature selector button – you can choose a temperature anywhere from 200 to 400 degrees Fahrenheit.
If you decide to use this oven for toasting only – 7 different toast and keep warm functions will ensure every toasted bread is up to your standards.
Digital Controls & LED Display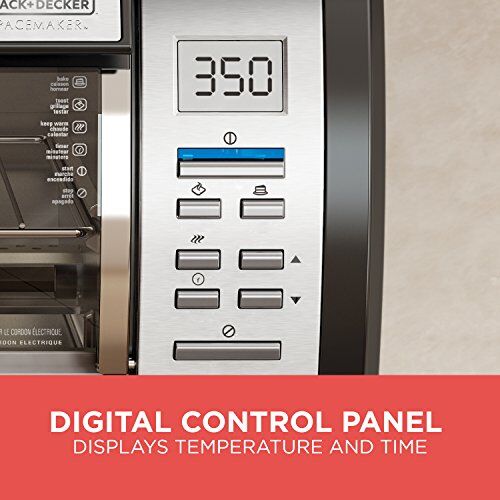 There are only 7 buttons and a small LCD display, yet this really improves the way we use our kitchen appliances.
By simply following a selection process on the screen – you get to control everything from the cooking functions, heating element temperature, and other features with the press of a couple of buttons.
If you're in a hurry, you'll love to hear that it's fairly quick to choose the settings & start the process.
Simple-to-Clean Removable Crumb Tray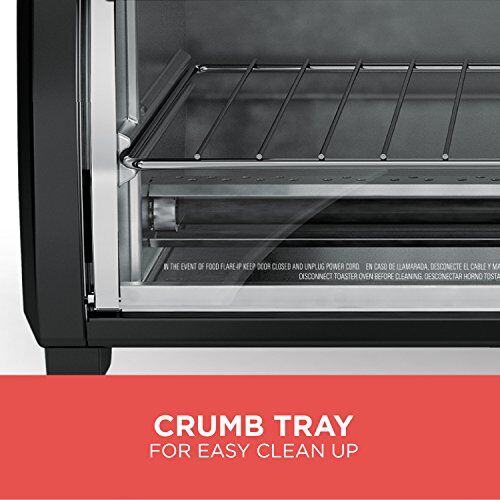 Nobody likes mess, right? Unfortunately, most people are prepared to clean leftover crumbs since that's one of the cons of toasting bread.
This Black and Decker Under Cabinet Toaster OVen introduced a very convenient drop-down crumb tray that you can easily pull out and empty.
Therefore, crumbs won't burn at the bottom of the toaster oven which definitely shortens the time required to clean the oven.
The removable crumb tray means easy cleaning. It's so easy that I would recommend just emptying it after every use.
Save-a-Plug Outlet
One of my favorite features of this toaster oven is a save-a-plug outlet which is very rare to see (even in the most expensive models) yet it's one of the most needed features in a kitchen.
No matter how many outlets you have in your kitchen, having a couple more is never a bad idea, right?
Black and Decker's most innovative feature in this under cabinet toaster oven enables you to connect this toaster oven to a wall outlet and still have an available plug to possibly connect other appliances.
Therefore, you won't have to take up another wall outlet which means you'll most likely never lack outlets in your kitchen ever again.
It is pretty cool that this toaster oven can save you counter space and not even cost you a plug!
Multi-Use
Whether you're in the comfort of your home, or you enjoy living on the go and you occasionally take your recreational vehicle around the country – this toaster oven will fit every occasion.
It's ideal for RV use and here are a couple of reasons why:
It's a compact toaster oven – yet has a large interior
It's an under cabinet toaster oven – saving you kitchen space
It uses a smart save-a-plug outlet
Warranty
If you're not sure whether this under-cabinet toaster oven would be a great decision – Black and Decker assures you of it with a 2-year limited warranty.
That's a very good warranty, considering the price of this toaster oven.
Even when I compared the warranty to models which are a bit more expensive – it's clear that Black and Decker is all about the quality of their products, including this convenient toaster oven.
Under Counter Toaster Oven FAQs
Can you put a regular toaster oven under a cabinet?
If you're tight on counter space, you might be wondering if you can put a regular toaster oven under a cabinet. The answer is maybe. There are a few installation tips keep in mind.
First, make sure that the toaster oven is the right size for the space. You don't want it to be too big or too small.
Second, check to see if the toaster oven has enough clearance. Most toaster ovens need at least four inches of clearance on all sides, so make sure there's enough space for air to circulate.
Third, consider the height of the cabinets. You don't want the toaster oven to be too low or too high. If it's too low, it'll interfere with your countertop space. If it's too high, you won't be able to reach it.
Finally, if you're looking to save kitchen countertop space by mounting a regular toaster oven as an under-counter toaster oven, hire a professional to install it.
Remember, toaster ovens heat up. Even just when you toast bread, it has heating elements that circulate hot air and will heat up the entire appliance.
It can be a fire hazard if the toaster oven doesn't have thick exteriors and isn't designed to be an under-counter toaster oven.
Can you put an air fryer toaster oven under a cabinet?
Many people are familiar with air fryers, but fewer know about air fryer toaster ovens. These toaster ovens offer the same benefits as traditional air fryers – they can air fry and cook food quickly with hot air and with little or no oil, some can even air broil and air roast.
But they also have the added benefit of being able to toast bread and bake small items.
As a result, air fryer toaster ovens are becoming increasingly popular in home kitchens. However, one common question is whether or not these appliances can be put under a cabinet.
The answer is probably not- most air fryer toaster ovens are actually pretty large and are not meant to be put under a counter, they're meant to be put on a countertop. So they're not really designed to save countertop space.
They also typically open from the top – so mounting it under a kitchen cabinet isn't functional.
So if you're looking for a space-saving solution for your kitchen, air fryer toaster ovens might not be it.
Is it dangerous to put a toaster oven under the counter?
While toaster ovens are perfectly safe to use on the countertop, there are some potential dangers associated with putting them underneath cabinets.
One of the most significant dangers is the possibility of fire.
If a toaster oven is placed too close to a kitchen cabinet, it can easily overheat, causing a fire.
In addition, placing a toaster oven underneath a cabinet can also make it more difficult to keep an eye on it, increasing the risk of burns or other accidents.
For these reasons, it is generally best to keep toaster ovens on the countertop where they can be easily monitored or you can buy the best under cabinet toaster oven that is specifically designed to be an under-counter toaster oven.
Wrapping up the Best Under Cabinet Toaster Oven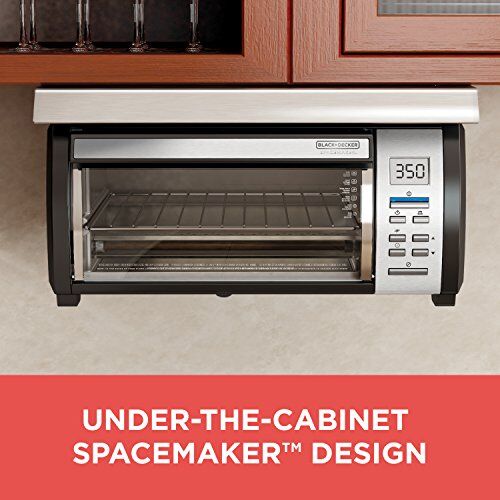 I understand the feeling of living in an apartment and not having a very large kitchen – yet I find this Spacesaver under counter toaster oven to be one of the best ways to integrate an additional kitchen appliance into your kitchen even when you think there's absolutely no space to do so.
Digital controls, a drop-down crumb tray, under cabinet mounting, LED display, toast and keep warm functions, and the ability to save counter space means that this under cabinet toaster oven is an asset to any kitchen.
And since this product is coming from a quality and reputable brand such as Black and Decker, this appliance is definitely worth the price it costs for.
What do you think is the best way to make additional space in a compact kitchen?
Feel free to leave a comment, I'd love to hear from you. If you've found this under mount toaster oven a great fit, feel free to share this post!