Waffles are a very popular choice for breakfast nowadays. There are several types of waffles, as well as dozens of waffle makers on the market.
Given so many choices, it's not easy buying a waffle maker. In this article, we review the Breville No Mess Classic round Waffle Maker.
There are many considerations when looking to buy a waffle maker. You have to think about things like your budget, the technical features that you'd like, and the quality of the appliance.
The Breville Company was Founded by Bill O'Brien and Harry Norville in Australia in 1932, this brand has developed into a force in kitchen appliances. In many countries, Breville has become the gold standard for waffle irons and sandwich toasters.
A Classic Breville Waffle Maker
If you like classic waffles, then you might be looking at purchasing a classic type of waffle maker.
This Breville will be reviewed, and everything about it will be revealed. You will be given insight into its, advantages and disadvantages, what customers are saying about it, and every other thing. You'll be provided with more than enough information to decide if this appliance is what you're looking for.
Features of Breville BWM520XL No Mess Waffle Maker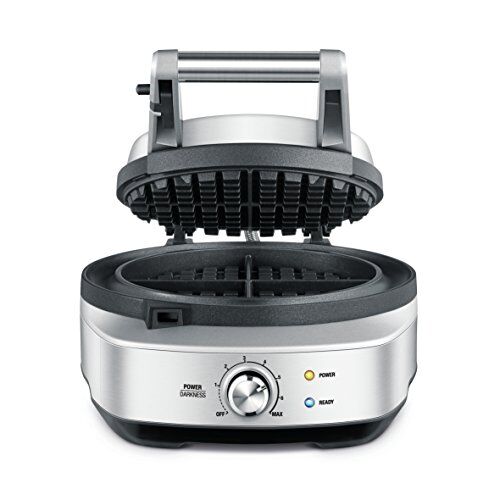 Click to see on Amazon
The Breville BWM520XL No Mess Waffle Maker is a superior appliance that possesses several interesting characteristics.
Its dimensions are 11" x 9″ x 5 ¾" and weigh around 6.7 lbs.
This is a larger-sized waffle iron. This means that this appliance needs some counter space. It's not enormous, but it is on the larger size and is sturdy.
It features thermally engineered heating elements made from die-cast aluminum. It has a capacity of one 6.5" round waffle, it also runs on 110 – 120 Volts and 900 Watts.
With the many innovative design features of this appliance, you can be sure to get delicious waffles every time you use it.
The adjustable control ensures you can customize your waffle to your preferred taste. There are seven adjustable settings within the control dial, each providing a different heat level. Allowing you to cook your waffle from fluffy to crispy golden.
Its innovative wide wrap-around moat design has turned what used to be a cleaning nightmare into more crunchy fluffy waffles for you and your family. This moat design catches run-off and excess batter around the cooking plates.
Excess batter always runs off, however, it's moat catches it allowing you to spend less time cleaning and more time eating.
This classic waffle iron also features innovative engineered die-cast aluminum cooking plates for even heat distribution. What this means is that you don't have to worry about having a brown exterior and an uncooked interior, as the heat in the Breville spreads all through your waffle.
The Breville has two lights – the first one is for indicating power and the second one indicates when the non-stick surface is preheated enough and ready to bake.
There is also a beeping sound that activates when the waffle iron is ready to take in batter and another when the waffle is ready.
This Classic Waffle Maker also features a secure lid lock mechanism. This ensures that your waffle maker lid shuts securely and prevents any accidents!.
The Breville No Mess Waffle Maker heating plates are non-stick. This means that you do not have to scrape off waffles from the heat plate, but you can simply wipe after use. Health-conscious people will love that these heat plates are PFOA and Teflon free.
Storing this Breville Waffle Maker is easy because there is a locking latch and an option to wrap the waffle maker's cord.
Breville Waffle Maker Pros
Wrap-around no-mess moat captures overflowing batter
Easy to clean and maintain
Very durable
Non-stick surface
PFOA free and Teflon free heating plates
Secure lock lid mechanism
Beeping sound indicator
Two ready indicator lights
Thermally engineered heating elements
7 setting temperature control
Even heat distribution for evenly cooked crispy waffles
Sleek and smooth design
Easy storage
One year warranty
Breville Waffle Maker Cons
The beeping sound alert is soft and could be difficult to hear
This waffle maker is more pricey than the average classic waffle maker
You need counter space for this waffle maker
Amazon Ranking
The Breville Waffle Iron has good customer reviews on Amazon. It has an average rating of 4.2/5 stars from over 40 customer reviews.
In Comparison
There are several waffle makers, and two of these can be compared to the Breville BWM520XL the No-Mess Waffle Iron.
One is the All-Clad 99012GT Stainless Steel Classic Waffle Iron and another is the Cuisinart WAF-F20 Double Belgian Waffle Iron.
The Cuisinart WAF-F20 has a stainless steel housing, just like the Breville. It has dimensions of 16.5 x 10.62 x 10.25 in and can only make Belgian waffles. It is also less pricey than the Breville waffle maker, and you can save up to $42.
The All-Clad 99012GT is very similar to Breville BWM520XL. They both make classic waffles, they are both round and they both have seven browning levels. However, this Cuisinart costs a little more than the Breville.
Customer FAQs
Q – What type of waffles can this Breville make?
A – The Breville BWM520XL makes classic waffles. There is a debate between which waffles are better, classic waffles or Belgian waffles. There are times when I prefer one or the other, but both are delicious.
Q – How loud is Breville's beeping?
A – The beeping sound indicator is just soft, nothing annoying. It's definitely loud enough to get your attention. Hopefully it won't be on for too long because you'll grab your waffles!
Q – Can you freeze leftover waffles and reheat in the oven?
A – Yes, you can! The best way to do this is to allow them to completely cool down on a cooling rack and then put them into an airtight ziplock type of bag. They can be kept in the freezer for a really long time. After a while, they might get some freezer burn but that doesn't affect the waffles' safety. Just pull them out of the freezer and pop them in the toaster to reheat them.
Q – Does it come with a warranty?
A – Yes, the Breville BWM520XL the No Mess Waffle Maker comes with a one-year warranty. This is a great added bonus because although Breville is a high-quality brand and is known for its durability, you just never know. There can always be a production error and knowing that Breville will back up its products should bring you peace of mind.
Wrapping Up with the Breville BWM520XL No-Mess Waffle Maker
This Breville is one of the best waffle makers on the market.
The sleek design of this waffle maker means that people will give your waffle maker a second look. Its moat makes it easy to clean. And just like every Breville appliance, its many technical features place this waffle maker on a pedestal.
If you are one for Belgian waffles, then the Cuisinart WAF-F20 Double Belgian Waffle Maker will be a good buy for you. The All-Clad 99012GT Stainless Steel Classic Waffle Maker, which is similar to the No-Mess Waffle Maker is a bit pricier, so it would be better to go for the Breville. This BWM520XL No Mess Waffle Maker is a quality choice that does not compromise on technical abilities.
Click to see on Amazon