Everything You Need to Know About Calphalon Intellicrisp Waffle Maker
If you're looking for an innovative waffle maker that doesn't only make great custom waffles but also looks incredibly good on the kitchen counter and is very easy to use thanks to its features – there is no better option than the Calphalon Intellicrisp Waffle Maker.
Even though it's the fairly unknown brand to most waffle lovers, it's an established manufacturer who takes everything technology gives us to produce the most modern kitchen appliances – having this waffle maker as an example.
And if you're looking to replace your outdated waffle maker, make sure to have a look at the improved features of the Calphalon waffle maker.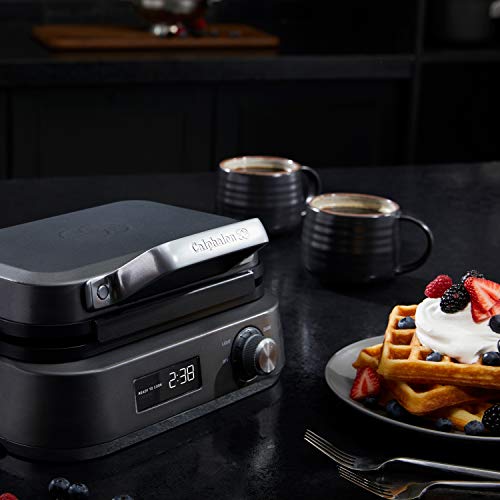 Features
Intellicrisp waffle maker does everything that any other waffle maker does, and then yet gives some more through its features. This truly makes it a joy to cook the perfect waffle since you'll always know in the back of your mind that nothing can go wrong.
High-Contrast LCD Screen
The first thing you will notice with this waffle maker is the high-contrast LCD display placed at the bottom left corner which is next to the waffle shade selector.
It's really cool to see an LCD display on a kitchen appliance such as waffle maker – and while many people think it's an unnecessary feature, wait until you try it!
It features 4 different phases which include preheating, ready to cook, cooking, and sensing along with the big numbers on the right side and a smaller text underneath saying cooking complete.
It's really easy to see the screen no matter the angle and you will always know exactly what you need to do throughout the process.
Even Heating Technology
For the crispiest waffles on the outside and the fluffiest waffles on the inside, the Calphalon waffle maker introduces even heating technology.
This technology distributes the cooking elements underneath the ceramic cooking surface that make sure the heat is evenly dispersed throughout the plates. Rather than the heat accumulating at only a few spots.
This is a perfect technology that really combines well with the waffle shade selector because you will know you will get the exact shade you selected.
Closing Locks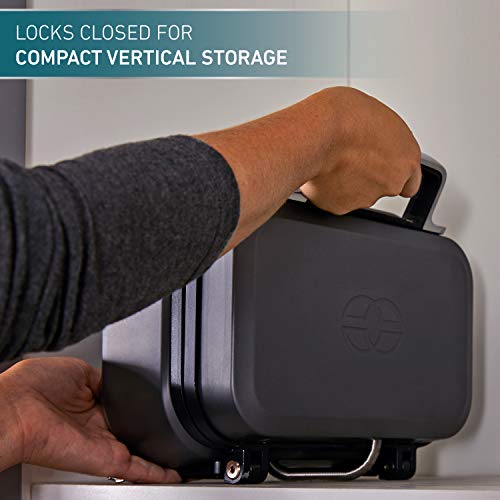 Closing locks are ideal for the waffle making process since you can close down the lid and it will lock it so no waffle mix leaks out.
But the main purpose of the closing lock is easier storage. Once you close the lid and this waffle maker locks, you'll be able to store this waffle maker sideways without damaging the ceramic plates.
Countdown Progress Timer
While we have seen plenty of waffle makers who have integrated either a green light or a sound to let you know when the waffle is done.
But how about a waffle maker that has a dedicated timer displayed on the LCD screen?
That's exactly what Calphalon Intelllicrisp waffle maker features so the users know exactly how long until the waffle is done.
Some users find this feature over the top, but it's really useful and once you go with a waffle maker that includes progress timer – you'll never go back.
Having this kind of countdown timer means that you'll get precise results for your preferred level of waffle crispiness.
Ceramic-Coating
These waffle plates are ceramic surface which is able to deliver up to 20% more even heat than standard non-stick coating.
It also excels in even heat distribution technology, which will ensure that your waffle will be evenly cooked on the outside and a fluffy waffle on the inside.
Also, with this non-stick coating, you'll have easy and quick cleanup, no matter how many waffles you make.
Compared to standard non-stick waffle plates – making waffles has never been easier with this type of ceramic non-stick coating because are able to produce far better, crispier, and fluffier waffles.
Incredibly Sturdy Design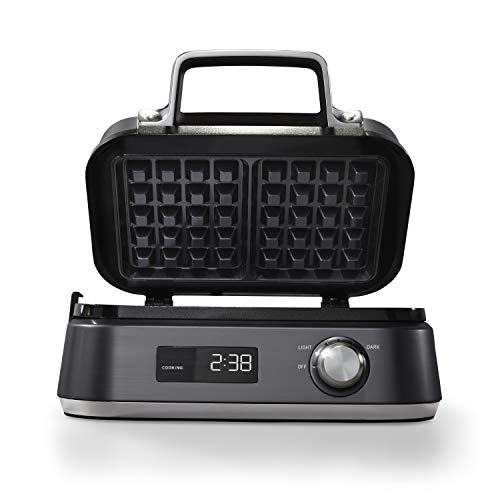 Intellicrisp's design is really something that attracted us to this waffle maker from the first moment we saw it. It might look bulky on the outside, but it's really compact and it doesn't take a lot of space on the kitchen counter.
However, Calaphalon did really well creating a really sleek, and pretty much standard rectangular shape, but they've improved it with a very sleek and quality round button and of course, an LCD display.
While it might look just like any other waffle maker, at first sight, it's definitely made with quality in mind. But what's more important is that the Calphalon did really well at designing the Intellicrisp waffle maker.
We really loved the extra-wide handle that makes it impossible to burn your hand whenever you open the lid of the waffle maker.
It's really the outstanding details that make this waffle maker stand out from the crowd.
Waffle Shade Selector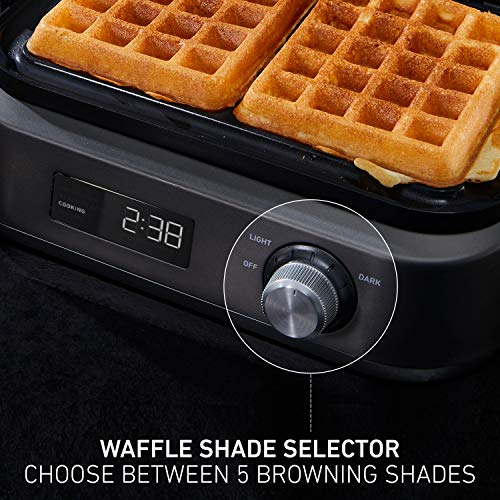 Integrated waffle shade selector gives users a choice between 5 different settings (4 settings, since OFF counts as one set on the rotatable wheel) that will help you make waffles anywhere from light to very dark color.
Of course, this shade selector doesn't only give waffles a nice shade, but it also works on waffle's texture too.
Wrapping up with the Calphalon Intellicrisp Waffle Maker
Considering the price of the Calphalon waffle maker, we come to the conclusion that it's really extraordinary.
It's priced just a bit higher than the average waffle makers, but what it offers is valuable which really makes it worth the price it costs.
Instead of having to constantly check on your waffle, trying to do your best to get the correct shade and crispiness, or even forgetting about the waffle you're making – Calphalon introduces just a tiny bit of technology advancement that really pays off.
As we have mentioned earlier – once you try this "modern & digital" waffle maker – you'll never go back.
Conclusion
Not only Calhpalon takes waffle makers to another level, but they manufacture quality appliances such as this waffle maker which is something you should still keep in the back of your mind.
Whether you're looking for the technology advancement in your waffle makers or you're just looking for your next quality appliance – Intellicrisp is an ideal choice.
It might be a bit bulkier than other waffle makers, but Calphalon did well by introducing a vertical storage ability.
Once again, considering the price of this waffle iron and everything it offers, especially the technological advancements – it's really worth a purchase.