Hard anodized aluminum non-stick cookware is increasing in popularity and with its build quality – it can last for a long time.
Combine this with a relatively affordable price, and this type of cookware is might be a great investment that will keep your food tasty and make your cooking effortless.
With hard-anodized aluminum cookware being suitable for almost any stove type – it makes a great choice for many home chefs out there.
But is this cookware safe? How is it made and how long can it last?
These are some of the questions we're going to answer in this post so keep on reading!
What is Hard Anodized Aluminum Cookware?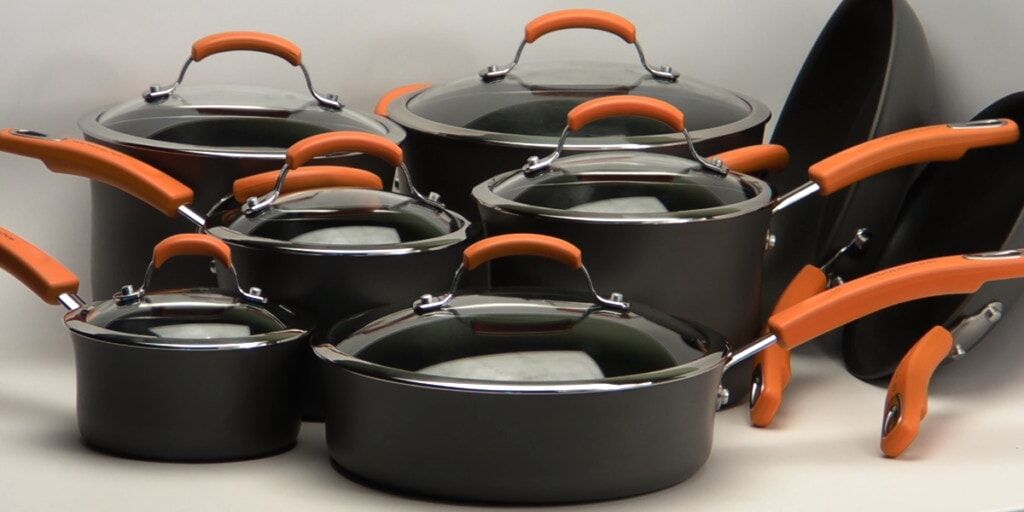 You might have heard that hard anodized cookware is twice as hard as stainless steel cookware – but why is this so and what metals are being used? And what exactly is hard anodized meaning when it comes to cookware? And what is the hard-anodized aluminum safety rating? Can you use it to cook every day?
It's important to know that because you're using this to heat up your food. And the last thing you want is to cook with a metal or in a way that might not be safe.
The trick with manufacturing hard-anodized aluminum cookware is that it uses a technique that can harden soft aluminum so it's twice as hard as other metals.
The harder the metal – the better lifespan it will have, but it is also important for a couple of other benefits such as being a great heat conductor.
Having great heat conductivity and being super hard means that you won't have to worry about aluminum leaching into your food because it can take the high heat needed to cook without an electrochemical reaching and allowing any amount of aluminum to come off.
But another benefit of the hard-anodized process is that it forms an aluminum oxide layer that is non-stick, scratch-resistant, PFOA free, PTFE free, and non-reactive to food.
This will help prevent food from getting burnt onto the pan.
That means that hard-anodized aluminum nonstick cookware is safe for cooking with high heat and for those looking for high-quality dishwasher-safe cookware that does not react with acidic foods.
That's perfect for cooking, right?
That's exactly why hard-anodized is one of the most popular cookware types on the market. While other cookware sets might need an additional non-stick coating applied – the hard-anodized process makes the coating that serves chefs well.
However, since hard-anodized aluminum cookware is made electrochemically and the surface is an oxidized layer – many have questioned whether aluminum anodized pots and pans are healthy.
Down below, you'll first learn some of the benefits of aluminum anodized cookware before finding out whether this is a type of cookware you'd want to have in your kitchen – so keep on reading!
Benefits of Hard Anodized Aluminum Cookware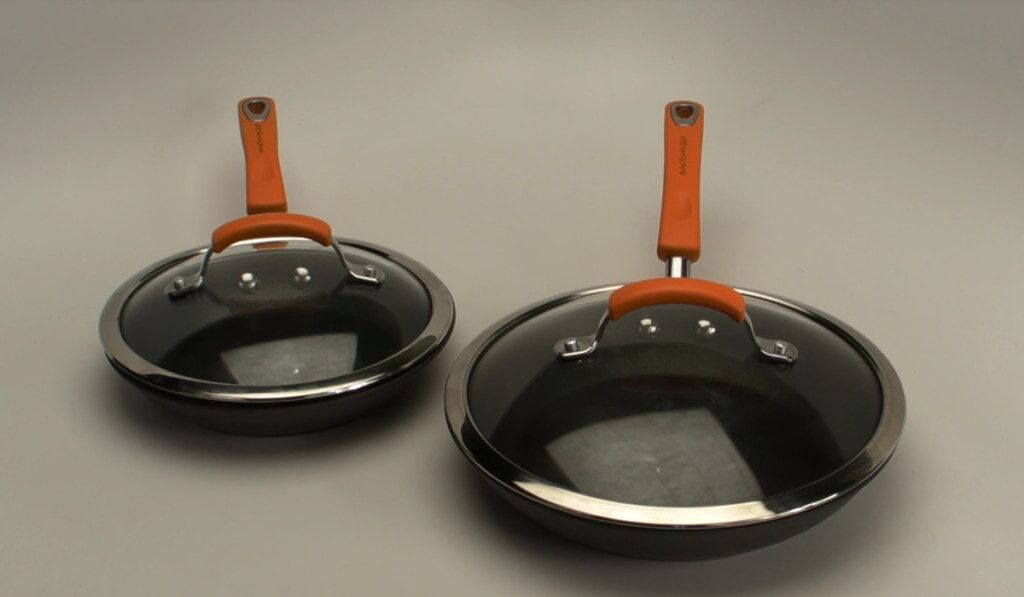 Even though hard anodized cookware has its advantages – and it does offer many benefits, it also has its disadvantages.
One of the biggest benefits is its strength. A hard anodized cookware set is extremely hard which means that it's durable and that it can last for a long time. Stainless steel and cast iron have a reputation for being extremely durable, yet hard-anodized aluminum cookware rivals both stainless steel and cast iron.
The anodizing process also helps create a non-toxic smooth layered surface that is made without PFOA and PTFE. Yet at the same time, it serves as a non-stick coating without actually applying the coating.
Another great thing about hard anodized cookware is that it doesn't react to food. This means that no matter how much you push the limits and at what temperatures you cook – hard-anodized cookware will always be able to stand up to your high heat and never allow aluminum leaching into your food.
When it comes down to cooking, hard-anodized aluminium cookware offers high performance as it can conduct heat evenly and spreads it well across the whole surface of the pan.
As soon as you finish cooking your food – you'll never have to scrub the food off the surface as hard-anodized cookware products are very easy to clean.
Is Hard Anodized Cookware Safe?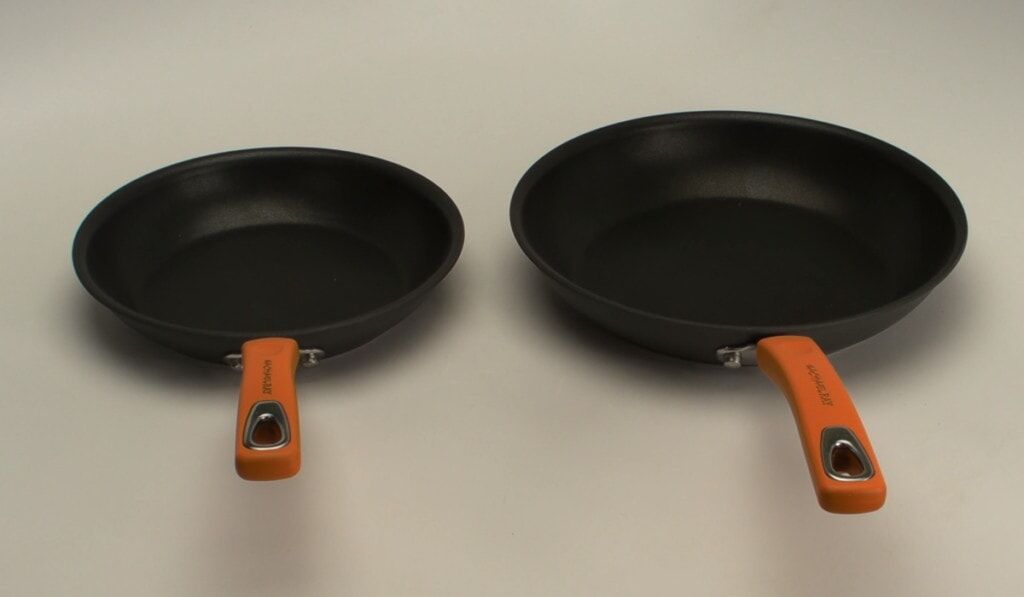 You might have heard many things about hard-anodized cookware. Some people are very cautious about it and are not comfortable cooking with this type of cookware at all.
But is there a reason to be concerned?
There is no scientific research & evidence that hard-anodized cookware poses any health risks. However, people are staying away from it because of the process used to make it.
When in fact, a plain aluminum pan can be more reactive to acidic foods than hard-anodized cookware.
It's the electro-chemical process that turns aluminum oxide into hard-anodized aluminum that makes it non-reactive, easy to clean, gives it a nonstick surface, and makes your pans more durable and able to handle higher heat than even stainless steel.
While some still have concerns regarding hard-anodized cookware – we believe it's pretty safe to use. We've all used early nonstick toxic coating and then realized its health risks!
Hard anodized cookware is NOT Teflon, which has been linked to early onset Alzheimer's disease and other health hazards in addition to changing the taste of your foods! Those are just couple of the reasons that we don't use this kind of nonstick coating here at Easy Kitchen Appliances!
I'm happy to update this article if there's something that comes out regarding hard anodized cookware and it being potentially hazardous to your health.
The thing with hard-anodized cookware is that we're able to see that it doesn't feature any of the harmful chemicals that are a big no-no in the cooking industry nowadays.
It's PTFE and PFOA free, is safe for high heat, you may use it to make any food you want. It's also easy to clean and you may use your metal utensils with it.
Even if you're still in doubt – we believe that you'll be a lot safer with a hard-anodized pan than cheaper-quality aluminum pan or a regular nonstick pan.
One thing is for sure – high heat does not affect hard-anodized parts like it does cookware that uses earlier versions of toxic Teflon coating.
Is hard anodized cookware safe and do you use this cookware in your kitchen?
We'd love to hear your thoughts in the comments below!
How to Take Care of Hard Anodized Cookware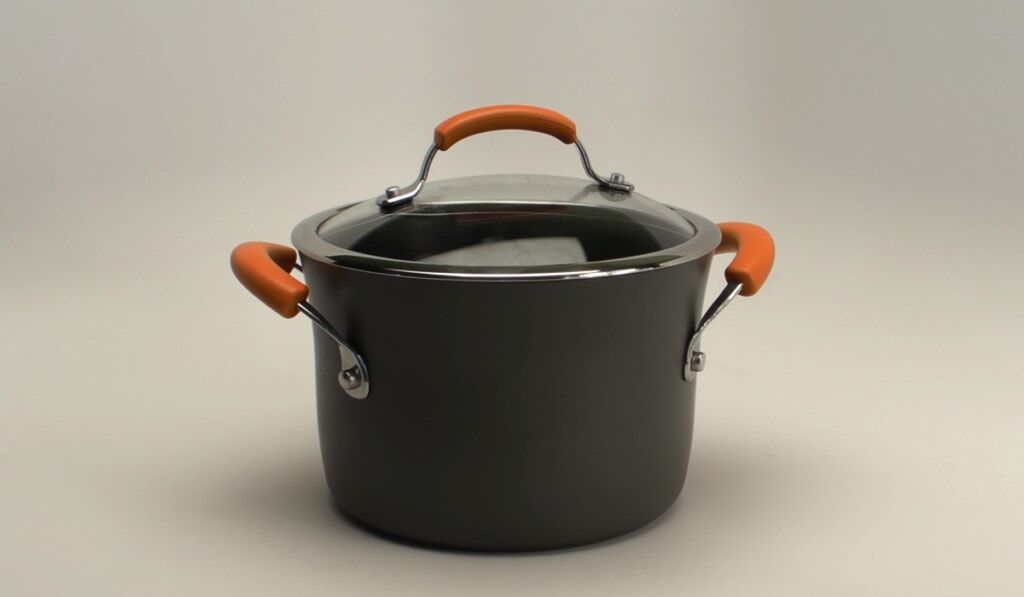 Hard-anodized cookware is pretty simple to clean as it has a perfect nonstick coating that every chef will love.
It's scratch-resistant just in case you ever find yourself scrubbing the bottom of your pans in order to remove caked-on foods (which is unlikely).
The best way to take care of hard-anodized cookware is by hand-washing it using dish soap and warm/hot water.
A rag, sponge, or soft cleaning scrub will work well and you won't even have a problem cleaning out the grease. It'll just come right off. You may have to put a little elbow grease into it, but since your hard anodized nonstick pan is super strong, it can take it!
If you ever come across difficult stains from cooing different foods in your nonstick pan- you may use formulas such as baking soda paste, Comet, Ajax, or any other scrub. This will help stains fly off the bottom of your pots and pans.
But one thing to keep in mind is that although many hard-anodized cookware sets are dishwasher safe, it's always better to wash your pots and pans by hand.
When it comes down to cooking and using hard-anodized cookware, you shouldn't use cooking sprays that contain chemical propellants.
This is pretty much everything you should keep in mind. Even though there aren't many things to keep in mind – as long as you keep these few in the back of your mind, your hard-anodized cookware will last for long!
So, is Anodized Aluminum Cookware Safe?
Yes, hard anodized cookware is safe because this cookware is PTFE and PFOA free, is non-toxic, and has been coated in a process that seals it and doesn't allow metal to leach into food or react to acidic foods. This makes it just as safe as ceramic, stainless steel, and much, much better for your health than Teflon.
While there were issues with other types of cookware in the past – hard anodized cookware doesn't seem to have any of the "red flags" that could tip us off.
Even though a hard-anodized cookware set isn't the cheapest available out there – it's the best cookware set that you can get that will last the longest.
With the least maintenance requirements, they can also be the best ones that make cooking and cleaning a breeze.
If you're looking for a hard-anodized cookware set, we recommend checking our best hard-anodized cookware set review guide.
In that article, we provide hard anodized cookware reviews and specifically answer questions like "Is Calphalon hard anodized cookware safe?" and "Is Circulon hard anodized cookware safe?".
Read it and let us know what you think!
Did you ever cook using hard-anodized cookware?