Keep baking easy with the SKG Automatic Bread Maker!
If you love bread like we do, can you imagine anything better than freshly baked bread?
That golden crust, the fragrance of warm bread, and most importantly – the delicious, mouth-watering taste of freshly-baked bread takes us back.
If you ask me to give you a list of life's greatest and simplest pleasures, I would put waking up to freshly-baked bread at the top of that list.
Unfortunately, few of us are lucky to experience it on a regular basis!
Sure, you may consider a career change by starting life anew as a local baker. But luckily for you, there is a much easier and more practical way to experience the smell of fresh bread, and that is baking your own bread at home using a modern bread maker.
Make Bread the Modern Way
Today's modern bread-making machines have come a long way from the appliances of even a decade ago. Modern baking machines can bake specialty bread, make loaves of different sizes and shapes, and some even have options to add various ingredients like nuts or raisins.
The SKG Breadmaker is one such modern automatic bread machine.
Lets take a look at it..
SKG Automatic Bread Maker
SKG 2LB Automatic Programmable Bread Maker, Silver
SKG 2LB Automatic Programmable Bread Maker, Silver
SKG 2LB Automatic Programmable Bread Maker, Silver
SKG 2LB Automatic Programmable Bread Maker, Silver
SKG 2LB Automatic Programmable Bread Maker, Silver
Product Description
Before we get into discussing the details of this appliance, let's highlight the most predominant selling points of this product:
Great for beginners because it's extremely easy to use
19 different program settings
3 loaf sizes
3 crust colors
High-quality and enhanced design
Automatic programmable settings
2-year warranty for parts and accessories!
The SKG has so many amazing points to talk about we don't know where to begin.
If you're already familiar with bread makers or have one in your kitchen, you'll agree that the SKG has the most comprehensive programmable settings of any current bread machines out there.
The SKG comes with 19 different program settings which include French, basic white bread, cake, GF, cornbread, yogurt, jam, and many more.
Furthermore, there are 3 different loaf size options with 3 different crust colors. Use these settings to bake light, medium, or dark bread in three different sizes. Besides, these settings are really useful if you're looking forward to making that perfect loaf of bread for the first time.
The SKG is fully automatic and highly programmable.
It has a 15-hour delay timer, which means that you can set this machine in the morning before leaving for work, and a warm, tasty loaf of bread will be waiting for you when you return.
In addition, there's a 1-hour "keep warm" feature that keeps your bread warm when you're not around. Beyond this, the SKG bread machine has a "15-minute power interruption recovery" option that will keep your bread fresh and warm.
This bread-making machine is also sleek, compact, and has an incredibly modern design. Weighing at around 10 lbs and around 15" inches in height, storing this machine in your kitchen cabinets or on your countertop won't be a problem. Also, the machines' blend of piano varnish in silver color will fare well with any kitchen décor.
Pros
Sleek, modern design
19 program settings
Automatic programmable features for an easy baking process
1-hour "keep warm" function allows bread to stay warm
15-hour Delay Timer
15-minute Power Interruption Recovery feature keeps the bread fresh for 15-minutes during a power outage
Pretty large and clear viewing window
2-year parts and accessories warranty
Includes a user manual with 19 easy-to-follow recipes featuring all 19 programs settings
Great for parties, holidays, family events, etc
Cons
Some consumers complain that the 15 minutes of power backup is too short
The bread pan is not dishwasher-safe
Non-retractable kneading blade
Needs to be cleaned entirely by hand
Some customers said customer service is mediocre.
Product Ranking
The SKG Automatic Bread Machine has amazing customer reviews. This automatic bread machine scores 4.6/5 stars based on over 300 customer reviews.
SKG Automatic Breadmaker FAQs
Can you make pizza dough in this machine?
Answer: Yes, the preset to knead the dough for pizza works perfectly.
Does this appliance make hamburger buns? Are there any that make one?
Answer: Unfortunately, no. Bread machines are designed to bake regular loaves of bread.
Can this machine make gluten-free baked goods?
Answer: Yes, you can make bread that's gluten-free with the SKG Automatic Bread Machine.
Can you make yogurt in this machine?
Answer: Yes, it is possible.
What are the measurements of the bread pan?
Answer: The bread pan is about 6 1/2 inches tall.
What sizes of bread does the SKG make?
Answer: It makes 1, 1.5, and 2-pound loaves.
Does this bread machine have a beeper to let me know when to add raisins or nuts?
Answer: Yes, it has a beeper.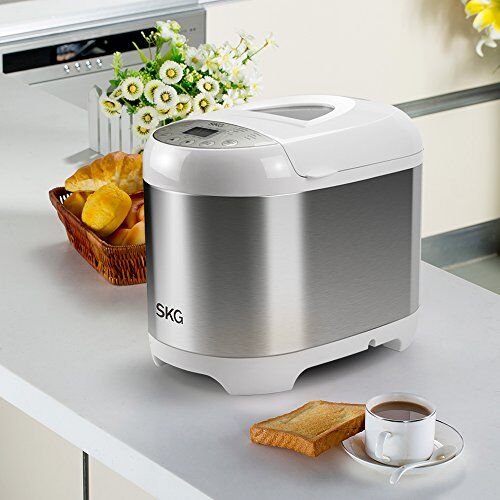 Final thoughts
Overall, the SKG Automatic Bread Machine is not a perfect breadmaker. There are advantages and disadvantages. But, the downsides of this bread maker are negligible, to say the least, and in no way affects the performance of the machine. It's a great appliance compared to its price. The great design, the 19 baking settings, attractive and useful features, and a 2-year warranty, honestly, we don't have much to complain about here.
I would highly recommend this machine if you want to make great, quality bread at home for an affordable price.