When I say, "Panasonic" what comes to mind?
I think of home stereo systems (I think I had one as a teenager) and car stereos.
However, Panasonic makes AWESOME bread machines!
Panasonic has grown to be a very reputable brand in the home appliances market and they currently have four great bread making machines on the today.
Before we get started, below is our top choice as the best Panasonic bread machine. It's the latest and greatest Panasonic automatic bread maker at the moment.
Panasonic SD-YR2500 Bread Maker with Gluten Free Mode and Yeast / Raisin / Nut...
Enjoy freshly baked bread with the push of a button
Smart dispensers automatically release and distribute yeast, raisins and nuts
Healthy gluten free mode, eight menu buttons, automatic 13-hour timer
Choose medium or extra-large loaf size, light or dark crust settings
Intuitive touch-pad controls and large LCD make bread making simple
The other options in the market are below:
The Panasonic home bakery 1 loaf type Brown SD-BMT1001-T: It's an excellent bread machine but it has two major flaws; It is from Japan and therefore has no warranty and it's also very expensive.
The Panasonic SD-YD250 Automatic Bread Machine with Yeast Dispenser and the Panasonic SD-RD250 Bread Machine with Automatic Fruit & Nut Dispenser are also very reputable and highly reviewed Panasonic bread machines but the technology is old compared to the Panasonic SD-YR2500 Bread Maker.
So here we go! Let's talk about Panasonic bread makers!
Panasonic SD-YR2500 Bread Maker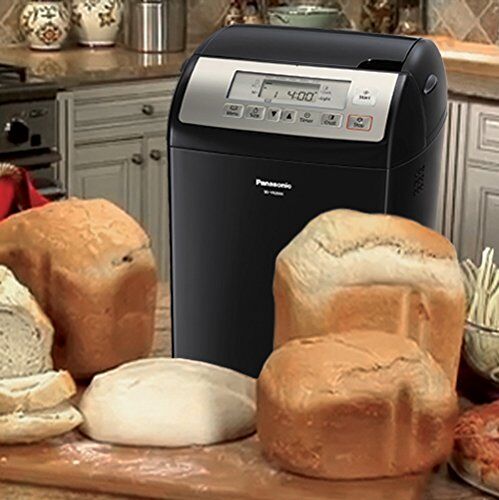 The Panasonic SD-YR2500 Bread Maker is the Amazon's Choice bread machine and has excellent features. It's reasonably priced and has excellent reviews.
The Panasonic SD-YR2500 Bread Maker focuses on gluten-free diet choices and positions the YR2500 as an alternative to bread that has gluten. It is easy to make gluten-free bread with the Panasonic SD-YR2500. You can also make dough for pizzas and pasta.
The Panasonic SD-YR2500 has eight bread and dough settings so you can choose from any of them and you are not restricted to only gluten-free bread.
You can choose various flavors and textures as settings for your bread. They also include recipes so that you get directions to create a variety of fresh bread.
You can choose from a range of white bread to multi-grain to whole wheat. You can try French bread and fruit and nut bread. You can make dough for a variety of items like pizza, pasta, croissants, rolls, and tea cakes.
Convenient touch-pad controls and a large LCD screen let you select your style of bread, loaf size (medium or extra large) and light or dark crust. From there, the YR2500 automatically mixes, kneads, rises and bakes your bread to perfection.
In the process, smart dispensers automatically add and evenly distribute yeast, plus raisins, dried fruits or chopped nuts at all the right intervals. When done, the non-stick, diamond fluorine-coated inner pan and stay-cool loop handle make removing bread and dough safe and simple, and cleanup quick and easy. A 13-hour preset timer lets you bake bread overnight to enjoy at breakfast, or during the day for fresh bread with dinner.
Check the latest price on Amazon
Pros of the Panasonic SD-YR2500
Reliable timer: Unlike most bread machines on the market, there is a separate dispenser for the yeast. This makes the timing of adding the yeast more reliable.
Dispenser for nuts and raisins: There is a separate dispenser for the nuts and raisins. Generally, when you mix raisins and nuts in when you have added the ingredients when the kneading starts, the raisins turn into mush. This way, the raisins are added at the perfect time without you having to worry about the time to add it. You can also add chocolate chips in the dispenser for chocolate chip bread.
Gluten-free settings: The best unique feature of the Panasonic SD-YR2500 Bread Machine is that it has a special setting for gluten-free pasta and bread. Since the dough of gluten-free wheat is different from regular dough in terms of consistency. With this Panasonic Bread Machine, you get excellent gluten-free bread and dough.
Pasta setting: Another great feature is that it has a special pasta setting. You can make special pasta like whole wheat pasta right from the machine.
Large capacity: The capacity of this Panasonic machine is really very good. These days most bread makers reduce their size so that they can be compact but you can't make bread for the whole family or when guest come with a small bread machine. You can choose the size of the bread you want to make from bread for a couple to a large-sized loaf when you have guests with this appliance.
Easy display: The display shows which stage you are in when you are baking the bread so that it is easy for you to know the time that it will take and also keep an eye that everything is going as required.
Cons of the Panasonic SD-YR2500
No optional rest cycle: Since there is no option for a rest cycle, you have to allow the flour and the liquids to rest at the start. Some prefer to have that option. Also, it increases the baking time.
The design could be improved: You have to pull the bread machine to the edge of the countertop if you have overhead cabinets above this appliance because it's tall and the lid opens vertically.
No setting for quick bread: Sometimes you just want a quick loaf of bread but this bread doesn't have a quick bread setting.
Gluten-free recipes: Since the Panasonic SD-YR2500 Bread Machine is positioned as a bread machine for gluten-free bread; you would expect the recipes to be focused on it. Most of the recipes were complex and required ingredients which are not easily available in your kitchen.
Conclusion
The Panasonic SD-YR2500 Bread Machine is an excellent appliance and is the best bread machine for gluten-free bread and is the best Panasonic bread machine in the market.
You get to enjoy fresh bread by just pressing a button. It has eight modes for different menus and bread types. It has smart dispensers to distribute yeast or raisins. This saves you the time to keep adding it when you are baking the bread. The gluten-free mode is right for our health-conscious generation.
It has a 13-hour timer so you can switch it on and go to sleep and wake up to hot, aromatic, freshly baked bread. This appliance is reasonably priced and is very durable.
Looking for another Automatic Bread Maker? Read our article here!