This is an article summarizing and linking to some of the best Gluten Free bread machine recipes from around the web!
Let's face it – bread rules! Yes, many nutritionists will tell you to limit your intake of this heavenly goodness if you want to lose weight or just want to avoid too many carbs, still. Additionally, bread is also usually associated with gluten and that is yet another reason why some people tend to avoid it.
However, if you are ready to ditch gluten and you still want to have great bread for snacks and sandwiches with a minimum of preservatives and other chemicals, you should make your own!
Yes, the Internet is swamped with recipes that show you how to make your own bread, but they take time. You don't want to be brooding over your lump of dough for hours, right?
First things first, get yourself a top of the line bread machine!
Second, keep reading for some amazing gluten free recipes for your bread maker.
Two of my favorite bread makers
These two bread makers, the Zojirushi and the Breville, are the top gluten free bread machines. There are no two appliances that are better.
All you need to do is – put all the ingredients in, turn it on and go to sleep.
Bread machines are super easy to use and easy to clean!
The lovely smell of freshly baked, gluten-free bread will wake you up in the morning. Sounds wonderful, doesn't it?
What's the difference between a gluten-free bread machine and a regular one?
The big difference is, gluten free bread machines have very specific pre-programmed gluten free settings.
Zojirushi Home Bakery with Gluten-Free Setting
Sale
Zojirushi BB-PAC20BA BB-PAC20 Home Bakery Virtuoso Breadmaker with Gluten Free Menu...
Bakes a large traditional rectangular shaped 2-pound loaf; Gluten Free and Custom Menu settings will accommodate...
Bakes a large traditional rectangular shaped 2-pound loaf;Electrical Rating:120 volts
Dual kneading blades to knead the dough thoroughly.
Quick baking cycle prepares breads in about 2-hour.
Includes a measuring cup and measuring spoon.
The Zojirushi makes horizontal loves and has the best in market gluten free setting. It's a super quiet machine and comes with a recipe book with specific gluten free recipes. You're also always welcome to use any recipes you create or find on the internet.
Additionally, we would love for you to test out the recipes we have below and tell us what you think.
---
Breville Custom Loaf Maker with Gluten-Free Setting
Sale
Breville Custom Loaf Bread Maker, Brushed Stainless Steel, BBM800XL
Automatic fruit and nut dispenser releases ingredients at the right moment during the knead phase so they are...
Unique collapsible kneading paddle thoroughly mixes ingredients then collapses before bake phase to minimize the...
Smart lcd screen with progress indicator displaying 13 automatic settings, 3 crust colors, and 4 loaf sizes
Loaf sizes include 1.0-pound, 1-1/2-pound, 2.0 ln and 2-1/2-pound (Family size)
46 step by step recipes (basic, whole wheat, gluten free, crusty loaf, sweet, yeast free, dough, jam as well custom...
The Breville Custom Loaf Gluten Free Breadmaker is a high performance bread machine and is a pro at cranking out delicious gluten free bread. It's a smart machine with many pre-programmable options. These settings take the guess work out of gluten free baking. The Breville calculates it and puts in ingredients at the perfect time!
---
Here is a selection of excellent, mouth-watering gluten free bread machine recipes that you'll adore.
Gluten-Free Homemade Bread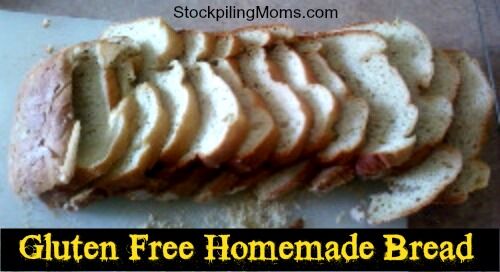 Cleverly enough, these ladies replaced the regular flour with sorghum flour and potato starch. It makes it amazingly nutritious, perfectly delicious, and easily your go-to recipe when you want a fresh loaf of your own.
It looks just like 'regular' bread and it seems that spreading all sorts of goodies without it crumbling wouldn't be a problem.
According to the recipe, it's done in under two hours' time!
---
Gluten-Free Sandwich Bread Recipe
Sandwiches are what makes the world go round. Especially when it comes to packing lunch for school, work or just being a bit lazy with your daily meals. This bread is just the thing for perfect sandwiches.
King Arthur Flour suggests gluten-free blend or even brown rice flour blend. Just look at that fluffy loaf!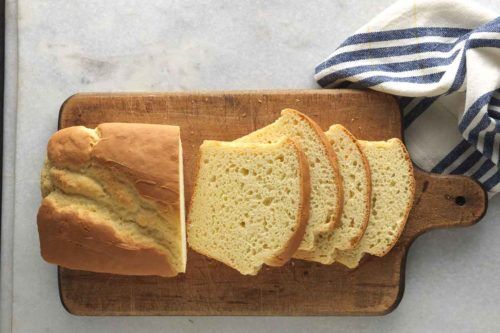 Image by King Arthur Flour
While gorgeous, this bread doesn't have a long shelf life, so keep that in mind. If you scroll down the recipe, you will also get recommendations how to make this same loaf without eggs or milk.
---
Garlic Bread Machine Bread Recipe Vegan/GF
If you don't mind a bit of garlic breath and you are happy to trade your fresh, minty breath for a meal of this deliciousness, then this is the recipe for you!
Whip out your parsley and even maple syrup, too and combine them for this interesting bread.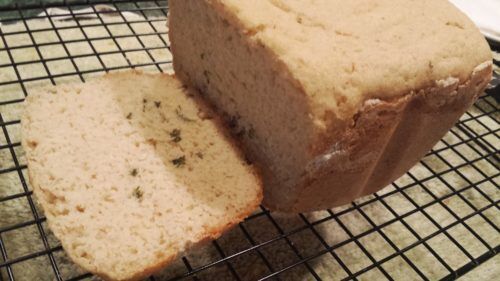 This bread is not just gluten-free, but also vegan. However, if you are not vegan, you may want to replace the vegan butter and vegan milk with dairy products.
---
Gluten-Free Italian Herb Bread Machine Bread
Who doesn't like freshly baked Italian bread? Everybody does! This recipe is really interesting, as it features a lovely combination of different gluten-free flours. Add some flavorful Italian herbs to this equation and you get a hustle-free, nutrient-rich loaf for your meals.
Image by Gluten Free Bread
You can see from the photo, that it has a bit denser structure than the other breads. That probably makes it great for different spreads. How about a homemade tuna pate?
---
Best Chia Grain-Free Bread in the Bread Machine – GF
Grain free, gluten free, hassle free and with chia! This bread has it all. It's nutritious, delicious and easy to make, due to your trusty bread maker.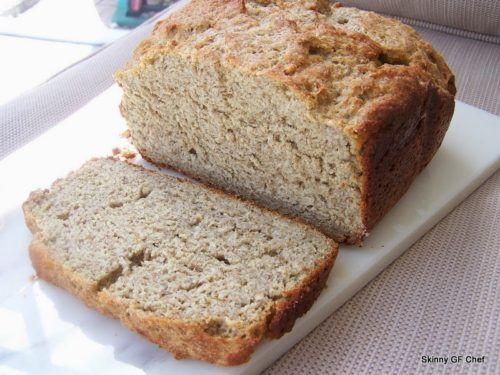 It is made with almond, coconut and bean flour. Together with chia seeds, these ingredients make an extraordinary loaf that isn't your everyday bread. When you wish for something a bit different, make sure you try it.
---
Free From Gluten Seeded Brown Loaf
by Doves Farm
While we are on the topic of stepping away from your ordinary bread, we should definitely talk about this tasty bread containing seeds. Sunflower and pumpkin, together with poppy work very well.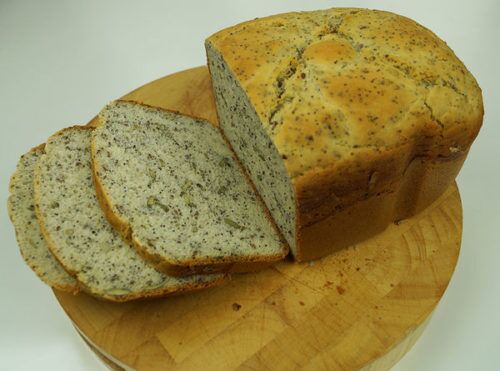 It is also suitable for a vegan meal, since it contains no eggs and no dairy, whatsoever. There are no nuts or soy, so even people with nut allergies can enjoy this scrumptious bread.
---
Bread Machine Pumpkin Spice Loaf
We mentioned pumpkin seeds, right? They are highly nutritious and great for you. So, is the entire pumpkin! Save this recipe for those your fall dinners, since that pumpkin loaf will fill your home with its sweet smell.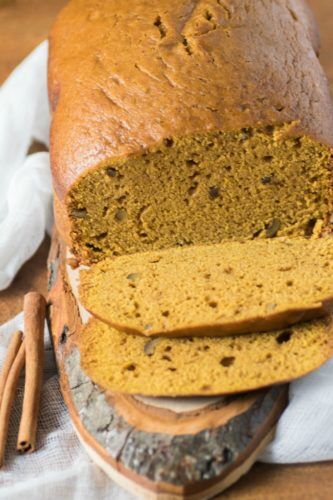 Photo by Noshing with the Nolands
Is it a cake? Is it a bread? A pie? Let's not get stuck with labels. All you need to know is that even your kids will love it and once you try it, you will definitely try it again and again.
---
Gluten-Free Beer Bread Recipe
by gfJules
Doesn't this sound interesting? That malty taste of beer can work wonders for your bread and the beer itself can make it fluffier and more airy. This recipe is created specifically for oven baking, but it can also be adjusted for your bread machine.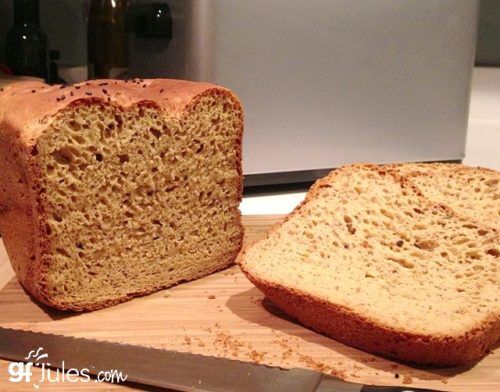 Make sure that, before you start making bread in your bread maker, all of your ingredients are at room temperature.
Begin by adding liquid ingredients first and then pour in all the dried ones. It helps if you mix your dried ingredients together first.
---
Gluten Free Bread Machine Recipes Do's and Don'ts
Now, you have eight amazing gluten-free recipes for your bread machine. You can experiment with the ingredients yourself, or simply trust the recipe's creators.
Keep in mind that not all baking machines bake in the same way, so be careful and a bit patient when adjusting these recipes to your bread machine.
Sometimes, it takes more than one try to make it just right, but once you get it, it will be worth your while.
The best part is – you will not be wasting your time, since the most of the work will be done by your trusty bread making machine!
Have you used any of these gluten-free bread machine recipes? Let us know!