4 Holiday Bread Recipes You Can Make in Your Bread Machine
Think about the times during the holidays that your family has come together to bake delicious Christmas bread.
Not only was it delicious, but it brings back great memories.
If you just can't get enough of these types of Christmas bread recipes, then we have good news!
The first is that there are all sorts of bread recipes enjoyed around the world during the holidays. And even if you didn't grow up eating some of these breads, it's perfectly fine to try something new and maybe even begin a new tradition.
The other good news is that you can bake these holiday recipes at home with your bread machine! You never have to go out to buy it again.
Here, we're going to talk about 4 holiday recipes for the bread machine. Don't worry, you can bake and enjoy these any time, whether during the actual holiday or not.
Before we keep going, do you have a bread machine?
If not, start by reading this article on the Best Bread Machines, or see our top choice below
Sale
Zojirushi BB-PDC20BA Home Bakery Virtuoso Plus Breadmaker, 2 lb. loaf of bread,...
Various healthy course settings include Multigrain, Whole Wheat, Rapid Whole Wheat, Gluten Free, Salt Free, Sugar...
Double Kneading Blades thoroughly knead dough for superior results; Dual heaters on the bottom and lid of the bread...
Rapid courses allow you to bake a loaf of white or whole wheat bread in just 2 hours and 25 minutes
Large, easy-to-read LCD display with convenient key code on lid simplifies course selection; RAPID SETTING: Use...
Electrical Rating 120 volts / 700 watts.Cord Length:39 inch
---
1. Panettone – A Christmas Treat
At a Christmas gathering, there's nothing like enjoying some sweet bread with wine, coffee, or tea.
Panettone originated from Milan. Since then, it has become a big Christmas baking recipe around the world.
Its mixture of candied dried fruit, raisins, almonds, and a citrus essence makes it not only filling… but reminiscent of a cozy gathering by the fireplace, with family and friends around.
You might be thinking, "no way you can make THAT in a bread maker!"
"Surely it needs a lot more attention than throwing ingredients inside a machine?"
Trust us, it's very easy to make this delightful Christmas treat.
If you're looking to add a new dish to your Christmas parties…
…or you're craving something new…
…you should give Panettone a go.
There's not much effort to it…
…throw the ingredients inside the bread maker…
…turn it on…
…wait…
…enjoy the taste of sweet, nutty, and fruity warm Panettone…
…along with a glass of wine, coffee, or tea to enhance its taste.
Panettone is well known in Latin America but I didn't think much of it until I spent some time in Peru, and man, they know how to make some great Panettone!
Click here for one of the best Panettone recipes for your bread machine. Best of all, this recipe is specifically the Peruvian one, adapted from Italy.
You'll need to find an automatic bread machine that has an automatic fruit and nut dispenser in order for it to put in the dried fruit at the right time.
2. Challah – A Ceremonial Treat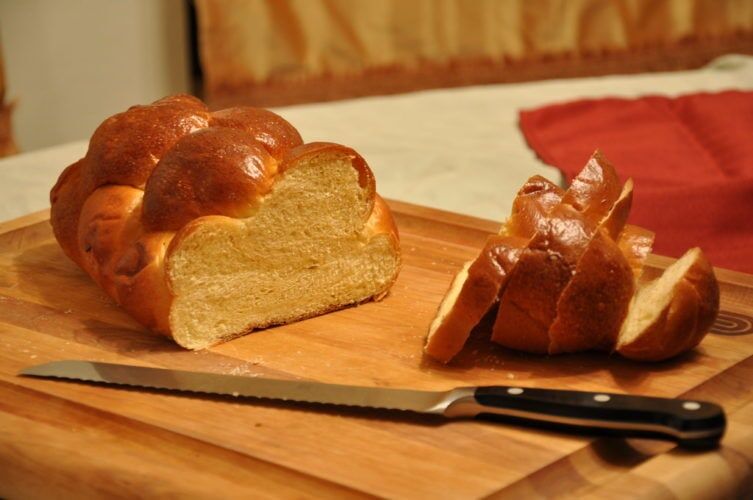 This holiday bread is soft, a little sweet, delicious…
…and has a whole lot of rich Jewish history behind it.
Jews eat this traditional bread during ceremonial occasions and holidays. The bread symbolizes the manna from heaven that fed the Israelites during the Exodus.
Another interesting fact about this bread is its design. It's braided with 6 strands of dough, giving the loaf a unique look.
The Jews usually eat two loaves so that the 6 braided strands in each loaf can present the 12 tribes of Israel.
It's a very traditional, ceremonial, and historical dessert…
Talk about bread with deep meaning!
Even if you're not religious, you can still enjoy this bread t during the holidays. Its pretty design and wonderful taste will be a great treat for anyone.
And yes, you can make it in a bread maker!
However, if you want the traditional braided design, you'll need an oven to finish it off.
Make the Challah dough in your bread maker.
Form the dough into strands and braid it together.
Then, bake it in an oven.
Click here for one of our favorite Challah bread machine recipe.
3. Stollen – A Snowy Treat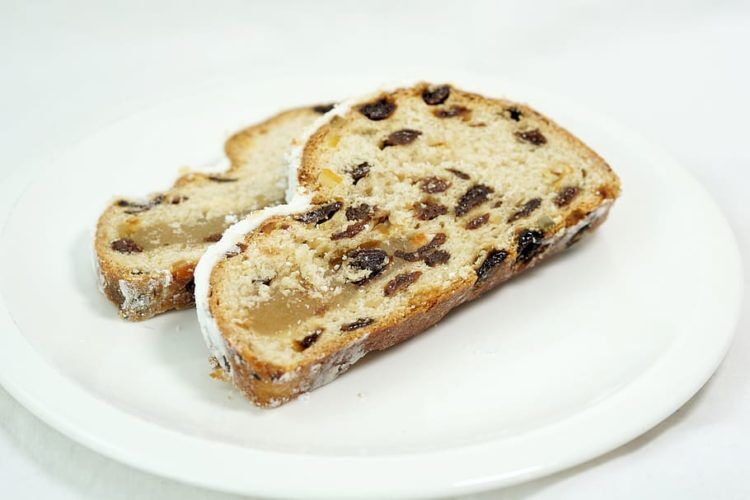 If you can't enjoy a white Christmas…
…why not enjoy it on top of your bread?
Stollen is a traditional holiday baked bread in Germany. The powder sugar coating makes it a winter wonderland treat in your mouth.
As you slice through the snowy crust, you'll come across soil with a lot of tiny pebbles. The soil is the bread and the tiny pebbles are the dried fruit and nuts.
The texture is more cake-like than bread-like.
We would say it's a bit like a fruitcake. Yet it has a distinct taste and look that makes it so different from any fruitcake or holiday bread.
It's a buttery, fruit-filled, sugar-coated loaf that tastes delightful. It's a holiday treat that you actually may be able to find in your supermarket during the holiday times. However, if you can't, we'll share a recipe for it shortly.
If you're missing the snow this Christmas season… Or want to add something new to your Christmas food… Or, you want to give it a try… Click here for one of the best Stollen recipes that you can make in a bread machine.
It's important to note. If you want it to have a traditional shape, you'll need to bake it in the oven after the bread maker has made the dough. Check the recipe we gave for further instructions.
I'll also say that it's pretty standard that with recipes that require special designs, you just won't be able to make it all in your bread machine. Still, using the dough cycle setting on your bread machine will save you precious time, not just minutes but maybe an hour or so, over doing it all yourself.
4. Pandoro – A Golden Treat
Pandoro is another traditional Christmas bread from Italy that you can bake in your bread machine.
The translation of that word literally means "golden bread". This refers to its golden interior, like the star that led the shepherds to the manger.
It's not only the color, but the bread itself is shaped like a star. Or, you could see it as the snowy peaks of the Italian Alps, with its dusted icing sugar on top.
What's the texture like?
It's light and fluffy. A perfect treat to munch on after a heavy Christmas dinner.
Unlike the other Christmas holiday breads we mentioned, this one doesn't have any dried fruit, raisin, or nut fillings. This is a good choice if you prefer plain bread.
If you ever plan on baking Pandoro, we warn you that it's a long process. This is because it's a yeast risen bread.
Yes, a bread machine can handle yeast, but a recipe will typically require specialized yeast that is specifically designed for a bread machine.
Click here for a good Pandoro recipe that gives you very detailed instructions.
If you want to do it in a bread machine, you can use the same ingredients but avoid the yeast rising process. It may not be exactly like the traditional ones, but it'll somewhat taste the same.
Conclusion
No doubt, these holiday breads are loved by millions of people around the world. Thankfully for us, there are a lot of great holiday breads out there to choose from.
We don't know whether you're baking these breads for a Christmas or other specific holiday or not, what we do know is that you'll enjoy it and want to come back for more.
So go start baking today!