These are some of the best Bread Machine Banana Bread Recipes
What is a good banana bread recipe? The one that helps you prepare a nice and moist loaf that is soft and sweet? The one that allows you to experiment with flavors? The one that is perfect for dessert?
There are so many different answers to this question. It all depends on what you like and what you expect from your banana loaf.
One thing is for sure – this is versatile and satisfying comfort food that pleases everyone.
Don't own a bread machine yet? We've seen that the Sunbeam Bread Maker, the Breville Bread Maker, and the Cuisinart Bread Maker are some of the most frequently used bread machines to make banana bread.
You probably have your own favorite banana bread. For example, Starbucks banana nut bread is one of their most popular food choices. Make banana bread from one of the seven recipes below and you'll never crave the Starbucks one again.
They all involve a bread machine so that the preparation is super easy. Try them out and let us know whether some of these recipes became your new favorite banana bread recipe.
And as a bonus, we have our own Easy Kitchen Appliances recipe at the end of the article – enjoy!
Back to Basics Banana Bread (with Milk) Recipe
The best place to start is the plain, old, classic banana bread recipe. It will not take you more than two hours from the moment you pour everything into your bread maker, to the moment you open it and smell the perfect banana bread. This option also includes some nuts, so make sure you avoid these if somebody in your household is allergic.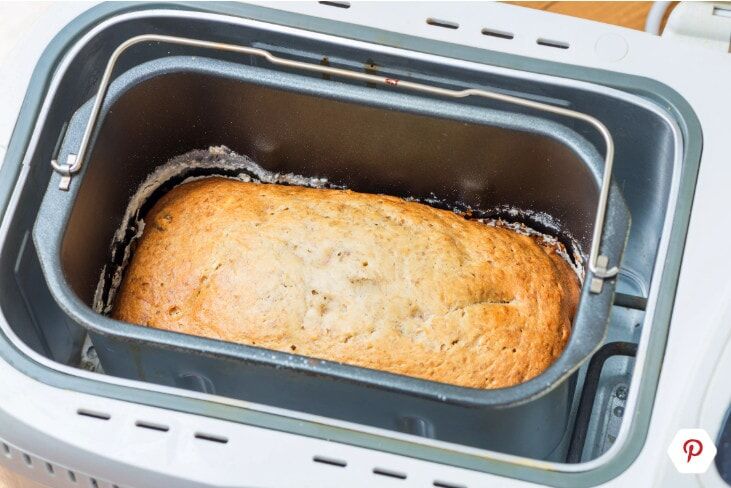 This bread is made on a Quick option on your bread machine, so you can even set it to start baking two hours before you usually wake up and have it for breakfast with a glass of milk or even some jam.
Banana Nut Bread for the Bread Machine
Banana and nuts go hand in hand. The lovely, soft texture of the banana bread, scattered with crunchy bits of nuts and their oily taste. The combination is just perfect. The extra airy feeling and the softness of this banana bread is achieved by the sour cream in the recipe. As for the nuts, the recipe recommends finely chopped pecans or walnuts.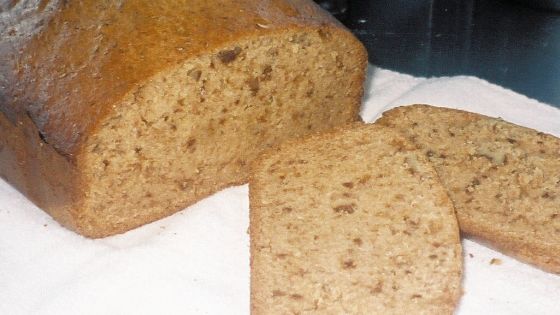 However, there are variants with hazelnut and even almond, while others like to mix them all and even ground them to be powdery. In that care, you will get a completely different texture and the nutty taste might be a bit toned down, but it still is a good option.
Banana Chocolate Chip Bread Machine Recipe
Surely, when you think about stuff that goes well with bananas, nuts are on top of the list. However, the second thing that comes to mind is chocolate. Everything tastes better with chocolate, right? For all those that agree, here is a recipe that will give that nice twist to your banana bread.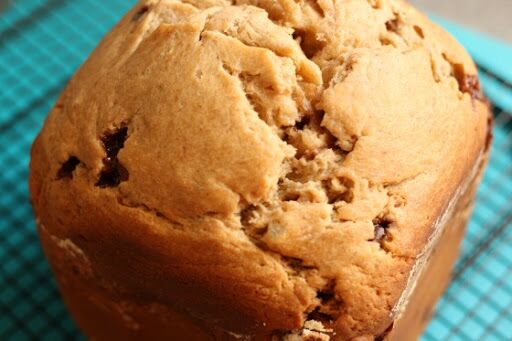 You will notice that the recipe requires half a cup of chocolate chips, but also half a cup of walnuts. This combination resembles tasty chocolate bars and muffins. Together with bananas from this recipe, they will make the perfect treat for the winter days.
No Egg, Dairy-Free Banana Bread Recipe
People avoid dairy and eggs for all sorts of reasons. Some are allergic to one or both of these ingredients, others follow the vegan diet and some simply don't like them. Either way, this amazingly tasty, hassle-free bread caters to anybody who wants to avoid eggs or dairy.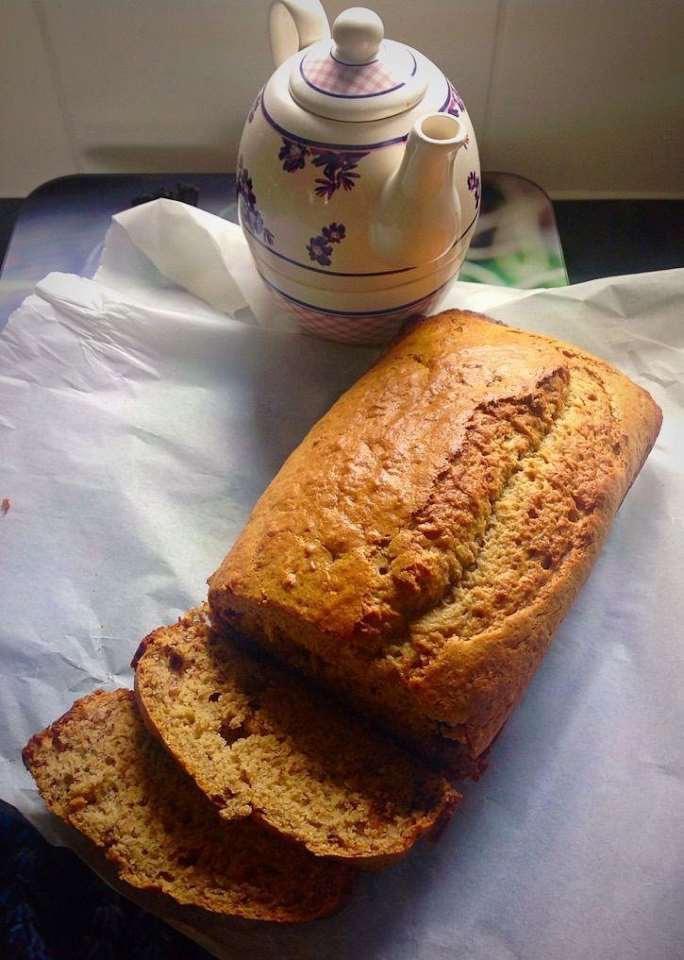 The milk and eggs are replaced by vegetable fat and soy milk. Of course, you can experiment with other types of milk like almond and/or coconut, but the recipe says it will work even with plain water. That may tone down the flavor a bit, so it is best to use some of the nut milk for the richer taste.
Fluffy Vegan Banana Bread Recipe (Gluten-Free)
by From My Bowl
If you are preparing a banana bread treat for a brunch with friends, nowadays it's best if you go gluten-free, just in case. There is an increasing number of people that prefer to leave out gluten from their diet, and that is to be respected. In addition to that, many people now don't consume animal products. Sometimes it's because they have a specific dietary restriction, other times it's because they rather not eat animal products.
No matter what the possible restrictions may be, there's no reason to skimp on taste.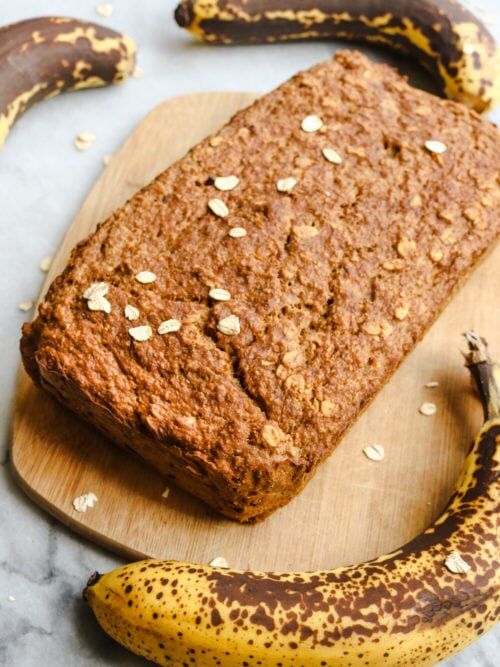 This gluten-free bread from From My Bowl is easy to make and delicious. Best of all, it's just 9 ingredients!
This can be stored at room temperature for up to a week and even though it's gluten-free and vegan, it's still fluffy.
Strawberry Banana Bread Recipe
Now, this is a real treat. Banana is so rich in flavor, but it is not an edgy flavor. On the other hand, the lovely savory note of the strawberries will give that additional zing to your banana bread. If you want to add some texture to this, just to double the fun, add some pecans. They will work fabulously.
To make this banana bread well, you should opt for the regular white bread cycle and let it bake for the full cycle. As for the color of the bread – it is up to you. However, too dark may kill the taste a bit, so it is best to choose light to medium settings.
Sour Cream Banana Bread in the Bread Machine
Generally, when you think about banana bread, you are thinking about dessert, cake, and the sweetness of it. However, there is another, not so famous side of banana bread – the sour cream version. However, this doesn't mean it is not sweet. It is. It even includes honey. However, it is not as sweet as you would expect.
On the other hand, this doesn't mean that you cannot combine it with sweet spreads. On the contrary. This bread is nice and dense and it goes very well as the base for your Nutella or different jams. Strawberry jam, for example, would fit its texture perfectly.
Easy Kitchen Appliances' basic banana bread recipe
This is our super easy, classic banana bread recipe. Nothing complicated or hard to understand about it and best of all, it can be done in less than 2 hours. Here we go!
Prep time: 15 minutes
Cook time: 50 minutes
Additional time: 10 minutes
Servings: 10
Yield: 1 pound loaf
Ingredients
2 cups bread flour
1 teaspoon baking powder
1/2 teaspoon baking soda
3/4 cup white sugar
3 tablespoons vegetable oil
2 eggs
2 ripe bananas peeled and halved lengthwise (
1 cup chopped walnuts or chocolate chips if you want
Because we're going to mix it in the bread machine (one of the perks of using a bread machine), we won't mix dry ingredients separately from wet ones before adding them together.
That's a necessary step when you're mixing in a bowl and then placing it in a traditional oven. However, that's NOT necessary when using a bread machine to mix it using the dough setting.
If you're not sure about baking soda measurements or if you're missing teaspoons, read this article on figuring out teaspoons in baking soda.
Directions
Place all of the ingredients in the bread pan of the bread machine
Select the dough setting and hit start. Make sure it mixes properly and assist it by using a rubber spatula to unstick it from the sides of the bread pan when necessary. After 3-5 minutes, press stop and smooth out the top with the rubber spatula
Select the bake setting and press start. It should be around 50 minutes.
Once it's done insert a toothpick at the top of the banana bread to check for doneness. If it's ready, the toothpick will come out clean. If there's batter on the toothpick, put in for another 10 to 15 minutes.
Remove the bread and allow it to cool for about 5 minutes on a wire rack or if you don't want to eat it warm, then until the bread is completely cool.
Nutrition
221 calories per serving

5.4 g total fat
38 g carbs
4.1 g protein
In Conclusion
Now that you have seen all these delightful ideas, you can start planning your next banana bread. Which one looks the most appealing to you? Is that the only one you plan on making from this list?
Whatever you choose, don't be afraid to experiment and adjust these recipes in any way you like. After all, everybody's taste is different.
Moreover, everybody's bread maker acts differently and you know your machine the best. Enjoy!