What is ToBox?
ToBox is known to most people as a kitchen supplies manufacturer and distributor, however, it's much more than that.
ToBox launched January 1, 2018 and sells kitchen appliances and home goods that are up to 40% less than other brands.
It's a company that eliminates the unnecessary and expensive layers between the factory and the product. Therefore, it brings quality products directly to consumers, helping customers save money, yet still know exactly where their products come from.
Therefore, each ToBox product has its own story that just adds up to the work they do. They're also innovative (and we love innovative appliances) and care about their customers.
ToBox is a newer brand, but quickly becoming known for its simplicity, quality, and transparency. What's especially cool is that these same products are often sold at a premium by the "big brands", yet you can have the same quality at a fraction of the price.
Let's go!
---
The ToBox Induction Cooktop – 5/5 Stars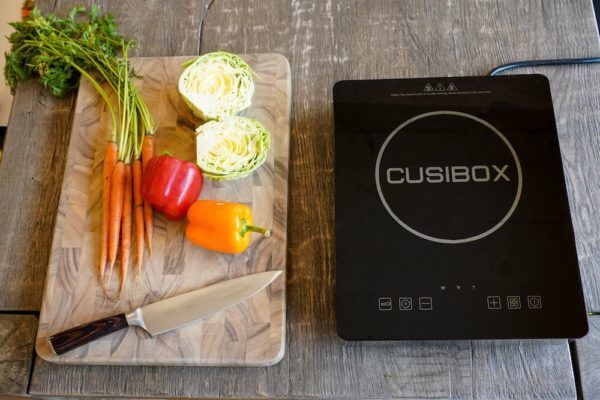 When you're looking for an affordable, yet sleek looking and quality induction cooktop, ToBox has their own solution to the problem.
The Induction Cooktop 1800W, not only looks good, but it performs really well. It comes with a lot of features and most importantly, many safety features.
Features of the ToBox Induction Cooktop
Even though the Induction Cooktop is a compact and fairly portable appliance, it's powerful and packs a punch.
One of its adjustable features is the 10 temperature setting where users can choose to set the temperature of this induction cooktop anywhere between 140F and 460F.
At first look, the induction cooktop looks really sleek because of the glass top plate surface. Combine that with a stainless steel body and you get a really sleek and professional looking cooktop with a lot of power and helpful features.
The glass plate surface not only offers clean and smooth performance, but it also has a large LED display that is really convenient since it makes reading it easy. The display also offers a touchscreen feature which makes adjusting temperature and other settings simple.
The induction cooktop looks fairly small at first, but it's powerful enough to cook almost anything. It features 1800W power which is more than enough for most meals.
You'll never have to be worried about space since it's easy to store and doesn't require a lot of counter space.
Its safety features ensure that the induction burner is turned off in 1 minute if no cookware is detected, which is pretty cool.
That way, you don't have to stress yourself out if you leave the house and can't remember if you shut if off!
What we especially liked
Compatibility and portability
Easy to store
It's suitable for students or small kitchen
Adjustable temperature
Safety features
Simple controls
Quality and sleek looking design
Powerful enough to cook anything
---
ToBox Programmable Bread Maker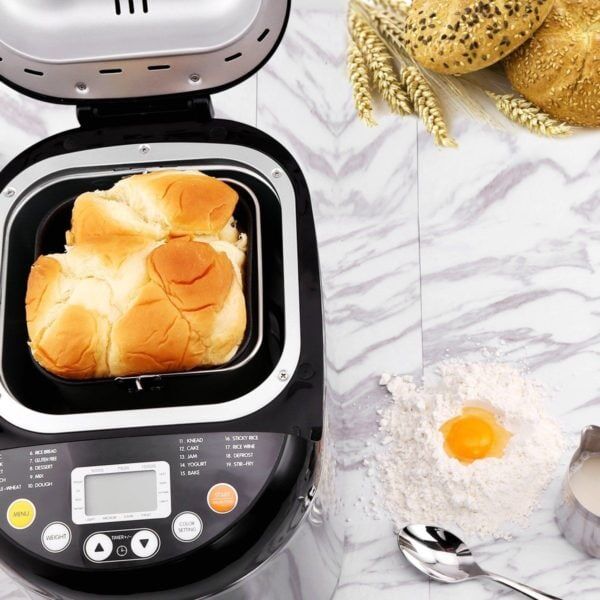 When you're looking to make bread, yet aren't too sure about investing in a great bread maker (since quality can be a bit pricey), the ToBox programmable bread maker is the right product to go with.
It not only makes bread making a simple everyday task, regardless of your relevant experience, but it also features a lot of useful settings that can be seen in more expensive models.
Features of the Programmable Bread Maker
One of the best features of this bread maker is its automation. This bread maker is fully automated, all you have to do is put the ingredients in, press a few buttons, and let the bread maker do its job.
Whether the process is kneading, rising, or even baking – the ToBox bread maker does everything itself, with just a little bit of your help.
What we really like the most is the ability to even choose between 3 baking shades. You can choose between light, medium, or dark.
Since the ToBox bread maker is fully automated, there are 19 digital settings to create exactly the bread you're looking for. But there's nothing to worry about. It might seem a bit too much, but it's pretty easy to use and it doesn't take a long to get used to it.
It's great for someone without no previous bread baking experience at home.
Once you're done with the bread maker, the cleaning process is pretty simple, thanks to the non-stick inserts which are dishwasher safe, it doesn't take a lot of energy or time to clean it and get it ready for next time.
No matter if you're baking for yourself or for a lot of people, this bread maker can bake 1, 1 and a half, or 2 lb loaves. With the 15 hour timer, you can set the bread maker to work at night or when you're at work and it'll have the bread ready for you when you're there.
Just don't forget to put in the ingredients first!
What we especially liked
Stainless steel durable design
Additional accessories that come together
Removable loaf pan
Ease of cleaning
Ease of use
Number of settings
Efficient 15 hour timer
---
ToBox Toasters
If you're struggling to get a toaster that offers a decent quality and does its job properly and for a long time – ToBox has plenty of high quality toasters available.
You can choose between their Premium, Compact, or even Retro toasters. They're all high-quality but are all a bit different. You can choose any model that you find the most suitable for your needs.
Features of the ToBox Premium Toaster
The Premium toaster might look simple at first but it's really beautiful, good-looking, and compact as well. It comes with a stainless steel finish which gives it the modern and minimalistic look that can adapt to any kitchen interior.
It's a 2-slice toaster where each slot is 3.5mm wide. The space allows even toasting no matter the type or thickness of the bread.
Even though the ToBox Premium toaster looks very simple, it features 7 toast settings that can help you achieve almost any type of toasted bread you're looking for.
What will make your cleaning process easier is the crumb tray which is located at the bottom of the toaster and it has a slide-out feature. This way, you can quickly give the toaster a good cleaning and have it functioning back in no time.
Also, this Premium toaster isn't only made for toasting bread, but also for de-frosting it and reheating it. If you suddenly change your mind and don't want your bread toasted, there's a cancel option which is really useful.
Black in combination with stainless steel really provides the feeling of reliability in a good looking and a long-lasting device that is reasonably priced, thanks to the way ToBox operates.
But what's even better is that ToBox offers free shipping on orders over $19 along with a 30-days free return in case you don't like the product.
So there's no reason not to get this beautiful appliance!
What we especially liked
The looks
Material choice
Even toasting
Additional features
Easy cleaning
Compactness
Looking for something a little different? Check out the beautiful ToBox 4 Slice Retro Toaster in Malibu blue!
---
ToBox 5 Cup Mini Rice Cooker – 5/5 stars
The best thing about ToBox is that you can equip your kitchen completely for the best price you'll ever find on the market, and your new kitchen setup can even include a special mini rice cooker.
Not only you will get a super-efficient rice cooker, but you'll also get a lot of additional features that will make your cooking and meal prep a breeze.
Features of the ToBox Mini Rice Cooker
ToBox offers a 5 cup rice cooker which is compact enough to fit anywhere in your kitchen, yet powerful enough to quickly cook your food!
It's lightweight so you won't have a problem storing it away if you don't have enough space on your kitchen counter.
Along with the ToBox mini rice cooker, you'll get plenty of extras such as a steaming plate, spoon, measuring cup which is perfect for rice, a liner and the rice cooker itself. That's really great because you can start your first pot of rice in no time, without having to worry about buying anything else.
This Mini Rice Cooker features an automatic keep warm function which will keep the cooker always warm in case you cook your rice but don't eat it right away.
The pot which is located inside the rice cooker is removable which is ideal for cleaning. To make the cleaning a lot easier, ToBox has coated the inside the pot with a special non-stick coating.
You could even put the removable parts inside a dishwasher since they're all dishwasher safe.
If you've never used a rice cooker before, there's nothing to worry about, the ToBox rice cooker is simple to use and only features a few buttons and adjustments to cook your rice.
Don't judge this product by its price, the stainless steel casing is made to protect the life of this device and keep it running for a long time.
What we especially liked
Design material and build
Compactness
Useful keep warm function
Nonstick & dishwasher safe parts
Helpful additional features
Definitely the price
---
ToBox Air Fryer – 4.8/5 Stars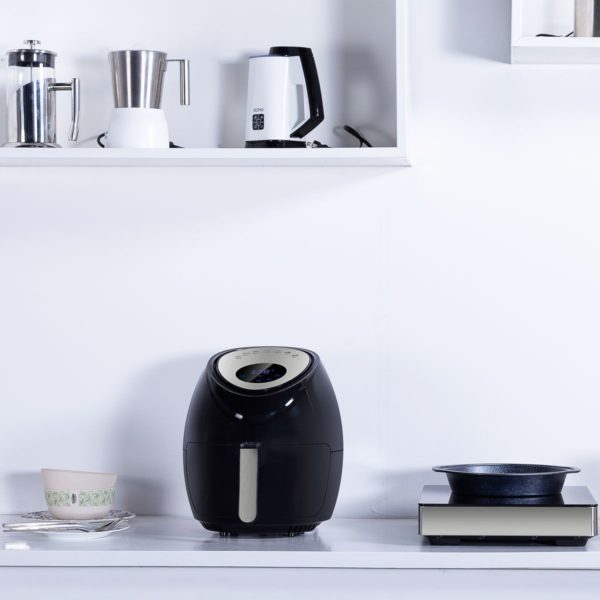 Have you ever imagined frying your food without oil and without making a mess? It might sound impossible, but it's something that's available to us nowadays thanks to progress in kitchen appliance technology.
Such kitchen appliances cost a fortune, however, ToBox came up with a digital air fryer which is just as good but for a reasonable price.
Features of the ToBox Air Fryer
ToBox Air Fryer is a kitchen appliance that looks very much like a kettle for water, however, behind the modern and ergonomic yet minimalistic design, something else is going on.
On the top of the ToBox Air Fryer, the digital LED screen allows the users to adjust the cooking timer and temperature with a simple touch of a button. The LED screen is clearly visible and the buttons make it really simple to use and navigate through the process.
The temperature control can be anywhere from 175F to 392F, which is a pretty great range in our opinion. You can fry a lot of different foods at various temperatures, there are no limits.
On the inside, advanced air circulation technology makes sure that you fry your food without a single drop of oil.
All you have to do is hit a few buttons, insert the food and wait until the process is over.
You'll be able to make any sized meals thanks to the 3.8L pan which is detachable and comes with a non-stick coating that makes cleaning simple and effortless.
It's important to mention that all internal parts are FDA approved, the complete ToBox air fryer is PFOA-free, and that the removable parts are dishwasher safe.
Not only you will now be able to fry some of your favorite foods without oil, but also have a really futuristic and modern looking kitchen appliance on your kitchen countertop.
If you are out of ideas on which food you could fry, we were pleased to see that the ToBox air fryer comes with a recipe booklet that has a lot of instructions on how to adjust the settings for the type of food you're looking to air fry.
This will not only give you some ideas, but it's also a great way to learn to use this device without having navigate a complicated manual guide.
What we especially liked
No oil is used
Decent-sized LED screen
Simple navigational buttons
Great temperature range
Modern and futuristic look
Durable build quality and materials
Easy to clean
---
ToBox 3 in 1 Panini with Waffle and Sandwich Press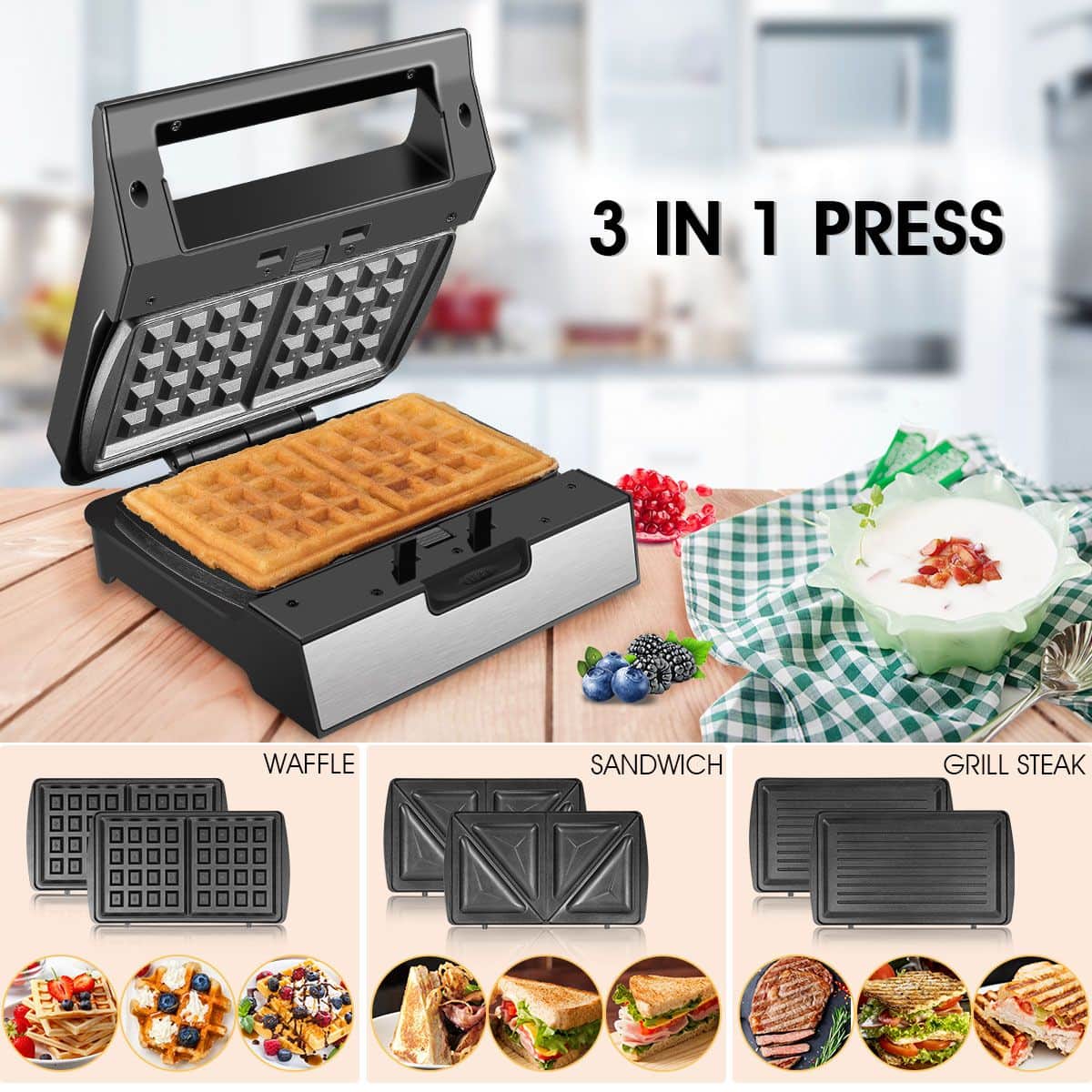 If you're looking to create more tasteful and warm sandwiches, waffles, or paninis, The ToBox 3 in 1 Panini press is the right choice. Not only it's very affordable considering the price and the value this 3 in 1 press offers, but it's also durable and convenient appliance to have.
When you're dealing with a very limited space on your kitchen counter, this press will allow you to do 3 things with only one appliance which saves space drastically. At Easy Kitchen Appliances, we love multi-functional appliances!
Features of the ToBox 3 in 1 Panini and Waffle Press
Thanks to its removable plates, this 3 in 1 press allows users to easily switch between waffles, sandwiches, and steak or meat grilling.
With a simple plate switch, your ToBox 3 in 1 press is transformed into a completely different appliance.
The plates are easy to swap, and what's so good about the removable plates is the way users can clean it in no time. They're coated with a non-stick coating pad that makes cleaning them a breeze, and they're even dishwasher safe which means you can help yourself out when you're a bit too busy.
Design wise, the ToBox 3 in 1 press is very durable, reliable, and offers a long life-span. Combination of stainless steel metal and robust plastic gives it a premium look and feel.
ToBox really paid a lot of attention to the details as well. The upper handle is separated with a hard plastic which makes sure that it never gets hot while keeping the lid light. Users can lift the lid up and down without any concern.
The indicator light is a convenient way to know when the press has reached its top temperature, but also when it's powered and when it's not.
Usually, such presses don't often come with any type of cooling, but ToBox went even step further to add a quick cooling feature into the design. In combination with anti-slip feet.
There's even a wire storage which we find useful when storing the product. If you lack space, it's something that you can definitely do to help yourself.
If you have plenty of space in your kitchen, the ToBox 3 in 1 press will always look great at your kitchen counter.
What we especially liked
Strong & reliable build
Great material choice
Wisely constructed
Quick cooling feature
Wire storage function
How easy it is to change the plates
Price for a 3 in 1 press
---
ToBox Best Electric Kettle for Coffee
When you're rushing to work, having a little bit of help in your morning coffee preparation can definitely help, and this is what ToBox electric kettle for coffee can help you out with.
But if you're looking to get hot water instead of boiling water for your coffee, which allows you to drink it right away – you'll definitely love the temperature control this electric kettle offers.
Features of ToBox Best Electric Kettle for Coffee
With the ToBox electric kettle, you get to choose the temperature of the water instead of having to deal with boiling water quality every time you turn the kettle on.
Thanks to the precise temperature control function at the top of the handle, you get to choose your wanted temperature but also whether to keep the kettle warm for another use.
The ToBox electric kettle is pretty durable thanks to the food-grade stainless steel material which will allow you to warm your water for a long time. However, the handle is heat resistant so you will never have to worry about burning your hand.
Another good thing to know is that this kettle can't overheat and it won't work if there's no water inside thanks to the dry boil protection. This improves the lifespan of the kettle itself but also ensures your safety.
For the price it sells for, this kettle has a lot of useful features which can't be seen in any of the kettle models within the same price range. Therefore, it's easy to understand the value it offers for the price.
What we especially liked
Precise control temperature function
Use of stainless steel material
Protection from overheating or dry boiling
The handle is safe to use anytime
The design is minimalist yet modern
Value for the price
---
Are customers happy with ToBox?
Having a look at the ToBox product reviews on both ToBox official site, Amazon and a few other retail sites, we noticed that people are loving their products. For example, on Trustpilot, ToBox boasts an impressive 4/5 stars on over 400 reviews.
But it's not only the products they love, it's also the brand itself. What users like the most is the insight into transparent pricing ToBox offers.
ToBox shows the exact logistic costs, manufacturing costs, and fees. Therefore, users can know the true cost of their product, but also an estimated traditional retail price that other stores would sell it for.
In the end, users end up with a realistic price for quality products, which is a dream for every buyer. Therefore, it really improves customer satisfaction along with the quality of the products.
---
ToBox Under $3 Category
When of the things you don't want to miss on your ToBox order is the incredible selection of kitchen gadgets for under $3. Below are just a few of the items in this category.
Fiber Dish Towels
Vegetable Peelers
Kitchen Shears
Pizza Cutters
Meat Claws
Dough Cutters
Porcelain Mugs
Egg White Separators
Stainless Steel Tongs
There's no shortage of cool kitchen gadgets to add onto your ToBox appliance order.
---
Final Words
ToBox is not your standard retail product seller. They actually care about the customers as much as they care about delivering quality products for an affordable price.
Not only are ToBox products perfect for people who are on a budget, but it's also suitable for anyone who's looking for great deals and quality products without overpaying for it.