Do you love the idea of what an air fryer toaster oven can do but don't think it's worth the money? Or maybe you just have very little counter space and can't get multiple kitchen appliances.
Buying an air fryer toaster oven might just solve your problems.
Air frying is easy, safe, and not messy at all! Want foods like french fries, steak, roast pork, chicken wings, or oven cake? A toaster oven air fryer is for you!
As the name suggests, this appliance combines the baking and heating power of a countertop oven with the convection frying feature of an air fryer.
In this article, we hope to share with you some of our top choices in this category including the best air fryer on the market, which is my personal favorite.
Best Air Fryer Toaster Oven Appliances
Ninja Foodi 5 n 1 Indoor Grill – Best Air Fryer Toaster Oven
Features
The Ninja Foodi is a 5-in-1 indoor grill that may just replace all of your kitchen appliances. It has a ceramic grill plate inside of the grill and since it can reach temperatures of over 500 degrees, it can leave char marks on your food.
It's virtually smoke-free, although I tried to cook some hamburger patties and smoked up the entire house! Still, when I cook steak in it, it doesn't smoke up.
Although I was initially intimidated by it, it turns out that it's pretty easy to use.
So with this Ninja Foodie, you can grill, air fry, roast, bake, and dehydrate. This is the best air fryer toaster oven and my personal favorite.
It's a smart oven that's easy to use, easy to clean, and is large enough to cook two full-size T-bone steaks at the same time.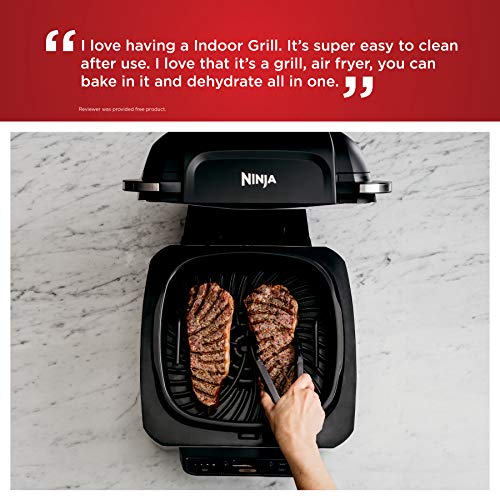 Size and Appearance
This appliance is a nice looking black and silver and is 17 x 14 x 11 and weighs a reasonable 14.5 pounds.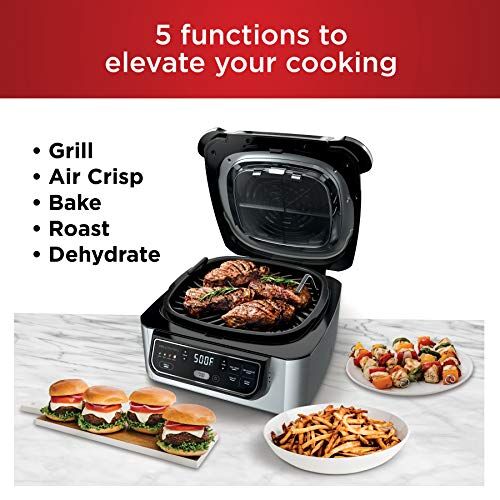 ---
Cuisinart TOA-60 Air Fryer Toaster Oven – Best budget pick
The Cuisinart TOA-60 Air fryer toaster Oven is a premium full-size toaster with a built-in air fryer.
It will not only bake a 4 lb. Chicken or 12 inches, pizza, broil salmon steaks, and toast 6 bagel halves at once, It can also air fry up to 3 lbs of food using little or no oil.
Powerful ultra-hot air "fries" favorites like wings, chicken tenders, and fish and chips to crisp, golden-brown doneness.
And since a toaster oven stays on the countertop, this is a fryer that never has to be put away. Enjoy the crunchy texture and tastes you love – no deep fryer required.
Features
The four manual control knobs can be used to adjust the timer (up to 60 minutes), temperature, function (warm, broil, convection broil, toast, or air fry), or toast timer (dark, light, or medium).
A convection fan is located at the top of the appliance for convection cooking and air frying. The interior dimensions can handle six slices of bread, a 12-inch pizza, or a 4-pound chicken. Ultimately, it's 6 cubic feet.
Size and Appearance
The stout Cuisinart TOA-60 smart oven is silver/stainless steel in color. It has a windowed door, and the control knobs are located just above the door.
To the right of the knobs is the on/off button for the interior light, and to the left is the red power indicator light. Its dimensions are 15.5 by 16 by 14 inches, and it weighs 21 pounds (25.6 pounds shipped).
This Cuisinart TOA-60 has an extremely high customer satisfaction rating and great reviews.
Emeril Lagasse Power Air Fryer Toaster Oven 360 – Best new appliance
You may know Emeril Lagasse as the celebrity chef who's famous for saying, "BAM!" as he throws spices into his dishes. But he's also the face behind some high-quality kitchen appliances.
The Emeril Lagasse power Airfryer 360 lets you cook, roast & more delicious meals with all the right flavors right on your kitchen countertop—and without oils, fats, or grease.
This powerful countertop toaster oven is easy to clean and replaces up to nine different kitchen cooking accessories while reducing the number of calories in almost every meal!
Includes a rotisserie spit, pizza rack, baking pan, basket, drip tray, and crisper tray to help you make a range of different foods.
Features
This oven has five elements for even cooking and twelve cooking presets, including air fryer, dehydrate, rotisserie, toasting, reheat, broil, roast, pizza, bagel, slow cook, and reheat/warm.
The slow cook and dehydrate functions allow an extra-long cook time of up to 10 hours. The internal capacity allows you to place a chicken or small turkey on the rotisserie spit, or use two oven racks or fryer baskets at the same time.
Size and Appearance
This appliance has a stainless steel exterior with chrome and black accents. The door has a large viewing window. The blue digital control panel is located to the right of the oven door.
Beneath it are manual control knobs for time and temperature, a function select knob, and buttons that allow you to start or pause cooking, cancel, engage the convection fan or rotisserie, or turn on the oven light.
The dimensions are 22.5 by 17.5 by 13.5 inches, it weighs 19.7 pounds, and has a 930 cubic inch capacity.
Nuwave Bravo XL Air Fryer Toaster Oven- Best large pick
Features
Perhaps the most unique feature of this oven is the integrated temperature probe. The heat-resistant probe plugs into the oven's control panel. You place the probe end inside the meat or dish, and the oven will continue cooking until the meat has reached the desired temperature.
Size and Appearance
The oven has a brushed stainless steel exterior and a windowed door. A digital display is located to the right of the door, as well as a start/pause selector knob and buttons for menu, preheat, warm, temperature, top/bottom, light/clock, sear, fan, delay, stage, probe, and on/off.
The oven's dimensions are 20 by 13.5 by 11 inches, and it weighs 19 pounds. It also features a large viewing window and is very large by other standards at a 1 cubic foot capacity. That's a lot of slices of bread, chicken, or french fries!
Black+Decker Crisp 'N Bake Air Fryer Toaster Oven
Features
Three manual control knobs means using this oven's 5 cooking features is simple. The top knob allows you to set the temperature and function – warm, air fry, broil, or toast.
The middle knob is the 60-minute timer, and the bottom knob is the toast shade selector. The oven's extra-wide interior can handle two layers of racks or a basket, even oven-safe cookware that you already own! This toaster features a decently sized viewing window, is easy to clean, and is quiet even at high fan speeds.
Size and Appearance
The Black+Decker Air Fryer Toaster oven has a brushed stainless steel exterior and a large viewing window. The manual control knobs are located to the right of the oven door. The dimensions are 21.5 by 23 by 11.2 inches, and the oven weighs 15.7 pounds.
Breville Smart Oven Air
Features
The Breville Smart Oven Air does everything from toasting to dehydrating to air frying. Although it's a larger appliance, it still manages to do a lot without a lot of counter space.
It features 13 different cooking functions and can do just about anything that you'd ever need in the kitchen. It can cook nine slices of bread, a 13 inch pizza, 12 muffins, or even roast up to a 14 pound turkey!
When it comes to the Breville air frying, it offers two different fan speeds, preset functions, all while maximizing air flow.
This one appliance can replace your toaster, dehydrator, slow cooker, and even your regular oven!
Size and Appearance
The Breville Air Frying Oven is 21.4 x 17.2 x 12.8 inches and weight 38.9 pounds. It's a beautiful appliance and although it's price tag is a little high, it has excellent customer reviews.
Cosori CO130-AO Air Fryer Toaster Oven – Best extra large pick
Features
This air fryer toaster oven features 12 manual presents, an interior light, 2 fan settings, 3 different rack placements, and 5 heating elements. Place the basket in and begin cooking! Although it's fan speeds may be on high, it's exceptionally quiet.
Size and Appearance
The Cosori is stainless steel and black accents. It's on the heavier side at 25.4 pounds and its dimensions are 22.3 x 19.3 x 16.3 inches.
Is an Air Fryer Toaster better than a Conventional Oven?
To explain the value of an air fryer versus a toaster oven, we must first define the two appliances.
An air fryer toaster oven is a small countertop appliance that superheats air and circulates it with a fan in order to cook food quickly. This cooking method produces a result similar to deep frying.
The food becomes crispy and crunchy on the outside while remaining soft and juicy on the inside.
A toaster is also a small countertop appliance, like the Breville Smart Oven Air. It replaces the pop-up toaster, and it is able to toast items that a stand-alone toaster can't – thick bagels and topped items, for example.
Air fryer toaster ovens combine the best of both worlds. By adding a convection fan and an airtight seal, you create an appliance that toasts, air fries, bakes, and more. They generally have a higher capacity than standard air fryers, even allowing the use of small oven-safe dishes.
Some have additional capabilities, like dehydration and slow cooking.
Can I Air Fry in my convection oven?
Air fryers toaster ovens work by circulating hot air around your food. That's the same technique that a convection oven uses. They both circulate hot air, it's just that an air fryer circulates it much more rapidly.
The Breville Smart Oven Air is an example of a kitchen appliance that calls itself convection but that also air fries.
There are other features that could influence your purchasing decision.
Cooking presets. These pre-programmed times and temperatures for popular foods can save you cooking time and the hassle of over- or undercooking your favorite foods. Some of the above ovens have up to fifteen cooking presets like bake, broil, fry, etc.
Additional features. Some of these appliances are able to dehydrate, slow cook, rotate a rotisserie spit, and more. Some of them include extras like an additional oven rack or cleaning brush.
Price. The best appliances are generally more expensive than stand-alone air fryers or toaster ovens.
Summary
More than half of air fryer toaster oven users would highly recommend the product, though a number of users were dissatisfied. The most common complaint was that the air fryer toaster oven was not as efficient at air frying as a dedicated toaster oven.
It was stated that air frying took longer and food did not come out as crispy as with a dedicated air fryer.
Those transitioning from a standard toaster oven to an air fryer toaster oven were very happy, however. Many users commented that the air fryer oven cooked much faster than a standard toaster oven.
Other complaints centered on the controls and whether or not the convection fan ran during all settings. As one user said: "I've always had toaster ovens as a kitchen accessory and have had to learn each one of their quirks."
But his brand new air fryer toaster oven had fewer quirks than the rest, he went on to say.
In recent years, air fryers have taken both U.S. and international markets by storm. They've often been called the hottest new kitchen appliance, the next kitchen craze.
You may wonder, however, if an air fryer is right for you. How does it work? How does it compare to similar appliances, such as the countertop convection oven?
We've compiled everything you need to know about air fryers and tabletop ovens to make an informed purchasing decision. Below, you'll come to understand how these devices work and the pros and cons of each.
Our objective approach will help you decide which appliance will best suit your lifestyle.
How do Air Fryers work?
Air fryers are appliances designed to imitate the results of deep-fried food. Air fryers use fan circulated superheated air, with little or no cooking oil, to achieve crunchy and browned "air fried" foods.
Air frying is considered a healthier alternative to deep frying. Why? Deep fried foods have increased caloric contents because they absorb large amounts of oil.
How do Countertop Ovens with Convection Features Work?
You may be familiar with ovens that feature built-in convection, or with the commercial-grade ovens with a convection feature often employed in bakeries.
What we will discuss here, however, is the countertop version – small ovens that are generally twice the size (or more) of a standard toaster oven.
Convection cooking is based on the scientific principle that air naturally moves when heated. Air at the bottom of the oven is heated by a heating element and it ends uprising.
This pushes cooler air down back to the heating element. This air keeps getting circulated by the fans.
Air Fryer and Convection Countertop Oven Comparison
When you're looking to purchase a new kitchen appliance, it's great to have all the facts and know what you want before turning over your hard-earned money!
Below we'll help you navigate through this process.
How It Works
Although both of these appliances use fans to circulate hot heated air, there are still differences in how they work. There are also differences in the results.
Since an air fryer's top heating element is located very close to the food, it makes it efficient to quickly heat up food. The air intake on top and the exhaust on the back regulate the temperature and internal pressure.
The fan circulates air so that the food cooks evenly and the holes in the cooking basket help facilitate air flow. The best air fryers can reduce cooking time by 20% or more.
A convection countertop oven performs much like a traditional large baking range. Except that fans are used to circulate air warmed by the heating elements.
The best convection countertop ovens have multiple heating elements located at the top, bottom, and at the back of the oven.
These ovens may result in more even cooking of food however, their larger baking pans, larger basket, and the larger window may inhibit its toasting/baking function compared to an air fryer.
Performance
Convection countertop ovens and air fryer toaster ovens both aim to produce the same result – to heat food quickly to produce a Maillard Reaction, the browning that lends fried and air fried foods its delicious flavor and crunch.
Air fryers are typically designed to cook small servings. They range in capacity from 1.6 quarts to 8 quarts. The large "family size"8-quart models can handle small whole poultry or about eight servings of other air fried foods. Smaller air fryers require smaller cuts of meat and fewer servings.
These ovens can usually handle a whole small chicken, or an entire twelve-inch pizza – a feat of which air fryers are not capable.
Many convection countertop ovens have two or more racks, considerably increasing cooking space, and can hold a basket or more of food.
Both appliances come in a desirable style, featuring stainless steel and/or black accents, a digital display, and both are compact enough to fit in most kitchens.
Ease of Use
Air fryers are designed to be as easy to use as possible. When using an air fryer recipe, simply coat your food in some oil, pop it into the air fryer, and then set the temperature and time. Regular recipes can easily be converted with air fryer cooking charts.
You'll also have to flip or stir the food once or twice throughout the cooking process.
These ovens cook food up to 20% faster than a conventional oven, and they are also usually more accurate than a conventional oven, although this varies by model.
This may leave you guessing how to cook your favorite meal, but most of these appliances do come with some recipes and a guide on how to use the appliance.
Controls also differ between these machines. Air fryers may be manual or digital, but generally have only two controls – time and temperature.
Many models have handy one-touch presets, such as French fries, meats, fish, or reheating. Others allow you to set your own presets to match the dishes you make most.
A large display can be easy to read, especially for those who use reading glasses or have other vision problems.
Controls on a convection toaster oven, whether digital or manual, can be a bit more confusing. In addition to time and temperature, ovens often have a separate control with settings such as toast, warm, and broil. Presets may also be available.
Finally, as with any oven, you may need to flip your food item during the cooking process.
The metal exteriors of these appliances may become hot enough to cause burns if touched. Most air fryers feature plastic or enamel housings that keep the surface of the appliance cool to the touch.
Be careful when opening the air fryer or handling interior components.
Cleanup
Most air fryers are also designed for easy cleanup. Surfaces that come in contact with your food are generally non-stick and dishwasher safe, as are most accessories.
The outside of the oven can be cleaned with a damp cloth. And the cooking area of the air fryer is completely enclosed, so you'll have no messy splatters from hot liquids or oils.
Convection countertop ovens, on the other hand, are similar to conventional ovens in their use. Racks and interior surfaces may not feature non-stick coating, and baked-on spills can be a headache to remove. Aerosol oven cleaners may release harmful fumes.
As you can see, the air fryer is easier to clean, although the fact that you're air frying means that it may get messier than usual. After all, how often does food splatter within your oven?
Air Fryer Toaster Oven Advantages
What does the air fryer do best?
Air fryers have simple controls and are designed with non-stick coatings and dishwasher safe parts for quick and easy cleanup.
Air fryers are generally more affordable than countertop ovens of equal caliber.
Air fryers allow you to bake, steam, roast, grill, toast or reheat foods while taking up relatively little counter space. This makes them excellent for crowded kitchens, college dorms, and economy apartments alike.
Convection Toaster Oven Advantages
In what ways does the convection tabletop oven excel?
Convection countertop ovens are larger, and therefore more servings of food may be prepared at the same time. The larger size accommodates items such as whole chickens, turkeys, and frozen pizzas, which are impossible for all but the largest "family size" air fryers.
In addition to cooking large items, the extra space in these ovens allows you to cook multiple items at the same time, on two or more cooking racks.
Countertop ovens provide benefits of crispiness, energy efficiency, and reduced cooked times similar to air fryer toaster ovens.
Can an Air Fryer Toaster Oven Replace an Oven?
No way, an air fryer is a versatile kitchen appliance but it cannot replace a conventional oven. However, an oven air fryer is a different story.
An oven with an air frying feature like the Ninja Foodi can replace just about all of your kitchen appliances.
I versatile kitchen appliance can replace your conventional oven, toaster oven, deep fryer, toaster, electric grill, and many others. Although accessories may be needed to make the switch.
You should know, however, then although an air fryer may underperform when it comes to "non-fried" foods, it will excel in the fried foods area. In addition to that, a convection toaster with an air fryer feature will perform well compared to all of these appliances.
In this case, this appliance provides the best of both worlds, offering crispy foods and rapid cook times while still supporting these specialty food items.
Which is Better – A Convection Oven or an Air Fryer?
You'll have to decide for yourself whether a convection toaster oven or an air fryer toaster oven is the right fit for you. It depends on a number of factors.
Those seeking to cook large amounts of food or need to replace many kitchen appliances should probably go for a convection oven.
However, if your family is smaller or you just don't need as much food, and if you don't need to replace a conventional oven or a grill, then an air fryer may be the best option for you.
Wrapping up with the Best Air Fryer Toaster Oven
Congratulations! You've made it to the end of a very long (and hopefully informative) article. I would love for you to share with us in the comments below what your thoughts are regarding these products.