In a hurry? The Breville Smart Oven Air is our top choice for the best countertop oven. Its innovative features like air fry, Element IQ, and durability make it our top choice.
In this article, we look for the best countertop ovens
Countertop ovens are becoming more advanced with the technology we have available nowadays, and they're a relatively inexpensive kitchen appliance everyone (when compared to large appliances) should add to their kitchen.
The most common problem for people who are looking for a new compact oven is that there are too many countertop ovens on the market. It's a product that's an investment and something you're going to use for a long time.
| Image | Title | Buy on Amazon |
| --- | --- | --- |
| Top | Breville BOV900BSS Smart Oven Air Convection and Air Fry Countertop Oven, Brushed Stainless Steel | Buy Now |
| | KitchenAid KCO275WH Convection 1800W Digital Countertop Oven, 12", White | Buy Now |
| | Hamilton Beach Countertop Toaster Oven, Easy Reach With Roll-Top Door, 6-Slice, Convection (31123D), Silver | Buy Now |
| | BLACK+DECKER TO3250XSB 8-Slice Extra Wide Convection Countertop Toaster Oven, Includes Bake Pan, Broil Rack & Toasting Rack, Stainless Steel/Black | Buy Now |
We've spent hours searching for some of the top countertop convection ovens and we've spent endless hours researching all of them. The end result is what's available for you in this post – the top oven for your countertop that you can get your hands on in 2020.
The Breville Smart Oven Air is a perfect choice for people who are looking for a combination of modern technology, ease of use, air frying possibility and intuitive controls that will guide a beginner through the process.
What's the Best Oven for your countertop? – Breville Smart Oven
Sale
Breville Smart Oven Air Fryer Pro, Brushed Stainless Steel, BOV900BSS
The Breville Smart Oven Air with Element iQ System is a versatile countertop oven allowing you to roast, air fry...
ELEMENT iQ SYSTEM: Using 6 independent quartz elements, smart algorithms steer power to where and when it's needed...
AIR FRY & DEHYDRATE SETTINGS: Air fry French fries and other family favorites; Higher temperatures combined with...
SUPER CONVECTION TECHNOLOGY: 2 speed convection fan (super & regular) offers greater cooking control; Super...
13 COOKING FUNCTIONS: Super versatile countertop oven and air fryer with 13 functions to guide you to perfection:...
After hours of researching and testing a number of countertop ovens, we've come to the conclusion that this Breville is the best countertop convection oven on the market.
It's a modern oven that's well-sized, yet it's still compact so it can fit on any kitchen counter, features versatile presets, and is very easy to use thanks to the big buttons and a large LCD display.
It's much more than a convection regular toaster oven, it's a full-fledged convection oven.
Price-wise, this appliance offers a lot of value for the price it costs, and we believe it's priced aggressively considering everything it offers.
Here are the best main features which will make you want to buy it!
2-speed convection fan
Smart cooking elements for precision cooking
Air frying and dehydrate presets included
Large size, yet still compact design
Includes 13 cooking functions to choose from
A large LCD display with easy navigation
Modern and durable stainless steel design
Long warranty
Now, let's have a look at these best toaster oven features individually so you can get a clear idea of what Breville Smart Oven can do for you, and how you can benefit from it.
Convection Technology
If you've already been looking at various convection ovens, you will notice straight away that this convection oven is a bit different.
What's so special about Breville Smart Oven is that it features the most modern convection technology, which includes a 2-speed convection fan for better cooking control.
After testing this oven for many hours throughout the week, we noticed a more effective heat distribution inside the oven which resulted in faster cooking, along with other benefits.
A technological addition like this improves the use of this convection toaster oven because now you can use it for air frying, dehydration, and even roasting.
Precision on the Point
Along with a 2-speed convection fan, another feature that increases the value of this convection oven is the Element IQ.
Element IQ includes 6 quartz heating elements that are independent and have the ability to move the power wherever it's necessary. Different foods require different cooking settings, and Element IQ provides exactly that.
Power and heat are moved throughout upper and lower heating elements, depending on the setting and food type, to cook the food up to perfection.
Pre-Installed Presets
Another great thing about Breville is that it's a toaster oven that puts two different cooking modes into one oven.
Therefore, you get the chance to have both air fryer and dehydrator in one, thanks to available pre-installed presets.
Inside the toaster oven, you can dehydrate up to 4 trays of your favorite food at once, which is more than enough- making it suitable for large gatherings, family meetings, or celebrations.
Cooking Functions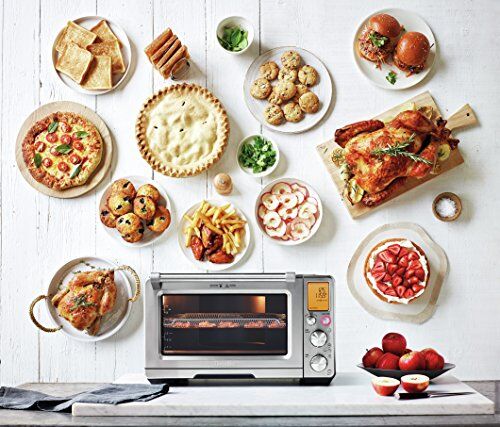 Is there anything better than having full guidance when cooking that results in a perfectly cooked meal?
There's no recipe that can do that, yet 13 cooking functions that come included with this convection oven can guide you in that
You can choose to make anything from nine slices of toast at once, bake, broil, roast, warm, air fry, reheat, slow cook, and dehydrate. There's even a function for making a bagel, pizza, proof, and cookies!
Yes! You read that right. This Breville is one of the top air frying convection ovens on the market. If you were looking for a toaster oven that could air fry, you've come to the right place.
This is not a typical convection oven, this is an appliance that will never leave you disappointed.
Easy-to-Read LCD Display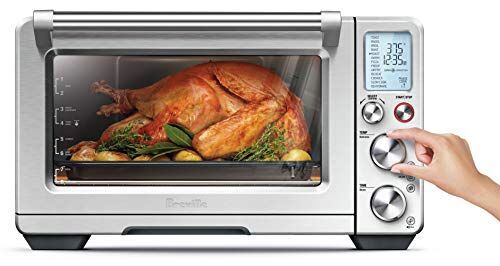 Since Breville included so many functions and presets, they needed a way for users to easily navigate through them and get exactly what they want in just a few seconds.
Therefore, they've come up with a large LCD display and only a few buttons. This eliminates confusion and smoothens the learning curve. So in case you're looking for your first small convection oven – there's no better choice than Breville Smart Oven Air.
With a few button presses, you'll choose your desired cooking mode and set everything ready for the cooking process.
Intelligent functional presets and features are listed in an easy-to-read list that is even visible at night thanks to the integrated oven light that automatically turns on after every cooking cycle and can be turned on with a press of a button.
Perfect Size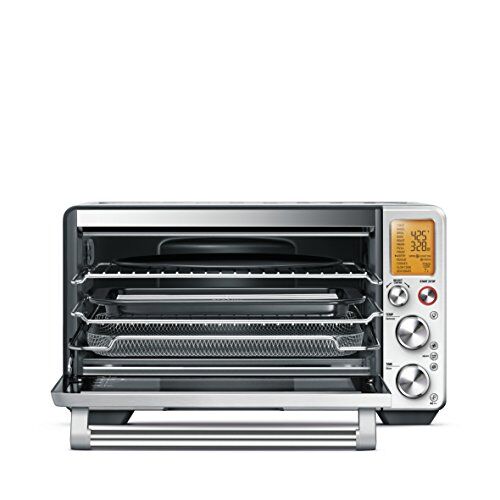 The size of Breville Smart Oven Air is 1 cubic foot which come with an interior that can accommodate nine slices of toast, a 14-lb turkey (or a whole chicken) in a baking pan, a bunch of french fries, and even a 12-cup muffin tray.
It can also fit any pans of size up to 9″x 13″ so you can get creative and cook anything you can think of.
We were surprised by its capacity since this compact convection oven doesn't look very large from the outside – which is a good thing. It can fit into any kitchen counter without a problem.
Breville Countertop Convection Oven Pros
Very versatile
Compact
Special Air Fry setting
Great build quality
Easy to use
Offers a lot of value for the price
2-year warranty
Breville Countertop Convection Oven Cons
Time control can't be turned off
Its price can be too much for many people
Verdict
The Breville Smart Oven is moderately priced, offering a lot of value for the price. It's equipped with a number of features that truly make this countertop oven a top of the line kitchen appliance.
Cooking and even baking cookies with this countertop oven has been a real pleasure and all you have to do is put in the food and choose the suitable settings and press the start button.
When compared to other countertop convection ovens in a similar price range, it's clear that this Breville Oven is leading at least a few steps ahead of any other toaster oven, at least within this price range.
For someone who's looking for their next convection toaster oven that won't disappoint or even a first toaster oven to try it out – there's no better choice than Breville Smart Oven.
Runner Up Choice – KitchenAid Convection Countertop Oven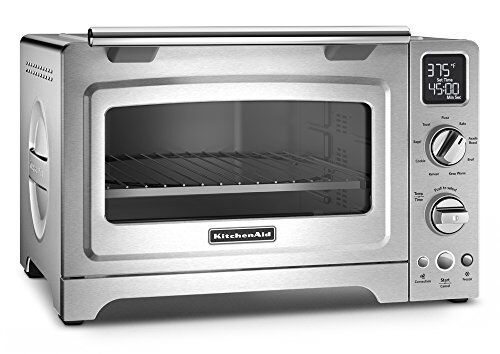 The Breville Smart Oven is definitely the top oven you can buy this year, however, we have to agree that it's on a pricey side.
If you're on a tighter budget, you'll probably want a very similar, "budget" toaster oven that will do almost everything that Breville Oven can do.
The KitchenAid countertop convection oven is a very affordable, yet very valuable toaster oven that comes with many features that allow users to take full advantage in the kitchen, and even replace their conventional oven.
And in the rest of this runner up section, you'll find out what makes this KitchenAid countertop toaster oven the second best choice, and why this might be the ideal appliance for you.
Here are some of the main features that will help you easily understand why is this our runner up choice but still one of our top picks:
Even cooking from heating elements throughout the whole cooking process thanks to the Even-Heat Technology
A 2-hour timer that can be set as a reminder
Pre-installed 9 programmed cooking functions for precise cooking (baking, broiling, and others)
Offers plenty of space inside the oven
Can fit up to a 13 inch pizza
Easily fits six slices of toast
Necessary pans and racks are included
Easy to use
Big viewing window and interior light
Top handle that stays cool no matter what
And now when you know what KitchenAid appliance has to offer, it's time to have a look at the features individually to really see how you can benefit from this best toaster oven.
Full-Size Oven Performance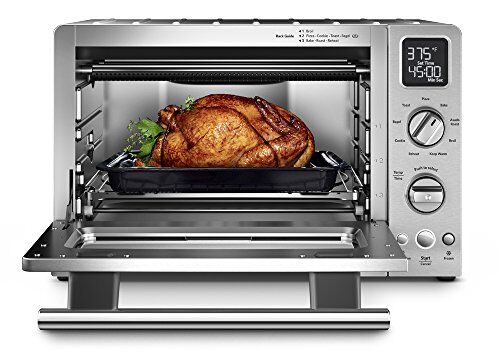 Even though this is an oven for your countertop, it's the next best oven you should get if you're looking to replace your full-size one.
You shouldn't underestimate its size, because it's equipped with features that can replace your full-size, conventional oven at any time.
You are able to do anything, including baking a 13 inch pizza, broil a side dish, or keep cooked dish warm. You could even toast up to six slices of bread.
Programmed Functions
With help of 9 programmed functions that come included with this KitchenAid tabletop oven, you won't have to guess the settings and test out different ways to get the best out of the recipe you're following.
With a simple twist of a button, you get to choose between cookie, bagel, toast, pizza, bake, Asado roast, broil, reheat and keep warm function.
Any of these functions will make sure that you get a perfectly cooked meal inside out, and even keep your food warm and ready for the next meal.
Capacity
KitchenAid countertop convection toaster oven offers enough space to cook a pizza up to 13″, or even Cornish hens.
It's a full-size oven that will allow you to cook and bake anything you would usually bake or cook in your regular-sized oven.
Therefore, it's fair to say that this countertop convection toaster oven might even replace your conventional oven.
Ceramic Coating
The sides, top, and bottom of this full-sized countertop convection toaster oven is coated with a CeremaShield technology that is a non-stick surface that is also scratch-resistant.
The interior is completely PTFE/PFOA free, so you won't ever have to be worried about using this appliance in the long run.
Even cleaning this countertop oven isn't a problem, it's a breeze which shouldn't take you very long, thanks to the coating that prevents sticking.
Accessories Included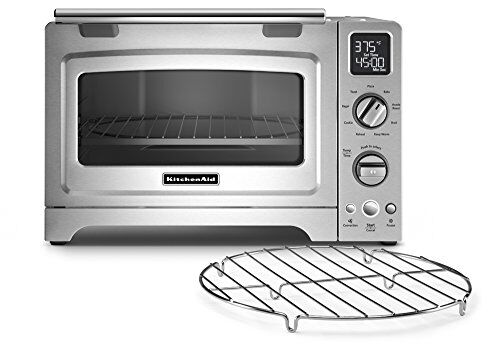 Another great thing about this countertop oven is that it includes everything necessary you would need to start baking the same moment you unbox this product.
You will get one multipurpose baking pan, broiling rack, cooling rack, and drip tray. These accessories are coated with a non-stick coating, just like the interior of the oven, in order to provide easier cooking and baking, eliminating the common problems and issues.
Once you have to clean the oven, simply remove the accessories and give them a nice wipe with a wet cloth and a bit of soap. That'll do the trick, and you can forget about the stubborn grease buildups.
Smart Timer
This KitchenAid countertop convection oven features a smart 120-minute timer that you can use to set the time to remind yourself when a dish will be done.
What we have really liked about this timer is that it offers plenty of time, making sure that you never run out of time on the timer feature, so you can follow any recipe precisely and accordingly in time.
You can set your favorite dish to bake or cook, set the timer, and lay back until the timer rings.
Pros
Very affordable price
1-year limited warranty
Even-Heat Technology for even cooking from heating elements (also uses less energy)
Programmed functions for better precision
120-minute timer
A decent size that can fit 13″ pizza
Interior light
Very strong and reliable build
Minimalistic yet attractive design
Cons
Customer service isn't the best
Roasting isn't very efficient
Doesn't have multiple rack positions
Verdict
If you're on a budget and can't spend a lot on a new oven, yet you're looking for a decent one – the KitchenAid countertop convection oven is one of the best toaster ovens for the money.
It features even cooking, efficient heating that uses less energy, and is equipped with many features that improve your baking and cooking, and it's very simple to use!
It can fit on any countertop space and still will fit well with any kitchen interior, due to its minimalist design and sleek stainless steel color.
This is one of the best overall countertop toaster ovens.
What is one of the best small toaster ovens?
When looking for a small toaster oven, you should give serious consideration to many of the great best toaster ovens on the market today.
It's possible to find a high quality and energy-efficient toaster oven that will have many of the cooking options of much larger appliances.
Therefore, in researching the best compact toaster oven, we've looked at a specific high-quality appliance.
The Hamilton Beach Toaster oven is the best compact toaster oven on the market.
Hamilton Beach Toaster Oven Review
Hamilton Beach Countertop Toaster Oven, Easy Reach With Roll-Top Door, 6-Slice,...
Easy access to food and countertop the roll top door moves up and out of the way so you can have safe, easy access...
Easy to keep clean door is up and out of the way of messy spills and drips
Convection, bake, broil & toast 2 rack positions and included bake pan makes it easy to get started on cooking a...
Fits 6 slices of toast, 12 inches pizza and 9 inches X11 inches bake pan Spacious interior gives you room for...
Easy to use contoured knobs not only is this new design easier to maneuver, but they're safer too
Pros
Compact Design
Convection setting
Easy to operate control panel
Safe open top
Takes up very little countertop space
Toasts quickly
4 slices of bread
Fits a 12-inch pizza
Removable crumb tray
Baking Broiling features
Cons
Limited timer
Loud convection fan
Not many options for rack positions
Accessories aren't dishwasher safe
Ineffective broiler
Exterior gets hot to touch
This Hamilton Beach toaster oven may not be the cheapest compact toaster on the market, but it does a great job when compared to its competitors.
Don't let its compact size fool you. This toaster can toast and bake like a champ. It heats food evenly (and fast) while using a small amount of energy.
Its small countertop footprint is great for kitchens with limited counter space, but it'll still fit four slices of bread or a 12 inch pizza!
There are manual knobs for adjusting time, temperature, and a small selection of various cooking options like toast, broil, roast, and bake. In addition to that, there's a timer to let you know when your food is ready.
This is a great budget convection oven for toasting bread, cooking frozen foods, or taking a pizza stone and cooking a pizza on it (with a golden brown crust!).
Its convection fan combined with the heating element will blow hot air enough to cook your food within a decent amount of time.
The exterior does get hot to the touch, so remember to not allow the cord to rest on it.
We're confident that you'll love the Hamilton Beach Convection Oven!
Do countertop ovens save energy?
Deciding to buy a smaller countertop oven might not only save you in terms of convenience (easier to clean) and faster cooking times for your food, but it'll save you money.
Countertop Toaster ovens and Convection ovens are huge energy SAVERS when compared to traditional ovens because they use up less energy.
This means that these countertop convection toaster ovens can cook the same food as large oven while using a small amount of counter space, smaller heating elements, and a smaller convection setting fan.
Your heating element in the oven will produce less heat to cook the same food, which means you'll get the same great even cooking but with a smaller electric bill.
What is the largest countertop oven?
We won't necessarily be looking at the largest countertop convection ovens, instead, we'll look at the best largest countertop oven that won't take up too much kitchen counter space.
Hands down, the best, largest countertop oven is the Black & Decker Convection oven.
A new report states that cooking with a small toaster oven might save you as much as 30% in energy costs versus cooking with a conventional oven. The savings will be even higher for those that cook often.
Black & Decker TO3250XSB Convection Oven Review
BLACK+DECKER TO3250XSB 8-Slice Extra Wide Convection Countertop Toaster Oven,...
Fits Most Oven Pans - Use the pans you already have. This spacious oven fits most standard 9"x13" oven pans...
Convection Heating - The powerful convection fan circulates warm air throughout the oven for fast, even baking....
Temperatures in the oven will be lower than your set point. This is due to advanced heating elements used in this...
60-minute Timer - The 60-minute precision timer features stay-on functionality for longer baking tasks. Dedicated...
Pros
Simple, intuitive controls
Heats quickly
Good value
Convection setting
Removable crumb tray
Cons
This Black and Decker Convection Oven stands head and shoulders above other small toaster ovens.
Its convection setting is a big appeal for customers.
In addition to convection baking (which circulates hot air), it's also good at broiling, toasting, reheating, and keeping food warm.
It has an interior light that comes on and stays on when the appliance is running.
It also has a 60 minute timer that automatically shuts everything off when bake time is done.
This Black & Decker is a fashionable kitchen appliance. Made from stainless steel that will last for years to come.
Its extra-wide interior can accommodate up to 8 slices of toast or a 12-inch pizza. It's also wide enough to easily fit most standard oven pans.
Having a large oven won't give you longer cooking times because the convection feature will cut those down. So no need to worry, it'll still cook fast!
It's certainly not one of the higher-end models like the Breville. But an appliance doesn't need to be one of the higher-end models in order to do its job well.
Its compact size, convection setting, slow cook feature, golden brown toast shade feature, quick cooking times, ability to toast 8 slices of bread or a pizza, will make it a household favorite.
This Black and Decker is a high quality, best overall countertop convection toaster oven that will look great on your kitchen counter!
Wrapping up with the best countertop oven
There is no doubt that Breville Smart Oven Air is the best overall of all the countertop ovens, however, it might be too pricey for some people.
We selected the Breville because it's one of the most powerful air fryer toaster convection ovens on the market. That means it can function as an air fryer today and as a convection oven tomorrow.
If you're getting your first small countertop oven, the KitchenAid Convection Oven is a great runner-up choice that will provide as quality baking and cooking as the Breville Smart Oven Air would.
However, it does lack some of the special features that the Breville has, like Element IQ and the ability to cook as an air fryer.
In the long run, both appliances will do a good job, and it's up to you to find out which countertop oven suits you the best and to see whether investing in a Breville Smart Oven Air will be a good choice for you that will pay off in the future.