In a hurry? Our top choice for the best cookware for glass top stoves is the Cuisinart 12 Piece Cookware Set.
Glass top stoves are very sleek and efficient, but way too many people mistake it for an induction stovetop, which is not the same thing. So when you're looking for the best cookware for glass top stoves, what should you look out for?
You're doing a great job by doing your research and you're in the right place.
Why?
In this article, we'll help you learn how to find quality cookware for glass top stoves, but we'll also review and show you some of the best cookware sets available for purchase online – so keep on reading!
Image
Title
Prime
Buy
HOMI CHEF 10-Piece Nickel Free Stainless Steel Cookware Set

Prime

Eligible

See Current Price

Top

Cuisinart MCP-12N Multiclad Pro Stainless Steel 12-Piece Cookware Set

Prime

Eligible

See Current Price
REDMOND Nonstick Cookware Set, 8 Piece Ceramic Aluminum Pans and Pots Set with Glass Lid and Stay Cool Handles

Prime

Eligible

See Current Price
Rachael Ray Brights Hard-Anodized Aluminum Nonstick Cookware Set with Glass Lids, 10-Piece Pot and Pan Se

Prime

Eligible

See Current Price
ELO Skyline Stainless Steel 10 Piece Kitchen Induction Cookware Pots and Pans Set with Air Ventilated Lids

Prime

Eligible

See Current Price
MICHELANGELO Stainless Steel Pots and Pans Set, Premium 10 Piece Stainless Steel Cookware Set German Technology, Pots and Pans Set Stainless Steel, 18/10 Stainless Steel Cookware Induction Compatible

Prime

Eligible

See Current Price
What is a Glass Top Stove and How Does it Work?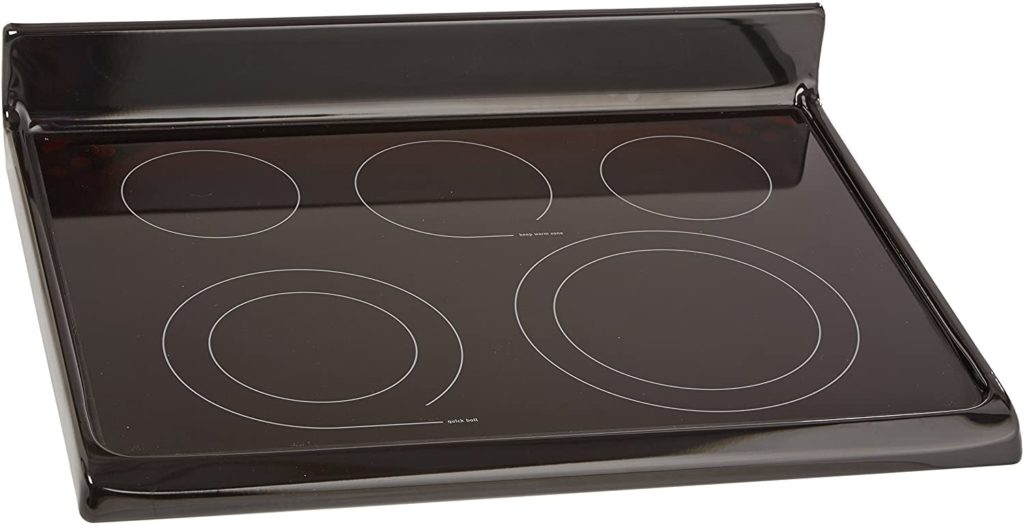 A glass top stove is a type of stove that features a glass-ceramic top with radiant heating coils underneath. Therefore, there's no physical ring on top of the stovetop – yet the "ring" is placed underneath.
From the view of a user, you can see the printed circle which lets you know where to place the pan/pot. This is the same area that the radiant heating coils underneath warm-up – so even though there are no physical rings on the top, the rings still provide efficient heat and they're as good as regular stovetops (if not even better).
However, you shouldn't confuse glass top stoves for an induction stovetop. These are two different things!
What's the Difference a Between Glass Top Stove and an Induction Stove Top?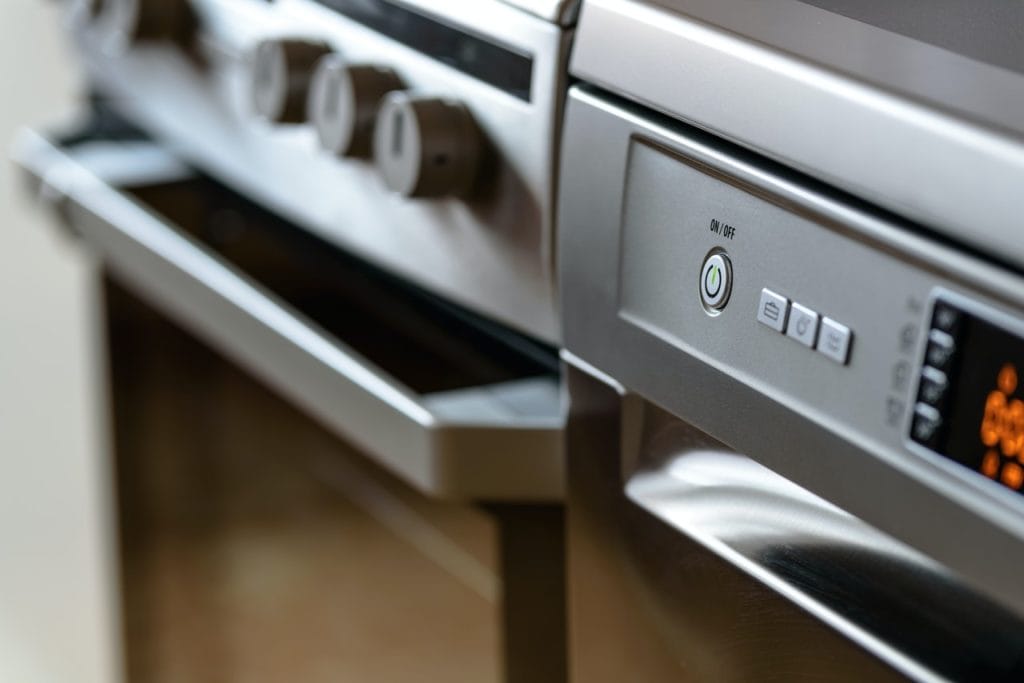 While both stovetops might look pretty much the same – the biggest difference is in the way they cook food.
We like to think that a glass top stove helps make the surface a lot more attractive with a couple of additional benefits. The heating system remains pretty similar and the only big difference is that it's hidden underneath.
However, the induction stovetop uses a completely different technology to provide heat. It uses electromagnetic energy that transfers the heat directly onto the cookware. Therefore, it eliminates the "middle-man" and that's why induction stovetops require a "special" type of cookware that features a magnetic bottom.
If you tried using non-magnetic cookware on an induction stovetop – no matter for how long you leave it on the source of heat, you will end up with a cold pan/pot.
However, you can use any cookware type on glass top stoves as these types of stovetops transfer the heat to the glass-ceramic surface first. From there, anything placed onto the surface will get heat.
Did you ever see the advertisement for induction stovetops where you can place your hand on the surface and not even slightly feel the heat? That's why induction stovetops only transfer the heat through the magnetic connection.
Of course, don't try this trick with glass stovetops as they transfer the heat directly to the surface so no matter what you put onto the surface – it will be exposed to heat.
How to Choose the Best Cookware for Electric Glass Top Stove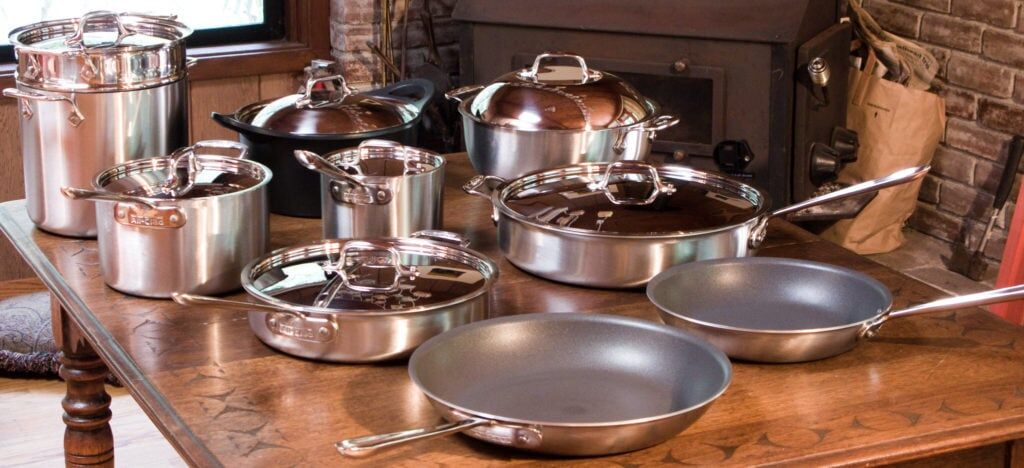 While it's fairly easier to find the right cookware for glass top stoves than for induction stovetops – there are still a couple of things you should look out for.
Why?
Glass top stoves are made from a combination of glass and ceramic so you would want to use quality cookware with a smooth bottom that won't scratch the glass-ceramic surface or cause any more damage than that.
Here's what you should look out for in cookware for glass top stoves:
Material type
Wide and flat bottom
A smooth bottom that won't scratch the surface
The decent thickness for optimal heat induction
One of the best material types for this type of cookware is stainless steel. This material provides enough weight to remain stable and yet it's the material that will be the last one to scratch the surface (if used properly).
It's also a material that helps provide cookware sets with a wide and flat bottom. This provides a better cooking area which results in no heat loss and better heat inductivity. The final result is a faster heat-up, better cooking, and great food release.
The flat bottom is also important so that there's nothing in between the metal and the glass top surface that would provide friction and possibly scratch the surface.
Also, you don't want glass top stove cookware that is too heavy, but still, the lightest cookware won't be a good option either. Therefore, you're looking for a cookware set that provides a decent weight but isn't too heavy or too light.
Of course, a budget will play an important role in the selection process – but we did our best to find sets that are suitable for everyone's budget and yet will provide decent performance.
Best Cookware for Glass Top Stoves
Everything you've just learned above, we put it to work and found some of the best cookware for glass top stoves. Below, you'll most likely find at least a couple of glass stop stove cookware sets that will meet your needs and most importantly, your budget – so keep on reading!
Homi Chef 10-Piece Cookware Set
HOMI CHEF Nickel Free Cookware Set Copper Band – Nickel Free Stainless Steel Glass Top Stove Cookware – Non-Toxic Induction Cookware Sets
MIRROR POLISHED & COPPER BAND - This mirror polished copper band set is noble and elegant; cuts a fine figure both in the kitchen and at the dining table - Exterior copper band on the bottom combines superior culinary performance with classic beauty; offers fast and even heat conductivity - Set includes 1 QT covered saucepan, 2.5 QT covered saucepan, 7 QT covered stockpot, 8 fry pan, 9.5 fry pan and 2.5 QT covered saute pan - Discover the gourmet chef in you with this beautiful set.

NICKEL FREE HARM FREE - Nickel-bearing steel, being more corrosion-resistant, is commonly used in industry, BUT nickel is high up on the ATSDR list of priority toxins, and nickel LEACHES under regular cooking conditions. Nickel is a known reproductive toxin and is a carcinogen in higher amounts. - Ours is food grade NICKEL FREE JYH21CT steel (21/0): non-toxic, non-allergic. NICKEL FREE is also more heat-conductive. Tests show a noticeable degree (12-15%) of energy savings.

NO COATING NO RISK - General non-stick coating cookware releases toxic fumes when cooking. The coating usually lasts only for 1-2 years, and thus it will eventually be eaten by the owner. Our cookware set does not apply any coating, and is free of health hazards. Its heat surround technology & 3-Ply construction provides consistent and even heating, eliminate hotspots effectively, and hence achieve natural stick resistance without toxic PFOA and PTFE.

ADDITIONAL FEATURES - 5MM thick 3-Ply construction in the base (one layer of pure aluminum core sandwiched between two stainless steel layers) ensures optimal heat distribution & storage, thus faster cooking, better nutrition and more energy savings - Riveted handle stays cool on the cooktop - Flared rims ensure drip free pouring - See-through TEMPERED GLASS lid circulates heat and moisture - Compatible with gas, electric, induction, ceramic, glass and halogen stovetops; Oven & Dishwasher safe.

DEVOTED CUSTOMER SERVICE - Genuine HOMICHEF cookware products, certified by ISO9001, BSCI, etc. - TRADEMARK filed in U.S.A. - In business since 1998 - This product comes with 1-MONTH full refund trial period & LIFE-TIME Customer Service - You can always come to us for discounted parts, cooking consultations, and customer service at HOMICHEF store on Amazon.
This cookware set from Homi Chef is made from stainless steel which doesn't only provide a durable design but it creates a perfect bottom suitable for glass top stoves.
In this 10-piece set, you'll get:
Two saucepans with lids
Stockpot with lid
Two frying pans
Sauté pan with lid
Slotted turner
Spoon
The exterior of each piece is crafted using sturdy hard enamel porcelain which helps stand up to the high heat that surrounds this glass top stove cookware in your kitchen.
This is a three ply stainless steel and aluminum build. These layers of stainless steel ensure durability and its ability to excel at cooking on a glass top stove.
The inside of each piece is enhanced with a non-stick coating for smooth food release and easy cleaning. However, it features no PFOA or any other chemicals.
These handles come with a rubberized grip that provides comfort and control over any pot or pan – no matter how heavy or light it gets. You'll never have to think twice before grabbing the handle when you're multitasking in a busy kitchen.
Each piece within this set is oven safe up to 400 degrees Fahrenheit so this will add even more versatility to your kitchen. 400 degrees Fahrenheit may not be as high as some of the other types of cookware, but considering the price and the number of pieces that this set brings, it's one of the best overall bargains.
Cuisinart Multiclad Pro Stainless Steel 12-Piece Cookware Set
Cuisinart MCP-12N Multiclad Pro Stainless Steel 12-Piece Set
Polished cooking surface does not discolor, react with food or alter flavors.

Cookware also features cool grip handles secured with steel rivets and self-basting, tight fitting lids, Triple-Ply construction includes the unsurpassed heat conductivity of a pure aluminum core. It insures maximum heat retention and even heat distribution, eliminating hot spots

Oven safe up to 550F, Rims are tapered for drip-free pouring.

Tight-fitting steel covers seal in foods natural juices and nutrients for healthier, more flavorful results. Covers are dishwasher-safe

12-piece set. The set consists of: 1-1/2- and 3-quart covered saucepan; 8- and 10-inch open skillets; 3-1/2-quart covered saute pan; 8-quart stockpot; steamer insert with lid. 12 pieces total. Professional Triple Ply Construction features a core of pure aluminum and a brushed stainless exterior

Suitable for use with induction cook tops

Drip-Free Pouring Rim Tightfitting cover seals in moisture and nutrients for healthier, more flavorful results, every time you cook

Included components: 12 PC
There is no shinier full stainless steel cookware set than Cuisinart Multiclad Pro. This is a 12-piece set that provides great cooking performance without any discolor or reaction with the food – thanks to the build quality using steel.
In this 12-piece cookware set, you'll get:
Two saucepans with lids
Two skillets
3-quart saucepan with lid
8-quart stockpot with lid
Steamer insert with lid
The bottom of each piece is made using triple-ply technology which combines aluminum and stainless steel to produce sturdy, reliable, and quick-heating bottom.
While this is a perfect type of cookware you'd want to use with a glass top stove – it's great to know that this cookware is also suitable for induction stovetops. Therefore, if you ever plan on upgrading – you won't have to change your whole cookware set.
Another great feature that we rarely see is the drip-free pouring rim which can be a lifesaver. This makes it so easy to clean!
If you ever had to scrub the food that poured over onto the glass top – you'd know how much this feature is appreciated!
Redmond Non-Stick 8-Piece Ceramic & Aluminum Cookware Set
REDMOND Nonstick Cookware, 8 Piece Ceramic Aluminum Pans and Pots Set with Glass Lid and Stay Cool Handle for Stovetops, Induction Cooktops, Dishwasher/Oven Safe, Turquoise Blue,CS004
8 Piece Set: REDMOND nonstick cookware contains 8.2-inch fry pan, 10-inch fry pan, 1.5-quart sauce pan with lid, 2.5-quart casserole with lid, and 5-quart casserole with lid used for your daily cooking

Eco-friendly Ceramic Nonstick Coating: The pots are made of 2-Layer nonstick coating manufactured without PFAS and PFOA. Easy to flip food and clean up. Just require less oil or butter to cook and there is less fumes than iron skillet when cooking

Stay-cool Handle & Visible Glass Lid: The stainless steel handle is stable and good for heat dissipation. Lids are made of heat-resistant & shatter-resistant tempered glass. You can watch your meal cooking progress. The lid handle also can stand up during cooking for easy storage

Fast & Even Heating: Nonstick cookware is made of high grade aluminum alloy and stainless steel base for even & fast heating. 360 degrees heat uniform, the cooking effect is better than ordinary aluminum pot

Usage & Care – The pan and pot sets are suitable for all stove tops like gas, electric, halogen, ceramic or induction cooktop. This set (excluding lid) is oven safe up to 500℉/260℃ and dishwasher s
If you're a big fan of ceramic or aluminum cookware, you can still use this type of material on a glass top stove efficiently. How?
Redmond created a base from stainless steel for the inductivity benefits and the rest of the frame is built from aluminum & ceramic material.
Such combination provides benefits of both materials but also makes every piece within this set eco-friendly.
In this 8-piece cookware for glass top stove set, you'll receive:
Two fry pans
Saucepan with a lid
Two casseroles with lids
The inside of the glass top stove cookware is made from a 2-layer non-stick coating that is PFAS and PFOA free. It provides effortless food release, ensures that food doesn't ever stick, and you'll never find yourself scrubbing the pans after cooking dinner.
Its handles stay cool and are designed to provide stability (even though these pans and pots aren't very heavy), but these handles also ensure that you don't burn yourself.
Rachel Ray Hard-Anodized Nonstick 10-Piece Cookware Set
Rachael Ray Brights Hard-Anodized Aluminum Nonstick Cookware with Glass Lids, 10-Piece Pot and Pan Set, Gray with Orange Handles
Superior, long-lasting nonstick technology: Pot and pan cookware interiors are coated in premium, durable nonstick for impeccable food release after you cook.

Hard-anodized aluminum, quick to heat cookware: Nonstick pot and pan set boasts hard-anodized aluminum construction for long-lasting durability with swift, even heating.

Sturdy, easy to grip handles and glass lids: Glass top cookware features double-riveted grippy handles. Shatter resistant glass lids make it easy to keep an eye on your cooking.

Oven safe, Dishwasher safe: Versatile cooking pot and pan set is safe to 350 degrees Fahrenheit and dishwasher safe for mess free, easy cleaning.

Product details: Rachael Ray 87375 Brights hard-anodized nonstick cookware , includes 1 quart saucepan & 2 quart saucepan w/ lids, 6 quart stock pot w/ lid, 3 quart sauté pan w/ lid, 8.5-inch frypan & 10-inch frypan
Rachel Ray produced hard-anodized nonstick cookware with long-lasting nonstick technology with premium and durable coating on both inside and outside.
One of the biggest benefits of hard-anodized cookware is quick heating up but also even heat dispersion without any heat spots.
On the inside, you'll find a durable nonstick coating that helps offer excellent food release which will save you hours you'd spend cleaning pots and pans that don't have a nonstick coating.
Of course, this nonstick coating is made free of chemicals such as PFOA and PFAS.
Each piece is sturdy and comfortable to use and within this set, you'll get:
1-quart saucepan with lid
2-quart saucepan with lid
Stockpot with lid
3-quart saute pan with lid
Two frypans
Its handles come with a coated grip that provides more comfort but also ensures that heat doesn't get to the handles. If it's high heat, you still may feel it, but it'll be nowhere near enough to burn your hands.
This cookware set includes tempered glass lids and is great cookware for glass top stoves.
Each piece within the set is safe for your oven up to 350 degrees F and it's also safe for your dishwasher. So after cooking, just rinse the pot/pan and let the dishwasher take care of the rest!
ELO Skyline Stainless Steel 10-Piece Cookware Set
ELO Skyline Stainless Steel Kitchen Induction Cookware Pots and Pans Set with Air Ventilated Lids, 10-Piece
GERMAN ENGINEERED HIGH QUALITY COOKWARE: ELOs 10-piece Skyline cookware is among the best in the world and is rated to be one of the best cookware brands available today.

MATERIAL: Each pot and pan is made of stainless steel 18/10 and is polished with a high gloss inside and out. Each lid is made using a stainless steel rim and transparent glass with a ventilated air vent. See below for more details.

EASY AND READY TO USE: Each pot and pan is made with a capsulated bottom for an even distribution of heat. Equipped with ergonomic handles, ELOs Skyline set is ready to be used on electric, gas, induction and glass ceramic stoves.

EASY TO CLEAN: Dishwasher safe.

1 YEAR WARRANTY: Backed with a 1 year warranty, ELO is completely confident that you will love their product or we will refund your money back, no questions ask
You might not be familiar with ELO cookware products, but Skyline cookware is built with german-quality stainless material that means only one thing – high-quality cookware pieces.
In this glass cooktop set, you'll get:
Two low casserole pots with lids
Two casserole pots with lids
Saucepan with lid
The great thing about the use of stainless steel material is that it's fully compatible with glass top stoves. However, we should also mention that you can use this cookware set with other stove types, including induction.
We really like the capsulated bottom that provides even heat distribution while the nonstick surface results in great food release without having any cleaning worries in the back of your mind as you cook your favorite dish.
Ergonomic handles are also made of stainless steel material and even though they don't feature any coating – they don't transfer the heat so you won't have to worry about burning your hands. On top of that, they feel very sturdy and are comfortable which improves safety.
Michelangelo Stainless Steel 10-Piece Premium Cookware Set
MICHELANGELO Stainless Steel Pots and Pans Set, Premium 10 Piece Stainless Steel Glass cooktop Set German Technology, Pots and Pans Set Stainless Steel, 18/10 Stainless Steel Cookware Induction Compatible
PREMIUM STAINLESS STEEL - Michelangelo stainless steel pots and pans set is constructed of 18/10 stainless steel material with an aluminum core for quick heating. The high quality stainless steel cooking surface of this cookware does not react with food or alter natural flavors, thus providing consistent cooking results

FLAVOR LOCK LID & COOL GRIP HANDLE - The Stainless Steel Saute Pan, Sauce Pans (x2) and Stock Pot each comes with a glass lid. The glass lid seals in the flavor and nutrients for a healthier and better tasting food. Heavy-duty stainless steel handles provide a secure, solid and comfortable grip. The handles are double-riveted by hand and stays cool to the touch, at all times

QUICK AND EVEN HEAT DISTRIBUTION - The extra thick impact-bonded aluminum disc layer in the bottom provides an even heat distribution and prevents hot spots when cooking for consistent and professional performance

VERSATILE INDUCTION COOKWARE - The pots and pans set stainless steel is compatible with gas, electric, induction and ceramic glass cook tops. Dishwasher safe, premium mirror finish stainless steel cleans easily and doesnt discolor. Oven safe & broiler safe up to 500°F

10 PIECE GLASS COOKTOP SET FOR VARIOUS COOKING TASKS - The 10 piece stainless steel pots and pans includes: 11 inch stainless steel saute pan with helper handle & lid, 8 inch frying pan, 10 inch frying pan, 2.5 quart sauce pan with lid, 2 quart sauce pan with lid, and 5 quart stock pot with
Michelangelo uses only the premium material to produce their cookware sets and there's no doubt that this stainless steel cookware set is made with quality in mind.
18/10 steel with the help of an aluminum core helps provide quick but even heating starting from the bottom base.
Even though the whole set is made from stainless steel, you won't ever have to worry about food reactions. The material won't react to natural flavors and it won't change the flavor at all.
In this 10-piece premium set, you'll get:
Saute pan with helper handle and lid
Two frying pans
Two saucepans with lids
Stockpot with lid
Lids are made to lock well into the pots and pans which only benefits the flavor as it helps lock in the moisture.
Handles are very sturdy which gives us a reliable feeling we really like to feel when dealing with stainless steel cookware.
Drip free pouring rim is also a small but very wise feature that can help save you hours of scrubbing your glass stovetop after food spill outs.
Wrapping up
While most people think that stainless steel cookware sets are most likely out of their budget – that's not really true.
We were able to get our hands onto pretty quality stainless steel sets that won't break the budget and yet they'll take your cooking results to another level.
But of course, price is not the only factor you look out for. Cooking on a glass top stove has never been simpler or more budget-friendly.
Our quick how-to guide above the reviews shows exactly what to look out for when you're shopping for cookware for your glass top stove.
Were you able to find the best cookware for glass top stoves in this article?