In a hurry? Our top choice for the best smoker grill combo is the Oklahoma Joe's Highland Offset Smoker from Char-Broil. Its strong customer reviews, durability, and reasonable price make it our top choice.
What is a Smoker Grill Combo?
A smoker grill combo is a combination of a smoker and a grill in one unit.
This type of device is very popular among people who enjoy both grilling and smoking meats, as it allows them to do both at the same time.
The smoker grill combo is also very convenient, as it eliminates the need to have two separate appliances.
The grill side is fueled by charcoal or gas, while the smoker side is almost always a pellet grill.
Howver, there are some smoker grill combos, like the Kamado style grill, that combine both into one combo grill.
So it can smoke or grill right within the same cooking space.
Many people prefer to use smoker grill combos that are powered by gas, as this provides more consistent results.
However, charcoal-powered smoker grill combos also have their fans, as they can give a unique flavor and texture to the food that is being cooked.
Personally, I love the taste that a charcoal combo grill produces. However, I almost always end up using my gas grill because I need to cook food and then move onto something else in my day.
Whichever type of smoker grill combo you choose, you are sure to enjoy deliciously smoked and grilled meats.
There isn't one best grill smoker combo for everyone. The best grill and smoker combo is the one that does most of what you want at a price point that you're comfortable with.
Benefits of Smoker Grill Combo, rather than separate units
A smoker grill combo is a great way to enjoy the best of both worlds – the smoker for slow-cooked, flavor-packed food, and the grill for quick, juicy meals.
The best smoker grill combo will offer many benefits, including the ability to cook two different types of food at the same time, using two separate heat sources.
This means that you can cook your steak on the grill while your brisket smokes away in the smoker, all without having to worry about cross-contamination.
The best smoker grill combos also offer greater temperature control than traditional grills, as you can adjust the temperature of each individual unit separately.
This allows you to create complex flavor profiles that would be difficult to achieve on a single grill.
This is an ideal choice for those who love to entertain, as they provide everything you need to cater to a crowd.
Whether you're hosting a backyard barbecue or smoking a whole hog, a smoker grill combo will help you do it all with ease.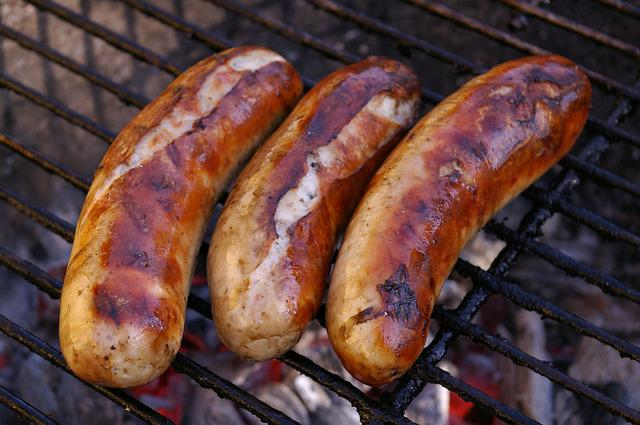 Best Smoker Grill Combos
Kamado Joe 18-Inch Charcoal Grill Smoker Combo
Kamado Joe KJ15040921 Classic Joe III 18-inch Charcoal Grill with Cart and Side Shelves, Blaze Red
Premium 18″ ceramic grill with heavy-duty galvanized steel rolling cart with locking wheels.

Patent pending SlōRoller Hyperbolic Smoke Chamber - The first of its kind, the revolutionary SlōRoller leverages Harvard science that transforms a Kamado Joe into one of the world's most optimal smokers. By distributing smoke and heat in rolling, recirculating waves, the SlōRoller surrounds food in clouds of delicious smoke while evenly distributing heat—resulting in enhanced flavor and significantly reduced hot spots.

3-Tier Divide & Conquer - Divide & Conquer Flexible Cooking System transforms the humble grill grate into the most powerful cooking tool in your arsenal. The revolutionary multi-level, half-moon design frees you to cook different foods in different styles at different temperatures—all at the same time.

Kontrol Tower Top Vent - Maintains consistent air setting for precise airflow management during dome opening and closing. Constructed of powder-coated cast aluminum, the patent-pending dual-adjustment top vent is rain and mold-resistant and allows you to smoke from 225F all the way to searing at 750F.

Air Lift Hinge – The air lift hinge significantly reduces dome weight. The grill dome can be lifted with a single finger giving the most comfortable grilling experience there
Dual Fuel Combination Charcoal/Gas Grill
Dual Fuel Combination Charcoal/Gas Grill
Product measures approximately 49.75 H x 28 W x 64 L Carton measures approximately 14.96 H x 24.8 W x 41.34 L Weighs approximately 89.5 lbs. (102.7 lbs. in the box) Model# GBC17
Z Grills 8-in-1 Pellet Smoker Grill Combo
Z GRILLS ZPG-7002B 2020 Upgrade Wood Pellet Grill & Smoker, 8 in 1 BBQ Grill Auto Temperature Controls, inch Cooking Area, 700 sq in Black
ULTIMATE 8-IN-1 WOOD PELLET GRILL & SMOKER - bbq✓bake✓roast✓braise✓smoke✓grill✓sear✓char-grill, you can do everything on here

PELLET GRILL TECHNOLOGY - It's the best and easiest way to get wood-smoked flavors. Anyone will instantly realize the taste is better than a gas or charcoal grill

MAKES YOU A GOOD CHEF - One button starts up, this pellet grill will maintain the preset temperature within 10 degrees fluctuation and produce the optimal amount of smoke, easy and steady

FOR FAMILIES AND PARTIES - Features 700 sq inches of wide cooking space that allows you to place all at once and cook efficiently, 180° to 450° F Adjustable temperature range gives you great flexibility for different food

LESS PELLET FILLING, MORE SMOKING - The 20 lbs large-capacity pellet hopper offers a longer cooking time, eliminating the need to refill the hopper constantly

STAINLESS STEEL BUILT - High resistance to corrosion, longer-lasting, with a sleek and polished finish

Cover included, no need to purchase separately; US Based Brand, Manufacturer 3-year warra
Pit Barrel Cooker Classic Package
Pit Barrel Cooker Classic Package – 18.5 Inch Drum Smoker | Porcelain Coated Steel BBQ Grill | Includes 8 Hooks, 2 Hanging Rods, Grill Grate and More
EFFORTLESS: Whether you're new to outdoor cooking or an expert trying to perfect your craft, cook perfectly every time with the Pit Barrels 360º All-Round Heat Dynamics. Our vertical barrel cooker technology produces consistently great-tasting, flawlessly cooked meat, veggies, and more

VERSATILE: The cooking possibilities are endless. For the perfect smoked meat, grill or hang ribs and brisket using the hooks and steel grill grate or use our custom GrillGrate for sear-marks and to smoke everything from burgers to desserts

DURABLE: Each Pit Barrel Cooker is made with a superior-grade porcelain enamel finish that looks great and is designed to withstand everything from the internal heat to weather conditions

PORTABLE: Our cookers are made to be lightweight and compact to fit in most vans, SUVs, and truck beds. Use the handles on the side to easily lift and transport to wherever your grilling skills are in demand. Easily fits 8 Racks of Ribs, 2-3 Pork Butts/Shoulders, Turkey Hangers allow for 2 16 lb Turkeys

THE COMPLETE SMOKER STARTER: Everything you will need to get started: The barrel (33" tall, including the lid and stand, and 21.25" wide, including the side handles), 2 Hanging Rods, 8 Stainless Steel Hooks, Standard Grill Grate, Charcoal Basket, and Hook Remover Tool (Seasonings Not Includ
Char-Broil American Gourmet Offset Smoker
Oklahoma Joe's Longhorn Reverse Flow Smoker
Oklahoma Joe's Longhorn Reverse Flow Smoker
1,060 total Square inch cooking surface- 751 Square inches in the main chamber, 309 Square inches in the firebox chamber

Reverse-flow smoker employs a Series of 4 baffles to guide heat and smoke through the main chamber delivering an even and delicious result

Removable baffles and optional smokestack locations for a customizable setup. Number of Grates: 4

Firebox chamber features large stainless Steel fuel basket and clean-out door for easy ash removal

Heavy-gauge all-steel construction, porcelain-coated cooking grates and multiple dampers for easy heat and smoke cont
Dyna-Glo Signature Series Heavy-Duty Vertical Offset Charcoal Smoker and Grill
Dyna-Glo Signature Series DGSS1382VCS-D Heavy-Duty Vertical Offset Charcoal Smoker & Grill
Features five chrome-plated cooking grates and a total cooking space of 1382 square inches

Heavy-Gauge Steel Body Construction. The temperature gauge features a smoke zone which indicates the ideal temperatures for infusing the perfect amount for smoking flavor. Also, the cool to touch handles, allow you to access fuel and food safely.

Cool-touch spring lid grip provides safer access to food

Stainless temperature gauge with Smoke Zone indicates the ideal temperature for infusing smoke flavor

Oversized steel wheels for mobility before and after
Char-Griller Dual Function Gas and Charcoal Grill
Char-Griller 5030 Dual Function 2-Burner Gas & Charcoal Grill
Total cook area: 870 square inches

Primary cook area: 606 square inches

Easy dump ash pan

24, 000 BTUs

Porcelain coated cast iron grates

Side fire box Compatible

Heavy duty Steel construction

Adjustable grate Height

Temperature gauge

Powder coating fin
Camp Chef Wifi Woodwind Pellet Grill and Smoker
Camp Chef 24 in. WIFI Woodwind Pellet Grill & Smoker with Sear Box (PGSEAR) – WIFI & Bluetooth Connectivity
ALL NEW WIFI & Bluetooth PID controller automatically maintains cooking temperature with 4 meat probe ports, 4 meat probes, Sear Box which gets up to 900 F.

160 F to 500 F temperature range from slow smoking to grilling (25,000 BTU).

Dial in your smoke level with our Smoke Control with settings 1 - 10.

Slide and Grill technology that allows for direct flame cooking with temps up to 650 F.

Patented Ash Kickin Cleanout system that allows you to dump the ash after every co
Masterbuilt Gravity Series Digital Charcoal Grill and Smoker Combo
Masterbuilt MB20041220 Gravity Series 1050 Digital Charcoal Grill and Smoker Combo, sq. in, Black
Reaches 225°F in 10 minutes or 700°F in 15 minutes

Control temperature and cook time with the digital control panel or with smart device control using WiFi or Bluetooth

DigitalFan for precise temperature control

GravityFed hopper holds 10 lbs. of lump charcoal or 16 lbs. of briquettes for up to 8 hours of use

Convenient fold out cord storage in back of side shelf to prevent loss or damage to the power supply

Folding stainless steel shelf and stainless steel side shelf for extra preparation sp
Best Smoker Grill Combo Buying Guide
Are there any Downsides?
Smoker grill combo smoker grilling is a great way to get that smoky flavor without all the hassle.
However, there are some downsides to consider before you purchase one. for starters, smoker grills can be quite expensive.
If you're not careful, you could easily end up spending more than you would on a regular grill.
Additionally, smoker grills require more maintenance than regular grills.
You'll need to clean out the smoker section after each use, and you may also need to replace the smoker liner periodically.
Finally, smoker grills can be tricky to use, so it's important to read the instructions carefully before you get started.
With all that said, smoker grills are still a great option for those who want to add a smoky flavor to their food. Just be sure to keep the downsides in mind before you make your purchase.
Types of Smoker Grill Combos
Smoker grill combo barbecues are one of the most popular types of grills on the market today.
They combine the features of both a smoker and a grill, allowing you to cook different types of food to perfection.
The most common type of smoker grill combo is the charcoal smoker grill combo.
This type of BBQ grill uses charcoal as its primary fuel source.
Charcoal smoker grills are known for their ability to reach high temperatures, making them perfect for searing meat. They're also known for a delicious smokey flavor that can only be created using a charcoal grill or a pellet grill (never a gas grill).
However, they can be difficult to start up and control, so they are not always the best choice for novice smokers. If you are looking for a smoker grill combo that is easier to control, you may want to consider a gas grill smoker combo.
Gas smoker grills use either natural gas or propane as their primary fuel source for the grill side while still using wood chips or pellets on the smoker side.
They are much easier to control than charcoal smoker grills, making them a great choice for those who are new to grilling or for those that need to grill food faster.
However, they can be more expensive than charcoal smoker grills, and of course, the taste is not the same.
Charcoal Control – Minion Method
The Minion Method is a charcoal control method for smoker grills that results in consistent low and slow cooking temperatures for hours at a time.
The name comes from the fact that it requires placing a small number of lit charcoal briquettes (the "minions") in the bottom of the smoker, and then adding unlit briquettes on top (the "workers").
As the lit briquettes slowly burn, they ignite the unlit ones, resulting in a steady supply of low-intensity heat.
This method is ideal for smoking meats or other foods that require long cooking times at relatively low temperatures.
In addition to being extremely effective, the Minion Method is also very easy to set up and maintain.
As long as you have enough charcoal on hand, you can cook for hours without having to worry about temperature fluctuations. So if you're looking for a foolproof way to smoke meats or other foods, the Minion Method is definitely worth checking out.
Smoker Grill Combo Accessories
When it comes to smoker grills or pellet grills, there are a few essential accessories that everyone should have.
First, a good set of tongs is essential for flipping and removing food from the grill grates.
Second, a brush is essential for keeping the grill clean and free of debris.
Third, a cover is essential for protecting the smoker grill from the elements when it's not in use.
Fourth, a thermometer is essential for ensuring that food is cooked to the proper temperature.
Finally, smoker pellets are essential for adding flavor to the food.
These pellets can be made of various woods, such as hickory or mesquite, and they can be found at most home improvement stores.
By having these essential accessories on hand, you'll be able to make the most of your grill smoker combo.
Digital Thermometer
A digital thermometer uses an electronic sensor to measure the temperature of its surroundings.
It usually consists of a probe connected to a digital display, which can be used to read the temperature in degrees Celsius or Fahrenheit.
The probe is typically placed in the smoker grill combo, oven, or BBQ, where it will constantly monitor the temperature.
The digital display will then show the current temperature, as well as the maximum and minimum temperatures reached over a period of time.
Digital thermometers are used because they can provide accurate readings of the internal temperature of meats, making sure they are cooked to perfection.
Electric Charcoal Starter
If you love the taste of BBQ, then you know that it all starts with getting the perfect charcoal smoker grill combo.
An electric charcoal starter is a useful feature for any BBQ enthusiast, and it makes starting your smoker grill combo a breeze.
Simply insert the metal coil into your charcoal, plug in the starter, and watch as your coals heat up in no time.
No more waiting around for your coals to get hot enough – with an electric starter, you'll be ready to cook in no time. So if you're serious about your BBQ, make sure you pick up an electric charcoal starter.
Wrapping up with the Best Smoker Grill Combo
We hope that you enjoyed this article about the best smoker grill combo barbecues and our mini smoker grill combo reviews.
Whether you're looking at pellet grills, a regular charcoal grill smoker combo, or trying to find a propane grill smoker combo, any of the smoker grill combo units mentioned in this article will serve you well for years to come.
It'll come down to the features you're looking for and your budget.
The best smoker grill combo is the one that has what you're looking for at a good price.