Did you lose your bread maker manual?
One of the most common problems is losing the user's manual (you know, the little book very few people read). This might not be a problem – until you really need some information about your bread machine.
Even though this can be a really frustrating problem to have – it's really simple to solve. Ask yourself, what is the main reason I need the manual for?
We are here to help you find the exact manual for your bread machine. But don't think we'll be coming to your home to help with the search!
We'll refer you to some online resources where you'll be able to find and download the exact same manual – in a digital format.
Other than this, we'll also help answer the most common questions from the user's manual which are related to bread machines, so you won't have to spend hours searching the manual, even once you find it.
If this sounds like something you're looking for – stick around and enjoy the gem of information you will find in this article!
All You Need to Know About Bread Machine Manual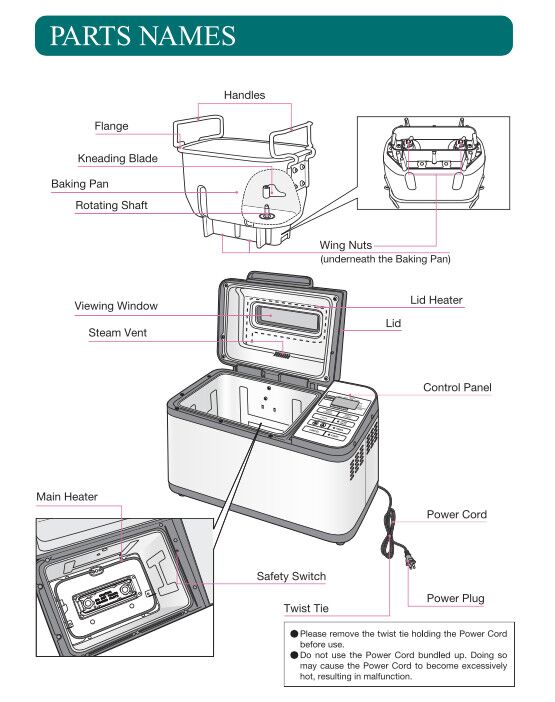 The most important information inside every bread machine manual is pretty much the same – and it consists of:
Bucket capacity
Settings panel
Ingredients
Timer
And some helpful hints
Of course, the main purpose of a manual is to help you get to know your bread maker while you're also learning the most important factors and necessities.
While most people with prior technical experience will be able to handle appliances such as a bread maker, some of you will still require a manual for this – and that's okay.
But no matter how skilled you are – there is some information you should know before using a bread machine.
Why?
Because bread makers are something that requires precision. You're making your personalized bread using the breadmaker after all, right?
Winging it isn't something you'd want to be doing, especially if it's the first time using a new bread machine.
Therefore, refer to some of the basics that we'll list. We believe anyone should know them before using a bread machine – whether you're a first-time user or you're already feeling like a pretty knowledged user.
Basics You Should Know About Bread Machines (Before Using Them)
Bucket Capacity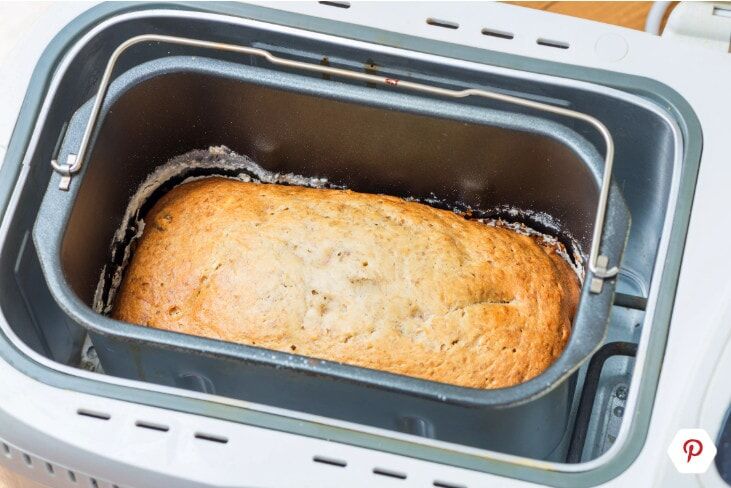 The most important thing to know before using the bread machine is the bucket capacity. You don't want to wing it and end up overfilling the bucket, making a big mess in your kitchen. This happens a lot because many people don't calculate in the time dough needs to rise.
Tip: Take the bucket out of the bread machine, fill it with water, and keep track how much water it can take before it spills out. This will tell you the exact capacity of your bread machine's bucket.
Settings Panel
It might be hard to face the settings panel (especially since it's different on every bread machine), but it's actually pretty simple once you know the whole bread-making process.
Each button has its own purpose, and you will always find buttons for speed, temperature, dough type, and more.
However note, that crust setting isn't available on all bread machines.
Ingredients
Most manufacturers will be explaining the way and the order ingredients should be placed inside the bucket before starting the baking process.
However, this order is used by 90% of the manufacturers and bakers (around the world), and it's not a mystery.
Tip: First ingredients should always be liquid, and then you add the flour before mixing it properly.
Timer
A timer is exactly what it stands for, but how do you use it correctly? Even though it's simple, it's the one feature which can easily confuse people.
When you're preparing a bread, you would generally need a recipe. And any recipe will state the preparation time, ingredients, and so on.
Therefore, you should always refer to the recipe, even when you don't have a bread machine's user's manual.
Find the Bread Machine Manual Online
Remember the old times when you would receive a CD with any technical device or gadget? Those times are a long time gone – but new times are yet even better.
Nowadays, you are even able to find user's manuals online – if you do a thorough search. In fact, most manufacturers post all necessary information and data for users to download.
Here is a list of the most popular Bread Makers and their database of bread machine manuals:
Note: These manuals are posted by different manufacturers, and therefore, some of these will have an integrated database to find any of their bread machine models on a single page – while on some sites you will have to open the exact model in the shop page and refer to the additional information found on the site.
If your bread machine manufacturer or model haven't been featured in here – you can give the search a try yourself by typing "Manufacturer name + model name + user's manual" in any search engine.
Helpful Hints to Help You Solve Mistakes Without a Bread Machine Manual
While the bread machine manual can tell you a lot of information, it still can't solve some of the problems for you – especially if you have been doing something the wrong way.
Therefore, this part of the article is to help solve the most common bread machine problems with or without the user manual.
Bread is Too Hard
The most common mistake is not using chlorine-free water when preparing the bread ingredients. Chlorine and yeast react badly together and can itself be a reason the bread comes out hard.
Loaf is Coarse
The main reason for a loaf coarse is the low moisture content. Make sure you add the right amount of water in the maker when preparing the ingredients.
When to Stop the Bread Maker if You Want to Use Your Oven?
You can use a bread maker to only make the dough and then rely on the oven to bake the bread. It's possible, and if that's something you're looking to do – you should stop the bread maker after the dough cycle.
If you don't have a dough only feature, stopping a bread machine after about 20 minutes at a temperature of 425 degrees Fahrenheit
We hope that you've found this article informative and helpful. It can be a pain to lose a manual to a new appliance. Let us know in the comments below if we missed something important!.