Finding your first or the next perfect countertop oven is most of the time a complicated process, when in fact, it can be really simple.
And that's why, in this post, we're helping you find out which countertop oven you are, and which one is the most suitable choice for your needs.
Rest assured that any of these countertop ovens featured in this post is the best product in at least one category and you can't make a wrong choice – or a choice you'd regret later.
Therefore, have fun and enjoy finding out which of these unique countertop ovens fit your style – since not everyone's kitchen is the same!
Fanciest Countertop Oven – Nostalgia Retro Oven
See Price
Looking to fancy up your kitchen and possibly go retro? Combining a fancy countertop oven such as Nostalgia Retro oven is the best way to bring more life to your kitchen and possibly start with interesting design updates to your kitchen.
Powerful Enough
Even though this looks like a complete retro oven, don't mistake its power. It's actually a 1,500 watt powered countertop oven that can bake, toast, do convection bake or even broil any type of food.
In fact, it might even do so well to actually replace your traditional oven.
Adjustable Temperature
With four stages of heating adjustment, you can choose between heating the interior using only upper, lower, a combination of upper & lower, or none heaters.
This will help you achieve an even temperature between 200 and 450 Fahrenheit.
Clear-View Glass
Clear-view glass is our favorite part of the design which completes the full retro design yet is actually a high-temperature window glass that comes with a stainless steel handle.
You will never have to open the door to check on your food ever again and trust us, you'll love peeking through this fancy window.
Most Eco-Friendly Countertop Oven – Hamilton Beach 2-in-1 Countertop Oven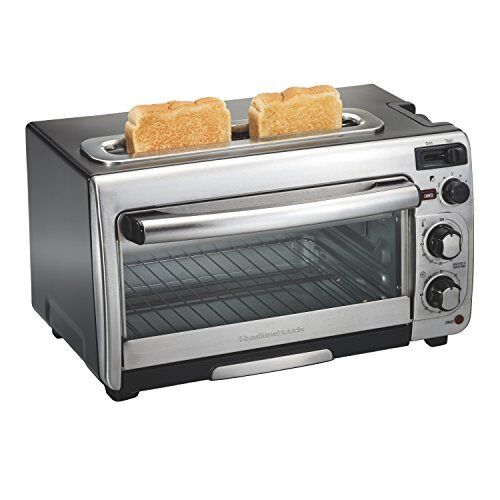 Love to save the world while you help save yourself some money by paying attention to your electricity spending? Hamilton Beach is a perfect 2-in-1 countertop oven that isn't only eco-friendly but offers a lot.
2-in-1
Not only this is an eco-friendly appliance but it's a combination of both countertop oven and toaster oven. This way, you get the best of both worlds where you can bake and toast a lot of different food and still save quite a lot of space.
Timer and Auto Shut-Off
This appliance features a 60-minute timer that is very useful to have and it even has an auto shut-off feature that helps with the economy.
Optional Stay-On Setting
An additional stay-on setting allows users to keep this 2-in-1 countertop oven on and heated for batch cooking and any other reasons.
Even though this is an eco-friendly appliance – you get the full control of it.
Best Low-Cost Countertop Oven – Black + Decker Countertop Oven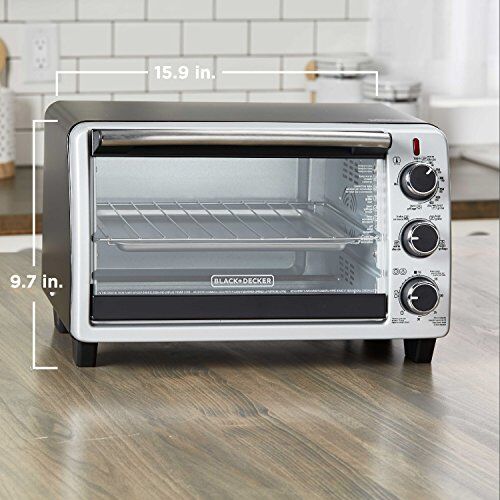 Being on a budget isn't fun, but it can be with a Black + Decker countertop oven. It's a very affordable oven that has plenty to offer and it can even be compared to some pricier models.
Convection Technology
For faster and more even cooking, you'll be surprised by the convection technology in this low-cost countertop oven model.
With the help of hot air that circulates inside the oven, you'll get the same results, if not better than using the traditional oven.
Large Interior
Even though Black + Decker countertop oven looks compact on the outside, it actually features a very large interior space.
You get to fit 9″ pizza, six slices of bread at once, or a variety of meals.
Two Rack Positions
A great benefit of a large interior is that you get two rack positions which you can use at the same time, which will allow you to cook more meals and prepare the meals faster than ever before without relying on the traditional oven.
Most Innovative Countertop Oven – GoWise USA Countertop Oven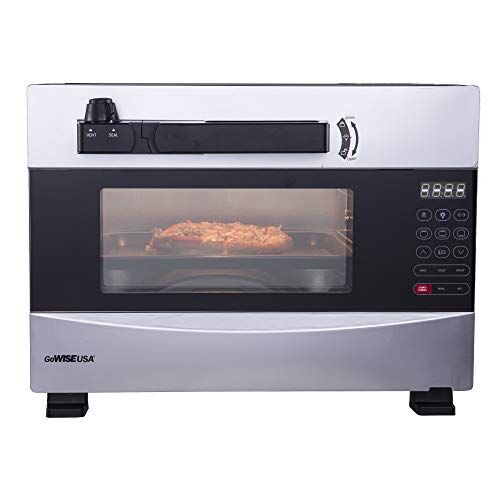 Straight away from the first look at the design, you're able to get amazed by the impression of GoWise USA countertop oven. It's definitely not what we're all used to and that's what makes it so special.
Pressure Oven Cooking
This countertop oven is far from compact, but on the bright side, that allows it to use the advantage of pressure for cooking.
It's an innovative way of cooking that will provide faster and more flavorful meals.
Built-In Rotisserie
You can prepare whole roasts, tenderloins and you'll be able to even fit a whole chicken. With a built-in rotisserie, it's fast, easy, and delicious.
Create Own Presets
You'll get 20 recipes included with GoWise USA countertop oven that will get you started, but nothing will match the ability to create your own cooking presets.
After you create a perfect preset, you can save it and use it later with a few button clicks – it's that simple.
Most Stylish Countertop Oven – EaZy BrandZ EZO-3016R Countertop Oven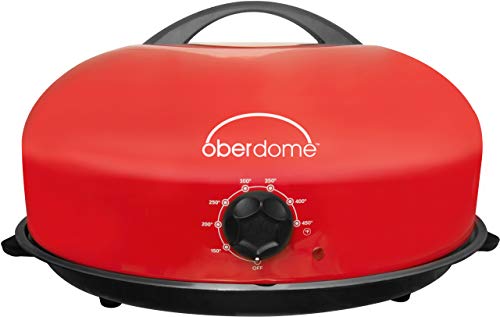 Looking to make your kitchen extra stylish? Say no more and go for an EaZy BrandZ countertop oven which is the most unusual yet the most stylish countertop oven on the market, and plus, it includes two in one function.
Fast Cooking
Thanks to its stylish design, this is an advantage that allows you to cook 51% faster than using other countertop ovens.
And not only the design helps you save space, energy, and space – you can cook faster than ever before.
Multi-Functional
Even though this countertop oven looks very compact and honestly small, it has plenty to offer. It can be used as an electric countertop oven and even as a roaster oven.
What we additionally like is that due to the compactness of this appliance – you get to even use it as a portable appliance when traveling or camping.
Easy to Clean
Since you can do a lot with such compact countertop oven – cleaning shouldn't be any harder either. A great benefit to cleaning is that the whole oven weighs only about 8 pounds which makes cleaning a lot easier.
You can take this apart, and even take it to your kitchen sink for a great clean.
That's just one of many reasons why this countertop oven is perfect for camping and traveling.
So, which one are you? Comment below.