In a hurry? Our top choice for the best stainless steel waffle maker with no Teflon is the Oster flip waffle maker. However, the one reviewed here is already ever available lately. A great alternative is this other Oster no Teflon flip waffle maker.
Over the last decade or so, appliance technology has been improving, therefore, Teflon is no only the only choice for nonstick surfaces. There are many waffle irons nowadays that are both stainless steel AND have a nonstick coating that is NOT made with Teflon!
Teflon is a material that is considered useful, however, more and more people are concerned about it.
The most common reason is the health consideration, as Teflon is a coating that is made of chemicals, which might in the long run cause cancer when used extensively and at high heat.
On the other hand, many waffle makers come with Teflon coating, and for people who don't want to settle for waffle makers with Teflon coating, it can be really hard to find the perfect waffle maker for their home use that doesn't come with Teflon.
That's why in this article, we're going to list and review some of the best stainless steel waffle irons with no Teflon, so everyone who's "hunting" for waffle makers with no Teflon can find the right for them.
If you're searching for a non-Teflon waffle maker with a stainless steel exterior, this article is for you!
To stick or not to stick?
Almost every single electric kitchen appliance features some kind of nonstick coating. Most are Teflon, but not all.
Nonstick coating doesn't mean that things won't stick without any spray or oil, it just means that food is much less likely to stick.
It's still common, even with a great nonstick coating, to use nonstick cooking spray or liberal amounts of butter or fat in your recipe or on the pan.
It's also a good idea to find a waffle maker with a "done" indicator so you don't overcook your waffle, thereby increasing the chance it will stick.
Other good features to consider are temperature control, and indicator lights and/or sounds.
Finally, having a fair amount of fat in your waffle batter will make sure that your waffle won't stick and taste delicious.
What Is Teflon?
Teflon is very well known as a non-stick coating that regularly comes in our Kitchen Appliances and cookware. But did you ever give Teflon a second thought or wondered what it actually is?
Teflon is based on a chemical formula which is called PTFE, and another chemical substance called PFOA.
I want to be clear, it's not proven that Teflon is an actual health risk, however, many people are skeptical about the chemicals that are used to make it.
Since I first wrote this article, I have decided to stop using Teflon.
Still, there are many people who don't mind and use it every day.
The American Cancer Society has stated that Teflon itself cannot be a suspected of causing cancer.
On the other hand, there are still many people who decided to drop all their Teflon kitchen appliances and use only kitchen appliances that don't come with that type of non-stick coating.
We're going to review three stainless steel waffle irons that are made with a nonstick coating that is not Teflon.
Below is a table that will allow you to quickly view these appliances, along with some basic information. For a more in-depth review, keep scrolling down.
Oster DuraCeramic Flip Belgian Waffle Maker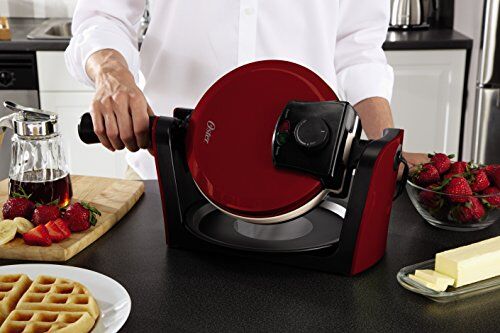 Oster is a very well-known brand, and it's a leading brand that manufactures waffle makers from stainless steel without Teflon non-stick coating.
Instead of Teflon non-stick coating, Oster has designed and patented their own DuraCeramic non-stick coating, which is proven to last 4 times longer than Teflon, and it won't flake or peel at all. This DuraCeramic appliance is a proven non-toxic waffle iron.
Oster DuraCeramic is a flip type of waffle maker, which will give you the ability to bake evenly cooked, extra thick Belgian waffles. The simple flip operation will spread the batter evenly, for even better and more evenly baked waffles.
Oster DuraCeramic Belgian waffle maker is free of PFOA and PTFE, which are chemicals that are used to make Teflon non-stick coating.
You will be able to save energy since the Oster DuraCeramic Belgian waffle maker has been designed to heat up to two times faster than regular waffle makers. Other than saving energy, you will also save time during baking, which will leave you more time to enjoy the waffles and less time making them.
Its temperature is also adjustable, so you will be able to control the light of your waffles, making them light and fluffy, or crispy.
Also, you might already know that the flip type waffle makers are more efficient at saving space when they're not used, thanks to their flip feature.
Even though Oster doesn't use Teflon, their waffle makers are still non-stick and scratch resistant. They're easy to use, easy to clean and make great waffles every time.
Pros
Healthy waffle maker which is free of Teflon chemicals
Scratch resistant
Fast cooking saves time and energy
Durable stainless steel and ceramic construction, which is 4 times stronger
Ability to bake extra thick Belgian waffles with a simple flip operation
Adjustable temperature control
Evenly spreads the batter and baking of the waffles
Cons
Handle that holds the waffle maker is made from an inferior plastic which might break over longer periods of time during the heating
Waffle plates aren't removable which makes the cleaning process a little bit harder, but not complicated
For an in-depth review, read our article on the Oster DuraCeramic Flip Waffle Maker.
---
BELLA Copper Titanium Belgian Waffle Maker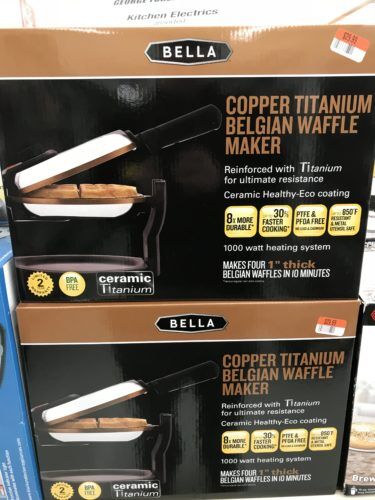 The best way to avoid Teflon would be to use a ceramic copper titanium coating.
Bella has shown us that our kitchen appliances, including waffle makers, don't need to be all made from stainless steel with a Teflon non-stick coating. There are many other materials that might perform even better.
What is Copper Titanium coating?
Copper Titanium coating is proven to be 8 times more durable than Teflon and will cook up to 30% faster than standard non-stick coatings. Such a durable coating is heat resistant up to 850 degrees which means that there won't be any peeling at all.
Faster cooking means that it will make waffles faster than other appliances. This makes it the best waffle maker with copper coating.
The coating mentioned above is absolutely healthy because it doesn't maintain any harmful chemicals. It's also of PTFE and PFOA which are the main chemicals used to produce Teflon non-stick coating.
You will be able to make 1″ thick Belgian waffles in just minutes at home, knowing that it's completely safe.
The rotating function of the Bella Belgian waffle maker will give you the ability to make your waffles crisp and fluffy. And when you aren't using it, you'll be able to easily store it away and save space thanks to its design.
Its control dial has 9 settings, which will help you cook your waffles the way you like them, to the crispiness you prefer.
After you're done using this waffle maker, simply wipe the cooking surface with a soft cloth to clean it. It's that simple and easy.
Pros
Special coating that is healthy-eco and is free of chemicals that are usually used to produce other non-stick coatings
An ultra-durable coating that is heat resistant
Control dial that gives you the ability to choose the temperature from 9 different settings
Rotating function which bakes and spreads the batter evenly for the best results
Easy to clean thanks to the special non-stick coating
A removable drip tray that catches all the extra batter and crumbs makes the cleaning even easier
Non-slip feet will prevent slipping during the baking, which prevents injuries once the waffle maker is heated
A convenient way to store it and save space in your kitchen
Cons
No timer is available, however, there is a green and red button signal so you know once the temperature of the waffle maker is ready for baking
Plates don't come out so it might be harder to clean for some people
Wells aren't too deep to make inch-and-a-half waffles but are good enough for traditional Liege waffles
For more information, read our in-depth review of the Bella Copper Titanium Rotating Belgian Waffle Maker.
---
Euro Cuisine Eco-Friendly Heart Shaped Waffle Maker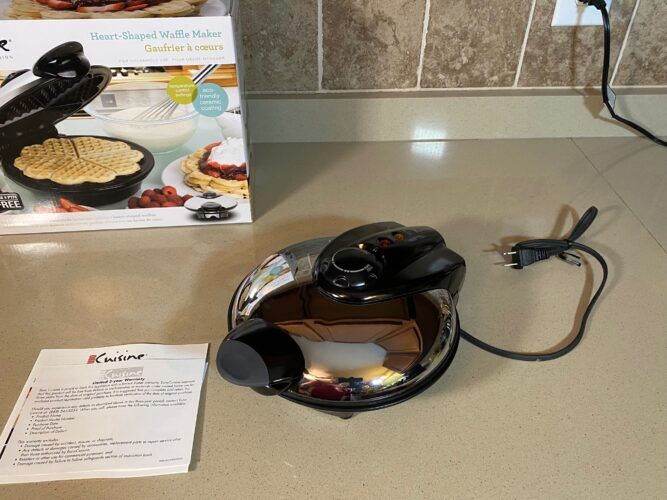 If you are looking for something different, maybe heart-shaped waffles which are also eco-friendly and free of non-stick chemicals, the Euro Cuisine waffle maker is a great waffle maker to consider.
Although this is the only one in this article that is not a Belgian Waffle Maker, that doesn't make it inferior to the others.
Euro Cuisine is a brand that produces waffle makers and other kitchen appliances without Teflon non-stick coating. Don't worry, as their waffle makers still have eco-friendly plates that are non-stick.
To get the most out of your waffles, you will have control over the temperature with an adjustable control setting.
There is no timer, however, there are two LED lights that will inform you when the Euro Cuisine waffle maker has power on, and when it's ready. When the ready LED light is on, it means that the waffle maker has reached its temperature and that you can start making waffles.
On the highest setting, you will be able to make a waffle in only 4 to 5 minutes, which is pretty fast. That way, you will be able to enjoy eating waffles more than you are spending time making them.
The best feature about this waffle iron is that it's one of the rare waffle makers out there that produces heart-shaped waffles while being free of non-stick coating chemicals.
Because of the heart-shaped waffles it produces, it's often called the "cute waffle maker". Not so much because the waffle iron itself is cute, but because of the heart-shaped waffles it makes.
Pros
Cute and sweet heart-shaped waffles, which are unique and will surprise everyone
Plates are non-stick, so you won't have trouble with sticking the waffles during the baking
Euro Cuisine waffle maker is free of PTFE and PFOA chemicals that are used in Teflon non-stick coating
Adjustable temperature control so you can bake your waffles just the way you prefer them to be baked
Vertical storage is a great feature to save some space in the kitchen when you aren't using the waffle maker
The chrome exterior is durable and it will make sure that the Euro Cuisine waffle iron lasts for a long time
Cons
The Euro Cuisine waffle maker gets really hot, so you have to be careful that you don't burn yourself
It might not cook evenly
Waffles are smaller and thinner than actual Belgian waffles
Read our article for an in-depth review of the Euro Cuisine Waffle Maker.
---
Wrapping up with the Best Teflon Free stainless steel waffle makers!
These are all great waffle makers that will crank out delicious waffles for years to come. You can't go wrong with any of them. However, we do have our favorites!
Oster DuraCeramic Flip Belgian Waffle Maker – 4/5 stars

Bella Copper Titanium Belgian Waffle Maker – 3.9/5 stars

Euro Cuisine Waffle Maker (The Cute Waffle Maker) – 4/5 stars
We rated the Oster DuraCermic number one because its quality is just unparalleled here.
We rated the Bella Copper Titanium Waffle Maker number two because it features a flip motion and deep Belgian waffle grids.
We rated the Euro Cuisine number three not because it's bad or faulty, but just because it makes waffles that are a little bit thinner than normal and it's not a flip waffle maker.
Some people don't realize what is actually Teflon, and how many kitchen appliances come with non-stick Teflon nowadays.
It's kind of hard to find a great waffle maker which has great features like other waffle makers, but that it's healthy-eco and is free of chemical non-stick coatings.
However, we've reviewed and listed some of the best stainless steel waffle irons out there which are absolutely free of chemical non-stick coating (Teflon) and therefore are all great options and high-quality nontoxic waffle irons.
Are you concerned by Teflon, and did you know what it was before reading this post? Will that make you change your lifestyle and choose different types of kitchen appliances and cookware?
Feel free to leave a comment below. Also, feel free to share with post with anyone whom you think would want to know more about Teflon-free appliances.