You might have heard about Breville and you might have seen their innovative waffle makers – but if you have also heard about All Clad waffle makers – you might be in a huge dilemma.
Both companies create amazing kitchen appliances and both companies excel in making some of the best waffle makers specifically.
For this post, we've compared two similar waffle makers from both Breville and Clad, and we've written a fair review on the topic – to help you out with your decision.
As humans who shop, we constantly want to get the best possible value for the price we pay. These two waffle makers might make your decision a lot harder – and if you don't want to risk it, feel free to read the rest of the article!
Breville Smart Waffle Maker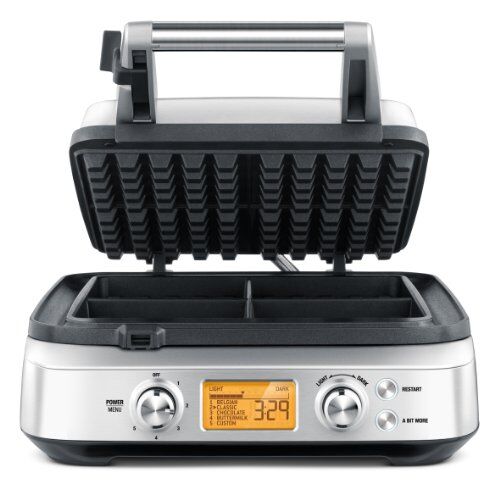 Breville has always worked really hard to improve and bring technology advancements even to their waffle makers – and Smart Waffle Maker is just one of many quality waffle makers from Breville.
It's full of features which improve the use, improve the results, and even ensure there is no learning curve – so let's have a look at the most important features.
Even-Heat Distribution
One of the most important features is an even heat distribution system which is now common to see in Breville waffle makers.
It's a system which ensures that the chosen (and the right) temperature is spread throughout the plates evenly.
This results in waffles which are very soft on the inside yet crispy on the outside. Also, this will prevent the burning of the waffles.
Steel and Aluminum
The complete housing and even plates of this Smart waffle maker are made out of steel and aluminum material.
Housing features a stainless steel material which isn't only durable but it also looks & feels great. We are sure that this timeless design will go well with any kitchen interior once it's placed on the kitchen counter.
Cooking plates are made out of die-hard cast aluminum material which ensures a proper heat distribution and yet it improves the cleaning. You'll never find yourself scrubbing the waffle plates after successful baking.
Automatic Timer
Once you close the lid of this Smart waffle maker, the timer automatically starts counting down. This timer will help you know exactly when your waffle is ready and when it's the right time to take it out.
This is ideal for someone who has never made waffles before as you don't have to guess anything yet just follow the instructions and the timer.
However, if you think you should give your waffles a bit more time, you can reset the timer without reopening the lid – which is another cool feature.
LCD Display
It might be surprising to find an LCD display inside a waffle maker but this isn't only a fancy feature – it's also a very convenient feature.
Along with two scroll wheel buttons, the small but easy-to-see LCD display will let you choose crispiness, type, and even show the timer.
All-Clad Belgian Waffle Maker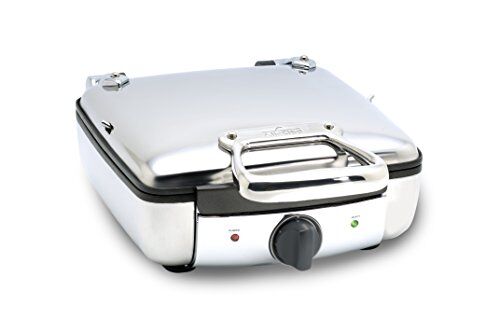 All-Clad features a fantastic Belgian waffle maker which might not offer an LCD display, but it has plenty of advanced features that make the use a breeze.
Shade & Browing Selector
All-Clad features a shade & browning selector that allow you to dial between 7 different settings so you can accommodate almost every taste.
This is ideal for bigger families or gatherings since you can adjust the settings for every and each waffle over and over again.
Steam-Release System
Not only this waffle maker produces equal power and heat throughout the waffle maker, but it also takes advantage of steam.
Therefore, you will love the steam-release system inside this waffle maker which helps provide crispy waffles on the outside and yet fluffy on the inside.
LED Indicator Light
Even though there is no LCD screen, All-Clad came up with a very simple way to notify users when their waffle is ready or when the waffle maker is powered on.
Therefore, you will see two tiny LED lights, one red and one green which stand for power and ready confirmation.
Easy-to-Cut Sections
The type of plates All-Clad features in this Belgian waffle maker offer a bit wider spacing for a reason. it allows easier to cut sections so every waffle is ready to be cut up to your personal preference.
You won't even have to use a knife, yet with a little bit of force, you will be able to separate the waffle as you wish.
Non-Stick Coating Surface
Mistakes happen, but when they do happen – you won't have to end up spending hours cleaning this waffle maker.
Thanks to the non-stick coating surface, all you have to do after a successful waffle making is to wipe down the surface. Even burnt waffles won't stick down.
This also increases the number of waffles you can make. However, when it is the time to clean your waffle maker – you will love the removable plates which can be taken out and easily washed, and then placed back inside the waffle maker again.
Which Waffle Maker is Better?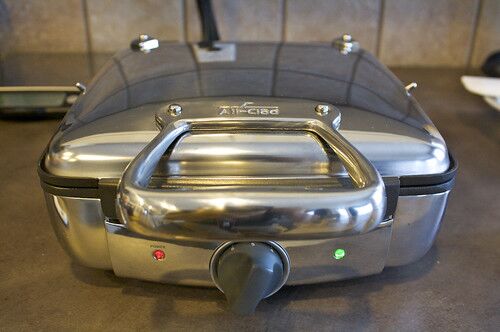 Both waffle makers are very similar, and even though one waffle maker features an LCD screen and the other one doesn't – they also offer similar features.
The is a slight difference in price (which might not mean a whole lot to many people), but we believe Breville Waffle Maker wins in design & style and the use, while All-Clad Waffle Maker wins in features and simplicity.
However, the price might matter to people on a tighter budget so that's something you should consider as well.
Conclusion
Overall, we like how Breville looked on the countertop and how it performed. As you can imagine, the use of an LCD screen was a real pleasure.
On the other side, All-Clad featured some really innovative features too such as the steam system. If you don't like cleaning and want to get done with it as quickly as possible – the clear winner here is All-Clad waffle maker due to its removable non-stick coated plates.
Lastly, if you're on a tighter budget – All-Clad waffle maker might fit your budget easily. Unless you are able to grab a Breville Smart waffle maker at a discount.
Which waffle maker do you like more and which one would you choose for your personal use?
Feel free to leave a comment down below – don't be afraid to start a discussion!