You've got your favorite Oster countertop oven, but there's only one thing you would need in order to enjoy your Oster countertop oven.
I'm very sure that you know what is that I'm talking about here. Yes, it's recipes!
While you might have some recipes in your mind or in your cookbook, you will need to adjust them to the countertop oven. If you didn't know, countertop ovens are faster and have an additional air heater.
That's why some of your best recipes might not come out well for a few first times. However, don't worry about it and don't blame the countertop oven yet!
That's why official recipes from countertop oven manufacturers such as Oster come in handy. In case you didn't get a cookbook with your countertop oven, enjoy these easy yet awesome tasting recipes!
These recipes go great with one of our favorite best Countertop Ovens below!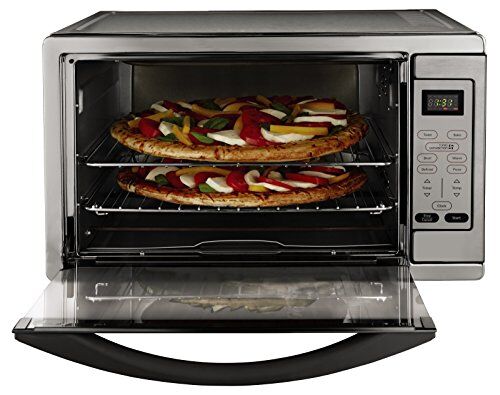 Oster Toaster Oven Recipes
Roast Beef
What's better than a perfectly cooked roast beef, right? While it can be hard and tricky to get it right once you settle down with your new Oster countertop toaster oven, it's definitely easier with this recipe that many people might be looking for.
Information
Servings: 4
Cook Time: 15 minutes
Ingredients you will need:
3/4 kg (1 pound) beef roast which is trimmed of excess fat
2 tbsp. of olive oil
2 tbsp. of whole grain mustard
1 tbsp. of chopped rosemary
Salt
Pepper
Instructions:
When you have a beef roast ready, simply spread the mixture of olive oil, salt, mustard, and pepper on it. For the best results, I'd recommend you to vacuum the beef roast and store it in a freezer for 10, if you can do that.
Preheat your Oster countertop toaster oven to 230 ˚C (450˚F). Use a combination of broiling rack and a baking pan to place your beef roast in the countertop oven.
Then all you have to do is cook it to your preferences.
For rare, I'd recommend you to wait for 15 minutes before checking the temperature of beef roast. For medium, you should wait for 25 minutes. In case you're looking for a well done simply wait for 40 minutes before checking the beef roast's temperature.
After that, let the beef roast rest for approximately 15 minutes. That way, juices will set in the meat and therefore, give a nice flavor to the meat.
And that's how you get a roast beef ready perfectly up to your preferences.
Mini Breakfast Pizza
What's better than having a pizza for breakfast? It's mini pizzas for breakfast. Not every day, but once in a while you can treat yourself with these absolutely great tasting mini pizza recipes for your Oster toaster oven.
Information
Servings: up to 4 people
Cook Time: 10 minutes
Ingredients you will need:
4 beaten eggs
1/3 cup of pizza sauce
2 English muffins
1/2 cup of shredded Italian cheese
Dried oregano leaves
Instructions:
First, you'd want to heat up your Oster toaster oven up to 230˚C (450˚F) and you should immediately coat a large nonstick skillet with the cooking spray. Simply heat it over medium heat until it's hot.
Then you can pour in eggs and gently pull them across the pan. Continue cooking until the eggs are thickened and there is no visible liquid remaining. But keep in mind that you shouldn't steer constantly. Once it's done, move it off the heat.
All you have to do after that is spread the pizza sauce on the muffing halves you've prepared earlier. Place them on a baking sheet, and top it with the eggs and cheese. Keep in mind to equally spread it.
Let it bake at 230˚C (450˚F) until the cheese melts which is probably 5 minutes. The last thing you want to do is sprinkle over it with oregano. You don't want to forget to do that.
And that's all you have to do to start a good morning with freshly baked mini pizzas!
Gluten Free Banana Bread
If you can't eat gluten, yet you want the delicious bread to eat, a great substitute would be a gluten free banana bread that is super easy to prepare and bake, yet tastes great and will go easy on your digestive system.
Information:
Servings: 6 to 8 people
Cook Time: 45 minutes
Ingredients you will need:
5 large ripened bananas
3 eggs
1/4 cup of coconut oil
2 tablespoons of honey
1 tablespoon of lemon juice
1 teaspoon of vanilla extract
2 cups of almond meal
1/4 cup of ground flaxseed
1 and a half teaspoons of baking soda
1/2 teaspoon of ground allspice
Instructions:
First things first. Preheat your Oster countertop oven to 160˚C (325˚F) and make sure that you grease and line a baking paper in a loaf pan.
Then, you want to use the gathered ingredients by placing the 3 bananas, eggs, honey, lemon juice and vanilla extract into a blender jar. Make sure to secure the lid every time.
Blend it on a medium setting for about 30 seconds or so, until all the bananas are mashed roughly. The next step would be to pour the mixed wet ingredients into a large bowl.
Then, you will need to add the rest of the ingredients which include flaxseed, baking soda, almond, and allspice. After that, simply mix it in to combine it.
Pour the mixture you made into the prepared pan. You still have two bananas which you didn't use. It's time to cut them in half lengthways and simply place them on top of the batter just like that.
Put it in your countertop oven and bake it for about 45 minutes or until you see it's cooked.
That's how simple it is to make a delicious, yet gluten free bread. However, make sure to allow it to cool down before slicing it down and getting down to it!
Chocolate Chip Cheesecake
Who said that your Oster countertop oven can't make desserts? Whoever said it, should take it back because we bring you a chocolate chip cheesecake recipe that is so simple to make that it's one of my favorite desserts when I want to have one quickly.
Information:
Servings: up to 12 servings
Cooking Time: 30 minutes
Ingredients you will need:
24 chocolate cookies
1 and a half tablespoon of melted butter
3 8 oz. packs of cream cheese
1 can of condensed milk
3 egg whites
2 tablespoons of vanilla extract
1 cup of chocolate chips
Instructions:
The first thing you should do is prepare your Oster countertop oven and preheat it to 175˚C (350˚F). Then grease the round cake mold, preferably 8″.
After that, crush the cookies. When you've crushed them, add melted butter and continue to mix it in order to get the crust.
Then, you empty the mixture into the cake mold and after that press cookie crumbs into the edges.
With the other remaining ingredients, here's what to do. Place them in a blender and blend it on a high setting until it all gets integrated.
When that is done, simply pour it into the cake mold as well. Then place it into countertop oven for about 30 minutes.
After 30 minutes, you should check the cake, and if it's done – take it out! Place it in a fridge for at least 4 hours before serving.
When it's ready to serve, feel free to plate it with your favorite garnish and enjoy your chocolate chip cheesecake!
Thin Crust Pizza Dough
Don't say that you've never thought about creating your own pizza dough and pizza in a countertop oven. Who knows, your pizza might end up that good that you won't have to order a pizza ever again.
Information:
Servings: up to 6 people
Cooking time: 20 minutes
Ingredients you will need:
2 cups of plain flour
2 teaspoons of dried yeast
3/4 teaspoon of salt
3/4 cup of warm water
2 teaspoons of olive oil
Plain flour suitable for kneading
Instructions:
You're probably tried to make a pizza before, and you might have even had success. It's most likely that you're here for the instructions related to the timing mostly, but also the order of placing the ingredients.
The first thing you should do is add the flour, salt, yeast into a blender. On a light or pulse setting, blend the ingredients until they become well combined.
Then, you want to continue the blending, but on a low setting while you get a chance to add water and oil. Then, simply blend it until it forms into a ball.
When it's done, take the dough and place it on a floured surface. Knead it for 1 to 2 minutes.
Place the dough into a well-oiled bowl and it on a warm temperature, waiting for the dough to rise. That might take about 30 minutes, so take your time.
When the dough rises, roll it into your desired size and add toppings you prefer. Simply put it into your Oster countertop oven for about 15 to 20 minutes at a temperature of 200˚C (400˚F).
Check in on it for a few times to make sure if it's done or it needs a bit more cooking. And that's exactly how you make a homemade pizza that you can enjoy no matter the occasion.
Almond Crusted Fish
Fish? Say no more. Your Oster countertop oven is versatile and you can bake it in almost anything that you can think of.
Information:
Servings: 2 people
Cooking Time: 7 minutes
Ingredients you will need:
2 fish fillets
Olive oil
2 oz. of grated bread crumbs
2 oz. of parmesan cheese
2 oz. of chopped or ground almonds
1/2 stick butter
Salt and pepper
Instructions:
Your first step will be mixing the breadcrumbs together with a parmesan cheese, butter, and almonds in a blender or any other mixing device. Your goal is to form these ingredients into a paste.
After you got that, wrap it in a plastic wrap and form it the same size as fish fillets are, which is into rectangles shape.
Then, you will want to make sure that you get the best crust possible. You will do that by oiling a pan with olive oil and placing fish fillets on top of the prepared rectangles. Also, make sure that you season the fish fillets with pepper and salt.
When you have done that, simply place it in your Oster countertop oven and bake it for about 7 minutes.
In case you're looking to create a suitable sauce as well, here are the ingredients you will need:
1 cup of heavy cream
1 lemon
1/4 cup of white wine
You will simply have to cook the cream with lemon juice and white wine aiming for the reduction. After you've done that, simply pour it over your fish fillets. You can also serve it with asparagus for better taste.
That's how you create a perfect almond crusted fish inside your Oster countertop oven in only 7 minutes.
Hard-Boiled Eggs
The last recipe is the easiest to make, yet some people might need it. In case you didn't know, it has never been simpler to create hard-boiled eggs, and you can even do it in your Oster countertop oven!
Information:
Servings: 1-2 people
Cooking Time: 30 minutes
Ingredients you will need:
Instructions:
The first and most obvious thing would be to heat it up to 160˚C (325˚F) and immediately put 3-5 eggs on the countertop oven's rack. Don't worry, the eggs won't go anywhere. You just have to place them parallel to the rack which will prevent them from moving.
Leave the eggs to bake for 30 minutes. Now, here's a thing not many people know about. After 30 minutes, carefully take the eggs out and immediately immerse them in ice water.
You should leave them for about 15 minutes until they get soaked up. Then, go ahead and try peeling one of them.
You'll have one of the easiest peeling hard-boiled eggs. Cut them up and you will notice how perfectly they're cooked.
It's simple as that!
Conclusion
Handling your Oster countertop oven can be a bit of a task at first, however, with these Oster toaster oven recipes, you will get perfectly measured ingredients and instructions that will give only the best results.
What's your favorite recipe? You can't manage to get it right in your Oster countertop oven? Feel free to leave a comment and since there are way more recipes to be written, I could do another recipe post for the meals you're interested in!
For now, you have enough recipes to get baking for a while. Enjoy baking with your Oster countertop oven, it's definitely a special one!