Are you looking for an Easy Belgian Waffle Recipe that has no Baking Powder, no Eggs, and no Milk?
If you really love waffles—but there are certain ingredients that you don't eat — then this is the article for you!
Many people believe that there are 3 options to enjoying delicious homemade waffles in the morning.
The first option is the easy waffle option. You buy premade, frozen Belgian waffles and then heat them up in the toaster. The problem is, you don't really know what ingredients they have in them and you have no control over it.
The second is the kind of easy waffle option. You buy premade batter (basically all the dry ingredients in a powdered form, including baking powder and baking soda). You add the wet ingredients like eggs, milk, oil or butter, and then mix together and pour into your heated waffle maker.
The third option is the hardest easy waffle option. You make your own waffle batter from scratch. Doing this you can absolutely ensure what's in it, including that you have waffles without baking powder, without baking soda, without milk, and without eggs, if you wish. This is the most difficult option but the one that gives you the most control over your waffle recipe.
You don't always need the traditional ingredients to enjoy warm, crispy waffles because there are many substitute ingredients that can be used in your waffle recipe.
So, if you're allergic to some traditional waffle ingredients, there's always something you can use as an alternative. The same goes for vegans who want to avoid dairy or any animal products used in traditional waffles.
I know many people who have serious restrictions and believe that they can't enjoy waffles. Nowadays, it's so easy to do a quick Google search and find recipes that fit your restrictions.
For example, did you ever think you could make delicious gluten-free waffles? It's possible!
That's the power of being able to make your own waffles at home, you control the ingredients. It's also why we also advise to never buy frozen waffles!
The three questions we receive the most have to do with baking powder, eggs, and milk. So here we go!
Can You Make Waffles Without Baking Powder?
Yes, you can make waffles without baking powder!
The funny thing is, most people will ask this question when they don't have any baking powder or they don't have the time to rush to the store to buy some. But, you can make tasty waffles without baking powder in the batter. As we said earlier, there's always a substitute ingredient.
This recipe is an Easy Kitchen Appliances original recipe.
Basic Waffle Recipe without Baking Powder or Baking Soda
Baking Powder Free Waffles
Preparation time: 10 minutes
Cooking time: 30 minutes
Ingredients:
1 ½ cups all-purpose flour
½ cup fine sugar
2 tablespoons unsalted and melted butter
1 large egg
½ cup milk
¼ cup buttermilk
1 teaspoon lemon juice
1 teaspoon vanilla extract
1 pinch salt
Instructions:
Preheat waffle iron.
In a large bowl, combine all-purpose flour, sugar, and salt.
In a separate bowl, beat egg, butter, milk, buttermilk, lemon juice, and vanilla extract.
Make a well in the center of dry ingredients.
Pour in the liquid ingredients and start to whisk gently.
Continue to whisk until you have a smooth batter.
Pour ¼ of the batter into the waffle iron.
Cook the waffles for approximately 7 minutes.
Serve warm with whipped cream and raspberry jam.
---
Can You Make Waffles Without Eggs?
Baking and eggs go hand-in-hand. It's almost impossible to find a cake, cookie, or waffle recipe that does not need eggs. Besides baking, eggs are an essential part of most recipes. Simply because eggs are necessary doesn't mean that you can't make any scrumptious baked food without eggs.
There are lots of folks out there who are allergic to waffles, desserts, and baked goods that have eggs. Or someone who's a Vegan, or can't have eggs because of medical or personal reasons.
So, if you're one of those people who can't or don't want to consume eggs or you just simply ran out and don't want to make a store run right now, allow me to cheer you up!
You can totally prepare tasty waffles without using any eggs. What's even better is that most people and even yourself won't be able to tell the difference.
Best Waffle Recipe No Eggs!
Eggless Banana Waffles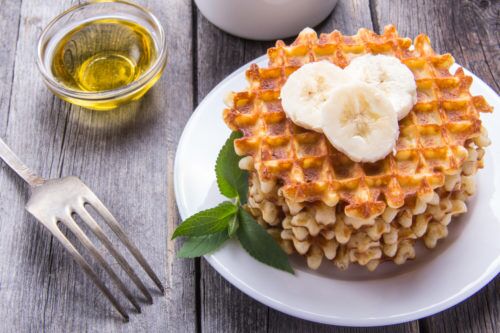 Preparation time: 10 minutes + inactive time
Cooking time: 30 minutes
Servings: 4
Ingredients:
½ cup brown rice flour
½ cup tapioca flour
¼ cup gluten-free oats
1 cup unsweetened almond milk
1 tablespoon ground flax seeds
3 tablespoons water
2 bananas, mashed
2 teaspoons baking powder
Instructions:
Combine flax seeds and water in a small bowl. Place aside and let sit for 10 minutes.
In a large bowl, combine brown rice flour, tapioca flour, and baking powder.
Mash banana in a bowl, and stir in almond milk, and flax seeds mixture.
Fold the liquid ingredients into the dry ones.
Preheat waffle iron.
Spray the iron with nonstick cooking spray.
Pour ¼ cup of the batter into the iron.
Cook the waffle for 7 minutes. Repeat with the remaining batter.
Serve warm.
Because there's no butter or eggs in this mixture, it's necessary to have a nonstick cooking spray to ensure that your waffles don't stick.
In a waffle recipe with a lot of fat in them, you probably won't need cooking spray for your nonstick waffle iron.
You can add different waffle toppings, fruits, creams, syrups to make them look pretty and irresistible.
If your waffles are constantly getting stuck, read this article!
---
How to make waffles without milk
Similar to eggs, most recipes require milk to prepare. Milk is a primary ingredient in most sweets, chocolates, desserts, baked foods, and other food items we regularly consume.
However, not everyone is tolerant of milk or products that have diary content in them. In fact, it is estimated that more than 75% of adults are lactose intolerant to some degree and approximately 60% of the population can't digest milk properly. This isn't surprising given the fact that our bodies lose their capability to digest milk post-infancy.
Even for those who have the ability to consume milk without a problem, many choose not to.
Also, with Keto and Paleo lifestyles growing in the United States and throughout the world, healthy individuals are choosing to abstain from milk altogether!.
So can you make waffles without milk?
People assume that waffles that don't have milk are for Vegans or for people who are lactose intolerant. But, you'll find plenty of individuals, who want to have a healthy diet and lead healthier lifestyles, and are die-hard waffle lovers. So yes, you can make a waffle recipe with no milk.
No milk waffles Pro Tip!
Just so you know, whenever you see a Paleo recipe, it's likely that it's a recipe that does not contain milk. So if you're ever in a jam and need to quickly Google a recipe, just add "Paleo" to the front of it and you can rest assured that it will NOT contain milk.
This recipe below is another Easy Kitchen Appliances original waffle recipe. Hopefully, you enjoy it!
Simple Waffle Recipe without Milk!
Paleo Sweet Potato Waffles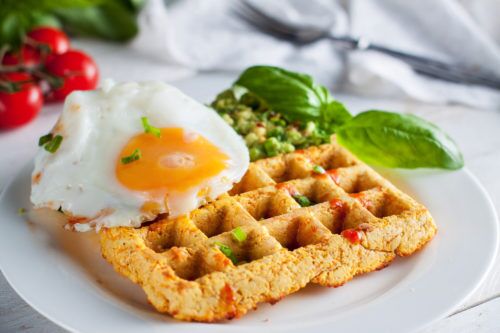 Preparation time: 10 minutes
Cooking time: 30 minutes
Servings: 4
Ingredients:
1 large sweet potato, peeled, grated
4 medium eggs, room temperature
2 tablespoons chopped chives
3 tablespoons sifted coconut flour
Salt and pepper
To serve with:
Fried eggs
Avocado, sliced
Instructions:
Preheat waffle iron.
Squeeze the grated sweet potato to remove excess liquid, and place in a large bowl.
In a separate bowl, beat eggs until fluffy.
Combine the eggs with sweet potatoes. Add the chives, and coconut flour.
Season the mixture to taste with salt and pepper.
Stir until you have a smooth batter.
Pour ¼ cup of the batter onto the waffle iron.
Cook the waffles for 7-8 minutes.
Serve warm with fried eggs and sliced avocado.
This waffle recipe is an acquired taste because it doesn't have the inherent sweetness that we're used to in waffles. You either go with it and eat with eggs, avocado, or some other salty food. Or you can fight it and drown your waffle in syrup!
Your final instruction is to….. enjoy!
---
In conclusion
So, there you've it—you can still prepare healthy, delicious waffles without milk, waffles without baking powder, or waffles without eggs.
Regardless of what kind of diet you keep, the best way of controlling what exactly you ingest is to cook your food yourself. It may be easy to buy frozen waffles or frozen food in general, but it's always healthier and usually more delicious to make it yourself!
There is an endless supply of substitutions for anything you can think of. If you can bake it but can't eat it, you can substitute it!
Once you own a specialty appliance that hopefully makes your life easier, feel free to experiment away.
At Easy Kitchen Appliances, we love kitchen appliances that make our lives easier. That's why we love great waffle irons, awesome bread makers, and time saving countertop ovens!
If you're looking for a unique waffle maker that guarantees a no-mess experience, take a look at our Chefman Belgian Waffle Maker review!
What other substitutions can you use for baking powder, milk, or eggs?