Want to find out how to Make Waffles Without a Waffle Iron or Waffle Maker?
I know none of us can imagine a lazy Saturday or Sunday morning without some delicious, crispy waffles loaded with maple syrup. But that's not what we'll be discussing here.
We're going to talk about how you can make waffles without waffle maker….
But how can you enjoy waffles without a waffle maker?
There are plenty of creative people out there and they do the impossible. Yes— you can make delicious waffles without a waffle maker. But, there is a catch. These waffles won't have the familiar crispy edges which you can only see in waffles baked in a waffle maker.
Nonetheless, these waffles might still look like any other waffle. So, don't underestimate them until you've made some for yourself!
Let's be honest—a lot of people out there don't own a waffle maker. It makes little sense to get yourself a waffle maker if you don't see yourself making waffles very often.
Some people don't like to clutter their kitchens with stuff that does only one thing. Besides, most even don't have the time in the morning to make waffles. So, there are plenty of reasons why some folks just don't want to buy a waffle iron.
So for most people, there are two options.
The first is to buy a multi-functional appliance that can make pancakes, waffles, paninis, and even burgers! An appliance like the George Foreman Evolve Grill. Click on the link to read our in-depth review of this multi-purpose kitchen appliance.
The second is to learn how to make waffles without a waffle iron!
Making Waffles Without A Waffle Iron (Grill Pan Waffles or Waffle Mold Waffles)
You can transform your favorite waffle batter into delicious waffles using two common kitchen tools: the grill pan or the waffle mold. Both the grill pan method and the waffle mold method will work. Neither will be great, but both can work.
In addition, these two things can also be used to prepare other food items like grilling vegetables or meat or baking cakes, and so on.
Grill pan waffles or waffle mold waffles look a little bit like pancakes. But wait—these are still waffles. Even the exterior is crispy and the inside is chewy just like any other waffle made in a waffle iron.
But, the most notable difference you may notice is that grill pan or waffle mold waffles pockets hold butter, cream, or syrup differently than the pockets of a normal waffle.
Making Waffles Using A Grill Pan Waffle Recipe (Grill Pan Waffles)
Here is a recipe to make 5-6-inch waffles on a grill pan.
Grill Pan Waffles Ingredients:
All-purpose flour – 1 cup
Whole wheat flour – 1/2 cup
Baking soda – 1/2 Tsp
Baking powder – 1 1/2 Tsps
Salt – 1 Tsp
Raw sugar – 2 Tsps
Eggs – 2 (large)
Vanilla extract – 2 Tsps
Buttermilk/plain yogurt – 1 1/4 cups
Apple cider or white vinegar – 1/2 Tsp
Coconut oil, canola oil, or butter, for cooking
Instructions:
Preheat your grill pan to medium heat. Whisk the flour, baking powder, baking soda, sugar, and salt in a bowl. Now, take a new container and mix together the eggs, vanilla, vinegar, and buttermilk. Now pour the wet ingredients into the dry mixture and keep whisking together until you don't see any dry spots or lumps.
Use a brush to oil your grill pan, and ladle ½ cup of batter in the center. Lower the heat on the grill pan.
Cook for 3-4 minutes until the waffles feel crispy. Now take a spatula and gently flip the waffles to the other side. Cook for an additional 3-4 minutes. Take out the waffles from the grill pan and place them on a wire rack and let cool.
Serve immediately.
Your waffles may end up looking kind of strange, like the picture below, but they can still taste delicious. The image below is from Always Order Dessert.

Make Waffles Using A Silicone Waffle Mold
This is another way of how to make waffles without a waffle maker. You can prepare approximately 16 waffles using both sets of a silicone waffle mold.
Waffles in a Silicone Waffle Recipe
Ingredients:
Non-dairy milk or plain milk
Eggs – 4 (large)
Oil or melted butter – 1/2 cup
Sugar/honey – 2 Tsps
Apple cider vinegar – 2 Tsps
Vanilla extract – 1 Tsp
Waffles in a Silicone Waffle Mold Dry Ingredients:
All-purpose flour – 3 cups
Baking soda – 1/2 Tsp
Baking powder – 1 Tsp
Salt -1/2 Tsp
Cinnamon – 1 Tsp
Instructions:
Whisk all the wet ingredients in a bowl until the mixture is smooth. Now, whisk the dry ingredients in a separate bowl. Now, slowly mix the wet and dry ingredients, and keep whisking until the batter is super smooth and you don't see any lumps.
Bring out your waffle molds and place them on a baking sheet. Make sure the sheet fits in your oven. Fill the waffle molds with your batter and level it with a ladle. Remember not to overfill the molds.
Preheat the oven to 430 degrees. Put the baking sheet alongside the filled waffle molds in the oven. Bake for approximately 9-10 minutes or until golden brown. Take out the sheet and waffle molds from the oven.
Release the waffles by turning the waffle molds. Be sure to use gloves as silicone waffle molds get very hot.
Now put the waffles and the baking (without the waffle mold) back into the oven and bake them for an extra for 3-5 minutes or until they are crispy or golden. Remove the waffles and let it cool for a few minutes.
Serve with your favorite waffle toppings such as berries, maple syrup, homemade jam or whipped cream. Yum!
Silicone Waffle Mold recipe options
Another option is to simply follow the instructions on a recipe that you already love and use. Or, you can always buy a pre-made waffle batter.
Some premade batter is full of chemicals, but not all of it. We recommend and love this one.
Waffle molds are great to use if you're short on kitchen space or if you need to make a bunch of waffles in a hurry!
FULL DISCLOSURE: My waffles in the waffle mold do not usually come out as nice looking as these!
The picture at the top of the page and the picture at the bottom of the page are some of the best looking waffle mold waffles I've ever seen.
Maybe I need more testing, but for the life of me I can't figure out how to constantly bake good looking waffles in a mold!
Also, it tastes different! It's more of a cake consistency than a crispy/chewy waffle consistency.
The difference between eating a waffle made in a waffle mold and a waffle maker is like the difference between baked chicken and fried chicken. They both taste good, but one is waaaay better. – Anonymous coworker.
Lekue Silicone Waffle Mold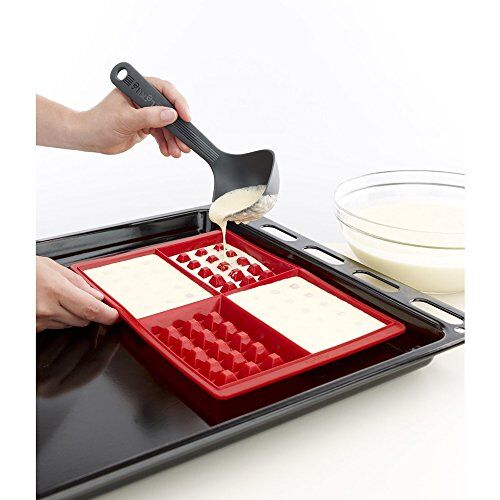 Lekue Silicone Waffle Features
Lekue makes some of the innovative products on the market today. If you love cooking and want to eat healthily, you should check out Lekue products.
Lekue originates in the Catalonia region of Spain. The company has been trailblazers when it comes to product design and manufacturing. Lekue has been making high-end silicone products since 1980.
We have already discussed above that you can make delicious, crispy waffles without a waffle maker. So, if you don't want to make waffles the old-fashioned way, then the only other choice you have is a grill pan or a waffle mold. And if you're looking for waffle molds, then look no further than the Lekue Silicone Waffle Mold.
Preparing waffles using Lekue's platinum silicone waffle molds is completely safe. And because silicone is nonstick, it's easy to clean and you won't have any food residue on the silicone.
Lekue Waffle Mold Pros
Easy maintenance
100% platinum silicone
Made from BPA Free plastic
Dishwasher safe
The waffle molds are highly durable
The molds are of high-quality and have superior technical and design specifications
The molds are made of platinum silicone which can resist extreme temperatures (60ºC and 220ºC).
All Lekue's products are nonstick
The molds don't require greasing
The products are extremely flexible which makes them easier to fold and store
As Lekue's waffle molds are made of silicone they don't break or rust
Lekue's waffle molds repels waters and germs which ensures maximum food safety and hygiene
Lekue's 2 nonstick mold set makes eight waffles in a single batch
Includes a recipe booklet with easy to make recipes and cooking instructions
Weighs only 10.6 ounces
Lekue Waffle Mold Cons
The waffles come out thick and dense
Your waffles will not always easily come out.
Will taste more like cake than waffle!
Gets very hot to touch
Lekue Waffle Mold Amazon Ranking
The Lekue Silicone Waffle Mold has good customer reviews on Amazon with a rating of 4.2/5 stars based on more than 30 customer reviews.
Final Words
So there you go, guys—you can make delicious waffles without a waffle maker. Grill pan waffles or silicone waffle molds like Lekue Silicone Waffle Mold will NOT taste or feel like a traditional waffle.
The Easy Kitchen Appliances recommendation is that you purchase one of the most affordable waffle makers on the market or one of the best waffle irons instead of purchasing a waffle mold or making grill pan waffles.
Nothing personal against waffle molds (I have a few!), it's just that a waffle tastes so much better when made in a waffle maker.
Click here to learn more about the Origin of Waffles!