The Best Sandwich and Waffle Maker combo appliance?
A quality sandwich maker can make a huge difference in the taste of the sandwich, and when that sandwich maker doubles as a waffle maker and also as a panini press, it can become your go to Easy Kitchen Appliance and possibly be considered your best waffle iron.
If you usually make hot meals for breakfast and also want hot lunches, waffles in the morning and sandwiches for a quick lunch on a busy day can be your solution. You'll want a reliable sandwich maker which is simple to use, yet has a multi-functional plates, good quality, and does what it needs to do.
In this post you will find how will the Aicok Sandwich and Waffle Maker is a great combination appliance that benefits you and why you should decide to buy it.
Product Features
Size and Portability
Aicok is a portable sandwich and waffle maker, which gives you the ability to use it anywhere and anytime.
If you don't have a lot of kitchen counter space available, you can always store it away thanks to its compact design. However, if you plan to leave it permanently in the kitchen, don't worry because it won't take up a lot of space.
Its upright storage feature will let you store it anywhere you want without worrying about damaging it. Its safe style lid will keep your sandwich/waffle maker covered no matter of the position it's in.
Unique Design
A high-quality design of the Aicok sandwich/waffle maker will make your sandwiches in a traditional panini design and your waffles in a classic American style waffle.
Its removable plates make it suitable for continuous use, which will benefit people who want to use it on a daily basis, no matter if you will be storing it away after each use or not.
Multi-Use Functionality
Anti-stick toast plates will give you the ability to make perfect sandwiches and even cook waffles or steaks without sticking.
The anti-stick coating will prevent sticking no matter for what purpose you use this appliance for. It will also give you an easy cleaning process, which will require less time than other sandwich/waffle makers.
Its plates/grids are also removable, which is useful when you want to wash them. They're dishwasher safe, so you won't need to spend time washing it manually if you don't want to.You can pop them right off and soak them or run them in the dishwasher. That's what makes this such a great daily use appliance.
Its automatic temperature control comes with a temperature control light, so you'll always know when your sandwich or waffle is finished.
The Aicok sandwich and waffle maker operates at the temperature of 392° F, is powered by a 750 watts, and will make your sandwiches and waffles in 3 minutes flat!
Safety
The features such as heat-resistant stainless steel, lid with closure, anti-slip feet, and the heat-proof handle will keep you safe when you are using the sandwich maker.
If you aren't satisfied with the quality or the safety of the Aicok sandwich/waffle maker, you will have 30 days quality guarantee since the date of purchase to return the device.
You'll also be covered by a 2-year manufacturing warranty in the rare case you experience a problem.
No products found.
Pros
Ability to make sandwiches, grill foods, and bake waffles

Compact size for a better portability and storing

High-quality modern design to adapt to any kitchen interior without taking a lot of space

Safety features to prevent the users to get harmed by heat

Easy to use

Detachable non-stick plates and grids which are dishwasher safe

Quality 30 days guarantee and 2-year manufacturing warranty
Cons
It can be difficult and take some practice to properly remove and replace plates

Never remove them while hot!
Amazon Ranking
Surprisingly, almost every customer who has used and tested the Aicok sandwich maker has rated it with 5 stars.
There are no major complaints other than the ones what removable plates and grids can do. Aicok seems to provide everything it was advertised for, and customers seem to enjoy it very much.
It works very well and is very useful for people who want to make sandwiches and waffles on a regular basis.
The Aicok sandwich and waffle maker is really well priced, and that's one of the benefits which a lot of customers love, along with its multi-functionality. Aicok isn't a well known appliance brand, so people didn't expect a lot out of this appliance but were pleasantly surprised with its quality and features.
It can be compared to other more expensive sandwich and waffle makers and even professional ones. No doubt that it deserves almost every 5 stars it has received.
This Aicok appliance received 4.7/5 stars on over 30 Customer Reviews on Amazon.
Don't allow the low amount of customer reviews say you, customers have great things to say about this Sandwich Waffle Maker combo!
Summary
Design of the Aicok sandwich maker is perfect and it's planned, designed and created with a purpose. This is an easy to use, high quality kitchen appliance.
There is no perfect product out there, but Aicok sandwich/waffle maker is almost close to perfect as it comes.
It's also efficient. It takes only 3 minutes to have a sandwich or a waffle ready to eat. It's also one of the safest appliances out there, which means that even youngsters can use it without getting harmed by a sandwich/waffle maker.
The detachable non-stick plates make it easy to clean.
It's definitely worth the price, and the price is in such a good range that it will be good for everyone's pocket, even for people who are on a tight budget.
If you are looking for a sandwich maker that can also grill food and make waffles, I would highly recommend you to go for an Aicok sandwich/waffle maker because it won't disappoint you.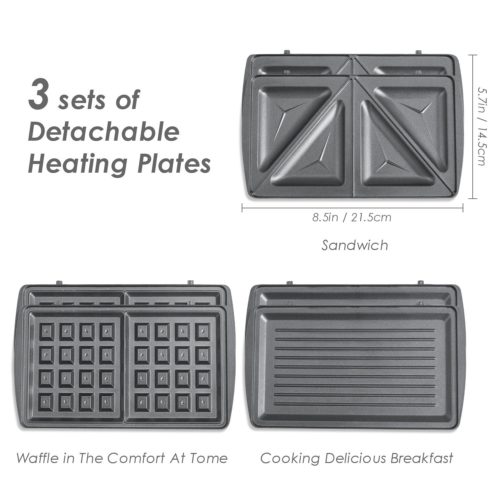 Waffle Maker Sandwich Combo Comparison
The comparison is one of the easiest and best ways to determine how good the appliance is and is it worth the price it's selling for.
T-fal sandwich maker is a little bit more expensive than the Aicok, however, they are very similar.
The first thing you can notice when these two sandwich makers are compared is that the Aicok sandwich/waffle maker is a lot smaller and compact than the T-fal sandwich/waffle maker.
If that plays a big role in your decision, I'd recommend you to stick with the Aicok. They both have the non-stick coating, however, Aicok safety features aren't available with T-fal. Also, the Aicok has 3 sets of removable plates while the T-fal only has 2.
When you notice that there are some features that are missing in a more expensive model, it's easy to determine that Aicok is a better choice.
Aicok Sandwich/Waffle Maker vs Oster Sandwich/Waffle Maker
If you are in a doubt if the Aicok is really worth the price it costs, the best thing you can do is to compare it to a cheaper model.
The Oster sandwich/waffle maker is almost a half of the Aicok's price, and it still has the option to make sandwiches and waffles with the same device, but is it really as good?
The Aicok sandwich/waffle maker is smaller and more compact, has safety features, non-stick coating, and a lot more power, while Oster might be good on the first look, however, on the other hand, it might not be that great.
Oster has a bigger size, and it's made out of stainless steel with fewer safety precautions and removable toast panels which are designed in a way to make it harder to use and clean.
It's great price, multi-functionality, and compact size it make the Aicok sandwich/waffle maker an Easy Kitchen Appliances favorite.
Wrapping Up with the Aicok Sandwich Maker
The Aicok sandwich/waffle maker is perfectly designed, and it might not be the perfect sandwich maker out there, but if you don't want to spend a fortune and still get a quality useful sandwich maker that also grills food and makes waffles – Aicok is a great choice.
It's basically a combination waffle maker, panini press, George Foreman grill, and sandwich maker all in one.
It's well priced, and it's been designed with customers' needs in mind. There are also additional features which will make the cleaning and be using the sandwich maker a lot easier.
Looking for something a little more standard? Check out our review of one of the most innovative waffle makers on the market.
In comparison with other sandwich/waffle makers on the market, Aicok has proven that it's really worth the money, and the customer reviews show that it's a good sandwich maker for its value.