Looking for an easy to make waffle mix?
You've got your perfect waffle maker – now what? It's time to work on your skills since no matter how quality your waffle maker is – you will need to know how to make the perfect waffle mix.
Now, everyone has their own preferences, but it's not hard to spot a difference between a perfect or not so perfect waffle.
If you're a total beginner this post is exactly what you need to craft your skill – but if you're someone who's looking to improve their waffle making skills, this is also a post for you.
Therefore, stick around and learn how to make the best waffle mix to achieve crispy waffles you're craving for. But before we move on, let me share a secret with you.
My favorite waffle mix is actually a premade mix! Yes, I know that that's not ideal for most people, but for me it's perfect. It allows me to make custom made waffles in my Presto Flipside Waffle Maker that are delicious and that my family love.
Sale
Krusteaz Light & Crispy Belgian Waffle Mix - No Artificial Flavors, Colors, or...
DELICIOUSLY LIGHT: Take your taste buds on a trip abroad with Krusteaz Belgian Waffles. Enjoy the crispy outside...
EASY TO MAKE: Add eggs, oil, and water to your mix. Whisk away, drop batter onto your waffle iron, then wait until...
MAKE IT YOUR OWN: Waffles are the perfect food for true makers. Whip up an amazing brunch with Belgian waffles,...
INGREDIENTS WE'RE PROUD OF: Krusteaz Belgian Waffle Mix is made with no artificial colors and no artificial...
WHAT'S INCLUDED: Every order of this waffle mix includes three 28-ounce boxes with a shelf life from production...
Is Pancake and Waffle Mix The Same Thing?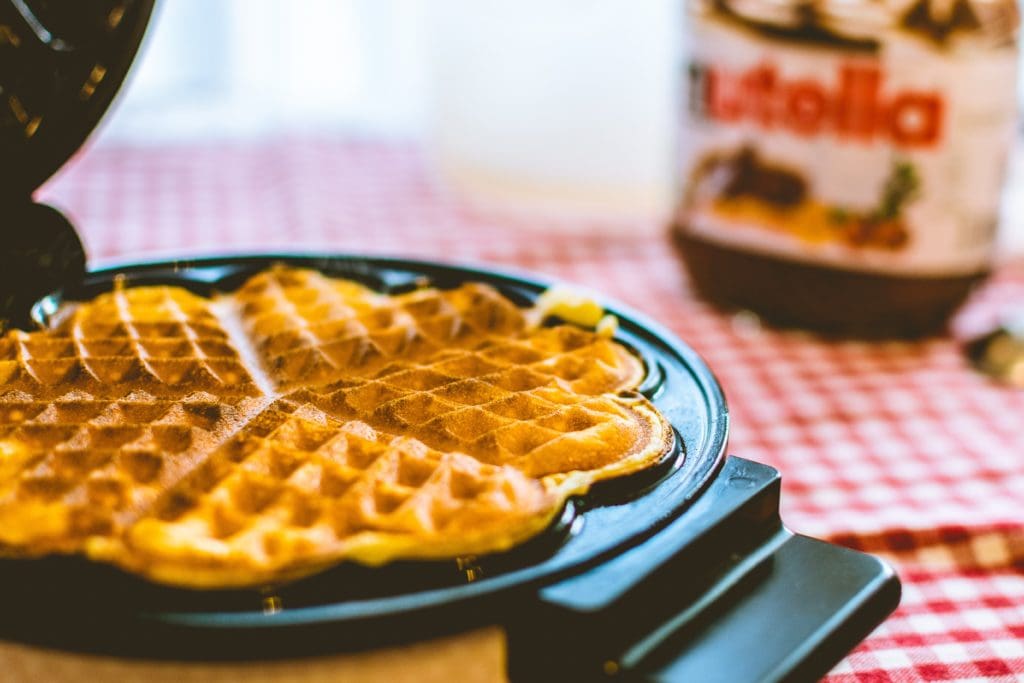 Do you know someone who makes pancake mix and then uses it to make both pancakes and waffles, and vice-versa?
As a side note, there are some great Pancake and Waffle Maker Combo appliances!
That's something we see pretty often and it's a common thing. However, are pancake and waffle mix the same thing?
That's the first question you should get answered before finding your best waffle mix. The short answer is – no, they're not the same thing.
The long answer is – they're very similar and could be the same thing by only paying attention to the use of one ingredient in both mixes.
The main difference between these two mixes is the percentage of fat content. Waffle mix contains a bit more butter or oil than pancakes mix.
If you would like to use the package mix to bake some waffles, one thing you should do is add a bit more butter or oil. This gives a bit airier, fluffier, and crispier waffle texture.
We highly recommend increasing the butter in pancake mix by 1 Tbsp per (per cup) of flour, and that should do the trick.
How Do You Make Waffle Mix?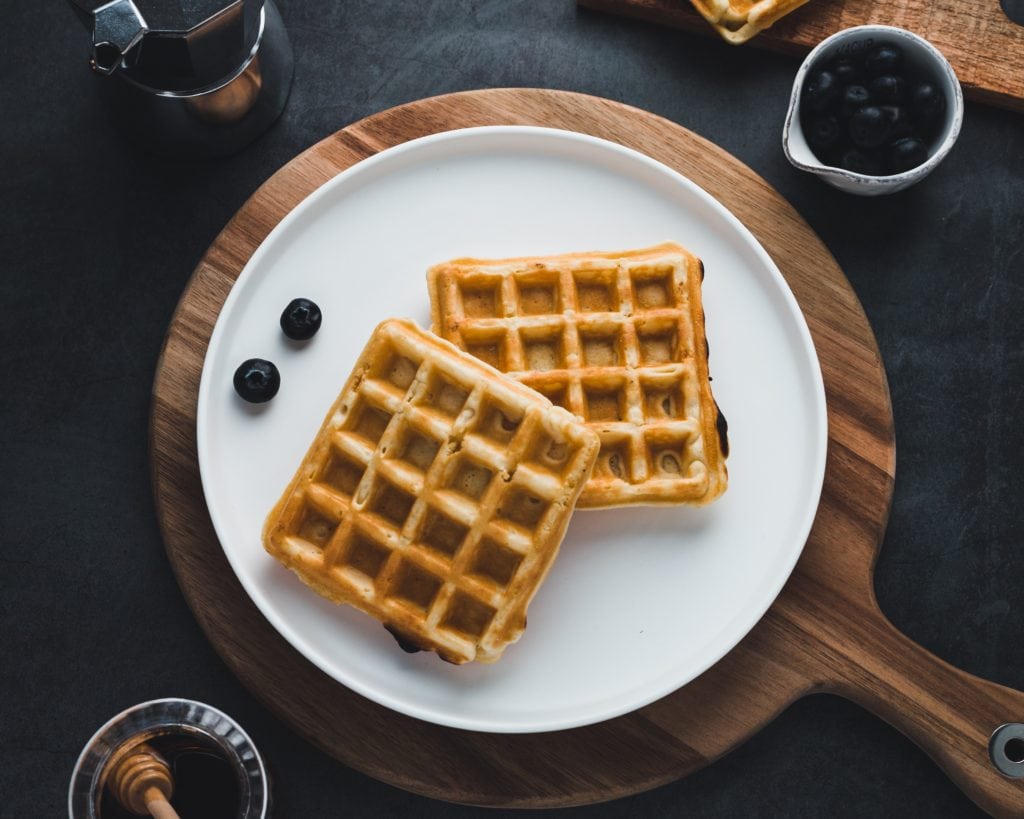 If you don't know how to make a waffle mix or looking for the most original waffle mix recipe – it's the best to start with the classic waffle recipe.
Once you master the classic waffle recipe, you can then modify it or look for a more complex recipe to handle.
Ingredients
But before we get into the action – these are the ingredients you will need:
2 cups of all-purpose flour
1 teaspoon salt
4 teaspoons baking powder
2 tablespoon white sugar
2 eggs
1 1/2 cups warm milk
1/3 cup butter (melted)
1 teaspoon vanilla extract
It might seem like quite a lot of ingredients, but you have nothing to sweat about. Once you gather all the ingredients – it's fairly easy to get on with the recipe.
Directions
First, you will start by mixing together flour, salt, baking powder, and sugar in a large bowl. Once you do the first step – put it aside.
At this point, you should also preheat your waffle maker to the desired temperature.
Grab another bowl and beat the eggs. Then, stir the milk, vanilla, and butter together. When you have done the second step – pour the milk mixture into the flour mixture.
Once you've done that, beat it until blended.
When you blend these two mixtures together, your waffle maker will most likely be ready. All you have to do is ladle the batter into a waffle maker and cook until golden and crisp.
Preparation Time – 10 minutes
Cooking time – 15 minutes
Ready in – 25 minutes
What is the Difference Between a Waffle and a Belgian Waffle?
You must've heard the term Belgian waffles many times by now, but what are actually Belgian waffles and do they differ from regular waffles (which use easy waffle batter) we're used to?
That's one of the questions that confuse waffle lovers – but in reality, it's very simple.
The texture of a Belgian waffle maker is a bit lighter and crispier, but also be prepared to have a waffle maker which is ideal for Belgian waffles. You are looking for a waffle maker which features deeper and larger grid pattern.
Most Belgian waffle recipes are yeast-based which is the key ingredient to get a crispy texture everyone's talking about.
If you're aiming for lightness – you can use beaten egg whites as this will help achieve lightness you're looking for.
A lot of people don't understand that Belgian waffles are made in a bit of a specialized waffle maker. If you're not getting desired crispiness or lightness – you should check your waffle maker. But if you're purchasing a new Belgian waffle maker, it'll be easy to find one since manufacturers clearly label them as Belgian waffle makers.
How to Make My Waffles Crispier?
Other than the butter, there is one more thing that plays an important role in waffle's crispiness. It's the moisture.
While most people think that moisture is the problem – it's partly right. However, you still need moisture, but just the perfect amount.
Too much moisture and you will quickly soften your waffle's outer crust. If you can't get it right, try experimenting with buttermilk.
It's one of the tricky ingredients which can make the waffle mix heavier which results in a crispier waffle.
On the other hand, we highly recommend checking in Belgian waffles and Belgian waffle makers as they could take your waffle game to another level – if you're into crispy waffle texture.
Belgian waffles require a bit heavier mix and Belgian waffle makers offer a bit deeper and wider baking plate which makes a huge difference. But you should still work on improving your waffle batter in order.
Conclusion
It might seem impossible to perfect your waffle making skills, but the key lies in the simple things (and ingredients) we rarely think about.
But before giving up, we highly recommend trying out the classic waffle recipe and taking it from there. You never know – you might end up the waffle king in your family or friend group.
If you love your waffles but would like them a bit crispier, no worries – it's not the waffle maker. It's most likely the waffle batter.
The good thing is you can improve it – and we hope you will improve it using the valuable info found in this post!